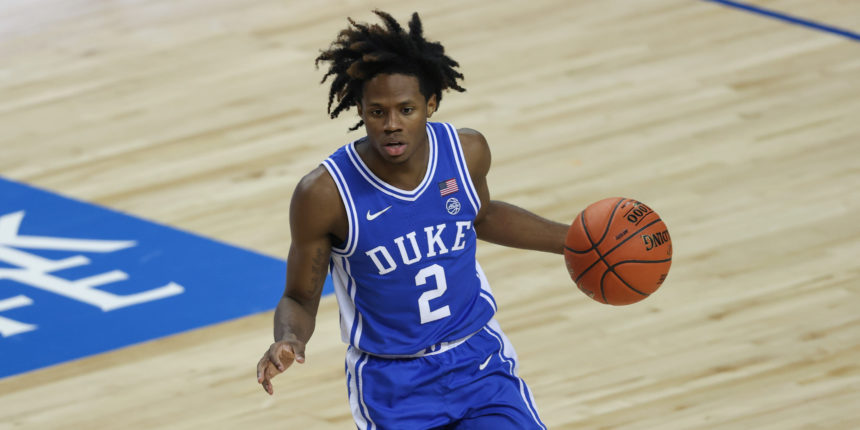 DJ Steward aims to bulk up, show he can be a point guard in the NBA
BasketballNews.com had the opportunity to speak with Duke Blue Devils guard and NBA prospect DJ Steward ahead of the 2021 NBA Draft.
Matt Babcock: You grew up in Illinois with your parents and your little brother. Could you tell me a little bit about your childhood and what it was like growing up in your house?
DJ Steward: You know, my family, we're real close. We're a close-knit family, and we pretty much do everything together. They have supported me ever since I was a kid. We love to have fun. We're a very goofy family. We just love to stay together, do a lot of fun things and just support each other as much as we can. They're at almost every single one of my games, except for this year at Duke, because we couldn't really have fans. They're just a great support system for me. We love each other a lot.
Did you play any other sports growing up? And when did you commit to being a basketball player?
Steward: Yes, I did. I actually played football before I started playing basketball. I played a little volleyball in middle school as well. I started playing football when I was five years old, and I played that all the way up until I was about 12 years old. I want to say when I was like 13, in middle school, that's when I started playing basketball.
What led you to transfer to Whitney Young High School after your sophomore year?
Steward: I did two years at Fenwick High School, and then I decided to transfer to Whitney Young. I thought that was the best decision, for me to move to Chicago. It was a great decision for me and my family to get my name out there, playing a national schedule, just to play against great competition as well. Also, Whitney Young is a great academic school as well.
At what point did your college recruitment really take off? Also, when did you receive your first major offer?
Steward: During my junior year in high school, my recruitment started taking off. Then heading into the summer, my recruitment really started to take off. My first offer was after my freshman season, and then my first high major offer was from in-state Illinois and then from out-of-state, I think it was Florida or Georgia Tech.
At what point in your recruitment did you choose Duke?
Steward: I committed to Duke my senior year in September. I knew it was the right spot for me. I took a visit there and I knew it was the place for me. I built an amazing relationship with Coach K [Mike Krzyzewski] and Coach [Jon] Scheyer. Scheyer, that's my guy, that's my main guy. He recruited me since my freshman year of high school, actually. I built a bond with him and it was just amazing. And then, you know, Duke is another great school academically as well.
North Carolina heavily recruited you in high school. Now that you've played for Duke, how do you feel now about UNC?
Steward: I have the ultimate respect for UNC. They got us twice this year; they won twice against us, but you know, they're another great program. Great coaching staff, great players. So have I ultimate respect for them.
Although the game was canceled due to COVID last year, you were named a McDonald's All-American. What did that mean to you?
Steward: It meant the world to me, both to me and my family. It was a big goal that I wanted to accomplish ever since I started playing basketball. I've been going to the games ever since I was younger. They were there in Chicago at first, and they moved them out to a different location. It was just an amazing thing for me to accomplish. You know, not being able to play in that game -- it kind of hurt. But just to go down with those names and be a McDonald's All-American. It's a great thing!
How big of a disappointment was it that the game was canceled, as well as all the other All-American events because I'm sure you love to play in those.
Steward: Yeah, it was very disappointing. It was my senior year and I wanted to go off and just have fun at those camps and prove a point. I had a chip on my shoulder. Not being able to go to those games and play in those games -- it was pretty disappointing.
This past year or so has been challenging for everybody. What's been the hardest thing for you over the past year-and-a-half?
Steward: Just dealing with COVID. With school, I couldn't really go around campus and meet people and build those great relationships and friendships for the future. I wasn't able to build those bonds; it was tough. Then, not having fans as well, while we played throughout the season. When we traveled, we'd sometimes have fans to a limited amount. But at Duke we didn't really have fans, so that was pretty tough.
This past season you were used as a shooting guard and primarily played off the ball. Can you talk to me a little bit about the role you played at Duke?
Steward: I was a spacer. I pretty much played off the ball a lot. It was what Coach K, Coach Scheyer and the rest of the coaching staff wanted me to do. I'm a great team player, so I'm always ready to sacrifice and do whatever it takes to win. If that's what it took for us to have the best chance to win, that's what I was going to do. That's the mentality that I'm going to have to take at the next level as well. I know that my natural position is point guard. At the next level, that's something that I'll have to work towards.
How do you see your role changing once you're in the NBA? Do you want to be primarily a point guard?
Steward: Yes, for sure, most definitely. I'm a scoring guard, but I know that I can play point guard really well too.
If you had to pick one lesson that you learned playing for Coach K this past season, what would you say that is?
Steward: I would say just the sacrifice that it takes to not only become a great player, but a great team. He also taught me to stay hungry throughout the entire season and through the ups and downs. He also taught me the preparation that it takes to be a great team: watching a lot of film, lifting and doing all the little things that it takes to become a great player.
Entering the NBA Draft after only one season in college is a big decision. How did you come to that decision?
Steward: I have confidence in myself. I thought that this is the right time for me to go on to the next level. I feel that I will develop better at the next level. So I'm going up there to work on my game, continue to get better, grind it out and also play my natural position -- which is point guard. I need to show the NBA that I can do that.
I've been told that in addition to being a good basketball player, you're also a good student in school. Do you plan on continuing to work towards your degree even though you'll be in the NBA?
Steward: Yes, one-hundred percent! That's something I definitely want to work on, and I know that would make my parents really proud. I'll be very proud of myself once I complete that, too. I am definitely working towards that.
I know you're just starting your professional basketball career, but let's fast forward to life after basketball. What would you like to do after you're done playing?
Steward: I'd hope to become a broadcaster on ESPN, doing talk shows and things like that. I'd like to stay close to the game, maybe becoming a coach or trainer. I'd like to stay around a game and help people. I want to help kids in Chicago get better and help give them the opportunity that I had to further myself.
What are some of the things that you'd like to work on and improve in your game before you get to the next level?
Steward: My body. I have to get my body a lot stronger. I'm definitely working hard every single day. I'd also like to get my three-point percentage up. This past season I shot 34% from the three-point line. In order to be successful, I need to get that up to 40% or higher. I'd also like to show that I can play the point guard spot and run the point at the NBA level.
If you had to choose one player past or current that you model your game after who that would be?
Steward: I would say Ja Morant. We have the same body type. We both play with a little flash. He has a lot of confidence. He can score well from all three levels and I love how he gets all of his teammates involved.
If you had to name one short-term goal and one long-term goal for yourself, what would those be?
Steward: Short-term goal? I would say establishing myself in the NBA and earning respect around the league. For a long-term goal? To become one of the greatest point guards of all-time. I want to be a great point guard. I've watched a lot of different players: Steve Nash, Tony Parker, Chris Paul, just a lot of great point guards that lasted in the NBA for a while.
Let's pretend you just entered an elevator with a general manager of a team that's considering selecting you, what is your pitch as to why you should be his guy.
Steward: I'm young, I'm developing, and I'm only going to get better and better. I'm going to grind it out. I'm going to do whatever it takes to be a winner, a great player, and person. I'm going to score the ball from all three levels. I can make plays for others as well as myself. I'm going to do things the right way.
BasketballNews.com currently has Steward listed No. 53 on its 2021 NBA Draft Big Board.