Try your hand at analyzing basketball before the rounds of seven, and you're sure to hear two statements.
First, the regular season doesn't really matter. That's reductive for obvious reasons -- you can't get to the postseason without performing well enough in the regular season -- but the general notion is that the games that really count happen between April and June. The goal is to win a championship, after all.
The second, and this is more on the statistical side, is that you should be wary of using small samples to glean anything meaningful. This is also obvious; the larger sample you have, the easier it is to believe -- or dismiss -- a trend.
So of course, everyone freaks out about clutch time numbers.
NBA.com defines clutch time as the last five minutes of a game, with the score within five points. It's within those possessions where shot making and execution reign supreme. Legends are made, memes are created, all that jazz.
As with most things in life, the truth lies somewhere in the middle. Regular season games aren't more important than playoff games, but they certainly matter. There has been plenty written about the pitfalls of lending too much credence to clutch stats, most notably by The Athletic's own Seth Partnow, but I think there are trends worth looking into. Most notably, a team's shot profile -- where they're getting their shots, and who's taking them -- is something worth digging into.
The Los Angeles Clippers are an interesting case study for both statements. After entering last season with legitimate title aspirations, they famously flamed out in the second round against the Denver Nuggets. The Clippers' defense was much more of an issue than their offense, but there was some late-game clunkiness to their half-court attack.
The Clippers are basically Milwaukee Bucks West. They've firmly been placed into the "Yeah, whatever, do it in the postseason" camp. They've played well this season, posting a 24-13 record so far, but the late-game offense has been a bit clunky. Following two close losses to those Bucks and the Boston Celtics, let's take a deeper look at what's going on.
WHAT THE NUMBERS SAY
Sound the alarm! We have a small sample coming through!
Per NBA.com's clutch data, the Clippers have played a "whopping" 41 minutes of clutch time. Only the Utah Jazz (25) have logged fewer minutes. That 41-minute sample is the equivalent of one commercial-less episode of Snowfall; I would know, having binge-watched three seasons over a weekend.
(Also, please watch the show. It's great.)
In those 41 minutes, the Clippers rank dead last in net rating (minus-24.3). Much like last postseason, the defense (128.4 DRTG, 30th) has been a larger issue than the offense (104.2 ORTG, 18th). We're going to focus on the glamour side of the ball for reasons that will be made clear later.
The Clippers' shot stats are troublesome. On a basic level, their 35.3 percent clip from the field in clutch scenarios ranks last. 38 of their 68 shot attempts have been threes, and they've only knocked those down at a 34.2 percent rate. That ranks just outside the top 10, but it's well below their efficiency through the first 43 minutes (42 percent on 1,235 attempts).
There's obvious context to be added; the Clippers, and really any team, are more likely to take threes when they're down late in games than when they're up. Still, this shot profile is pretty consistent with their overall approach, per Cleaning The Glass.
To cap things off, here's a look at their clutch time shot chart: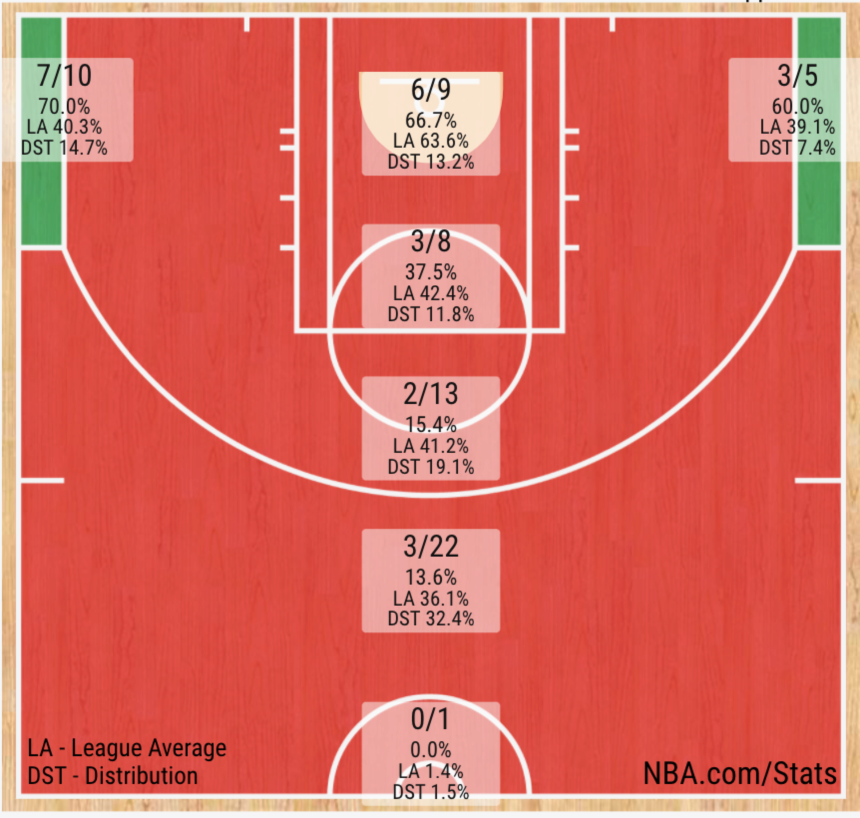 Oof. That's a lot of red!
Now that we have the "what," let's dig into the "why."
THE FILM
Peep the shot chart, what do you see?
If your first thought was how poorly the Clippers are shooting on above the break threes, it would be understandable. I mean, 13.6 percent is a ghastly number. What stands out to me, however, is the frequency of perimeter shots to rim shots.
22 above the break threes compared to 17 paint shots -- nine at the rim, eight in "floater" range -- is pretty shameful on its face. Heck, 13 middies to nine shots at the rim is pretty "bleh" to me.
The shot profile makes sense considering the personnel. Kawhi Leonard and Paul George are two of the best pull-up shooters in the sport. Serge Ibaka, the big in the Clippers' most frequent fourth-quarter lineup, is mostly a pick-and-pop threat. Patrick Beverley and Nicolas Batum, who help complete that five-man unit, are mostly spot-up threats.
Therein lies the problem, put more succinctly: Who is the player within that group that pressures the rim?
Shooting and tough shot-making are integral parts to crunch time effectiveness. All five of those players provide the former; Kawhi and George provide the latter. What becomes problematic is when the latter, the tough shot-making, becomes a crutch instead of a luxury.
A quick, fun depending-on-who-you-root-for fact: 11 of the 12 clutch shots George has taken this season have been threes. He's 3-of-11 on those looks, 3-of-12 overall.
On top of not having natural downhill threats present, there are scheme or decision-making limitations that also hinder their attack. If you're not able to clear a side, iso and get to the basket, you have to be able to force rotations in a different way.
Inverted pick-and-rolls are an easy way to do it. We've seen the Clippers experiment with Beverley or Lou Williams setting screens for Kawhi or George. If those screens are switched, defenses will be forced to send help or run the risk of Kawhi or George shooting over the top of them.
The Clippers have proven they can get defenses in rotation by targeting smaller players. Hedge-and-recover sequences can spell doom if not executed properly.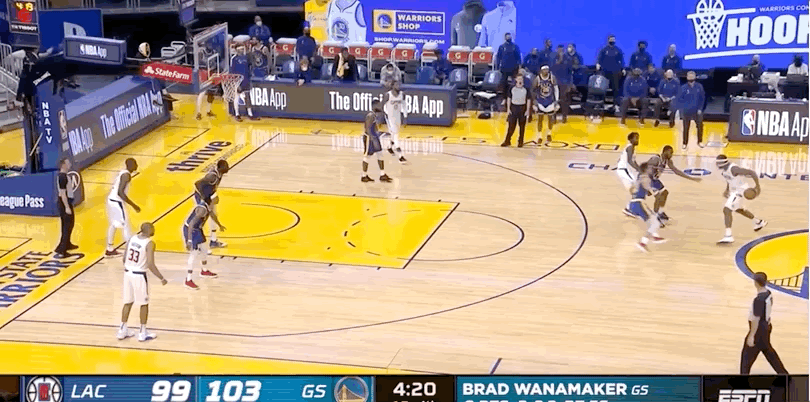 The Warriors get the first show-and-go down, but Kawhi calls for another screen soon after. A slight blip of miscommunication allows Kawhi to slip the ball to Beverley. That creates a 2-on-1, and Beverley makes the Warriors pay with a flip to Batum in the corner.
But then there are these random stretches where the Clippers go away from what works. On Sunday against the Bucks, they went from targeting smaller players in pick-and-roll, forcing switches and then drawing extra eyes with post-ups, to spamming Kawhi-PG pick-and-rolls against Giannis Antetokounmpo and Khris Middleton. It went as you'd expect it to.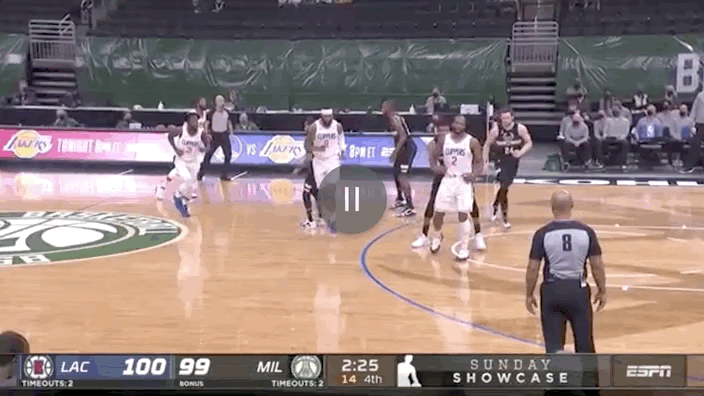 The lack of rim pressure and the inconsistent usage of small guard hunting does nothing but provide ammo to the "Clippers need a point guard" brigade.
I'm mostly neutral on the point guard clamoring. From my view, It's less about the Clippers needing a floor general, and more about the Clippers missing a downhill element to help bend defenses. That could come from a point guard, but the Clippers would need to identify a target that fits what they need, is attainable based on the assets they have and that they could justify closing games with.
What's the list, there? Derrick Rose was on the board -- there was a little smoke there -- but he ultimately got traded to the New York Knicks. Ish Smith would give the Clippers a speedy guard to pressure the rim or set screens for the star wings, but is he better than Beverley, Williams or Reggie Jackson? If you have to ask, it's hard to justify him as a consistent closing player.
Is it Eric Bledsoe? He probably checks those boxes on paper. However, this is a team that disappointed in the postseason last year. Let's just say Bledsoe doesn't have the best resume in crunch time; I could see that being a hard sell.
Ultimately, the solution may just be to stop trying to reinvent the wheel. Run your pindown stuff for PG or Kawhi if you must, but spam inverted pick-and-rolls to get the matchup you want, or to force rotations to create open looks. This isn't a foreign concept in the league; heck, it isn't a foreign concept to the Clippers.
Having a consistent gameplan with the talent available may very well be enough; they just have to tap into it.