When I entered the NBA, I was an 18-year-old kid from Las Vegas moving to the East Coast in a city that I knew nothing about. Going from being a student that got a $2,500 stipend at most to being a professional basketball player making all this money, that's a big jump -- from both a monetary and responsibility perspective.
But you have to be able to adjust and become a man in that sort of situation, and thanks to how my parents raised me, that's what I did. I got used to Washington D.C. and became comfortable with my surroundings. From there, I've been able to take care of myself.
My vets have helped me tremendously in that aspect, too. Ian Mahinmi has taught me so much off the court, just about life. CJ Miles isn't on the Wizards anymore, but he's a really good vet and someone I still love and talk to today. Even though Garrett Temple was never my teammate, he used to be a part of this team and does amazing work with the NBPA. Guys like that are straight shooters; they go about their business with the utmost professionalism, and that's been big for me to pick up from them.
On the floor, I feel like I've made so many strides since my rookie year; I don't even feel like the same player. I was naive and didn't really know anything back then. In my second season, I really learned the game and improved my basketball IQ. Looking at the numbers and just how much more I'm able to do, I definitely believe I took a jump.
In the last 10 games or so of this past year, we were in the bubble and the game really slowed down for me. Since I was playing big minutes, I was comfortable and poised whenever I hit the court because I was in control of my own game. When you don't play as much and don't have a consistent spot in the rotation, it makes it difficult for you to understand your role and what you're capable of doing.
While we were in the bubble, it meant so much to me that the Wizards had a lot of confidence in me. They believed in me to take that opportunity and run with it, and to publicly back me up in that fashion gave me the confidence to get the job done. Before the season resumed, the team told us that the primary focus was going to be gaining experience and developing our game. They told me to go out there and play and not worry about the outcome or consequences. For me, they wanted to see how I could perform on that kind of stage. Everybody worked so hard to be prepared for the restart during quarantine, so I had to make sure that I honed-in on maintaining my body and worked on my game to be ready to play.
Being in the bubble itself, it was a controlled environment. The bubble brought our team closer together; for example, when you wanted to grab a bite to eat, who else would you get food with other than your teammates and coaches? We were all we had when we were in there.
I don't know if a lot of players would admit this, but even though it wasn't the best situation, I feel like it actually kinda helped. We didn't have to travel and there weren't many outside distractions, so we were just there to do our jobs. It definitely helped guys lock-in and take their game to another level.
With that being said, it's over and done with now, so my attention turns to Year 3. I feel like for me, personally, it's one of those things where there's no excuses next season. I have to get the job done.
This offseason, I'm keying-in on improving my three-point shooting; I definitely have to get better at that. I know my percentage took a leap from my rookie to sophomore season, but improving to around that 40-percent mark would elevate my game so much more. Defensively, I want to sharpen my lateral quickness, which would be a huge step for me. If I can get those two things down pat, I feel like I can be in the league for a very long time.
From a physical standpoint, I'm working on my body to be able to guard wings consistently on a nightly basis. One of the toughest things about transitioning from college to the pros is learning how to handle the workload. You go from playing 30-something games to 82! I've found out how crucial it is to take the recovery aspect seriously, as well as my diet. I know how to take care of my body now.
Off the court, I've settled in too. It's very strange that anyone can just look up your salary when you're in the NBA; when people try to be cool with you, you don't really know their intentions. That's why I mainly surround myself with my family and closest friends (as you've seen in my vlogs).
People ask me which players I model my game after, and honestly, it's not about the players themselves, but rather their skill sets. CJ McCollum has a high skill level that is predicated on his knowledge of the game more than his athleticism; I'm a huge fan of his. I watch a lot of Khris Middleton because we're kind of the same height; he has a lot of poise and has a knack for getting to his spots. Jayson Tatum is another guy I study in terms of great offense in the low post. It's not just the player, I try to take certain aspects of each guy's skill set.
Of course, having an All-Star duo on your team always helps, too. Let me just say: we're really excited to get John Wall back. He just looks really motivated, and with all the accolades he has, it's awesome to see that he still has his hunger for the game. We're still a rather young team, so John is very important in that vocal-leadership role to navigate us in the right direction. Getting him back with Bradley Beal, we already know what those two can do when they're both healthy. It was hard in the past because either one or the other would be healthy, but not both. We could have one of the best backcourts in the NBA all over again.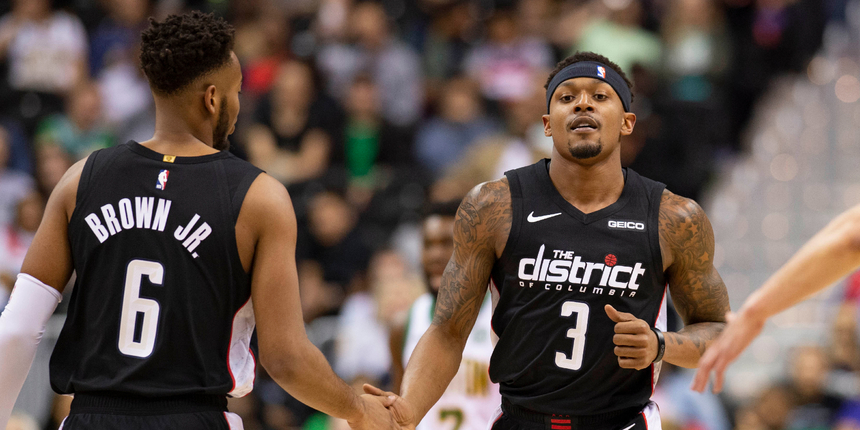 D.C., we should be making a huge jump as a team next year, and our No. 1 goal and expectation is making the playoffs. As a team, our main focus is addressing the defensive end of the floor. If we're going to be playing in the postseason, we can't have the second-worst defensive rating in the league. I mean, our offense was in the top-10 last year. We're scoring the basketball at such a high level, but we're not getting stops on the other side.
We're gonna be really good. We'll make it all work together, and it's my job to make sure I can complement John and Brad. When you're playing with those guys, it makes things easier. But it also makes some things harder at the same time; for example, they're going to take so much pressure off of me, but I have to figure out my role, find my niche and do what I'm good at. It's almost like a give-and-take thing, but they're taking for the right reasons.
With those guys playing at that level, you have to have that same level of confidence 100 percent of the time and be secure in your position. You have to know how good you are no matter what the ups and downs are. And most importantly, you have to be able to adjust and be versatile. Being versatile is super important; it makes you valuable in every aspect. The more versatile you are, the more playing time you'll get because there's nothing holding your coach back from putting you in a game.
It's exciting to think about my third year because all I want to do is get better and improve in every aspect. The only thing that's on my mind is the Wizards being in the playoffs. Personally, I don't have any set agendas; maybe one day I want to be an NBA All-Star.
But for right now, I'm just taking things day-by-day.
Troy Brown Jr. is part of BasketballNews.com's staff. Be sure to follow Troy on Twitter and Instagram. Also, subscribe to his YouTube channel and check out his "Life Outside the NBA" vlog below: