Things are kinda weird in Atlanta.
The Hawks currently sit with a 12-17 record, a big improvement from last season (.414 win percentage compared to .299) but one that leaves them just outside of the play-in. The growth should be viewed as a positive, but it feels a little underwhelming based on the offseason they had.
There was a clear emphasis on adding talent for a playoff push: that would help explain the several million dollars spent to bring in Danilo Gallinari, Bogdan Bogdanovic and others. Using free-agent dollars and draft capital to juice the roster wasn't a surprise, but where those resources were allocated was a bit odd.
Atlanta's biggest free-agent addition (Gallinari) and prized draft pick (Onyeka Okongwu) profile as 4s right now; that just happens to be where John Collins, arguably Atlanta's second-best player, plays most of his minutes. With Collins up for an extension in the preseason and set to hit restricted free agency this summer, it was fair to question what those moves meant for his future.
Sure enough, Collins and the Hawks failed to agree to an extension. Two reporters from The Athletic have recently tag-teamed on reports about Collins' future. Sam Amick reported that the Hawks were willing to listen to trade offers for Collins, while Shams Charania gave insight on the potential asking price: a lottery-level first-round pick.
None of that means a Collins deal is imminent. It does mean the Hawks have seriously thought about -- and may end up accepting -- a long-term future without Collins on the roster.
Let's take a look at potential in-season trade partners, as well as teams that could use Collins' services if he hits free agency.
Note: All trades were checked/completed on tradenba.com, while salary figures were checked from realgm.com.
TRADE PARTNERS
Memphis Grizzlies
The Grizzlies have one of the best young cores in the NBA, headlined by star-in-the-making Ja Morant. They've mostly overachieved this season within the context of their injuries: Morant has missed a chunk of games, while Jaren Jackson Jr. has yet to play this season. Despite this, the Grizzlies are 13-13 and are firmly in the play-in mix.
They're not at a point in their rebuild where consolidating parts of their core for a superstar makes sense. It's why you didn't hear anything about the Grizzlies being in the mix for James Harden, and why you've heard nothing on the Bradley Beal front either.
A tier below? Adding to the young core? That's more palatable, and why a swing for Collins could make sense.
Starter Offer: Gorgui Dieng, Jon Konchar, 2021 first-round pick via Utah (protected 1-7, 15-30 this season, 1-6 in 2022, 1-3 in 2023), 2023 first-round pick (top-10 protected)
The first via Utah will likely convey in 2022. It's fair to say, barring injuries, the Jazz won't be in the lottery that year either. That falls below the reported asking price of a lottery-level first, which is why the Grizzlies may be inclined to include a protected first of their own.
Dieng is very quietly -- too quietly, honestly -- a very good backup big. His ability to space the floor makes him an ideal partner alongside Okongwu on the second unit. Konchar can do a little bit of everything: shoot, keep the chain moving as a passer and cut, while being sound rotationally on the defensive end. There's a quality wing -- a fifth starter on a good team -- in there if he gets the reps.
Final Offer: Brandon Clarke, Justise Winslow, 2021 first-round pick via Utah (protected 1-7, 15-30 this season, 1-6 in 2022, 1-3 in 2023)
If the Hawks can't get a lottery-level first, getting a lottery-level talent who's still on his rookie deal seems like a fair consolation prize. Clarke has regressed some as a shooter; I'm not quite sure what's going on with his shooting form. He still has fantastic touch on his floater, and he provides value as a roller, screener, off-ball mover, and a smart defender.
The theory of Winslow -- a 6'6 playmaking wing who can puncture the rim in PnR, fire darts everywhere, and defend four positions -- is better than the reality right now. His inability to stay healthy is a red flag that he has to shake. But it's hard to talk yourself out of Winslow's talent when he is available. Even in a season debut filled with misses, he gave you flashes of his ability to get downhill and make life tough on the other end.
San Antonio Spurs
Who could've expected the Spurs to be this fun this season?
They've gone from a plodding, mid-range hunting slogfest to a turbo-charged unit led by dynamic athletes on the perimeter. The absence of LaMarcus Aldridge has only expedited this shift.
It's tough to imagine Aldridge being back next season; honestly, it's tough to imagine Aldridge being on the team past the trade deadline. There's room for the Spurs to add a piece to their frontcourt. Collins could either slot in at the 5 -- he's certainly an upgrade from Aldridge on both ends -- or at the 4 alongside Jakob Poeltl, one of the more underrated rim protectors in the league.
Starter Offer: Lonnie Walker, Trey Lyles, 2022 first-round pick (top-7 protected)
While the Spurs have a ton of young talent on the wings, that's kinda the thing: they have a ton of young talent on the wings. They can't play everybody. Looking further ahead, they certainly can't pay everybody. Walker could be pry-able, especially with Devin Vassell being drafted over the offseason and already showing flashes of being a defensive terror who can knock down threes at a high clip.
Lyles could be a short-term spot-starter alongside Clint Capela to 1) space the floor and 2) keep Gallinari in a bench role. If not, Lyles could space the floor alongside Okongwu on the second unit.
Final Offer: A whole lot of moving parts around Derrick White

As someone who generally enjoys thinking about trades, let me tell ya: dealing with a player with a poison-pill provision absolutely stinks. A Collins-for-White package makes some roster-balancing sense, but pulling it off takes some financial gymnastics.
I settled in on this framework. White goes to Atlanta as a fun partner alongside Trae Young. Tony Snell and Darius Miller swap spots, along with a pair of second-rounders going to OKC for helping grease the wheels of a deal -- and taking on a little money in the process.
FREE-AGENT DESTINATIONS
Collins will want a max contract, which is currently projected to be in the neighborhood of a four-year, $125 million deal for non-Hawks teams. He reportedly turned down a four-year deal worth north of $90 million extension before the season. Collins' limitations as a primary rim protector or consistent threat off the bounce -- as a driver or passer -- will likely keep him out of max territory.
However, he does bring enough as a pick-and-roll threat, shooter, rebounder, and weakside rim protector to warrant more than $90 million over four years. My take-with-a-grain-of-salt guess -- I emphasize "guess" here -- is that it would take something like a four-year, $110 million offer sheet to both land Collins and also make the Hawks uneasy about matching.
Put another way: a team looking to land Collins is going to need -- and be willing to spend -- north of $25 million in cap space. Here are the teams I feel could justify making that sort of splash: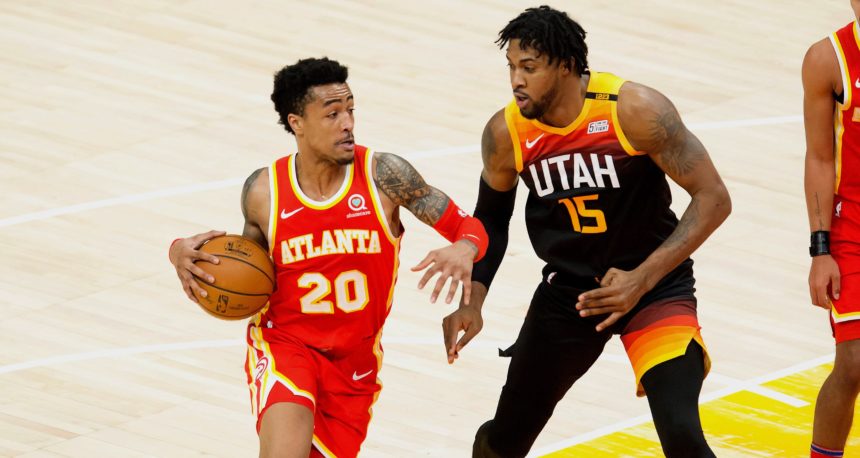 Dallas Mavericks
The Mavericks, like the teams that'll be mentioned after them, cleared their books so they'd have a max slot available for Giannis Antetokounmpo. Giannis is off the market, so the Mavs will need to pivot elswhere.
Luka Doncic is one of the best playmakers in the NBA. The Mavericks have wisely attempted to surround Doncic with shooters, highlighted by Kristaps Porzingis and Tim Hardaway Jr. What's missing in their attack is some north-south oomph; Collins could help provide that as a high-volume roller or screen slipper.
He's an ideal diver to complement the spacing Porzingis provides. Defensively, Collins could bring a little more size and athleticism to the backline as a weakside helper.
Miami Heat
Finding a long-term frontcourt partner for Bam Adebayo should be pretty high on the priority list for the Heat. They drafted Precious Achiuwa over the offseason, a Bam-lite athlete with flashes of defensive switchability and open floor ball-handling. The lack of a reliable jumper makes the AA frontcourt a questionable fit in the short-term; Collins would alleviate the need for that plan to be fast-tracked.
Collins has proven enough as a shooter to comfortably operate as the 4 on offense. There would still be ample roll opportunities despite Adebayo not being a true spacer yet. The Heat invert the floor by using Adebayo above the break as a handoff or screening hub, making it difficult for opposing bigs to cheat off of him at the risk of Adebayo and a shooter hooking up for some sort of two-man action off the ball.
Toronto Raptors
One of the more underrated storylines of the season has been the Raptors' struggles at the center position. After losing Marc Gasol (and Serge Ibaka), they turned to Aron Baynes in free agency to fill the void. He's been mostly bad. They also signed Alex Len in November, but he struggled so much that he was waived one month into the season.
Chris Boucher has been a bright spot, firmly in the "he won't win MIP but he's been good enough to get a nod as an honorable mention" camp, but he's a bit matchup dependent because of his weight. The recent answer has been downsizing, using Pascal Siakam and even OG Anunoby at the 5 in a switch-heavy scheme.
Collins would fall somewhere in the middle -- he's beefier than Boucher, a better shooter and athlete than Baynes, a more dynamic vertical threat than Siakam or Anunoby, and probably worse defensively than all of them.