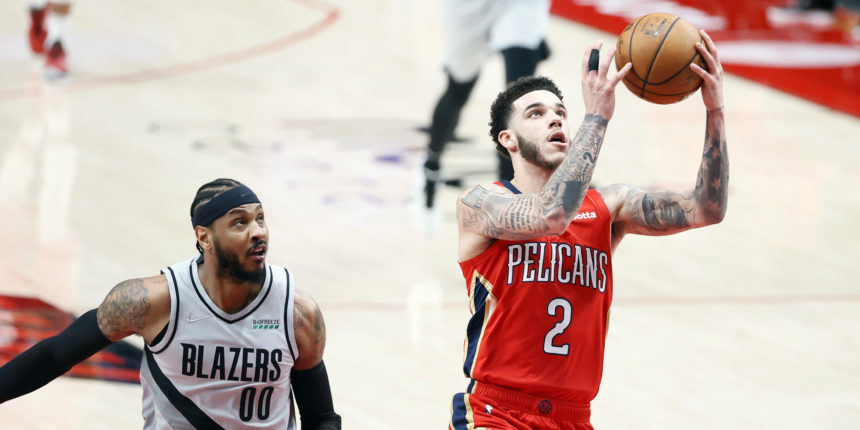 Where does Lonzo Ball go from here? On his development, possible destinations
LaVar Ball, the boisterous father of Lonzo and LaMelo Ball, found himself in the news again.
While doing a radio interview with ESPN LA last Thursday, he was asked about Lonzo's play and future in New Orleans. He didn't hold back, expressing his displeasure and ultimately stating his hopes for a trade.
To be clear, this was LaVar calling for movement, not Lonzo. But that interview did nothing but add fuel to the trade-rumor fire. Lonzo has been mentioned in the rumor mill for most of the season, and those rumblings have picked up over the past couple of weeks. Most recently, The Ringer's Kevin O'Connor reported some of the offers the Pelicans have received for the fourth-year guard.
In a vacuum, LaVar's comments should be taken with a grain of salt. He doesn't really speak for his sons, at least not in the way that he wants to. While the "I hope he's traded" portion of his comments understandably got the most traction in the media, I do think there's another portion of his comments that are worth digging into.
WHO IS LONZO BALL?
We know what Lonzo brings on the defensive end. He's able to defend 1-through-3 and can wreak havoc on the weak side of actions due to his feel and length. Offensively, there seems to be a split in thinking.
"Lonzo's always been a playmaker," LaVar said during the interview. "Why are you trying to change him into a defensive specialist that stays in the corner and shoots threes? And you're trying to change Zion [Williamson] and Brandon Ingram who, all through their careers, have never been playmakers. [They've always been] scorers! Now you want to put the ball in their hands and be playmakers?"
The frustration makes sense on the surface. Lonzo was one of the most electrifying college guards in recent memory, flipping full-court darts, tossing lobs and making advanced reads against shifting defenses. His play style drew comparisons to Jason Kidd, though Kidd himself pushed back against those.
It's... more than fair to say that Ball isn't on a Hall-of-Fame trajectory right now. And there is a reason Lonzo has shifted to more of an off-ball role during his NBA career, and especially in New Orleans.
In order to earn primary initiator reps, you have to bend defenses in some way. You can stress defenses with the threat of deep pull-ups -- think Steph Curry, Damian Lillard, Trae Young. You can stress defenses with constant rim pressure -- think Shai Gilgeous-Alexander, Russell Westbrook, De'Aaron Fox. The best players in the sport can do both, but you need at least one of those skills to warrant a lead role.
Lonzo hasn't done that to this point of his career. He's averaging 5.8 drives per 36 minutes, according to NBA.com's tracking data, down from his 6.5 average attempts in the same category last season. He's never converted higher than 37.5% of his field goal attempts on drives in a season, which is problematic for obvious reasons.
The threat of the pull-up isn't there yet. Though his percentages have risen over the past couple of seasons -- Lonzo ranks in the 65th percentile in dribble jumpers this season, per Synergy -- teams still largely guard him the same way, ducking under picks and daring him to shoot. It's a positive that he's gotten better at knocking those shots down, but defenses are dictating that shot for him, not the other way around.
Compare that to the growth of his off-ball shooting -- he's drilled 38% of his threes on nearly seven attempts over the past two seasons -- and it's easy to see why a secondary role makes sense for him. When you have rim threats like Zion and Ingram forcing rotations, Lonzo is able to feast on easier catch-and-shoot looks or "one-more" passes.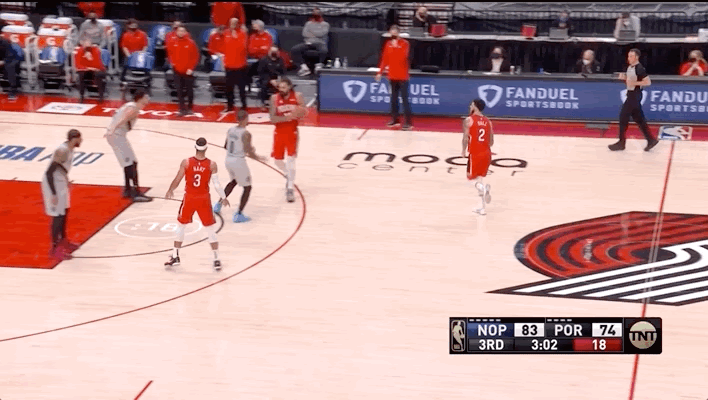 At this point, Lonzo is more of a play connector or finisher (on the perimeter) than he is an initiator. That makes him a great fit alongside the Pelicans' franchise pillars, but it's understandable for them to be a bit squeamish about paying him north of $20 million per year. Any team looking to pry Lonzo out of New Orleans will need to be willing to shell out that kind of dough, but also have a true primary guy on the roster to fully maximize what Lonzo can do.
WHO COULD USE HIM?
Per O'Connor's report, the Chicago Bulls and Atlanta Hawks have sent in offers. Both teams have a dynamic lead guard (Zach LaVine, Trae Young) that Lonzo could play off of. There are other teams that could, or at least should, toss their hats into the ring too.
The Memphis Grizzlies have the picks and young players needed to make a real run at Lonzo, though they'd have to think pretty hard about the contract this offseason. Still, it's fun to imagine what a Ja Morant-Lonzo backcourt would look like. Something like De'Anthony Melton, Gorgui Dieng (who is available, per O'Connor), and the 2021 first-round pick they received from Utah could be a package worth building on in order to land Lonzo and JJ Redick for a playoff push.
The Miami Heat have been linked to guards all year long. They were in the hunt for James Harden, though the seriousness of those talks has been debated. They've been linked to Victor Oladipo for what feels like two years now. They're currently in talks with the Raptors for Kyle Lowry; heck, Yahoo's Chris Haynes recently reported that they could be a landing spot for Spencer Dinwiddie.
It's clear the Heat want to add to their guard room to complement the Jimmy Butler-Bam Adebayo duo. Why not aim for Lonzo, someone who can shoot, make quick decisions and give them more "oomph" at the point of attack defensively? A package headlined by Duncan Robinson, one of the NBA's best shooters, could be of intrigue. The Pelicans have already experimented with inverted pick-and-rolls with Zion and JJ Redick; swapping out the older (and likely to be gone at some point) Redick with Robinson would be a solid long-term play.
The Knicks have two players in Julius Randle and RJ Barrett that make their living at the rim. What the Knicks don't have is a multitude of spacers; Lonzo could be a fit there. They're also equipped with cap space to absorb Lonzo into, as well as plenty of pick capital. Tossing in one or both of the Dallas first-rounders from the Kristaps Porzingis trade -- an unprotected 2021 first and a top-10 protected 2023 first (that extends to 2025) -- could be a framework worth exploring.