In an exclusive interview with BasketballNews.com's "The Rematch," former NBA player and current co-host of "All The Smoke" Stephen Jackson opened up about his relationship with George Floyd and how his murder set him on a path of activism, prompting him to use his voice and platform like never before.
Jackson spoke candidly about the pain he felt when he learned that his friend had been murdered. This wasn't simply another tragic murder at the hands of the police or another hashtag; this was his friend. This was very personal for him.
He reminisced about his first encounter with Floyd; they looked so similar that they started calling each other "Twin." He discussed their friendship as well as the growth he saw in Floyd, who admittingly made his share of mistakes over the years in his quest to provide for his family while living in an impoverished situation with limited opportunities. But, according to Jackson, he had found a new path and was making the necessary changes to improve his life and surroundings. Jackson discussed Floyd's love for his daughter, Gianna, and his commitment to helping others (such as the work he was doing in his church). Jackson painted a much different picture of Floyd than the media initially did after his murder.
He humanized George Floyd.
Just as his friend was turning over a new leaf, his life was snatched away from him by Derek Chauvin on May 25, 2020 in Minneapolis, MN. Jackson went into great detail about the tears he shed, the anger he felt and the heartache he shared with the Floyd family. He vowed to be there for Gianna, who recently celebrated her first birthday without her father.
Here's a transcript of my conversation with Jackson, who detailed the entire process starting from the moment he learned the news that Floyd had passed:
Etan Thomas: "Talk to me about what happened when you got the call and found out about George's death. Where were you? Who broke it to you? What was your immediate reaction?"
Stephen Jackson: "I was right here on the same couch I'm sitting on. It was probably 10:30 in the morning. I'm on the couch, sleeping with my daughter. My daughter's room is upstairs, but she doesn't like to sleep in her room because my room is downstairs. So she sleeps on the couch and watches TV, so she can be close to me. And something made me get up and come get on the couch with her. So I was laying on the couch with her that morning. And me and my girlfriend's mom talk about police brutality and all the nonsense that's done to Black people all the time, and she sends me videos all the time.
"So my phone is ringing, vibrating. I look at it and I see the video from her, but I don't even correlate that this is my brother. So I'm not even thinking about George when she sent me the video. I look at it, not even putting two and two together. I'm just like, 'Oh man, they done killed another brother.' As I put the phone down, my phone vibrates again. And I pick up the phone and I look at it and it's a message from my friend, Mike Dean, and it says, 'You see what they did to your twin in Minnesota?'
"I went back to the video from my girlfriend's mother. And I see the video and I look in closely and see that's him on the ground and I lose it, E. I get to throwing stuff. I jumped up and scared my daughter. I'm screaming. I was hurt, bro. I was actually hurt because I saw myself in him and this is somebody who I consider my twin getting murdered by the police for the world to see. I never thought that I would see that with my own eyes -- somebody that I loved, that I consider me. I've never dealt with nothing like that, E. And so to see that, it knocked the wind out of me, honestly. It knocked the wind out of me and I just cried. I couldn't even get myself together for a while."
Thomas: "Everybody saw the video and when I watched, I was looking at the evil in him -- in the officer, Derek Chauvin -- as he was kneeling on his neck and putting his hand in his pocket (and they say this was so he could apply even more pressure to his neck). The facial expression that he had, it was just nothing. I looked at it with my kids and I'm breaking down too. We talk about Black Lives Matter and that showed us that, to that officer and all those officers around him, our lives didn't matter at all. You don't even treat an animal like that. I mean, if everybody saw a dog being murdered like that…"
Jackson: "They would go crazy."
Thomas: "They would go absolutely crazy. And that's the part that was so tough to me. You think that we've made some kind of progress and then you see something like that, and it just knocks us all the way back. I'm feeling like, 'Wow, so what do we do now?' And you went into work mode after that. That happened, you had your moment of grieving and feeling upset, and then you went into work mode right after that. Talk about that switch; what went into that?"
Jackson: "You never know what God has for you in your life. I was really upset. In the past, I had been upset that I didn't make All-Star games in my career. [I had been upset] for being judged for the (Malice at the Palace) brawl for having my teammates' back and it messed up my career and all of the accolades I should've gotten. I know I should have been an All-Star at least two or three times. But God works in mysterious ways. What I'm doing now, I want to be known for that. I don't even want to be known for basketball at all. I want to be known for what I'm doing now. Like I said, you never know what God has for you. Me going to Minnesota... I wanted to go down there so they wouldn't demean my brother's name. Like you've said: the first thing they do when they murder one of us and try to make it look valid, they demean our character."
Thomas: "Yeah, that's what they always do. With Eric Garner, Philando Castile, Terence Crutcher, Alton Sterling, Ahmaud Arbery and so on. They literally do it every time."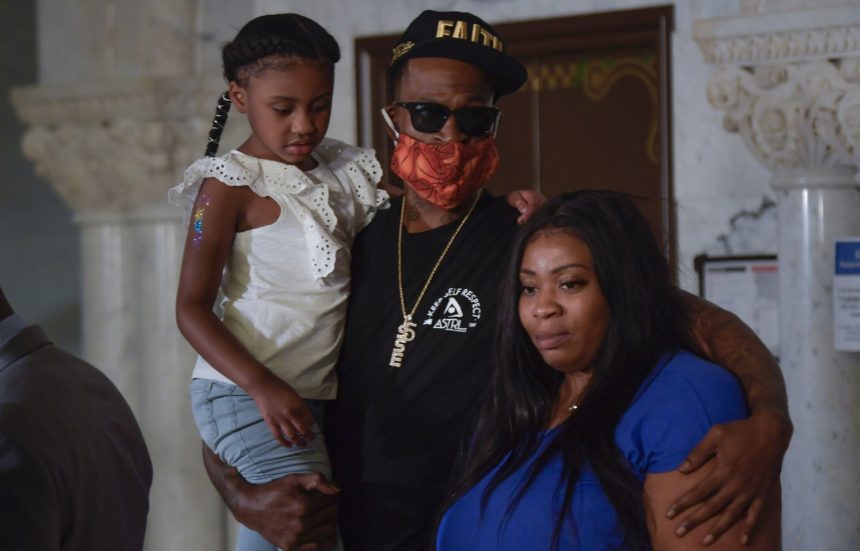 Jackson: "Yup, and I wanted to go down there to let the world know who he really was. And nine times out of 10, when this happens, none of these people that get killed by the police have a celebrity to speak up for them. That's one thing that messed up Minnesota and the world: nobody expected Stephen Jackson to be considered George Floyd's twin. And nobody expected Stephen Jackson to put everything he had on the line for him, and fight for justice for him. While I was in Minnesota, not only did they know he had a celebrity speaking up for him, but at the time I spoke up for him, my podcast was one of the bigger podcasts in the world. I was all over ESPN and doing all of these shows. Nobody expected him to have somebody [with that kind of platform] to speak up for him.
"When I went down there, seeing how the city of Minnesota got behind me and supported me, [that] let me know that this has been going on for a long time. I walked to the corner [and saw a woman holding a sign that said], 'His name was Hardel Sherrelle.' His mom was standing on the corner, crying and holding signs, trying to get justice for her son just by herself. She didn't have no Stephen Jackson to speak up for her. So we stopped. I had all kinds of cameras following me at the time. I stopped, I put the cameras and the mics in front of her, and she tells her whole story. I ended up being the voice for her [too]. So I inherited being the voice for so many people who have been brutalized by police or by racism and never got justice. And the fact that it was a celebrity basketball player that everybody knew, that a lot of people respected and loved, all 18 countries and 50 states got behind me. And it became one of the biggest protests all at one time ever in the history of protests.
"So the fact that that happened, I just dropped on my knees because I never knew God would make my life that important. It's way more important than basketball because I'm changing lives. And it sparked me to want to go to all 50 states and to let people know -- in the areas we come from -- that we care about them, that we hear them, that we have money to give and resources to help you out to try to get to a better life. And it's just God. Like I said, you never know what God has for you. It was meant for me to be in this position. It was meant for me to have a domino effect of helping people after going out there and standing up for my brother and to fight for change, and I would rather be known for what I'm doing now than anything else."
Later in the interview, Jackson lashed out at the media for the way they negatively portrayed his friend. He criticized attorneys like Benjamin Crump, whom he called out by name, because he feels they should fight harder for justice and less for settlements. (Although he did add that he still has respect for Crump and prays for him and hopes that the fight for justice is successful.) He also expressed his frustration with a justice system that doesn't hold police officers accountable for murdering innocent civilians.
Also, Jackson thanked celebrities such as Kyrie Irving (who purchased a house for the Floyd family), Lil Baby (who paid for Gianna's recent birthday party), Barbra Streisand (who bought Disney stocks for the Floyd family) and activist Tamika Mallory (who showed a lot of support).
Jackson praised the people of Minnesota for the tremendous support he received when he went there to protest for his friend. He really felt like the city embraced him and his cause, which he didn't anticipate. He also thanked all of the white allies, in particular, across the country who have aided him and supported him on his quest for justice.
Jackson is a new man. A man who has found his voice after much of the world joined him to protest the murder of George Floyd. In fact, many people were getting involved and protesting police brutality and racism for the first time (including many white people), which was likely due to Jackson's efforts.
As the country awaits to hear the verdict for Derek Chauvin and the other officers involved, we can only hope and pray that justice will prevail.