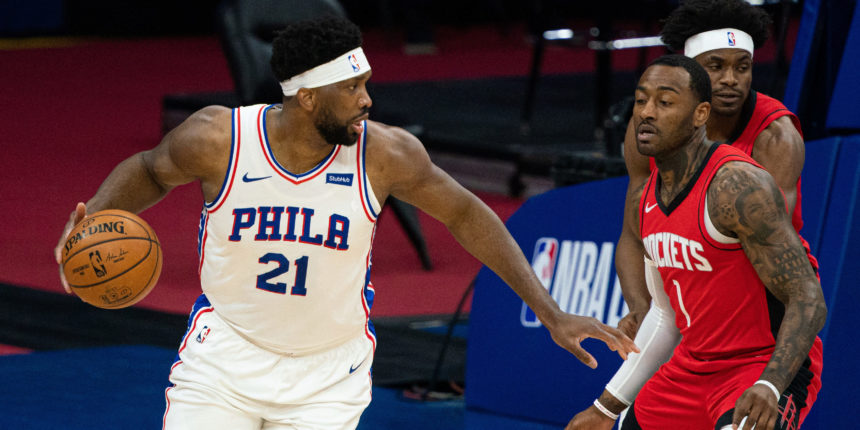 Small ball taking toll on Rockets: 'It's like your greatest strength is your greatest weakness'
The Houston Rockets have lost all but two games in the month of February, and their struggles coincide with Christian Wood injuring his ankle. In fact, the team has not won a game since he was sidelined three weeks ago on Feb. 4, dropping from a record of 11-10 to 11-19.
Stephen Silas and Co. are searching for answers, sliding down the Western Conference standings quickly on a nine-game losing streak. With Wood out and DeMarcus Cousins waived earlier this week, Houston's simply been lacking big men.
The team signed Ray Spalding to a two-way contract 13 days ago, yet he only lasted one-and-a-half games due to an untimely Achilles injury. To shore up the center position following Spalding's release, the Rockets brought in former 2017 first-round pick Justin Patton on a separate two-way deal. He's seen 33 minutes of action already and has shown promise in his two games.
Attempting to counter the rash of injuries and roster turnover in a tumultuous season, Silas has elected to go with a small-ball approach. P.J. Tucker and 25-year-old rookie Jae'Sean Tate have been manning the 5 position as Houston goes with a five-out strategy offensively. Rockets star John Wall admires how his teammates (such as Tate) are competing, but he hasn't been the biggest fan of playing small when the team has to take on more sizable competition.
"I wouldn't say it's us missing bigs, it's the way we want to play... but it's kinda tough when we're playing against a team that has a seven-foot center or guys like that rebounding and things like that," Wall said. "It's just difficult, to be honest, for me. I'm a person that likes to pass. I'm used to finding my bigs on the roll. Not even just having a lob threat; I never really had one of those 'til I got C-Wood for real, but just having a big that I could throw the ball too that can finish down there.
"It just makes our team more dynamic when we have all smalls out there. It's kinda tough because they're just switching 1-through-5 and loading the paint against us and making it tough [on offense]. You've seen it. It's just one or two guys out there at a time -- 'cause me and EG [Eric Gordon] would be out some games, Vic [Oladipo] would be out some games, I might be out some games -- and they were basically just on the perimeter playing one-on-one the whole time. We definitely need some type of paint presence. You need that. I just think with any team, you're gonna have to have that. And that's why I feel like we kinda struggled at times because we're down there doing the best we can to fight and try to get rebounds and do the little things, but it's a lot harder when you've got a seven-foot guy [against you]."
The advanced statistics back up Wall's claims. Since Wood went down, the Rockets have scored a league-worst 101.9 points per 100 possessions with an equally bottomed-out 51.6% true shooting percentage. They're also in the bottom third of the league in defensive rating; only the Cleveland Cavaliers (the team they just lost to) have a lower net rating. And unsurprisingly, the team's rebounding rate on both ends is not pretty either.
Oladipo, Wall's backcourt running mate, expressed similar sentiments, though he wouldn't go as far as saying he didn't like the small-ball approach. He just admits that it'll take getting used to.
"This is my first time playing small ball, so it's an adjustment. I think it's an adjustment for everyone," Oladipo said. "At the end of the day, we can only do so much. We've got to work with what we've got, you know what I'm saying? At times it can be tough, obviously when you have a center who did what he did [Wednesday] in Jarrett Allen. Then, there's some times where it kinda works and the second unit played small ball and got us back into the game. It's, 'to each his own.' It's like your greatest strength is your greatest weakness. You've got to pick your poison. There are times where it can work and then there are times where it's tough. Most guys in the league right now, most teams in the league don't necessarily play that way. They have a traditional center that rolls or pops and stuff like that… obviously, I'm used to playing with a traditional big as well, just like John is.
"We've just gotta work with what we've got right now. We've gotta figure out a way to win. We're not gonna wake up and have a center tomorrow or for the next game, so we've gotta figure out a way to beat Toronto... at the end of the day, everything's a learning lesson. You've gotta take the good with the bad, and we've just gotta stay even-keeled. It's easy to go south, it's easy to go the bad route, but I'mma just stay positive and continue to keep getting better and control what I can control, and things will eventually turn around for the better."
There's a lot of season left, and the hope for everybody is that Wood recovers swiftly and fully. Once that happens and the upstart big man hits the floor again, maybe Houston can make a run before the group digs themselves too deep of a hole.
"We shall see," Oladipo said. "Only time will tell."