With three superstars now on board in James Harden, Kevin Durant and Kyrie Irving (eventually, in that third case), Sean Marks is in control of a Brooklyn Nets team that is jacked with talent, but has a considerable flaw: A hole in the middle where Jarrett Allen used to play.
He said he will address it in the most astute way, beginning with a closer look around the league as the season progresses to see which big men become available.
An unshaven Marks met with the media Thursday via Zoom to describe why and how he acquired Harden from Houston a day earlier for a package that included three-first-round picks and four first-round pick swaps, along with Allen and Caris LeVert.
The Nets now have the most talented team in the East offensively, but their defensive abilities and rebounding needs are going to have to be addressed as the new trio eventually learns how to play with one another.
"I think everybody knows what this team is positioned and capable of potentially doing. Now, we've got to get everybody jelling," the Nets general manager said. "Get everyone on the same page and I don't know if that takes two games, 10 games, 20 games, whatever it is. But there's certainly the talent there.
"Without a doubt the roster is not done, it's not yet finalized. I mean, it should never be, to be quite frank. We should be doing our due diligence. We have open roster spots, so I have utmost faith in our scouting department that over the years has done a tremendous job for us. We'll continue to try and add pieces as we go through this season."
The Nets are eighth in the league in rebounding with 46.4 per game, but 10.4 of those were coming from Allen, who is now with Cleveland. DeAndre Jordan is Brooklyn's lone remaining center, and he grabbed 12 boards in his eighth start of the season Wednesday night as the Nets defeated the Knicks in an empty Madison Square Garden. He will likely remain a starter. Jeff Green will likely become the fill-in starter until he's forced back to the bench when Harden, Durant and Irving eventually team up in a starting five that figures to include Joe Harris and Jordan.
It will be up to head coach Steve Nash to figure it all out, but the Nets have now become the league's must-see team, although it remains to be determined exactly when Irving (coronavirus protocol violation investigation) will be cleared by the NBA to play.
The Nets have home games upcoming Saturday against Orlando and Monday night against Milwaukee on TNT.
"I think we know what James is capable (of) on the court. We've seen that, when you're bringing in an MVP, first NBA team caliber player, he knows what he's capable of doing," Marks said. "We've had conversations with him and he's so eager to get on the court with these guys and be part of this and start fresh.
"There's an excitement, I know our group is excited, our coaching staff is excited; again, when we brought in Ky and Kevin, you're learning from them, you're learning from how they want to play because there's no defense that they haven't seen already. (It's) the same thing from James. So we're going to be learning from James and he'll be adding his thoughts and process to Steve and helping Steve and the coaching staff out."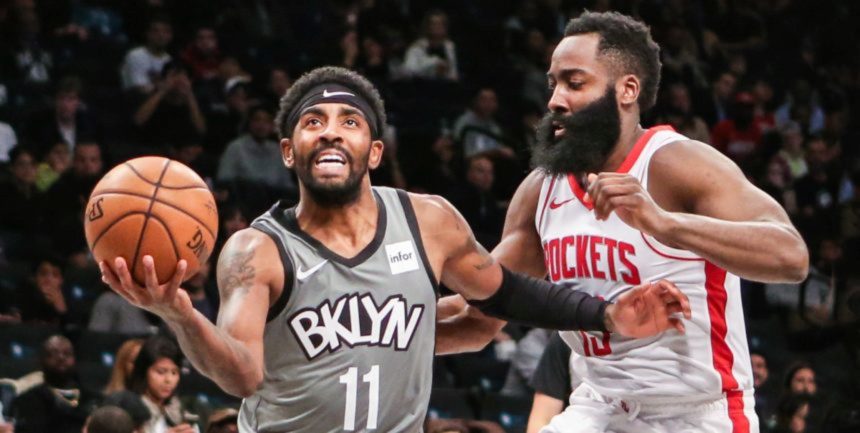 Brooklyn entered Thursday night's games in sixth place in the Eastern Conference with an underwhelming 7-6 record in a season that has been defined primarily by Irving's mysterious ongoing absence from the team.
The trade for Harden was an all-in move, beating the attempt by Philadelphia to acquire Harden for a package reportedly centered around Ben Simmons. The 76ers now must deal with the fallout of Simmons knowing that he was no longer an untouchable, a status he had held during his first three-plus seasons in the league. It was just about all they were talking about on sports radio in Philadelphia.
On paper, the Nets now have more talent than the other top teams in the East, including Milwaukee, Boston and Miami, but chemistry is going to be something they strive to achieve between now and the end of the regular season. There is no telling how three ball-dominant players in Harden, Irving and Durant will coexist on the court, and Brooklyn was being accused around the league of making a "panic move" to placate owner Joe Tsai.
Marks did not speak to any pressure from ownership that he may have received, saying that the deal came together over the course of 48 hours with input from Irving, Durant, the coaching staff and the front office.
He surrendered three-first-rounders and four pick swaps, the latest episode of one team loading up the wheelbarrow with future firsts. It is what Milwaukee did to acquire Jrue Holiday from New Orleans.
Marks disputed a questioner's premise that the cupboard is now bare, saying, "We're not bankrupt right now." But what remains to be seen is whether the Nets diminished their rebounding capacity to such a degree that Harris, making $16.07 million and under contract for three more seasons after this one, might need to be moved to bring in another big.
Marks said a wait-and-see approach regarding how the three superstars jell was the safest course of action. Left unsaid was the fact that what the Nets look like in late-January is unimportant if they head into the May postseason with a head of steam.
"I don't think we're in any immediate rush," Marks said. "I think we have got to do our due diligence, look around the league, look at who is available and so forth. And again, also, look at this group and see how they play together and see what their needs may be and so forth. But we will work hand in hand with the coaching staff on this, just to see where our holes are. As I mentioned before, the roster is not complete. We know that.
"We are going to have to tinker, we're going to have to play around here and again, I have the utmost faith in the group that we have that is going to be able to find guys elsewhere and we will see where it may go."
In other words, he is not done making trade calls. So stay tuned.
The Nets of today will likely not be the Nets of mid-March after the trade deadline has passed.