James Harden is a Brooklyn Net.
After dropping the mic on the Houston Rockets on Tuesday night, months after demanding a trade from the organization he's called home for the past nine seasons, Harden was shipped to Brooklyn. The package was massive: Caris LeVert, Jarrett Allen, Taurean Prince, Rodions Kurucs, four first-round picks and four first-round pick swaps were sent out -- and in some cases, redirected elsewhere -- to bring in the future Hall-of-Famer.
There are plenty of questions to ask about the Nets at this point. As our own Alex Kennedy lobbed to the masses, where do they rank among contenders? How will Steve Nash navigate the different personalities of his stars? How does one of the stars, Kyrie Irving, feel about this, and when will he be back? Will they regret giving up so much draft capital?
All of those are valid questions, and will be answered with time. I have a simpler question: what exactly will this look like? I'm not even talking about the effectiveness, per se; how will Nash and his staff scheme around Harden on both ends of the floor?
EARLY OFFENSE -- DRAG SCREENS
Pushing the ball after misses will be when the Nets are at their most dangerous.
They're a team that likes to set early ball screens in transition. According to a source with access to Second Spectrum, only the Portland Trail Blazers have set more drag screens (345) than the Nets (321) this season. On that front, only five players have received more drag screens than Harden over the past three seasons. It's a telling revelation as Harden's Rockets have progressively played slower and used those screens as a method of mismatch-hunting rather than a downhill vehicle.
Harden built early chemistry with Christian Wood, a twitchy big who provides value as a roll or pop threat. The Rockets generated 1.25 points per possession on trips featuring a Harden-Wood drag screen, per the Second Spectrum source. It's easy to see why: Harden is one of the best scorers and passers the league has ever seen, while Wood forces rotations with aggressive dives to the rim.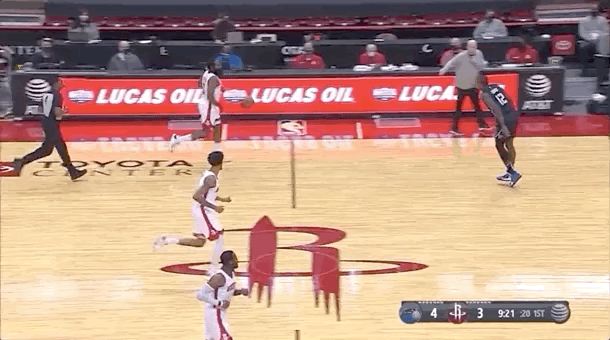 Here's Harden and Wood operating against ICE coverage from the Orlando Magic. Harden rejects the screen and draws two defenders. Cole Anthony and Dwayne Bacon drop down to collapse on Wood's roll, which helps produce the wide open look for PJ Tucker in the corner.
Now imagine DeAndre Jordan, an older but still widely effective rim-runner, in the place of Wood. Teams still honor Jordan's vertical spacing. The real kicker: Harden and Jordan hooking up on one side means Irving (when available), Kevin Durant and Joe Harris will be spotting up along the weak side. If you send any sort of help toward Harden and/or Jordan, you risk giving up an open look to one of the three best shooters in the league.
HANDOFFS
As Steve Jones Jr. mentioned on the latest episode of our podcast (The Dunker Spot), the Nets will likely involve their Big 3 in Pistol action. Guard-to-guard exchanges flowing into handoffs or ball screens have been made famous by Mike D'Antoni. It's how he helped turn Steve Nash into an MVP in Phoenix, and those principles led to similar success with Harden while they were together in Houston.
Every team in the league runs some variation of Pistol action; the Nets are no exception. Here's a variation that ends in a miss, but is instructive to the kind of problems the Nets can generate for defenses.
It starts with Irving and Durant hooking up, which poses a do-we-switch-or-not issue for most opponents. While that's happening, Jordan is setting a screen for Harris above the break. Any slip up there leads to an open look for Harris, or a slip to the rim for Jordan. While that's happening, Durant is relocating to the opposite corner, and Spencer Dinwiddie is lifting to the wing.
The players defending Irving and Durant are strained. The players defending the Harris-Jordan action are strained, and can't provide help on the Irving-Durant action. And then there's Dinwiddie, who doesn't get the ball but is open for 80 percent of the possession.
Now, insert Harden into Dinwiddie's place. Insert Harden into Irving's place, with Irving replacing Dinwiddie in that example. Do you see where I'm going with this?
Of course, there are more simplistic handoff attacks. Just about every team in the league runs "Chicago" action, a pindown that flows into a handoff. That can be ran as an initial half-court action, or as a sideline play after a dead ball.
Here's LeVert running it: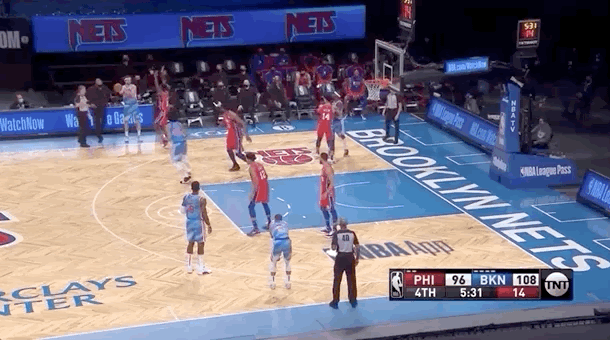 And here's Harden running it in Houston: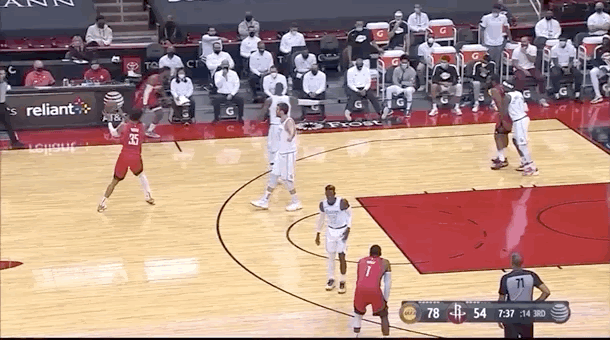 These are league-wide staples that Harden will slot into without any sort of learning curve.
K.I.S.S -- KEEP ISOLATING, SCORE SEAMLESSLY
One thing the Nets deserve credit for is their early -- and successful -- emphasis on spacing and stressing help defenders. I did a video on it earlier this year:
If you're buying stock in the Nets as a serious contender, you're doing so off the strength of their offense.

Not only do they have immense offensive talent, they already have a strong handle on how to maximize that talent with their spacing and off-ball movement.

ðŸ—£ï¸ SOUND ON pic.twitter.com/dyyGTTTDtd

— Karens In Paris (@NekiasNBA) December 23, 2020
If all else fails, Harden will be able to isolate on the most open of floors. Just take the action above, an early-ball screen that eventually flows into an isolation after a flare screen. (Whew, that's a mouthful.) The Golden State Warriors mostly did everything right, and it ended with Irving generating an advantage with a baseline drive, drawing two defenders and opening up a corner three for Harris if he wanted to take it. Harden can and will make that pass.
We may see mismatch hunting to the highest levels. No player has received more guard-set screens than Harden (1748) over the past three seasons, per the Second Spectrum source. Irving is right outside the top 10 in terms of volume. Durant is a walking mismatch onto himself, though he could dabble in some inverted pick-and-rolls if he'd like to.
In short, the Nets are going to be pretty freaking terrifying on the offensive end. Best of luck to your favorite team.
FLIP THE SWITCH
As for the other end, this will be a pretty cut-and-dry conversation. The Nets are going to switch, and they're going to switch often. It's just what you do when you have Harden.
Not only have the Rockets switched more screens (8210) than anyone since the 2017-18 season, playoffs included, they've switched 1900 more screens than the Warriors (6310), per the Second Spectrum source. That style hid Harden's limitations as a screen navigator, while also accentuating his talent as a post defender. Remember, he's a burly dude with really quick hands.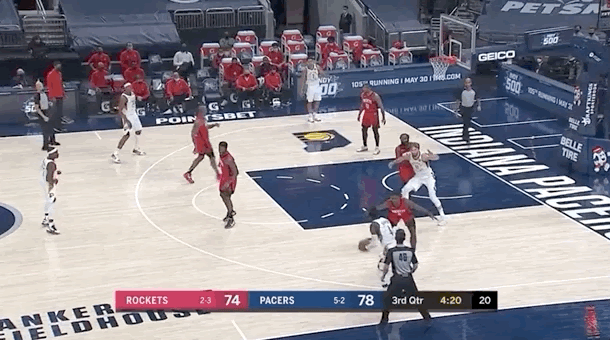 Luckily for the Nets, they won't have to deal with some sort of dramatic defensive shift.
They've switched ball screens at a top-10 rate, and rank in the top five in points per possession allowed this season.
There are larger conversations to be had about the Nets' personnel, how they'll dole out minutes, and how this team will come together off the floor. Those questions will need to be answered quickly if the Nets want to stake their claim as the best team in the East, and especially if they want to challenge the Los Angeles Lakers for league-wide supremacy.
The jury is out on how well the Nets will perform on both ends, but we should have a pretty decent idea of how they'll want to win on both ends of the floor.