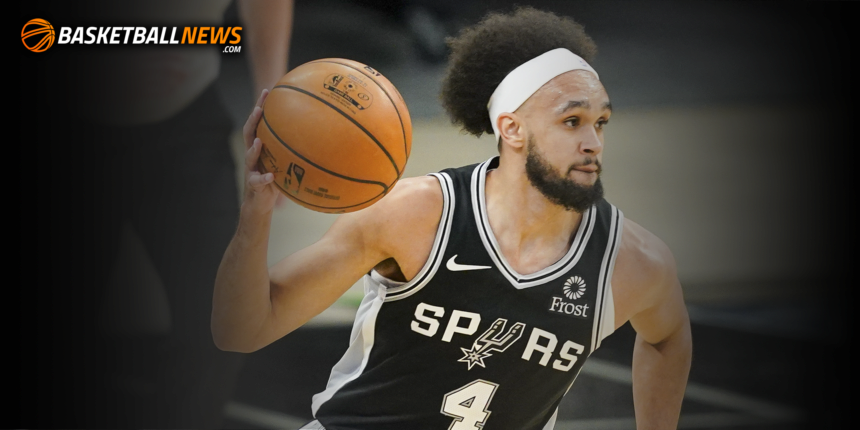 One-on-One: Derrick White, Spurs' youth trying to make a name for themselves
In San Antonio, iron is sharpening iron. It might not be coming in the usual form of an unprecedented playoff streak or championship gold, but it is instead manifesting itself through the development of its highly-touted young talent, as the Spurs transition from the old era to a new one.
Spearheading the evolution is a crop of late first-round draft picks from the past five years, all learning from the guiding hand of the legendary Gregg Popovich. One of those first-rounders is Derrick White, who had taken a significant jump in team responsibility before suffering a season-ending ankle injury on April 26 in Washington, D.C.
"I'm just staying with them. I told 'em when I got hurt that I was with 'em 'til the end," White told BasketballNews.com in a phone interview. "We've still got a lot of talent on our roster, so I'm excited for these last couple games and hopefully, we finish strong and playing the right way for the play-in."
The Spurs are currently the 10th seed in the Western Conference at 31-34 with seven games left in the season and the New Orleans Pelicans and Sacramento Kings on their heels.
Prior to another untimely setback, White posted career-high averages in points (15.4), field goal attempts (12.6) and minutes (29.6) over his 36 games of action. Alongside Dejounte Murray, Lonnie Walker IV and Keldon Johnson, White is a part of a core with the onus of keeping up with an ever-progressing sport, yet upholding the tradition of a first-class franchise with a stellar reputation.
"I wouldn't say [there's] pressure. You just want to go out there and compete," White said. "You're aware of the history and all that, but just going out there, competing, playing the game you love. San Antonio fans are great, so you want to do well for them... I mean, basketball as a whole is changing, so you kinda have to change with the times, and we're no different. So it's just exciting that this is the way that basketball is going. It's been entertaining and it's fun to play.
"I'm just blessed to be a part of this organization. You kinda see the day-to-day, what goes into it. Just their great history, going back from '99 to where we are now. So I'm thankful to be a part of this organization and learning from Coach Pop, probably the greatest coach of all-time. So, it's been great."
Murray and White have a unique perspective that the others do not. They were taken under the sure-to-be Hall-of-Fame wings of Manu Ginoboli and Tony Parker, getting a firsthand look at the standard-bearers of professionalism and what it meant to be a Spur.
"It was cool to be a part of that team and see them and just be around them and all they've done for San Antonio," White said. "And then now we've kinda got a lot of young guys and we're all trying to make a name for ourselves, so it's been a cool transition."
White, Murray and Johnson were all selected in the same exact draft position: No. 29 overall.
"We're all, like, the '29 Boys,'" White said with a laugh. Murray was the first to receive a contract extension. White said that once his backcourt partner signed his contract extension, Murray told him, "You're next."
Sure enough, White inked a four-year, $73 million extension with the Spurs in December.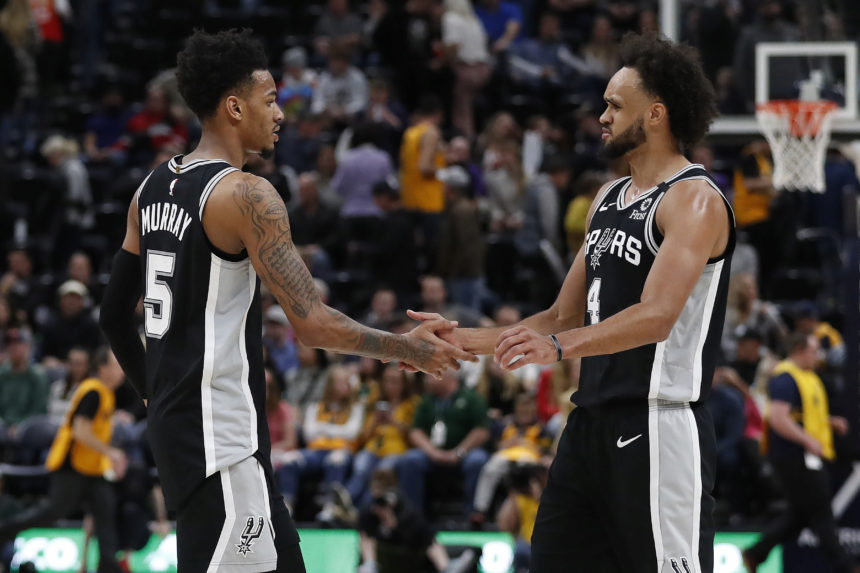 That's back-to-back late first-round picks who earned deals past their rookie-scales, and their chemistry together is a big reason why. This season, according to NBA.com, the Spurs have scored 114.2 points per 100 possessions with White and Murray on the floor together, just behind White and DeMar DeRozan as the Spurs' top offensive duo (min. 650 minutes).
In the 266 minutes without either Murray or White on the floor (in games they've played), San Antonio has a net rating of negative-25.7, per PBP Stats. Needless to say, they're kind of important to the team's success, which is why White feels so grateful to be considered a cornerstone with Murray.
"He's special. He's able to do a lot of different things on the court and he's gotten better each and every year that he's played," White said of Murray. "That hard work and just wanting to be great. We just get along well off the court, and it makes it easy on the court."
Walker and Johnson have been added to the mix over the last three seasons, and are following a similar pattern. White sees that Walker is "uber-talented and uber-athletic," while observing that Johnson "plays his tail off every two seconds." The drive to improve and be great makes each of these four push one another in order to become the best they can.
There's also another aspect of White's approach that's undergoing maturation: vocalizing and teaching what he's soaked in from those before him.
White appreciated how productive Ginobili was at 40 years old. When he retired and Parker exited to the Charlotte Hornets, LaMarcus Aldridge played a pivotal role in helping White's development and keeping his head up during his second season. Similarly, then and now, he says that DeRozan will answer any question that gets asked.
"All the vets that we've had here have been amazing. That's kinda the thing, is there's always great people around," White stated.
The way leadership works is that you instill values into the people you're in charge of, so that when they grow older and wiser, they can impart the wisdom onto the next generation. White learned the proper lessons; being a fourth-year pro, it's his turn to move up the ladder.
"The front office and Pop have been on me [about] trying to be more of a leader," White said. "It's something that I'm continuing to develop in. The more confidence you have, the more you're doing the right things, the more you can hold other people accountable. So it's a constant thing that I'm developing, and hopefully I just keep getting better and better at it."
White, an avowed introvert, admits it is an adjustment: "I'm pretty quiet at the start. But once I get to know people, I start talking more. (laughs)"
As White tries to blossom into a more vocal figure, his skill set can do the talking for now. Defensively, he is a thorn in everybody's side, sticking to his assignments, closing out hard on shooters and standing pat when the opposition tries to drive on him.
Get this: Among those playing at least 25 minutes and defending a minimum of three field goal attempts at the rim per game, there are only 14 NBA players holding opponents under 55% on those tries. White is a part of that group, and all but Miles Bridges and White are big men.
It's not every day you see a 6-foot-4 guard averaging more rejections (1.0) than steals (0.7), either.
"I always tell people I'm a shot-blocker," White quipped. "I don't know. I'm just trying to get a stop. It's something that I've always kind of done is just be able to block shots. I just kinda have a knack for it, and I'm just trying to do whatever it takes to get some stops and get us the ball back.
"[Strategically, my approach] depends on the matchup. There's a lot of talented guards and wing players that I've been guarding. Try to limit their touches, try to push them out of their spot. There's so many talented people in the league that they're gonna get their points. Just try to make it difficult for them."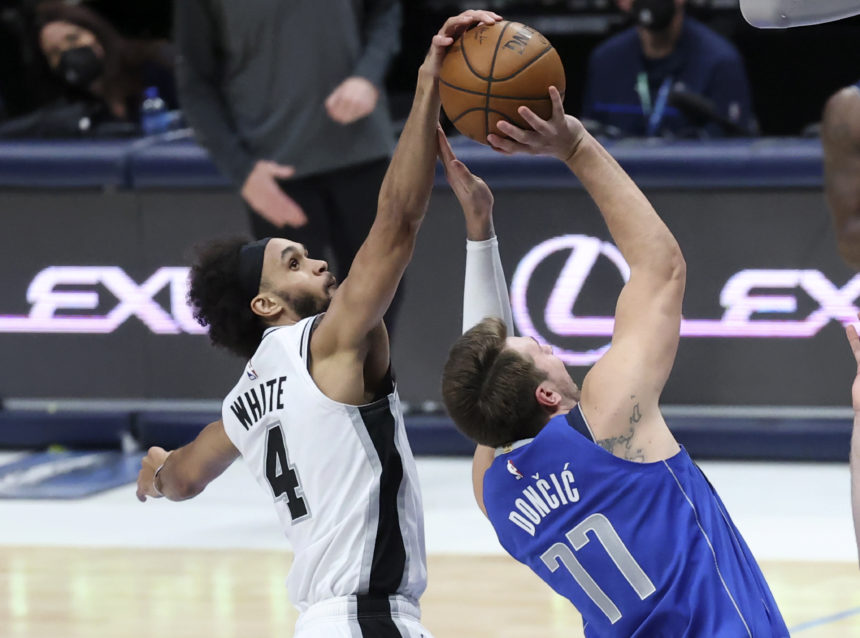 White's offensive burden has ramped up more this season, sporting a career-high 22.7% usage rate, in addition to doubling his three-point attempts to nearly seven per game.
"Coach [Pop] said if I was open or anything just to let it fly and, hopefully, I can continue to get in the gym, continue to get shots and reps up, and my percentage and everything will just continue to grow as my game grows," White said. "I'm pretty confident [in my shot]. I mean, it was kinda a rough offseason and then getting hurt and then COVID and everything, so it was kinda inconsistent, I feel like, 'cause I just didn't really get a lot of reps in during the offseason stuff. But just staying in and staying confident, and I think good things are starting to happen."
Though the traditional statistics don't jump out and he's missed more shots than he's accustomed to making, White's advanced numbers indicate his effect on the game. As specified by Cleaning the Glass, San Antonio's offensive rating dips by 4.7 with White off the floor. He's also incredibly careful with the basketball, as the team has a mere 11% turnover rate when he's on the court.
Last week, Popovich expressed that White's season is over. It's been an unfortunate series of events that will hold back the 26-year-old guard from having the chance to be a part of the Spurs' chase in the postseason play-in.
It's times like these when White leans on a support system that's been with him from the start. His mother, Colleen; his father, Richard; his sister, Brianna; his fiancee, Hannah; even his friends that he hooped with growing up -- all of these people cheer him on and keep him level-headed. White is grateful that he has them in his corner, keeping him "boosted" when he needs it.
Besides Russell Westbrook welcoming him to the NBA early his rookie year ("guarding Russ for the first time was pretty eye-opening. He didn't take it easy, that's for sure"), one of the favorite moments of White's embryonic career is when he burst onto the scene in the 2019 playoffs vs. his hometown Denver Nuggets, a series his parents witnessed up close and personal.
"I grew up watching the Nuggets and everything, so to play them my first playoff round while really playing, it was crazy," said White, whose Spurs ultimately fell by four points in Game 7. "It did a lot for my confidence, but it also showed that I had a lot of room to grow. So I was happy that I played well, but still wanted more out of it.
"My mom and my dad went to every game in Denver, and then they were in San Antonio for Games 3 and 4. So they saw pretty much all of 'em. They were in San Antonio when I kinda blew up and scored 36, so it was cool to hang out with them after the game and just get dinner and get food with them after. It was nice to see and it was good to have them there."
White's family saw his growth -- physically, mentally and professionally -- from when he was generously listed at 6-feet tall in high school, to catching eyes at Division II Colorado-Colorado Springs and, ultimately, landing at the University of Colorado for one year and being drafted by the Spurs in 2017.
"It's kinda crazy," White said of his journey. "UCCS kinda gave me a preferred walk-on, basically, and I just thought it was cool 'cause it had my major [sports management], but it actually worked out perfectly. I was able to start right away, and they kinda just gave me the keys to the whole program from like Game 5 on, so that did a lot for my development, confidence, everything. Three years there, and it was amazing. But Marcus Mason, my trainer, was like, 'I think it's time for you to go on.'
"And so, I have an opportunity to transfer to CU, to the PAC-12, and compete at that level; I couldn't turn it down. So I transfer in there, redshirting and just working out for a whole year trying to get better and then, just competing that one year there, trying to make a name for myself as quickly as I could. So it was all pretty crazy. But I mean, I think everything happens for a reason, so it all works out for me."
When asked what he's most appreciative about regarding his unusual path to the greatest basketball league in the world, White pondered before responding.
"I mean, just sticking with it, not giving up," White said. "I could've just called it quits [and said], 'It is what it is.' But I just continued to work. Obviously, growing helped, but I worked harder than I had before and good things started happening for me."
If White's path is any indication, it'll take a lot more than a few bumps in the road to keep him from achieving whatever he puts his mind to.