Fans of the New York Knicks have been frustrated for a long time. It's been one emotional rollercoaster after another. Don't believe me? Just ask any New Yorker how they feel about the team. You won't get a simple answer like, "We're looking forward to next season." You'll get a long-winded, emotional, triggered, overly passionate, hand-gestures-filled, voice-cracking response. They may even start sweating. It's time for Knicks fans to get a win.
After recent reports that Russell Westbrook is ready to move on from the Houston Rockets, there has been a lot of speculation as to where his landing spot would be. In fact, our Nekias Duncan broke down four possible destinations for the former MVP.
Kevin Wildes from "First Things First" said on yesterday's show: "He's in the weird spot where he doesn't necessarily need to win a championship. [James] Harden needs to win a championship. I'd like if CP3 won a championship. But because he's such an electric player, Russ doesn't… I think it would be better if Russ just got the keys to the car, could drive it as fast as he wants, could crash it into a few trees if he wanted to (which will happen). But do it in New York with the bright lights. That's what he needs and that's what would be better for his legacy moving forward -- not to championship chase."
Chris Broussard added: "When we think of Oscar Robertson, what's the first thing we think of? He averaged a triple-double for an entire season… It's the same thing with Russ. Unless triple-double seasons become commonplace and Luka [Doncic] does it and LeBron [James] does it, his legacy will be that this guy is the only guy to average three-straight triple-double seasons. It's not going to be about any championship he wins later in his career."
Then, they started breaking down potential landing spots for him such as Portland, Cleveland, Sacramento, Indiana, Philadelphia, etc. But as a lifelong Knicks fan, I would like to see Westbrook take his talents to New York.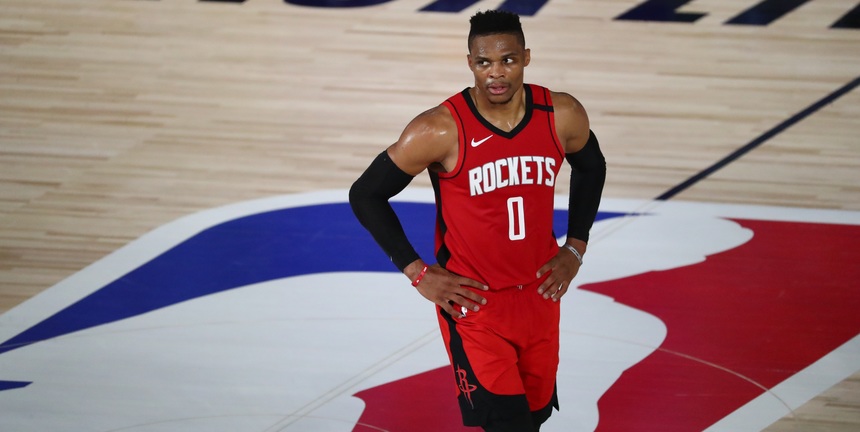 Admittingly, I am one of those emotional Knicks fans that I described earlier and, yes, I have been frustrated for years (and rightfully so).
I grew up a Knicks fan. I was born in Harlem and although I moved to Tulsa, OK, when I was young, I spent all of my summers in Harlem. I would watch the Knicks with my grandfather, who loved all things New York. He loved the Yankees, Giants, St John's, Syracuse; he even (lightly) cheered for the Mets and Jets. He had the Yankees fitted cap, yelled at the TV screen and everything. My grandmother would routinely come in and tell us to keep it down because we were going to disturb the neighbors (although we could clearly hear people all throughout the building cheering, yelling, fussing and carrying on just like we were).
I remember my grandfather always taking me to the park to watch the older guys play and I would just listen to all of them talk about the Knicks daily. They'd say that the team was full of bums and then, the very next day, be fully convinced that they were going to take down Michael Jordan and the Chicago Bulls. They talked about how much they respected how hard certain players played and how the one thing they didn't tolerate was a lack of effort.
I too fell in love with the Knicks' style -- the grittiness, the physical play. I loved seeing Greg Anthony run down from the stands in street clothes to defend his teammates. He had on church shoes and everything! I loved watching Charles Oakley bully people every night. I loved when Coach Jeff Van Gundy grabbed Alonzo Mourning's leg when he and Larry Johnson got into a fight (which still makes me laugh to this day). It was all for one and one for all, no matter what. Seeing all of that made me become a diehard Knicks fan alongside my grandfather. And we were proud of it.
Now, the Knicks have been a constant stream of frustration. It has literally been one catastrophe after another -- from Oakley being accosted by the team's security during a game, to the way former Knicks executive Phil Jackson disrespected Carmelo Anthony, to trading Kristaps Porzingis only to see him blossom into a star with the Dallas Mavericks, to missing out on Zion Williamson, to hearing that the Knicks didn't aggressively pursue Kevin Durant (after the media spent months making it sound like KD to New York was virtually a done deal). I could go on and on.
But Russell Westbrook could change all of that.
Now, a lot of people have scoffed at the thought of bringing Westbrook to their team because of his performance in the playoffs (since he averaged just 17.9 points, 7.0 rebounds, 4.6 assists, 1.5 steals while shooting 42.1 percent from the field and 24.2 percent from three-point range). However, many people are forgetting that right before play in the bubble began, Westbrook tested positive for COVID-19, which could have accounted for his timing being so visibly off.
Recently, Rockets forward Jeff Green joined me on my show ("The Rematch") and said that he saw the same thing.
"I saw it firsthand," Green said. "He missed a handful of practices and then he comes back and he just didn't have it. Not [that he didn't] have it, but he didn't have a rhythm -- the rhythm of the game and where his shots were gonna come from. And it was a different game in the bubble. He came back and he was energetic, but the shots [weren't falling] and his legs weren't there. Then, he gets hurt and he misses the seeding games and he comes back after Game 4 of the first round against OKC, and he still didn't have the rhythm.
"We had a Russell who [wasn't 100 percent]. The athleticism and the quickness were still there, but the rhythm and the legs just weren't there. And you know Russell, he's gonna fight it but there just wasn't enough time to get him reps to have his legs, to have his rhythm, because we played every other day. It started to feel like [we were playing] back-to-back-to-back-to-back and we just didn't have enough time to get him established with the rhythm of the game. And you know Russell would say, 'We're not gonna make excuses about it, we're gonna go with the results.' But it was really tough for him."
Westbrook is exactly the kind of player who would be embraced by New York fans. He's someone who will leave it all on the floor no matter what. No complaints, no excuses, no crying to the media -- he just works extremely hard and plays with all his heart. That's why Knicks fans loved Charles Oakley, Anthony Mason, John Starks and Larry Johnson. Even when they were dealing with injuries, they all played with a ton of heart and emotions, and they always gave 110 percent effort.
That's exactly who Russell Westbrook is. He has John-Starks-level intensity all the time and the New York crowd would eat that up and he would feed off of their energy. Instead of "Fire Dolan" chants, the Knicks fans would passionately chant Russ' name.
Not to mention, this would only add to the rivalry between the Knicks and Nets, with KD and Kyrie Irving in Brooklyn. Can you imagine the energy of those games? Westbrook and Durant -- once teammates, now foes -- would be crosstown rivals too. Imagine the Durant vs. Westbrook billboard in Time Square!
Not only would adding Westbrook be good for the Knicks, it would be good for basketball.