SiriusXM's Tony Bruno was recently fired after saying that most NBA players can't read.
"I don't care about the politics of these players… most of these guys can't even read, for God's sake," Bruno said. "You wanna give me lessons on what matters and what's important?
"LeBron's not focused on the game right now. He's talking about the situation that went on with the police shooting over the weekend and ignores everything else. He only talks about the lives he thinks matter, but other lives don't matter. That's why I despise LeBron James and I despise the NBA… There are a lot of people who are tired of this."
These are the words of Tony Bruno, who was a national broadcaster with Sports Map Radio and the afternoon voice on SiriusXM's Dan Patrick Radio before he was recently relieved of his duties by both companies. Robin Austin, Bruno's executive producer, told Barrett Sports Media that "Bruno was being flippant" and that his comments weren't as malicious in context.
Here are both segments where he went after NBA players (and James in particular):
There is so much wrong with his on-air comments, I don't even know where to start.
For those who are "tired of this" athlete-activism, imagine how exhausting it is to deal with these things every day and fight for justice and equality.
Last week, I interviewed Eric Garner Jr. His father, Eric Garner, was murdered by NYPD officer Daniel Pantaleo, who received no jail time or even an indictment for the murder. When LeBron James and the NBA use their platform to speak out about these senseless killings, it's not a political issue, it's a human issue. It's also much appreciated by those who are directly affected.
"To see LeBron and everyone wearing the 'I Can't Breathe' T-shirts, it's a sign of hope - like they hear us and understand our pain," Garner said on my show, The Rematch. "My first protest, back in 2014, was actually outside the Barclays Center when they all wore the shirts."
For those who are "tired of this," imagine having your loved one taken from you and then broadcasters, writers and people on social media justify your relative's death and list reasons why they deserved to die.
Every time Garner sees a policeman, he said he feels "scared" and "afraid." He said that he definitely has PTSD.
So while it may be an "inconvenience" for some sports fans to hear players expound on issues beyond the court, you see how much the support of athletes means to these people who are suffering and mourning. It shows them that their life and the life of their loved one who was murdered actually matter.
To add further insult, Bruno also proclaimed very matter of factly that, "Most of these guys can't even read, for God's sake." This took me back to my sophomore year at Booker T. Washington High School in Tulsa, OK. My English teacher, Ms. Ennox, read my first writing assignment for her class and told me, "This was great work for a basketball player."
It's one of those compliments (like "You speak so well!") that's really an incredible insult disguised as positivity. I remember looking at her perplexed and then she said, "Well, you know, most basketball players can barely read." Those were her exact words to me.
The sad thing is that wasn't my first or last time having an exchange like that.
Unfortunately, I went on to have multiple experiences like this throughout my time in high school. Yes, I was a basketball player and we had an amazing team; we were back-to-back state champions (if we're being specific). But while we were winning state championships in basketball, we were also winning state championships in speech and debate.
During my senior year, I actually took one speech that I wrote all the way to the final round at Harvard. The notion that athletes are illiterate consistently came up. Sometimes, it was in jest. Other times, there was venom behind the words, as someone tried to prove their point that an athlete (particularly a Black basketball player) should not be taken seriously when discussing anything outside of basketball. This is the same context that Tony Bruno used.
And, if that wasn't enough, Bruno added, "That's why I despise LeBron James and I despise the NBA."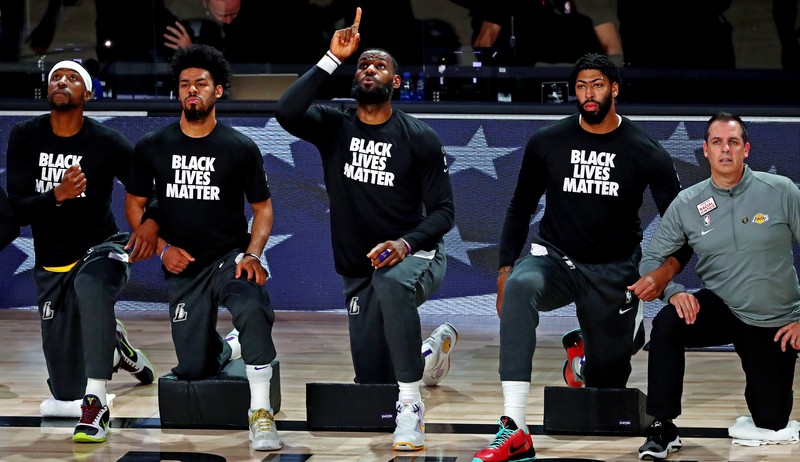 Bruno took to Facebook to appeal to his following with a lengthy apology (as expected). However, in his "apology," he just couldn't help painting himself as a victim - even while simultaneously saying, "I'm not a victim." (Bruno hasn't responded to a request for comment).
"Being labeled a racist is the worst thing possible and there is nothing I can say or do to appease the jubilant mob," Bruno wrote.
Apparently, simply saying that he was wrong and he's sorry and leaving it at that was too difficult.
I got in contact with Caleb Yarling, who was Tony Bruno's intern, to get a sense of who he is as a person. I told him that I was writing an article about this situation and asked if he would speak on the record. Needless to say, Yarling didn't mince words at all.
"When I joined Tony Bruno as an intern for the SiriusXM reboot, I had no idea what I was getting myself into," Yarling said. "I tried to get in contact with them about the hate speech that was being thrown around in the Twitch chat. I was ignored every time. Then, Tony would commend TrumpGuy69 and claim Antifas were terrorists. He, in fact, called me an Antifa terrorist too many times to count. I knew I had to get out [of] there. I quit in July, knowing that the end of the show was near. I just didn't expect it to be so obviously racist. I, myself, am no longer scared of Tony, and I'm glad the world now sees him for who he really is."
Yarling saved photos of the hate-speech comments from the show's Twitch chat and shared them with BasketballNews.com.
It sounds like Tony Bruno is exactly who I thought he was. And his claim that he has always been about "fairness" and "justice for all" appears to be just as disingenuous as his apology.
What Bruno said is racist and shouldn't be acceptable on any platform. This is not "liberal censoring" or "the PC police coming to take away your freedom of speech" as many of his supporters are currently claiming. We all agree that freedom of speech is important, but media outlets have their own rules and standards that their employees must follow too.
Let's be clear: Tony Bruno is no victim. He very foolishly said something that he shouldn't have and was reprimanded for it.
Now, I don't have an illustrious career in the media that spans decades like Tony Bruno does, but I am fully aware of the rules and he should've known better. Sometimes, when someone gets away with something for an extended amount of time, they begin to believe they are untouchable.
And instead of being a man, putting on his big-boy pants and taking responsibility for what he said, what did he do? He blamed an imaginary "jubilant mob" that is out to get him, like some type of social-media boogeyman or something. Bruno has nobody to blame but himself for no longer being employed. He foolishly threw his 40-year career down the drain in a disgraced manner. Kudos to SiriusXM and Sports Map Radio for having the moral courage to set the standard that racist comments will not be tolerated on their platforms. Every company should follow suit.