Steve Nash, the incoming coach of the Brooklyn Nets, got peppered with so many different questions about so many different things on Tuesday that he literally ran out of answers.
But the ones he provided were revealing.
Nash is the first ex-player to take on an NBA head coaching job with no prior head coaching experience since Derek Fisher and Steve Kerr did it in 2014. Jason Kidd preceded them in 2013, and others who have "jumped the line" include Mark Jackson, Vinny Del Negro, Kevin McHale, Isaiah Thomas, Doc Rivers and Larry Bird.
That puts Nash in a pretty exclusive club, and he sounded more than ready to take on the task in an hour-long "Town Hall" broadcast on the YES Network hosted by Nets play-by-play announcer Ian Eagle.
And despite the offensive talents that Nash will have at his disposal in Kevin Durant, Kyrie Irving, Caris LeVert, Spencer Dinwiddie and Joe Harris (if he is retained as an unrestricted free agent), Nash said his singular focus in discussions with the team thus far has been defensive philosophy. He refused to put a number of how many points he expects opponents to average, but he sounded especially genuine, emphasizing that defense wins championships.
"The offense is still to be determined. I don't want to come in with a whole lot of concepts and designs," Nash said. "When I played under Mike D'Antoni, he let it evolve. We want to play fast, space the floor and incorporate philosophical thoughts that fit our group, but we've spent recent time building our defense."
The interview was sort of a getting-to-know-Nash session, with many of the questions submitted by Nets season-ticket holders via Facebook. Eagle was the only media member asking questions.
Nash said the biggest change that he has seen in the NBA since his playing days ended is the emphasis on analytics, including how they are at the heart of creating defensive strategies and opportunities for three-pointers.
"You see that on the floor a lot without knowing how much of it is data-driven," he said.
Nash was hired over the summer by longtime friend and Nets general manager Sean Marks. Nash was a player-development consultant on the Golden State Warriors while Durant was on the team. Nash's assistant coach, Adam Harrington, also worked with Durant in the past as KD's personal coach.
Nash called Kyrie Irving "as skilled of a player as I have ever seen in this league." He noted that because they both have played point guard, they share a commonality on the court, as well as a commonality off of it -- related to Irving's offseason donation of $1.5 million to WNBA players who sat out their bubble restart for a variety of reasons.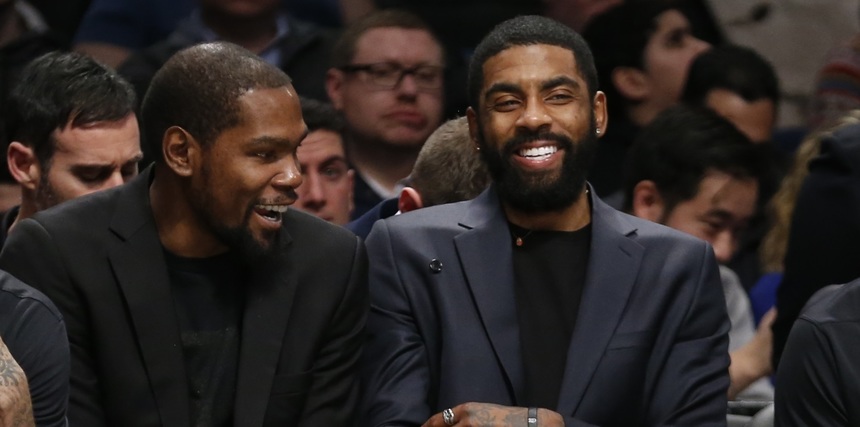 Asked by one season-ticket holder to define what "success" would look like for this team, Nash replied: "We're playing for a championship. I don't want to say anything less than a championship is a failure, but we're playing for a championship."
That is music to the ears of Brooklyn fans. New Yorkers have watched the crosstown Knicks fail to make the playoffs in each of the past seven seasons while being spurned by big-name free agents, including Durant and Irving a year ago. This interview also offered a stark contrast between the two metropolitan-area franchises in terms of their approach to engaging their fans. Nash was colorful and engaging, showing personality and humor. Knicks coach Tom Thibodeau is similarly engaging, although he has been kept mum by New York's front office (aside from brief Zoom interviews following the Delete-Eight mini-bubble practices).
Nash said he was impressed by the Nets' 5-3 performance in the NBA bubble despite the team missing so many of its regular players, singling out LeVert and Jarrett Allen as players who were especially impressive.
The geographical separation of the team members due to COVID restrictions has been a hindrance in preparations, but about two months still remain before the season could reportedly begin. The Nets still have to make two draft picks (No. 19 and No. 55) on Nov. 18; Nash said he is largely staying out of the draft process other than offering his opinion when asked, saying that the front office's responsibility.
Nash was barraged with a variety of personal questions including what he can cook best (avocado toast), what his favorite concert was (Jay-Z, Prince, Radiohead), who his favorite soccer players are (Tottenham legend Glenn Hoddle and Lionel Messi), which athlete posters he had on his bedroom wall as a child (Michael Jordan and Darryl Strawberry), his favorite Christmas present (Air Jordan 1s), who he would most like to have dinner with (Barack Obama) and which actor he would choose to play him in a Steve Nash biography (Sean Penn). He had no answer when asked what his biggest hidden talent was.
All-in-all, it was an entertaining and insightful window into a two-time MVP who is better known in Phoenix, Dallas and Canada than he is in Brooklyn, where he lives with his wife and five children.
The Nets are projected as the favorite to win the Eastern Conference by many sports gambling companies, and the expectations are huge after the fan base waited out Durant's recovery from a torn Achilles tendon and Irving endured sporadic injuries that sidelined him for 52 games.
Nash will be the 23rd coach in franchise history.
"Over the last five years, I realized I had the itch [to coach]," Nash said.
Now he gets to scratch it, and the Nets more than scratched the surface of what kind of a person Nash is with one of the better television interviews that the franchise has produced in ages.
"I am not here to raise my profile or get credit," Nash said.
But those things will happen if he leads the Nets to a championship, which is his own stated goal.