Entering this season, the Los Angeles Clippers were considered the favorites to hoist the Larry O'Brien trophy. They were deemed the winners of the offseason after signing Kawhi Leonard and trading for Paul George, while bringing back many of their key contributors from the year before. Then, they continued to improve with midseason acquisitions like Marcus Morris and Reggie Jackson.
However, being stacked on paper didn't translate to postseason success for the Clippers, who were eliminated by the Denver Nuggets on Tuesday night. The Clippers were up 3-1 over the Nuggets and seemed poised to make the Western Conference Finals for the first time in franchise history, but they ultimately lost Game 7, 104-89.
There were reports throughout the season that the Clippers were struggling to develop chemistry and having some issues behind the scenes. While the players and coaches shot down those reports during the year, they seemed to confirm them after the Game 7 loss.
"We came up short. We did have championship expectations," Lou Williams said. "We had the talent to do it. We didn't have the chemistry to do it and it showed."
"Internally, we've always felt this isn't a championship-or-bust year for us," Paul George said. "We didn't have enough time together… Year one together, [our] first run together, of course we wanted to win this. But we've been very optimistic about us being together and building something going down the road."
Clippers head coach Doc Rivers believes that the Nuggets' continuity and chemistry gave them an advantage and helped them pull off this upset.
"Honestly, you could just see the difference in the two teams. That team's been together. We haven't," Rivers said. "And you could see it as the games went on."
"We can't even say we want to change our roster; we like what we got," George added. "We've been saying it all year - just chemistry, being together... The more we're together, the better we will be. It's year one. Year one. We've got a lot to reflect on."
Where do the Clippers go from here?
While it's possible that Los Angeles just needs more time together, it remains to be seen what this team will look like next season. The Clippers currently have $109,039,053 in guaranteed salaries on their books for next year, and that number could be $116,737,394 (if JaMychal Green opts in and Joakim Noah's $2,692,991 salary for 2020-21 becomes guaranteed).
L.A. has several players hitting unrestricted free agency this offseason including Montrezl Harrell, Marcus Morris, Reggie Jackson and Patrick Patterson. Green's player option is worth $5,005,350 and he could also become an unrestricted free agent if he opts out.
Harrell won the NBA's Sixth Man of the Year award and he's helped his stock tremendously with his play over the last two years. After averaging 18.6 points, 7.1 rebounds and 1.1 blocks while shooting 58 percent from the field, he's expected to generate a lot of interest from teams. In a free-agent class that's widely regarded as mediocre, the 26-year-old will be one of the top players available (especially at his position).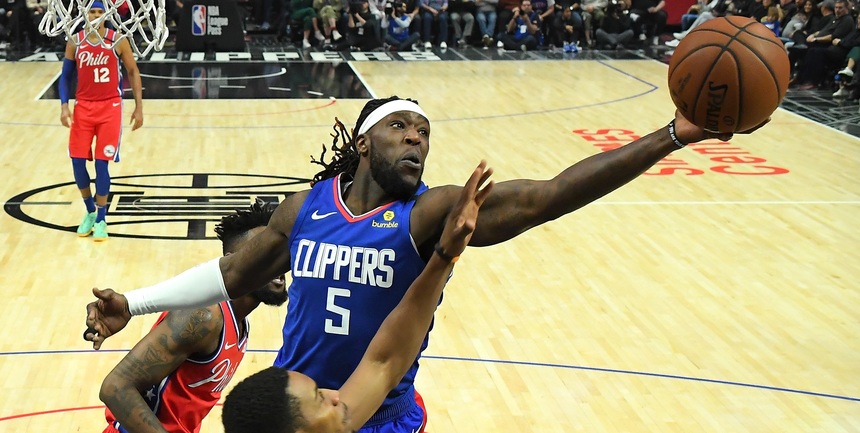 Morris should also be highly coveted. He started this season with the New York Knicks and played some of the best basketball of his career, averaging 19.6 points, 5.4 rebounds and 2.7 threes (on 43.9 percent shooting). When the Knicks shopped him prior to the trade deadline, multiple contenders reportedly pursued him (including the Los Angeles Lakers) before he joined the Clippers. While his numbers came back down to Earth in L.A. (particularly his three-point shooting), he can help most teams with his toughness and two-way production.
The Clippers are reportedly interested in re-signing Harrell and Morris, but the team is over the cap even before agreeing to deals with either player. The NBA salary cap for the 2019-20 season was set at $109.1 million. Given how the pandemic has impacted the NBA's revenue (plus the early-season controversy with China), it's unclear how the NBA will adjust the 2020-21 salary cap. It could remain at $109.1 million next season, or it could even decrease a bit.
Steve Ballmer has been very aggressive since purchasing the franchise, so paying the luxury tax shouldn't be a concern. Still, keeping this team together won't be cheap. As HoopsHype recently noted, if the Clippers decide to re-sign Harrell and Morris, their combined payroll and luxury-tax payment could be close to $200 million.
Here's the problem for the Clippers: If they don't re-sign Harrell or Morris, it will be very difficult to find a replacement given their cap situation. If Harrell signs elsewhere, it's not like they can just go sign another free agent for the same amount they offered him. They have Harrell's Bird rights, so they're able to go over the cap to re-sign him. And they have Morris' non-Bird rights, meaning they can pay him 120 percent of his previous salary (so they can offer $18,000,000 annually). For any other free agents, the most that the Clippers have to offer is the mid-level exception since they are over the cap.
The Clippers will either have the standard MLE (which is worth approximately $9,755,000) or the taxpayer MLE (which is worth approximately $6,025,000), depending on what happens with Harrell and Morris. The players who would be available to the Clippers for either MLE likely wouldn't replicate Harrell or Morris' production. L.A. would be searching for bargains and hoping that veteran would be willing to take a discount in order to compete for a championship and play in Los Angeles, but there would be a clear drop-off in talent from Harrell or Morris.
This is the same situation that the Cleveland Cavaliers found themselves in back in 2015 when they had championship expectations but very little cap flexibility. They had no cap space, so they focused on re-signing Tristan Thompson, J.R. Smith and Iman Shumpert among others because replacing those players through free agency was impossible. Basically, their options were to re-sign their own players using their Bird rights or let those key contributors walk and try to replace them with veteran-minimum players. Because they were trying to build a championship contender around LeBron James, Kyrie Irving and Kevin Love, they re-signed their role players (even though it was very expensive) and the team ultimately hoisted the Larry O'Brien trophy in 2016.
In addition to the Clippers' cap restrictions, they have limited draft capital as well (which could make it tough for them to improve their roster through trades too). L.A. doesn't have a first-round pick in the 2020 NBA Draft because they traded it to the Knicks for Morris. They have a 2021 first-rounder, but they can't trade it due to the Stepien Rule (which blocks teams from trading their first-round pick in consecutive years). In order to acquire George, the Clippers dealt five first-round picks (MIA's 2021 unprotected first, LAC's 2022 unprotected first, MIA's 2023 lottery-protected first, LAC's 2024 unprotected first and LAC's 2026 unprotected first) as well as the right for the Oklahoma City Thunder to swap first-round picks with them in 2023 and 2025.
When the Clippers decided to add George and Leonard, they went all-in on this current group of players. They sacrificed their future and long-term flexibility to build a star-studded team that could potentially win them their first championship in franchise history. They knew that this experiment would be expensive and restrict them going forward, but they decided to swing for the fences anyway. If the Clippers win their first-ever title, this will all be worth it.
But if the team continues to struggle and fails to live up to expectations, it could be very hard for the Clippers to dig their way out of this hole. What makes this even scarier for the Clippers is that Leonard and George only have one more guaranteed year on their contracts (and then they have player options for 2021-22).
Given the Clippers' financial situation and draft capital, their best option is likely to re-sign their own free agents, run it back and hope that this current group does just need more time together to develop chemistry and realize its full potential.