A lot of people criticize and ridicule LaVar Ball. In fact, he's been called every name in the book: a helicopter parent, a smotherer, an exploiter of his own children, a media whore, a terrible businessman and just an overall jerk. He's been described as overbearing and detrimental to his kids' careers, as well as sexist and misogynistic.
However, he also put both Lonzo and LaMelo in position to be top picks in the NBA Draft. Lonzo was the No. 2 overall pick in 2017 and it's very possible that LaMelo will go No. 1 in this year's draft. LaVar always believed in them, maybe even more than they believed in themselves. He prepared them, supported them and set them up for success on and off the court.
Let's go back to the beginning. LaVar began preparing his children almost from birth. They have told this story many times, but they started training shortly after learning to walk. They did push-ups, sit-ups and pull-ups. They hopped onto steps or furniture around the house. They did sprints in the street and ran up hills. He put a court in his backyard and ran them through drills. He recruited other neighborhood kids to come work out and play in scrimmages against them. They would hold training camps regularly. Again, this was while they were still learning their ABCs.
The three brothers - Lonzo, LiAngelo and LaMelo - were very talented. LaMelo was the youngest and LaVar always challenged him to compete against kids who were four or five years older than him. On the AAU circuit and in high school, he played alongside his older brothers and this fast-tracked his development.
Then, LaVar did something that had never been seen before. He took a completely unconventional approach with LaMelo, pulling a then-16-year-old LaMelo out of his high school so that he could play professionally in Lithuania. He joined a team called Vytautas Prienai alongside his older brother, LiAngelo, who was 19 at the time. This gave them the opportunity to compete against grown men in a professional league with a history of producing NBA players.
LaMelo became the youngest American to play professional basketball overseas. The media was critical of this decision and skeptical of whether it would actually help the teenagers. But LaVar ignored all of the doubters and stuck to his plan.
He also began teaching his sons about business, marketing and the importance of ownership. They capitalized on their popularity by creating their own brand (Big Baller Brand) and LaMelo became the first-ever high school player to have his own signature shoe.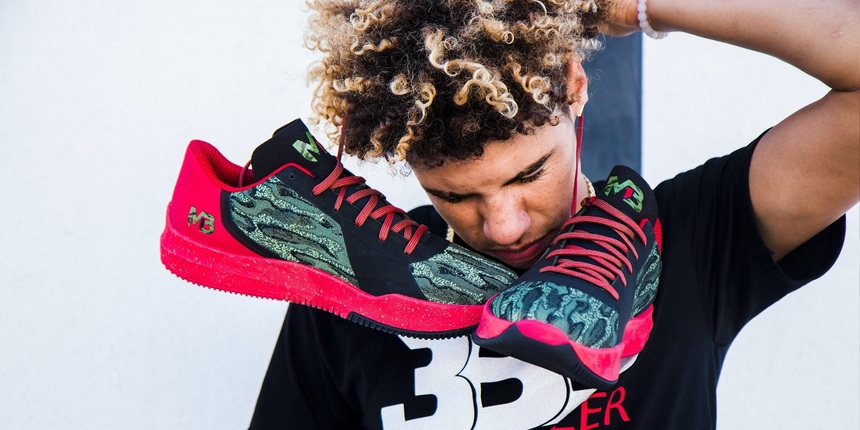 LaMelo was achieving things that were unprecedented for someone his age. Then, LaVar took LaMelo's talents to Australia to play for the Illawarra Hawks of the National Basketball League (NBL). He signed a two-year contract in Australia and in his first game, he finished with a double-double of 12 points and 10 assists. He continued improving and a few games later, he had a career-high 32 points, 13 assists and 11 rebounds in an overtime win, becoming the youngest player in NBL history to record a triple-double.
The next game, he registered another triple-double with 25 points, 12 rebounds and 10 assists, making him just the fourth player in NBL history to record consecutive triple-doubles. He was putting on a show and quickly became one of the league's most dominant players.
He even had the business savvy to attempt to buy the team after the season. And although he wasn't successful in his bid to buy the team, he impressed many people with his ambition and business acumen (which was taught to him by his father).
Now, every 2020 NBA mock draft has LaMelo as a top pick. In fact, many mock drafts have him going No. 1 overall. Jonathan Givony of ESPN reported that multiple NBA front officers are "under the assumption" that LaMelo will go first overall on Nov. 18 (either to the Minnesota Timberwolves or to a team that trades up to select him).
I would say that LaVar did a great job with LaMelo.
Now, don't get me wrong: A father's job isn't solely to get his children to the NBA. And just because your children make it to the league doesn't mean you were a great parent. A parent's top responsibility is preparing their child for life. And there's much more to life than basketball.
This brings me to this past summer when LaMelo, Lonzo and LiAngelo were on the front lines of the Black Lives Matter protests in Chino Hills following the murder of George Floyd. And who was right there to give the Ball brothers support and guidance? Their father. During a podcast appearance on "Say Less," talked about the protests and the message he gave his sons when they were deciding whether to join in.
"As far as all the political preference of any player or anybody, man, stick to your thing and do your thing. I explained to my boys on certain situations, 'I get it. I get the protesting and I get that.' But I said, 'Be careful out there.' Because you have to understand what a protest is. What I mean by that… When you want to be political about a lot of things, you got to go the full route. Don't do it [for just] 20 minutes or two days. Out of all the protestors, they're only taking pictures of the celebrities. But let me ask you this: What were you doing before that protest? Did you protest some other things? Or was you out spending and making your money until now [and you're showing up now so] we can be visible?
"You got people out there with videos and masks on just showing that they was there but they ain't really about that. Because you can't be about it for no one week. You got to do some other things in your life if you want to take that political stance and you want to be in that lane. Don't work all your life to be a basketball player and you ain't went to one council meeting and all of the sudden you got this voice and now you want to be like, 'I want justice, I want peace.' So guess what? The people's that's done that, leave it to them. Let them do what they do and you can support that your own way."
To me, that sounds like good advice from a good father. This led Lonzo to tell reporters: "I'm proud of my dad for stepping in there and showing support for the movement. He's definitely a powerful black figure in today's world, so anything he says is going to get out there and I'm glad he's supporting the right message."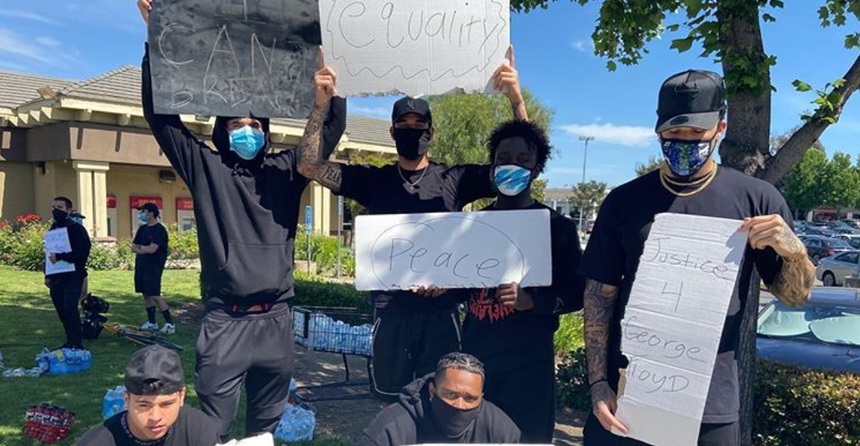 This is, of course, contrary to what is often written about LaVar Ball. But just because something is written doesn't make it true.
CBS reporter Reid Forgrave provided some context to the time when LaVar went on Colin Cowherd's show and told Cowherd's co-host, Kristine Leahy, to "stay in your lane." This caused social media to explode and jump-started the vilification of LaVar Ball. But context is important:
According to Forgrave, "Leahy was doing a television segment on Ball and his basketball-playing sons, and here's what she said: 'All three sons, they're being forced to do it. They're being told, 'You will start basketball at age six,' just like Lonzo told us. And whenever you asked him a question, I think [Lonzo] said, what, five words? He looks terrified whenever he's talking. He looks genuinely afraid.'"
I don't know about you, but if anybody said that about me and my child, I'd blow my top. LaVar clearly went into that interview primed to disrespect someone – not women in general, as his "stay in your lane" comment was unfortunately interpreted, but Leahy specifically. Because she had attacked his family. To me, the most relevant part of Ball's diatribe wasn't "stay in your lane." It was what he told Leahy when she asked why he had a problem with her.
"My problem is, you are a hater," he said.
I remember when Richard Williams, the father of Serena and Venus, was protective of a then-14-year-old Venus when a reporter was questioning her confidence in herself. Williams interrupted the reporter to protect his daughter, just as any good father would.
"You've got to understand that you're dealing with [the] image of a 14-year-old child," Williams said. "And this child is gonna be out there playing when your old ass and me are gonna be in the grave… Let her be a kid. She answered with a lot of confidence; leave that alone!"
Just as LaVar was criticized, so was Richard Williams.
(It's funny how that same criticism is rarely distributed to the protective Mama Bear figures that run rampant through youth sports. Anyone involved in youth sports has seen overprotective mothers create absolute mayhem on soccer fields and volleyball courts like you wouldn't believe. I actually had a mother run on the floor when her baby fell down, push past the medical people, fuss at everyone to give her baby some room and actually carry her son in her arms to the sideline when all he did was bump knees with someone. But I digress...)
But the looming question surrounding LaVar Ball is this: Is he so overbearing and overprotective and outspoken that teams should shy away from his sons altogether?
I asked New Orleans Pelicans color analyst Antonio Daniels about LaVar since he spent much of last season around him and his son, Lonzo, on the Pelicans.
"I've always given LaVar credit for being present, motivating and pushing his sons towards success," Daniels said. "I think people feel like Zo and Melo are the only success stories, but all three of his boys were put in a position to have their college paid for. That's success right there. His methods may be somewhat suspect, but we can't argue with the results."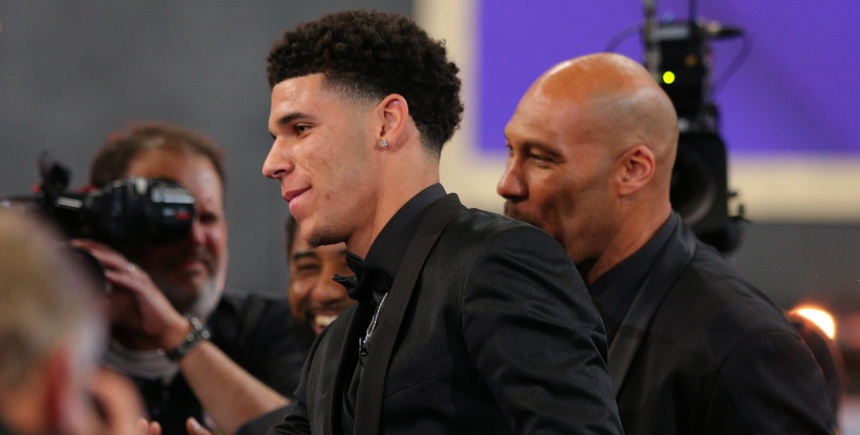 Has Antonio personally witnessed LaVar creating any distractions or publicly criticizing coaching strategies or demanding more playing time for Lonzo or anything like that?
"Not at all," Daniels said. "He'd sit right behind us in the arena. He was super quiet and never said a word. He and his family cheered like everyone else. I literally didn't hear a word from LaVar all year. There were zero distraction from him the entire season."
It appears as though every move LaVar Ball makes is calculated and for a purpose. He knows when to be quiet and stay in the background. And he knows how to promote his product and to get people talking. He knows how to market himself, his sons, his reality show and his brand. Most recently, even his reaction to LaMelo signing with Puma got the media talking. He seemed furious, which created a buzz and got people to tune in. That's just great marketing and the show is in its sixth season, so obviously they're doing something right.
Earlier this year, Lonzo opened up about his current relationship with his father.
"We had a couple rumblings here and there, but everything got squared away," Lonzo told ESPN's Malika Andrews. "When your son gets older, they're going to butt heads with their dad, and that's what I did for about a year and a half. But everything is cool now."
LaVar had a similar comment when asked to respond.
"He's always been his own man," LaVar stated to ESPN. "As a father, all I can do is guide him. I'm not going to take a lesser role. I am going to be his father, and that's it."
LaVar Ball has been accused of being loud, obnoxious, rude, dismissive, uncouth, offensive, discourteous and so on. But tossing these adjectives into an ever-spinning media echo chamber to somehow arrive at the conclusion that LaVar must also be a bad father is baseless. There simply aren't any facts or evidence to support that claim.