In Game 1 of the Los Angeles Lakers' series against the Portland Trail Blazers, LeBron James had a triple-double (23 points, 17 rebounds and 16 assists) but L.A. ultimately lost. Despite James' stat-line, Paul Pierce did his well-rehearsed and almost-perfected Skip Bayless impression to discredit James during an appearance on "First Take" the next day. Pierce looked directly into the camera and proclaimed that if the Lakers don't win the championship this year, James is no longer in the greatest-of-all-time conversation.
Is he talking about LeBron Raymone James Sr. or is he referring to someone else? He can't be discussing the cat who currently ranks third all-time in points behind only Kareem Abdul-Jabbar and Karl Malone, right? The same guy who also ranks eighth all-time in assists and 13th all-time in steals? The one who carried his teams to the playoffs in 13 consecutive seasons with eight straight NBA Finals appearances? That LeBron James?
Surely, he isn't referring to the guy who has three rings, four NBA MVP awards, 16 All-Star selections, three Olympic medals and (by far) the highest Value Over Replacement Player rating of anyone who has ever stepped foot on an NBA court...
But wait, there's more.
James is the only player in NBA history to score 30,000 points, grab 9,000 rebounds and have 9,000 assists; AND the only player in NBA history to score at least 25 points per game in 16 consecutive seasons; AND the only player in NBA history to lead the team he played for and the team he played against in points, rebounds, assists, blocks and steals in a playoff series (which he did in the 2016 NBA Finals against the Golden State Warriors).
To paraphrase Jay Z, when it's all said and done, "Pound for pound, LeBron may be the best to ever come around here. Excludin' nobody."
But back to Pierce, who has also said that James isn't in his all-time top-five. When discussing how LeBron's legacy would be impacted if the Lakers fail to hoist the Larry O'Brien trophy this year, Pierce's exact words were: "If the Lakers don't win a championship, let alone lose in the first round, I don't want to hear none of this GOAT talk no more."
It's important to note that Michael Jordan lost in the first round of the playoffs three times, but that certainly didn't disqualify him from being in the GOAT conversation. (Also, after losing Game 1 to the Blazers, James and the Lakers won the next four games and advanced to the second round.)
Now, for the record, I believe that Kareem is the GOAT and Jordan is No. 2; then, the conversation starts. But to say that James isn't even a part of that conversation is borderline disrespectful.
It was interesting to hear all of the LeBron haters shift their stance from, "If LeBron James wins the title this season in the bubble, it should have an asterisk by it," to, "If LeBron James doesn't win the championship this season, he should no longer be in the GOAT conversation."
It's almost as if he can't win either way...
But back to Pierce. This isn't the first time he has used his air time to disparage James, which lends credence to the idea that this could be a case of pure, unadulterated LeBron hate. They faced off in the postseason quite a bit, and they nearly fought at a Ohio State preseason game back in 2004, according to ESPN's Brian Windhorst.
Mark Jackson, who ranks fourth all-time in assists (just four spots ahead of James), shared his thoughts on Pierce's take and James' place in history.
"Paul Pierce is a heck of a basketball player, who's had an incredible career, who's a Hall of Famer and whose number is hanging up in the Boston rafters deservedly, but he's wrong," Jackson told me on my show, The Rematch. "When you look at LeBron James and his body of work, he is clearly one of the five greatest players of all-time and he is definitely in the discussion for the best to ever do it. When you talk about a guy who will leave the game as the all-time leading scorer (health permitted) and top-five in assists in the history of the game, there is no debate.
"He won a championship in Cleveland! You can put that on his resume alone, for those of us who are familiar with the Cleveland Cavs and Cleveland sports… Give this man his credit!"
I couldn't agree more. I respect what Pierce accomplished on the court; there's a reason why Shaquille O'Neal gave him the nickname "The Truth." Pierce is one of only three players to score 20,000 points with the Celtics. He is Boston royalty, so this isn't personal. I just respectfully disagree with him when it comes to LeBron.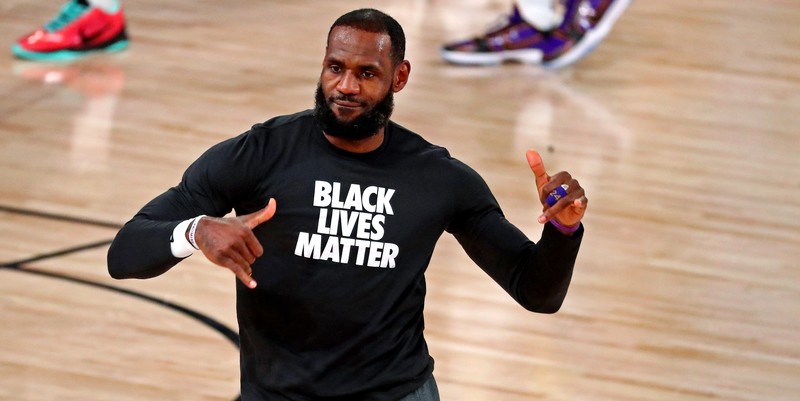 Not only is James in the GOAT conversation on the court, one could argue that he also deserves consideration as the GOAT off the court too.
In my book "We Matter: Athletes And Activism," I had the honor of interviewing pioneers of athlete activism such as Kareem Abdul-Jabbar, Bill Russell, John Carlos, Oscar Robertson, Laila Ali (Muhammad Ali's daughter), Craig Hodges, Mahmoud Abdul-Rauf and many others.
These athlete-activist legends discussed how, oftentimes, they felt completely alone and didn't receive any support from their fellow players. Hodges and Abdul-Rauf, in particular, were on an island and felt the wrath of then-Commissioner David Stern. In fact, they were whiteballed from the league once the country turned on them, and most of the top players remained silent.
Well, those days are over.
Today's players are inspired by LeBron's voice, as John Wall explained to me in "We Matter."
"You can go back to the ESPY's when LeBron and D-Wade and 'Melo and Chris Paul went up there and spoke," Wall told me. "They were on that big of a stage talking about police brutality, talking about Black Lives Matter, telling the world that there was something wrong with the system, and then challenging everyone to do something about it. They had a call to action right in front of the entire world. And they organized that themselves... That right there showed the whole world that not only do our top guys - the faces of the league - care, but they want to do something about it."
James didn't birth athlete-activism, but he definitely nurtured and created a safe space for his peers to continue the rich tradition of athlete-activists who came before him. His peers have seen him, the top player in the league, confidently and fearlessly speak about Trayvon Martin in 2012, about Eric Garner in 2014, about police brutality at the ESPYs in 2016 and other issues. They've watched him consistently stand up to the current occupant of the White House over the last four years. Most recently, he's discussed Jacob Blake, who was shot in the back seven times by police in front of his children.
LeBron's words reverberate throughout the league and players realize that they can speak out too. They don't have to be afraid or censor themselves. LeBron has helped usher in a new wave of athlete-activism that we haven't seen since the 1960s.
"People are worried about the wrong thing; what LeBron is doing off the court far outweighs what he is doing on the court," Kareem Abdul-Jabbar told me on my show, The Rematch. "LeBron is standing on all of our shoulders. He's standing on Jackie Robinson's shoulders. He's standing on Jesse Owens' shoulders. He has a conscience and a heart, and he is setting the example for generations to come."