"The reports of my death are greatly exaggerated."
- Mark Twain (but not really)
- Kim Jong Un
- The Toronto Raptors
Fresh off their first NBA title in franchise history, the Raptors lost their best player, Kawhi Leonard, to the Los Angeles Clippers. The natural thought was that the Raptors would fall off a bit; the more extreme conclusion was that -- with no clear path to contention and a roster headlined by a great-but-aging Kyle Lowry -- Masai Ujiri would sell veterans and opt for a soft reset.
So of course, the Raptors ran it back sans Kawhi and posted the second-best record in the NBA.
Lowry put together an All-NBA caliber season; Pascal Siakam fared well in his first year as No. 1 option, making his first All-Star and All-NBA team. Key role players like OG Anunoby and Norman Powell were given more responsibility and thrived. The Raptors' lack of an elite half-court creator eventually bit them in the postseason, but not before a yearlong we-ain't-dead-yet campaign shut up some of their loudest critics.
Now, the fun part begins.
The Raptors are entering the offseason with three of their core pieces hitting the market. There's no real avenue to cap space regardless of what they decide in terms of renouncements; it also wouldn't make sense to go that route anyway. The Raptors will operate as an over-the-cap team and have a non-taxpayer mid-level exception (worth over $9 million) at their disposal. They'll obviously look to improve, but will walk the tightrope between adding talent and keeping cap space open for the offseason of 2021 in their pursuit of Giannis Antetokounmpo. The always-informative Keith Smith has a more thorough breakdown of their cap situation, which you can find here.
Let's take a look at some guys they'll look to bring back as well as some targets that could help them come back stronger than ever.
Key In-House Decisions
Fred VanVleet: Bring Him Back
This will probably be the most interesting negotiation of the offseason. In a vacuum, bringing back VanVleet is a no brainer. He's already one of the better point guards in the NBA, an elite defender, good shooter and a fearless enough attacker to make hay as a secondary creator. That, combined with his age, makes him a prime candidate to get the bag. The issue is that there will be plenty of suitors willing to drive up the price, and that could conflict with the Raptors' chase for Giannis next year. Still, VanVleet is good enough to where you do what you can to keep him, and make moves next offseason to clear space if it comes down to it.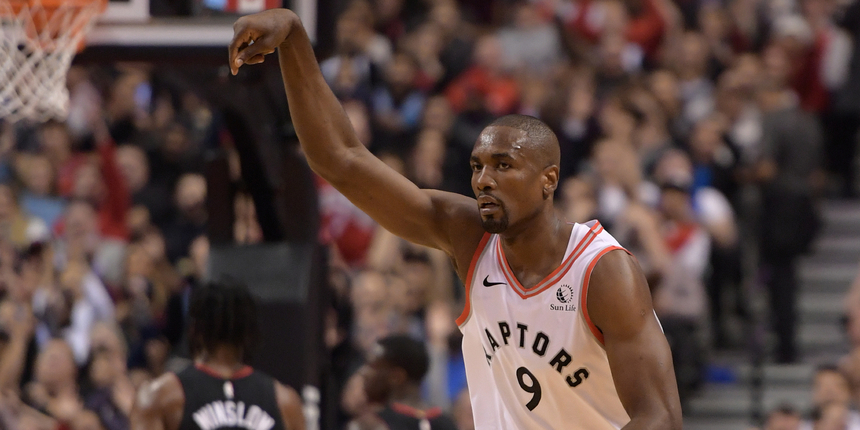 Serge Ibaka: Bring Him Back
Ibaka is quietly coming off of, at least statistically, his best season as a Raptor. He's settled in as a reliable pick-and-pop threat out to three-point range; he knocked down 38.5 percent of his triples this season, which isn't too far off from his career high (39.1 in 2016-17). The block numbers are down, but he remains a legitimate rim deterrent. A one-year balloon deal should be in order to keep this partnership going.
Marc Gasol*: Bring Him Back
Injuries and aging made Gasol look like a shell of himself last year. He really struggles to move laterally at this stage of his career, especially tough considering mobility has never been a strong suit of his. It could be annoying (putting it kindly) to watch Gasol pass up open shots, partly contributing to the Raptors' half-court struggles.
Even with those limitations, Gasol is staunch around the rim. Despite passing up shots, he still drilled over 38 percent of his threes on nearly 3.5 attempts. His high-post passing helps open things up in the half-court. There's still utility for Gasol, even if his role should be a bit limited moving forward.
Of course, none of this matters if Gasol decides to head home to Barcelona to cap off his basketball career, which has been reported, though disputed at this point. If Gasol is game to stay in the NBA, the Raptors should bring him back at a reasonable number.
Free Agent Guards

Mid-Tier Options: Jordan Clarkson
Clarkson is coming off of, by far, the most efficient season of his career. He gave the Jazz a much-needed scoring punch once he arrived, averaging 15.6 points with a 56.9 True Shooting percentage during the regular season. Both of those marks increased (16.7, 57.7) during Utah's first-round showdown with the Denver Nuggets.
Him trading out some of his frustrating long-twos for threes made him a more efficient option. He's an underwhelming defender to be kind about it, but the Raptors have the personnel to mask some of his limitations. This would mostly serve as the "VanVleet got the bag elsewhere" option, but there's a case to be made for bringing him in anyway to further strengthen the bench.
Bargains: D.J. Augustin
Augustin can fill the table-setter role while occasionally showcasing some underrated pick-and-roll craft. There's also a natural fit with him alongside the north-south dynamism of Powell; Augustin is a career 37.9 percent three-point shooter.
Free Agent Wings

Mid-Tier Options: Justin Holiday
Holiday is more 3-and-Decent than 3-and-D, but he's coming off of the best shooting season of his career (40.5 percent from three-point range on 4.5 attempts) while being a credible option against 2s and 3s. He'd be a natural fit for the Raptors' transition attack. His off-ball randomness -- his ability to relocate around the perimeter or catch ball-watching defenders off guard with hard cuts -- also fits well within the motion ethos Toronto has in the half-court.
Bargains: Kent Bazemore
The idea of Bazemore -- an athletic, 3-and-D wing that can defend 1-through-3 -- is probably a little better than the reality. Still, he can knock down open shots, is an active mover off the ball, and competes defensively against both wing positions.
Free Agent Forwards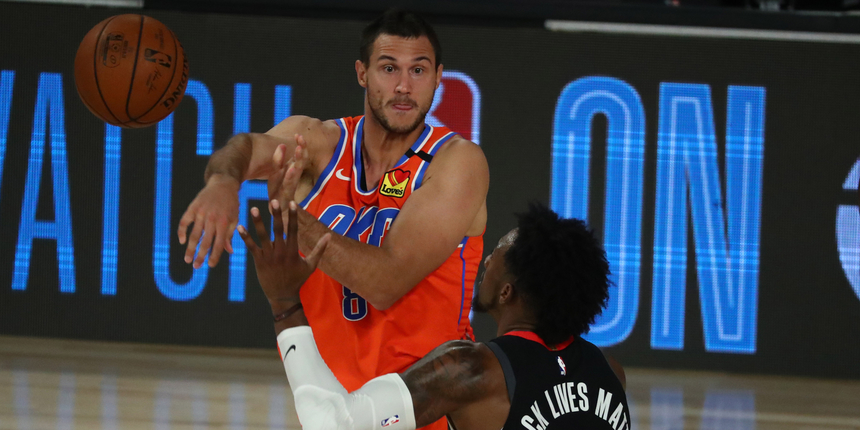 Mid-Tier Options: Danilo Gallinari
If Gallinari is serious about going the "winning > pay day" route, the Raptors would be a pretty fun landing spot for him. He would immediately boost their shooting and half-court shot creation. He can get to the rack -- and the free-throw line -- on his own, but be able to play off of the dribble penetration of Lowry, Siakam and others would make life a lot easier for him. He's a fine defender, though there's enough excellence around him to cover for the limitations he does have.
Bargains: Patrick Patterson, Bruno Caboclo, Lance Thomas
LOL, just kidding on that first one.

Caboclo is toolsy, has flashed a jumper and has some ball skills that make him a potential weapon against sloppy close-outs. The Raptors are obviously familiar with his upside since they were the ones that drafted him. His 2018-19 stint in Memphis (8.3 points, 4.6 rebounds, 1.0 blocks in 23 minutes) should be enough evidence to take a flier at the vet minimum; heck, him not being Stanley Johnson should be enough of an argument, honestly.
Thomas has flown under the radar for years as a sneaky-solid forward defender that can knock down open threes. He's converted 38.5 percent of his triples over the past five seasons, though that comes on limited volume. He'd be a solid get as a ninth man to get you through the regular season.
Free Agent Bigs
Mid-Tier Options: Aron Baynes
Factoring in money, it's hard to argue against Baynes being one of the most valuable centers in basketball last season. He did the usual grunt work: setting bone-crushing screens as a roller or handoff partner, protected the rim with superb positioning and boxed out well enough to help end possessions or grab the board himself. The new, somewhat surprising twist is that he became a legitimate three-point option (35.1 percent on 4.0 attempts per game).
Baynes doesn't bring the passing or the defensive know-how that Gasol does, but he'd be a seamless fit as a big that could spring Lowry (or VanVleet) open with spine-busting picks. He was a more willing shooter than Gasol last year, and he has the brawn to approximate most of the value Gasol brings as a low-post defender.
Bargains: Harry Giles
Giles has a bit of an injury history, dating back to his high-school days. Multiple lower-body injuries have sapped some of his athleticism, and he's still a fluid, jumpy big who can feast in transition. The intrigue lies in his on-ball skill; he's quietly one of the better passing big men in the league already. There's some serious "throw-it-to-him-in-the-high-post-and-let-him-do-stuff" potential waiting to be untapped. This kind of bet is right in the Raptors' wheelhouse.