The Milwaukee Bucks are on the clock.
For the second straight season, they've flamed out in the second round after a dominant regular season showing. In addition to that disappointment, they now enter arguably the most pivotal offseason in franchise history. Giannis Antetokounmpo, the reigning MVP and Defensive Player of the Year is super-max extension-eligible. If he turns it down -- at this point, why would he commit now? -- they'll need to make a splash to strengthen their title odds. Anything short of a Finals appearance next season could spell bad news for their hopes of keeping their superstar.
The Bucks won't have cap space to work with, but that shouldn't be much of an issue because all of their important pieces are locked in for next season. They'll have the non-tax payers mid-level exception available to them, and have enough mid-sized contracts to make a splash in the trade market if they so choose. The always-informative Keith Smith has a more thorough breakdown of their cap situation, which you can find here.
Let's take a look at some guys they'll look to bring back as well as some targets that could help them come back stronger than ever.
Key In-House Decisions
Wesley Matthews*: Bring Him Back
Matthews routinely took on the most demanding perimeter defensive assignments throughout the regular season, while knocking down over 36 percent of his threes on decent volume. He then upped the ante in the postseason, something that the Heat -- and Jimmy Butler specifically -- got a firsthand look at.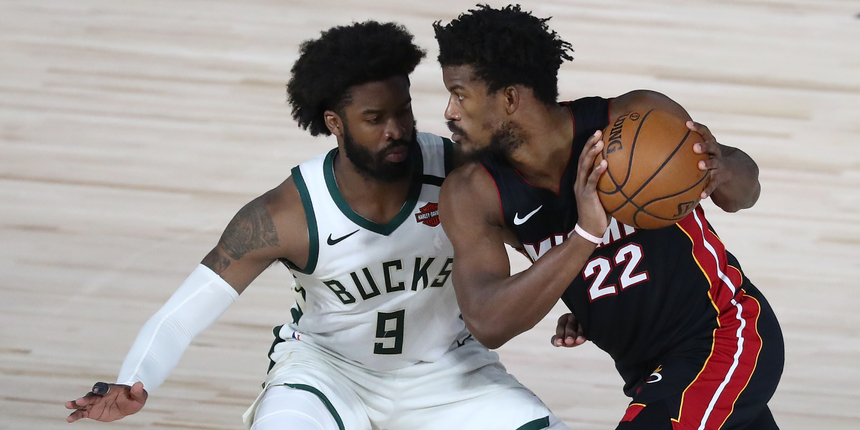 Matthews fits into one of the NBA's most valuable role player archetypes: a true 3-and-D wing. For that reason, it's fair to expect him to opt-out of his $2.7 million and see if he can grab a portion of a contender's mid-level exception. The Bucks should have a leg up in that situation; not only can they toss out a little bit more money with his Early Bird Rights, Matthews is more than familiar with the area having played at Marquette and slots in nicely as a fit alongside the most dominant paint presence in the sport right now. At any rate, the Bucks should do what they can to bring him back.
Kyle Korver: Circle Back Later
Korver is a strong locker room presence and one heck of a shooter, having made nearly 42 percent of his triples last season. He has clear value as a spacer and off-ball mover, even if his role needs to be limited in the postseason because of his defensive limitations. There are more talented free-agent perimeter guys on the market -- heck, there are intriguing young guards like Sterling Brown and Pat Connaughton on the current roster that have a claim for more minutes next year if the Bucks bring them back. It shouldn't cost more than the veteran's minimum to bring Korver back in any case, so doing some shopping first makes sense.

Robin Lopez*: He'll Be Back
Lopez was mostly fine as a backup, operating as an extension of Milwaukee's "no paint shots no matter what" ethos. He contested shots at the rim, boxed out for others and oscillated between flipping up those swooping hook shots and chucking threes above the break to middling results (33.3 percent). There are better backups out there, but it's hard to see him turning down a player option worth a hair over $5 million.
Free Agent Guards
Mid-Tier Options: Jordan Clarkson
It's fun to speculate about the Bucks trading for a shot creator. Chris Paul is a popular name; Victor Oladipo is starting to pick up some steam. You can talk yourself into a one-year Mike Conley gamble if you squint hard enough.
What if the need isn't that stark? If you're of the mindset that the Bucks need a boost, but not an All-Star-caliber boost, bringing Clarkson into the picture would fit that idea.
Clarkson is coming off of, by far, the most efficient season of his career. He gave the Jazz a much-needed scoring punch once he arrived, averaging 15.6 points with a 56.9 True Shooting percentage during the regular season. Both of those marks increased (16.7, 57.7) during Utah's first-round showdown with the Denver Nuggets.
Him trading out some of his frustrating long-twos for threes made him a more efficient option. He's an underwhelming defender to be kind about it, but the Bucks have the personnel to mask some of his limitations. Going after Clarkson with the mid-level exception would allow the Bucks to bolster their guard room, or at least provide some insurance if they do decide to enter the trade market.
Bargains: Tyler Johnson
Johnson had a pretty quiet regular season campaign, kicking things off in Phoenix before finding his way to the Brooklyn Nets mid-season. Johnson performed well in the postseason, averaging a shade under 14 points while unloading the clip from deep (39.3 percent on 7.0 attempts). He's a fearless driver and underrated rebounder; he isn't afraid of mixing it up with bigger players.
Free Agent Wings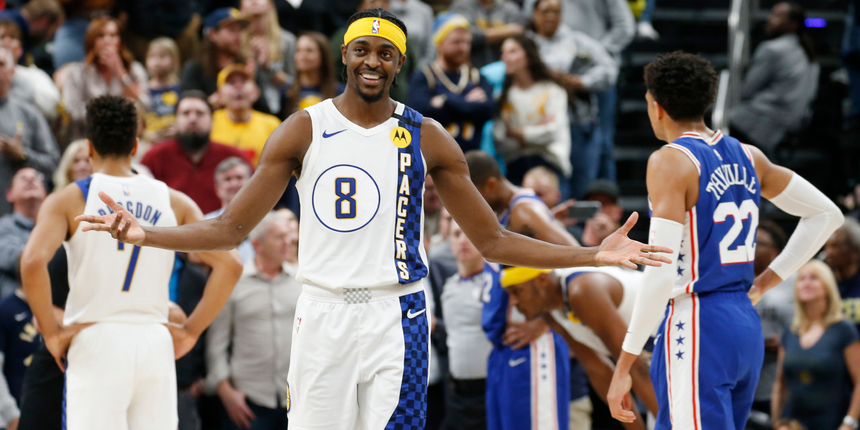 Mid-Tier Options: Justin Holiday
Holiday is more 3-and-Decent than 3-and-D, but he's coming off of the best shooting season of his career (40.5 percent from three-point range on 4.5 attempts) while being a credible option against 2s and 3s. He'd boost Milwaukee's transition attack with his athleticism, and could add some much-needed randomness as an off-ball mover in half-court situations. He should be an option even if Matthews returns.
Bargains: Garrett Temple*
Temple would give the Bucks another plus, multi-positional defender with a solid three-point stroke (35.3 percent over the past five seasons). The asterisk is present on Temple's name because the Nets hold a $5 million team option on him, though it'd come as no surprise if they let Temple walk to free up tax room to bring back Joe Harris.
Free Agent Forwards
Mid-Tier Options: Danilo Gallinari, Paul Millsap
If Gallinari is serious about going the "winning > pay day" route, then it's hard to envision a better landing spot for him than Milwaukee. He would immediately boost Milwaukee's shooting and shot creation. His ability as a downhill creator would be a welcome addition to a team that doesn't have much outside of Giannis and Bledsoe (and even that's a bit of a wildcard).
Millsap slipped a bit last season, sometimes laboring while operating as Denver's back-line defender in their aggressive pick-and-roll scheme. Still, he's able to hold his own against power wings and fours and provides a little bit of everything on offense. He's coming off the best shooting season of his career (43.5 percent from three), though that came on limited volume. He can mash smaller players on the block and flow between rolling and popping in pick-and-roll.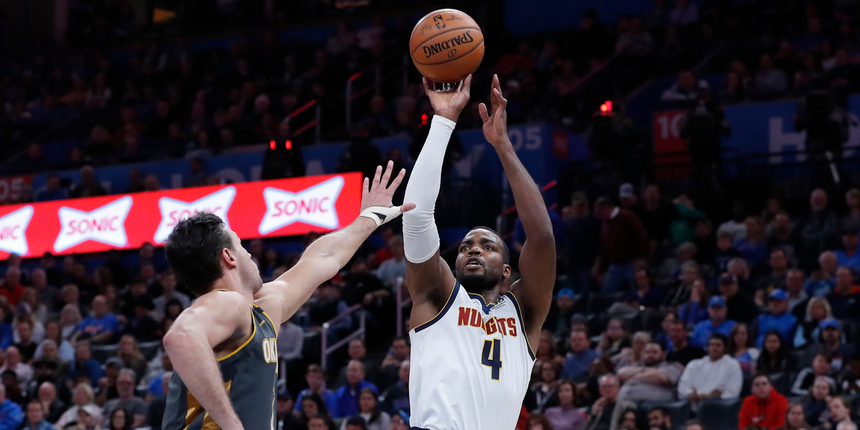 He could operate as a "super sub" in Milwaukee while providing plenty of late-game flexibility. Want to size up? Sit Bledsoe and run something like Middleton-Matthews*-Giannis-Millsap-Lopez to close out games. Sizing down and switching? Bledsoe-Matthews-Middleton-Millsap-Giannis could do the trick.
Bargains: Lance Thomas, Carmelo Anthony
Lance Thomas has flown under the radar for years as a sneaky-solid forward defender that can knock down open threes. He's converted 38.5 percent of his triples over the past five seasons, though that comes on limited volume. He'd be a solid get as a 9th man to get you through the regular season.
Anthony proved last season he had a little left in the tank as a shooter and mid-post creator. He's still a mess defensively, but that can be hidden with the perimeter quickness, length and size Milwaukee can play. For the minimum, why not juice the bench a bit?
Free Agent Bigs
Bargains: JaVale McGee
The Bucks likely won't be in the market for a big unless Robin Lopez declines his player option, which is hard to see happening. If Lopez does go, they could pry McGee out of Los Angeles.
He remains one of the NBA's top lob threats, equipped with solid leaping ability and a silly catch radius. He uses those limbs to putback misses and swat shots on the other end. Fouls and an inability to navigate space limit his ceiling, though he'd only be needed for 12-15 minutes to spell Brook Lopez. You can make the argument that the Bucks are lacking a true vertical spacer outside of Giannis. "The Lopii" mostly operated as pick-and-pop threats last season. Adding that element to their half-court attack could make things easier for everyone involved, even if it's mostly a regular season thing.