Two-time All-Star and two-time NBA champion David West was a guest on BasketballNews.com's Virtual Watch Party for Game 5 of the NBA Finals. During the wide-ranging, three-hour conversation, former NBA veteran Etan Thomas asked West about his Indiana Pacers teammate Roy Hibbert and the struggles that prematurely ended his career.
During the first half of the 2013-14 season, Hibbert averaged 11.8 points (on 46.4 percent shooting), 7.7 rebounds and 2.5 blocks. He was selected as an All-Star and was the favorite to win the NBA's Defensive Player of the Year award.
In the final month of the season, his numbers dipped to 5.3 points (on 23.5 percent shooting), 3.2 boards and 1.2 blocks. That postseason, Hibbert became the first All-Star in NBA history to have four scoreless playoff games and he averaged just 5.3 points (on 28.7 percent shooting), 3.7 boards and 1.3 blocks during Indiana's first-round series against the Atlanta Hawks.
Hibbert's struggles became a big story, which only seemed to make matters worse. From that point on, his numbers continued to decline and he was out of the NBA at 31 years old. West shared his thoughts on the situation and what went wrong for Hibbert:
Etan Thomas: "What happened with Roy Hibbert? He was doing well and then it just went south."
David West: "It was a mental thing. It was all mental. Roy played basketball a lot of years because he was big. He was made to play, and then he developed a love for the game much later -- and actually, it wasn't until he was in the NBA that he really got a love for the game. In Indy, we had it situated perfectly. And for him, Frank [Vogel] is the most positive [person]; he's gonna coach you up regardless of what you're doing. He's gonna coach you up, and that's what Roy needed. He had Roy playing the best basketball of his career, and that was all Frank. Because there were games where big fella was out of it; his timing was off and he got into a couple bad funks, but Frank was able to keep him steady.
"And again, for the years we were in Indy, he was solid for us. We just made some moves that didn't show a lot of confidence in him, which came back to bite us. And then, the game started changing. These teams started playing small, firing threes, and Roy was a traditional drop (coverage) big man. He couldn't leave the paint, he wasn't switching and the NBA just moved past where he could be effective."
Alex Kennedy: Do you think social media was a part of that?
David West: "Yeah. I used to be on him about that sh*t. Like, 'Yo, don't even look at that sh*t.' But it was hard because at the same time... one thing that I will say about social media is as much as you have to, as a player, ignore it, everybody else is telling you, 'This is where you've gotta market yourself! This is where you've gotta brand yourself.' Your agent, your marketing people, the teams are telling you that you have to have a presence on social media, but then [they're also] like, 'Ignore what's being said on social media.' It's a very tough balance for players to deal with.
"I used to be like, 'Roy, we don't even know who these people are. It's fine. Let them say what they say.' But, those things wore him down. And then we had this weird situation with Andrew Bynum that I will never understand. We had a six-game lead on the Heat [in the standings]. There was no need to change our team."
[Editor's Note: The Pacers signed Bynum in February of 2014. But after playing in just two games, he was ruled out indefinitely with swelling and soreness in his right knee. Still, the fact that Indiana signed Bynum at all really affected Hibbert's confidence.]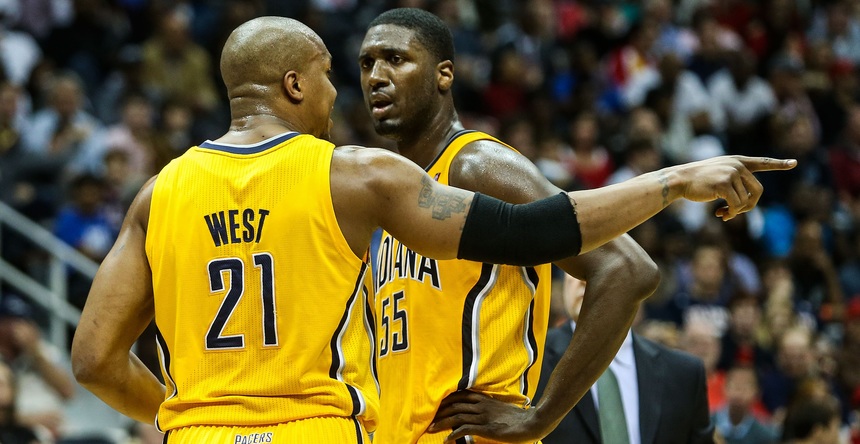 Ryan Hollins: "Roy Hibbert was one of the few players in the league where I knew I couldn't guard him to save my life, if he had his stuff together. He had the right-hand hook, the left-hand hook and he'd throw that bad boy [down] from outside the box. If you front him, he'd put that long wingspan up and dunk on you. And if you get behind him, he's got both hands."
David West: "Etan, to your point earlier, Roy probably listened to some folks too much. His best weight was when he was 280-plus, when he was just big and heavy. But the coach in Indy who was there before me, [Jim O'Brien], had made this dude lose like [40 pounds]! He was down to 240. It was crazy, man. Like, who the hell told you to do this?! He was skinny, man. Roy was small. And then I'm like, 'Why would you change who you are? For what? You think you gonna be shooting pick-and-pop threes? What are you doing? You're big! You're an inside big guy.' So, when I got there, everything was different. It was, 'We're gonna hit the weight room, we're gonna be big and strong.' I gained like 20-something pounds going to Indy. It was a different feel."
Hibbert retired shortly after the 2016-17 season and he has since transitioned to coaching, becoming a player development associate with the Philadelphia 76ers. Last month, he teased the possibility of returning to Indiana as an assistant coach.