Elton Brand first came to the Philadelphia 76ers as a player at the height of his career, then returned for a second stint in 2016 after having been retired for two-and-a-half seasons. He moved into player development for the franchise, then became general manager of the Delaware Blue Coats of the G-League, and eventually replaced Bryan Colangelo as GM of the Sixers, where he was incredibly proactive when it came to making trades.
But Brand, who was originally brought back in 2016 to serve as a mentor for the young and impressionable Joel Embiid, had his hands tied by ownership two summers ago when he was told that there were two untouchables on his roster: Embiid and Ben Simmons. He could trade anyone else, but those two were too popular with the fan base to be dealt away.
In the 2018 playoffs, Simmons made a number of crucial mistakes in late-game situations coming out of timeouts, and the Boston Celtics defeated the 76ers, 4-1, in the second round after Philly had finished the regular season looking like championship material.
Brand acquired Tobias Harris for a boatload of assets that included an unprotected 2021 draft pick from Miami, and added Jimmy Butler from Minnesota in exchange for Dario Saric and Robert Covington, the latter of whom was a glue guy in the Philly locker room along with J.J. Redick.
In 2019, Kawhi Leonard's Game 7 corner jumper bounced on the rim three times before dropping through to end the contest, sending the Sixers home and sending the Raptors onto the Conference Finals, where they defeated Milwaukee before moving on to beat Golden State in the NBA Finals.
And so Wednesday's news that Daryl Morey was coming aboard to be the Sixers' new president of basketball operations means that Brand, who reportedly is staying with the organization, will be losing his power. He may end up being the person who explores trades on Moray's behalf, but he'll no longer be running the show and bringing his prospective deals to owners Josh Harris and David Blitzer for their approval. Brand did not answer a call seeking comment.
"This is part of the competitive nature of sports, where owners want to win and there is enormous pressure to win, and Daryl Morey is considered to be a first-class executive," said a league source who did not want to be identified by name.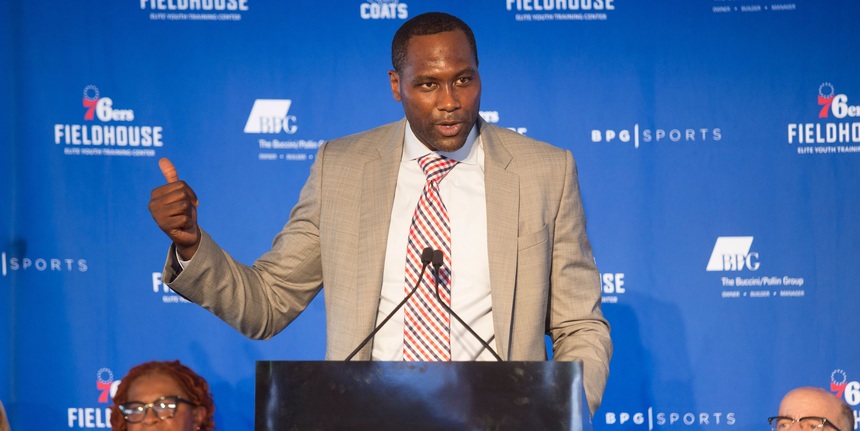 Whatever plans Morey has for the roster will become clear in the weeks ahead, and it is safe to surmise that he already has a reading from ownership on whether the 76ers can proceed forward with Simmons and Embiid as the cornerstones. Both have questions about their maturity, and Morey has typically built teams (and rebuilt teams) with an eye toward finding the right types of players to fit his coach's system and enhance his superstars' greatest strengths. In Houston, that meant sacrificing center Clint Capela to give Mike D'Antoni a super-small-ball lineup that ultimately was not good enough to beat the Los Angeles Lakers, going down in five games.
With new coach Doc Rivers, decisions need to be made about where the roster goes from here, including what to do with the bloated contracts that Brand gave to Al Horford and Harris during last year's free-agency period. Brand and Co. also lost Butler to the Miami Heat last offseason.
Horford, who plays the same position as Embiid, will make $81 million over the next three seasons.
Harris, who played under Rivers with the Los Angeles Clippers, has a cap-killing contract paying him $34.3 million next season, $36 million in 2021-22, $37.6 million in 2022-23 and $39.2 million in 2023-24.
Harris, Horford, Embiid and Simmons will all make at least $27.5 million next season, and Josh Richardson is on the books for two more seasons at $22.5 million. Zhaire Smith, Matisse Thybulle, Furkan Korkmaz and Shake Milton are the only players on rookie contracts, and Morey may be forced to part with one or more of those young players in order to rid the team of one or more of their monster contracts.
In 13 seasons as general manager of the Rockets, Morey consummated 77 trades. In those deals, Morey acquired 27 draft picks and sent 37 out. He brought in 70 players and sent 72 packing. So, yeah, the guy keeps an extra phone charger around and loves to wheel-and-deal.
In Houston, he acquired James Harden from the Oklahoma City Thunder in what was a steal (he out Kevin Martin, Jeremy Lamb and three draft picks), then acquired Russell Westbrook from OKC for Chris Paul, two first-round picks and two future pick swaps. (It is now Stephen Silas' job to see if Harden and Westbrook can thrive alongside each other).
Morey arrived in Philadelphia amid an unsettled NBA landscape, with salary-cap and luxury-tax numbers still to be determined. The 76ers have the 21st, 34th, 36th, 49th and 58th picks in this year's draft, and Morey could presumably package two or more of those together to help offload one of his larger salaries.
The replacement of Brand, for lack of a better term, means ownership is fed up with losing. When D'Antoni was lobbying for the coaching job prior to getting beat out by Rivers, one of his primary reasons was because the owners are so driven to win.
If Philadelphia is going to be able to compete with the likes of Brooklyn, Miami, Boston and Milwaukee, a minor-to-major roster overhaul will be needed. Can Morey pull it off? We have to wait and see. Not all of his trades have been great ones (see Kyle Lowry for Gary Forbes and a protected first-round pick in 2012).
What will Morey do first? Heck, he might rehire Sam Hinkie, who worked under him in Houston prior to taking over Philly's front office and ushering in "the Process."
Roster-wise, the best guess here is that if both Simmons and Embiid stick around, with Simmons playing off the ball more (as he did at the tail end of last season), Morey will find a better playmaker from the point guard position than Simmons or Milton were. Those types of players are tough to find through free agency for a team with no cap space, but the Sixers could kick the tires on someone like Jeff Teague, Jordan Clarkson or Brandon Knight. A trusted source said the best trade any Sixers GM could make would be to bring in Austin Rivers, because it will turn Rivers into a more hands-on coach who is in the gym more than he is on the golf course.
Given his trade track record, Morey will look at everything and try several things. As for Brand, it remains to be seen what the future holds for him. While he's as nice of a guy as you will find in the NBA, he has lost his position of power. He may end up being the first Sixer to find a new landing zone. But he certainly will not be the last.