This year's Eastern Conference Finals is a basketball nerd's dream. It features two elite head coaches in Erik Spoelstra and Brad Stevens, two wing-led rosters (Jimmy Butler, Jayson Tatum), shifty guards (Kemba Walker, Goran Dragic), positionless game-changers (Bam Adebayo, Marcus Smart), and enough moxie from The Others to turn this series on its head from either direction.
I'm not a coach -- I'm just a pun-loving basketball fan with a hankering for film breakdowns. Instead of a traditional series preview, I decided to go into the basketball trenches and devise gameplans for both teams. The tone of this two-part series will be a little more informal, but it will still be informative (at least I hope). If you missed part one, you can find it here.
Without further ado, here is how the Boston Celtics will try to stop the Miami Heat.
Defensive Matchups
Kemba Walker --> Goran Dragic
Marcus Smart --> Duncan Robinson
Jaylen Brown --> Jimmy Butler
Jayson Tatum --> Jae Crowder
Daniel Theis --> Bam Adebayo
Playing it straight makes the most sense here. There's an argument to be made for Smart defending Butler, but limiting Brown's off-ball lapses would be in the best interest of all. He did a phenomenal job last round against Toronto's Pascal Siakam, stonewalling several of his tornado drives and post-ups. Having Smart hound Robinson around screens should make it difficult for the sharpshooter to get open.
Top Priority on Defense: Timely Switches in the Half-Court
Only the Houston Rockets switched more picks (2,399) than the Celtics (1,468) during the regular season, according to a source with access to Second Spectrum tracking data. Only six teams, including the league-leading Rockets (1,269), switched more dribble-handoffs than the Celtics (533).
There's too much versatility on this roster not to keep screening actions in front. That's going to be imperative against a team like the Heat, whose half-court offense is predicated on creating creases with their screens.
Beyond that, they're likely going to hunt out Kemba Walker whenever they can. Being on point with "scram" switches can help grind their offensive possessions to a halt. Once Milwaukee started switching more in Game 4 and Game 5, Miami's offense went later in the clock than they wanted. Let's make this ugly.
Heat's Team Stats (and Miami's stats vs. Boston in parentheses)
• Offensive Rating: 111.9 (106.3)
• True Shooting Percentage: 58.7 (54.4)
• Assist Percentage: 65.7 (56.4)
• Turnover Rate: 14.9 (14.9)
• Pace: 98.7 (96.0)
• Free-Throw Attempts: 23.2 (29.0)
• Free-Throw Percentage: 80.1 (75.9)
• Three-Point Attempts: 35.4 (39.3)
• Three-Point Percentage: 37.9 (32.2)
• Offensive Rebounds: 8.5 (10.3)
Heat's Play Type Breakdown

Defending Jimmy Butler
Butler has shaped this Heat team in his image, leading the way with a 22-6-4 statline through two rounds. The ultimate grinder, he's been bumping and tussling his way to the rim and getting free throw attempts (10.7) all postseason long. He was the best player on a court in a series that featured the league's MVP; he can absolutely make the same claim if he gets rolling downhill in this series.
Major Keys
1) Take away middle space
Making sure Butler doesn't get downhill is going to be priority number one. He's a powerful driver and has the passing chops to beat help if it comes early. If he gets to the line -- like he did during the regular-season matchups (22 attempts in two games) -- that's going to further grind this game down.
Playing "drop" or "ICE" against Butler is fine, so long as the "big" plays further up. What got Milwaukee into trouble at times was sending Butler's defenders over screens, while also having Brook Lopez below the free-throw line. That's too much space for Butler, and it allows him to get into his floater instead of a long pull-up. Boston can't let Butler have this shot: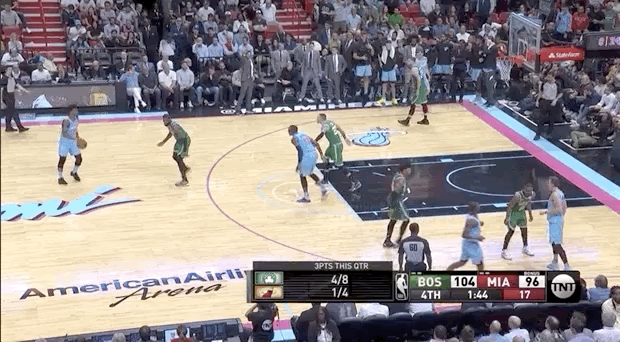 Butler has to work hard for this shot. It's mostly fine defense, with Brown sending Butler down and Theis giving a vertical contest at the end. As you can see, "mostly fine" won't be good enough against Butler.
Butler is just 7-of-19 on dribble jumpers out of pick-and-rolls during the postseason, but 5-of-7 on floaters, via Synergy. That 36.8 percent clip on jumpers isn't good, and it's still a big step up from his regular-season mark (30.5).
He's been a little more aggressive this postseason, but the dirty secret is that Butler still leans passer vs. scorer unless the look is too fruitful to pass up. Take away the space he wants, and there's going to be a path to getting Miami to toss up a lot of late-clock junk due to overpassing.
2) Stay down on the up-fakes
Butler gets fouled a lot. He can overpower smaller defenders and blow past bigger ones to get them on his hip. If you're caught in a slight trail, he's likely to toss up a pump fake to get you in the air.
Do. Not. Bail. Him. Out.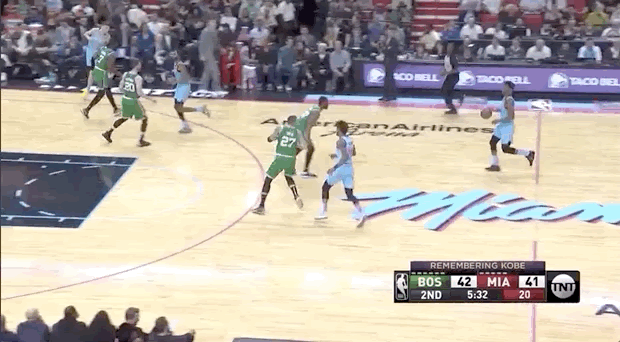 It's easier said than done, but you have to stay disciplined against Butler. Force him to make shots over a contest. If he can knock those shots down, good for him. If he has to expend a bunch of extra energy to elevate over contests after a failed pump fake, that's going to make him a couple of percentage points worse on the other end. Play the long game.
3) Tag the roller hard
Again, Butler is going to be hunting for outlets on the drive if he doesn't have an initial advantage. He's looked to empower his teammates all season long, sometimes to a detriment. There's going to be an opportunity to use that tendency against him early in games.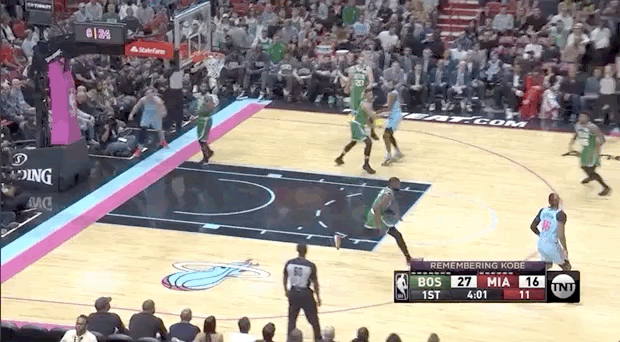 Smart does a great job of staying connected during this "ICE" coverage, but look at how quickly he gets his hands up. He's already prepping for that kick-out above the break, and is able to deflect it from behind. Great job by Brown dropping down to cut off the roll from Derrick Jones Jr., further forcing Butler into the above-the-break pass.
The same principles are going to apply if Butler runs a pick-and-roll towards either baseline. He likes to tiptoe the line and hunt for cutters from the slot. Crowd the paint, cut off the opposite corner and he's going to be dead in the water.
Defending Bam Adebayo
A first-time All-Star, an All-Defensive second team selection and strong second choice for this year's Most Improved Player award, Adebayo is one of the most unique talents in the NBA. He's a big that can oscillate between multiple roles in a single possession -- on either end of the floor. He's one of the few players who can claim a physical mismatch against Boston this series, as long as he's ready for that kind of spotlight.
Major Key
1) Sit on the jab step
The Heat are going to need Adebayo to be a scorer to win this series. He's talented enough to do it, but like Butler, he's much more comfortable being a connector.
When he's forced into isolation situations, he wants to attack his defender's front foot for blow-bys. He sets up drives nicely with a believable jab step. The good news for Boston is that it's pretty much the only move you have to worry about with him.
Play him flat so that he doesn't have an easy angle to attack. He doesn't have enough wiggle to counter, and it puts him in position to finish over the top of contests. His touch is mostly fine, but things go haywire if you crowd his space.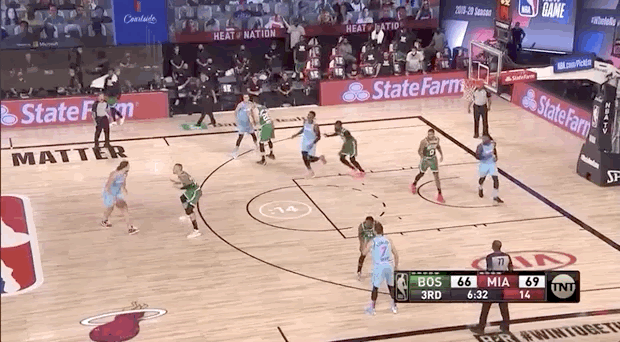 That's what you want right there. There's a slight shade by Brown to force Adebayo to his left. Brown's able to slide with him, absorb the first blow, and force him to finish over the top. Here's another, less stationary example:
Adebayo fakes the handoff with Robinson, a smart counter that forces a switch. As you can see, though, there's no shake -- and there's definitely no shaking Marcus freaking Smart, who sits on the brief hesitation, absorbs the contact on the spin and forces him to finish over the top.
As powerful and skillful as Adebayo is, he hasn't quite figured out how to abuse size mismatches yet. Adebayo hasn't been successful against guards in isolation (0.81 PPP), and has been fine-but-underwhelming on post-ups (1.00 PPP) via the Second Spectrum source.
Him taking those shots are a win for the defense until proven otherwise.
Defending the Shooters (Perimeter)
Duncan Robinson: Stop at all costs
Robinson probably needs his own section. While Adebayo and Butler are the Heat's best players, there's arguably nobody more important to their offense than Robinson. His work as a movement shooter is almost unrivaled in the league. The Heat's offense is based around handoffs featuring Robinson and attacking the creases generated, if (or when) there's a slip-up.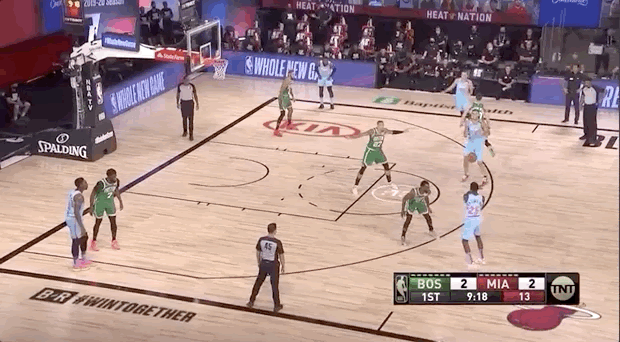 Gordon Hayward is showing high to prepare for a switch on Tatum. Robinson reverses course and flies off an Olynyk handoff. Not only is Hayward caught lagging, he then runs into -- and tries to fight under -- the Olynyk screen. That simply can't happen.
Either switch those actions or show two to the ball, and trust the rotation behind it. Robinson is an improving passer, but forcing him to pick up his dribble and stall out those actions is a reasonable bet to make.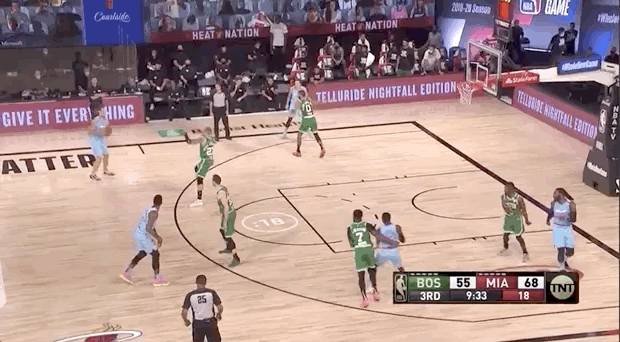 Tyler Herro: Hard, but controlled close-out.
Herro is a sniper with his feet set, ranking in the 96th percentile on spot up possessions, via Synergy. If you leave your feet, he can pump and side-step into an open triple. Impeccable footwork for a guy his age. Impeccable footwork, period. If you can close and stay in front, he may be able to get an angle, but there are a lot of possessions where he dribbles out of advantages to reset for an isolation of pick-and-roll.
Goran Dragic: Hard, but controlled close-out.
Similar to Herro in that he can kill you if his feet are set. Also, more willing to take shots over late contests -- 60.1 percent of his catch-and-shoots were dubbed as "guarded", per Synergy -- so staying down and putting a hand in his face is vital. Can get you off balance with pump fakes if he's able to get downhill. Force him baseline if he's in the corners. He'll probe and look for cutters, which should be pretty easy to pick off if the rotation is there.
Kendrick Nunn: Soft close-out
He hasn't looked the same since the regular season. Jumper's a bit of a mess, with a lot of misses coming short. Make him beat you instead of giving him driving lanes, which may help him establish a rhythm.
Andre Iguodala: Let him fire
He's proven he can make big shots from the corner, but it's much more important to help off to thwart drives or to tag rollers in pick-and-roll. If he beats you, tip your cap.
Defending the Shooters (Bigs)
Kelly Olynyk: Hard, but controlled close-out
Olynyk can be a booger. Really good with his feet set, but can knock down shots off platform too. Serious pump-and-drive potential. He'll likely be matched up with Robert Williams in second-unit stints. Williams struggled against Serge Ibaka in pick-and-pop situations last round. Has to make sure he doesn't fall for fakes, or Olynyk will get to the line for three freebies.
Jae Crowder: Hard close-out
Crowder has never shot this well in his life (40 percent from 3 on 8.3 attempts this postseason). Making the regression bet makes sense, but forcing him to make live-dribble reads could be a way to make him uncomfortable and create turnovers. Will hover around the corners, so closing out and shading him baseline is a must.
Derrick Jones Jr.: Let him fire
28 percent from three this year on low volume (2.2 attempts). Quick trigger, but inconsistent base. He'll leave a ton of them short, could lead to some quick transition opportunities.
X-Factor: Kelly Olynyk
Olynyk gets the title of Miami's weirdest player. He has the perimeter shooting ability to abuse drop or "ICE" coverage, but is skilled enough to abuse guys on the block if there's a size mismatch. He just kinda bumps-and-grinds his way into cheap points.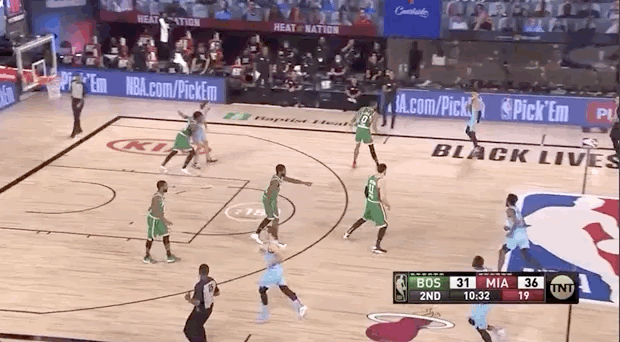 Assuming the Heat stick with their starting lineup, Olynyk's gonna be matched up with either Grant Williams (smaller), Enes Kanter (struggles in space) or Williams (overeager in space). He's a guy who can buy one or both of Miami's stars some rest by keeping the offense afloat. Stay disciplined against his fakes, keep your hands out of the cookie jar so he can't hook you.