With NBA training camps open for business, teams are getting back in the swing of things. We are just two days away from the first preseason game between the Brooklyn Nets and Los Angeles Lakers (Sunday at 3:30 p.m. ET), meaning the 2021-22 campaign is right around the corner.
While these two teams are commanding the spotlight more than any other squads around the league, there are plenty of franchises that would love to knock them right off their pedestal, or at least have some of that light shone on them.
In our latest Roundtable, we asked our BasketballNews.com writers the following question:
Who is your favorite dark-horse team entering the 2021-22 season?

Alex Kennedy: The Washington Wizards are my dark-horse team because I really liked their offseason moves. They acquired Spencer Dinwiddie, Kyle Kuzma, Montrezl Harrell, Kentavious Caldwell-Pope, Corey Kispert, Aaron Holiday and Isaiah Todd among others. Dinwiddie and Bradley Beal should form a terrific one-two punch in the backcourt, and it's very possible that Deni Avdija (20 years old), Rui Hachimura (23), Daniel Gafford (23) and Thomas Bryant (24) will make significant strides as they take the next step in their development. Suddenly, Washington has some nice depth and a very solid supporting cast around Beal. Don't be surprised if they exceed expectations.
Nekias Duncan: Do the Milwaukee Bucks count here? It's hard to think of a title-winning team that's been disregarded quite like this one. I get the Los Angeles Lakers and Brooklyn Nets' optimism, I do, but the Bucks feel pretty slept on at large.
Ethan Fuller: The Toronto Raptors are going to massively exceed expectations after they faced arguably the most challenging circumstances of any team in 2020-21. They're back in Toronto with a team that screams positive regression. Pascal Siakam is a prime bounce-back candidate, Fred VanVleet continues to fly under the radar and the young core might be one of the more underrated groups in the NBA. I'm excited to see guys like OG Anunoby, Scottie Barnes, Precious Achiuwa and Malachi Flynn take their next steps.
Spencer Davies: I can't just land on one in particular. There's so much love (and rightfully so) for the Lakers and Nets that the possibility of any other teams making it to the NBA Finals would be a shock to many. In the Eastern Conference, watch out for the Miami Heat and Boston Celtics. It seems that the Heat like to sneak up on people when they least expect it, and uh, that shouldn't be the case considering they were in the Finals at this time one year ago in the NBA Bubble. Kyle Lowry's going to prove to be a tremendous pickup if he can stay healthy, and Jimmy Butler seems to perform at his best when he's not being paid attention to. There's also that Bam Adebayo guy, who's somehow a Swiss Army knife with room for growth. As for the Celtics, a new head coach has the potential to inject a sense of freshness into the air. Jayson Tatum and Jaylen Brown have already been unleashed, but Ime Udoka may just be the one to kick the door open further. Plus, those contract worries over the last couple of seasons have been put to rest with Marcus Smart. Oh, and Al Horford's back with gang green, too — never a bad thing to see a familiar face.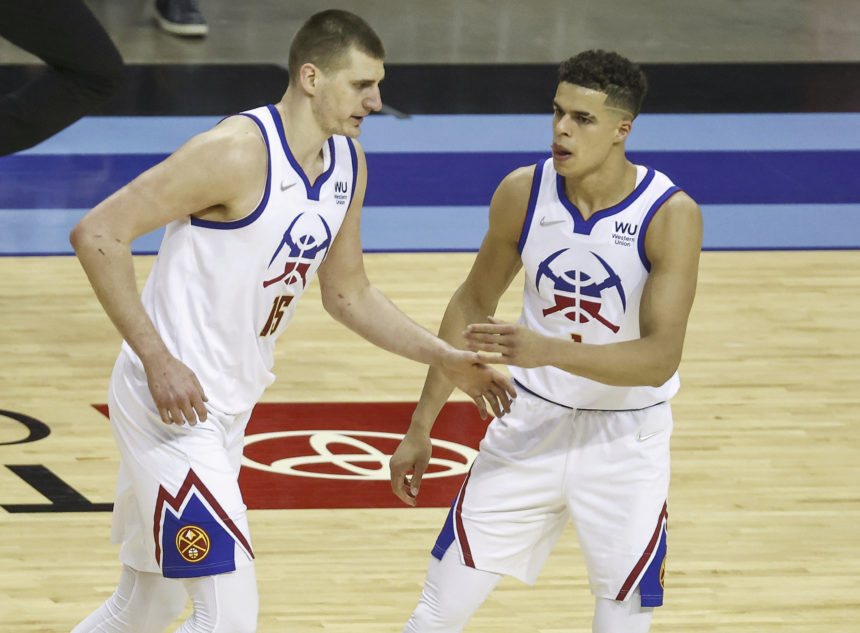 Moke Hamilton: I'd probably have to go with the Denver Nuggets. It's tough to pick a dark horse from the Western Conference because there are a ton of teams out there that are worthy of the respect of being called a credible contender... But I think most people are looking at the Lakers, Clippers, Golden State Warriors and Phoenix Suns as the teams to beat. Denver often gets left out of the conversation, especially since Jamal Murray is still on the shelf. Nonetheless, I like them. If Murray can return to form and Michael Porter Jr. continues to grow, they'll be formidable.
Jackson Frank: Before the injury bug caught them in recent weeks, I would've loved to slot the Indiana Pacers here, but my pick is the New Orleans Pelicans. I'm not sure this means much more than competing for a low playoff seed — still an improvement, comparatively — but they seem a bit discounted among preseason projections. The acquisitions of Devonte' Graham and Jonas Valanciunas should really help this team approach elite offense territory. Garrett Temple and Tomas Satoransky are steady veterans who can contribute in the rotation. The Pelicans house a bevy of young dudes, and while it's unlikely all of them will experience substantial strides, banking on a few of them to do so is prudent. Jaxson Hayes had an encouraging second half of 2020-21. Nickeil Alexander-Walker fared quite well as a shooter and complementary handler in his 19 starts. Naji Marshall brings versatile defense, playmaking and slashing. Zion Williamson's exploits speak for themselves. Brandon Ingram is a very good second scorer. To cap it off, new head coach Willie Green is an excellent offensive mind, and should serve as a general upgrade over Stan Van Gundy's struggles on the sidelines. I like the Pelicans to take a notable step forward and compete for a playoff spot — or a little better.
Drew Maresca: What exactly constitutes a dark-horse team? Technically, everyone is a dark-horse team except for the Lakers and Nets. As it relates to the question though, I really like the Nuggets. Nikola Jokic is going to pick up right where he left off, Michael Porter Jr. should immediately begin earning the five-year, $207 million extension he just signed and Aaron Gordon is the same cat he's been for the past few seasons. If Jamal Murray can return at nearly full strength at any point this season, the Nuggets are going to be scary.
Jesse Blancarte: The Los Angeles Clippers. With Kawhi Leonard out indefinitely after undergoing surgery to repair a torn ACL, the Clippers are no longer considered a championship contender for the upcoming season. However, the Clippers are bringing back their core players and have plenty of wing depth to keep the ship level during the season. With Leonard sidelined, I predict Paul George will have a big season, while other players like Marcus Morris, Terance Mann and Justise Winslow could help fill the void. If Leonard can return in time for the postseason, the Clippers may have a shot at advancing deep into the postseason.
Chris Sheridan: The Charlotte Hornets. If they can get a full healthy season from Gordon Hayward, that will be the key. I love the pickup of Mason Plumlee at center, and we all learned last season what LaMelo Ball can do. They play way under the radar because of their market size.
Alexander Cohen: My favorite dark-horse (and also NBA League Pass) team is easily the Pelicans. David Griffin has received a great deal of mostly-warranted slack for his offseason due to asset management, but I think New Orleans has a good team here. While I'm not a fan of letting Lonzo Ball walk, moving on from Steven Adams and Eric Bledsoe should both be additions by subtraction. Bringing on Jonas Valanciunas and Devonte' Graham — two dark horses in their own right as top players on their former teams despite LaMelo Ball and Ja Morant being understandably more publicized — should also be instrumental additions. They provide scoring presences the Pelicans lacked last season, with Graham and Valanciunas being worlds more aggressive than Ball and Adams. The two-man combo of Willy Hernangomez — who has a similar skill set to Valanciunas — and Zion Williamson had a staggering net rating of plus-11.9 last season. Factor in those changes with the anticipated improvement of Nickeil Alexander-Walker, Jaxson Hayes and Kira Lewis, and the Pelicans should be a thrilling team this year with a healthy Williamson.