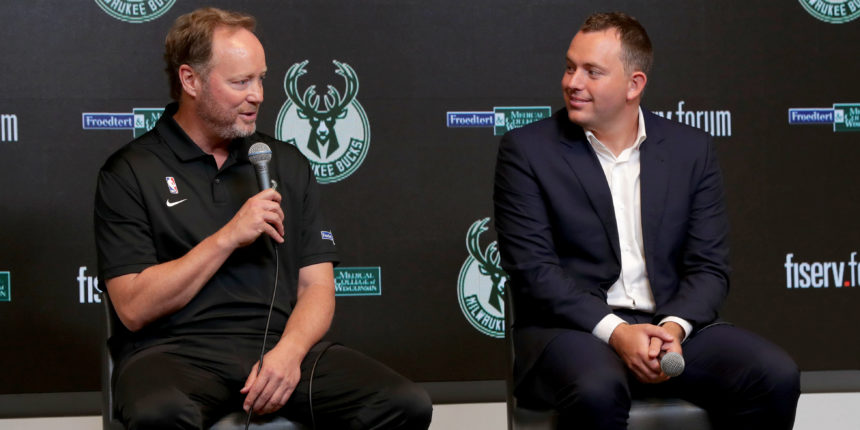 NBA Roundtable: Which franchise has the best front office?
We are more than a week into the 2021-22 NBA season; can you believe it? Hot takes are flying, highlights are being made and surprise teams are making their marks out of the gate.
As fans begin their reactive discourses surrounding the early successes (or failures) of their respective squads, the conversations usually shift to front-office moves. People love to talk about roster construction and fitting the puzzle pieces together, so we decided to provide our own two cents on the subject.
In our latest Roundtable, we asked our BasketballNews.com writers the following question:
Which NBA franchise has the best front office?

Alex Kennedy: The Toronto Raptors stand out to me. Masai Ujiri, Bobby Webster and Co. not only do a terrific job of identifying talent, they are also outstanding when it comes to developing their own players. After all, that's how they became the first team in NBA history to win a championship without a single lottery player on the roster. Ujiri may be the most valuable executive in the entire NBA, which is why the Raptors had to take care of him with his new deal as vice chairman/president (despite attempts from the team's co-owner to oust him). As ESPN's Adrian Wojnarowski noted when he signed his new contract: "Ujiri has established himself as one of the most prominent, successful and sought-after executives in professional sports. In the final months of his expiring contract, Ujiri turned back overtures from several pro sports organizations beyond the NBA." Ujiri has taken Webster under his wing, and the two of them have created a special culture in Toronto. They have also identified quite a few diamonds in the rough such as Fred VanVleet (undrafted), Pascal Siakam (No. 27 overall), OG Anunoby (No. 23) and Malachi Flynn (No. 29). Scottie Barnes is looking like a tremendous pick too. The Raptors are in excellent hands going forward.
Nekias Duncan: If we're splitting up front-office duties between transaction/financial stuff, scouting and coaching, I'd find myself splitting hairs between the Toronto Raptors and Miami Heat as the organizations with the best blend of those three. The Heat have been doing it longer, so I'll give them the slight edge.
Spencer Davies: Determining who has the best front office is a tough task. Are we judging this on the team's longevity as a legitimate competitor, or for the bold, win-now moves that create a championship window that becomes rather narrow? I've long maintained that the San Antonio Spurs have been the standard-bearer of how to run a team, but their questionable free-agency period made me take a step back. I also believe that the Utah Jazz deserve more love for what they've built. However, the mantle, for me, may very well belong to the Atlanta Hawks. Travis Schlenk has constructed a well-balanced team that employs a star in Trae Young, a perfect partner in John Collins, veterans to guide the youth and a soon-to-be Most-Improved-Player candidate in De'Andre Hunter. Draft well, make moves with care and allow the pieces to find their fits — that's how you build.
Ethan Fuller: The Atlanta Hawks, led by general manager Travis Schlenk, are on an absolute roll. They've drafted extremely well since Schlenk took the front office and nailed a number of key free-agent signings, including swooping in to acquire Bogdan Bogdanovic. Many people (including myself) doubted the Lloyd Pierce firing last season, but Nate McMillan came in and steered the team to the Eastern Conference Finals. The Hawks are way ahead of their expected timeline.
Moke Hamilton: I'd probably have to go with the Miami Heat. There are obviously plenty to choose from here, but since Pat Riley left New York for Miami 27 years ago, the Heat have missed the playoffs just six times. They've managed the cap prudently, consistently fielded contenders and — from Alonzo Mourning to Dwyane Wade to Bam Adebayo — have always managed to find a way to land impact players. Anyone who's played in Miami will tell you a thing or two about "Heat Culture," and the fact that they've had such incredible continuity from an organizational standpoint says a lot. Let's also recall their six Eastern Conference crowns and three championships.
Evan Sidery: It has to be the Milwaukee Bucks, right? Jon Horst showed that he can be very aggressive when needed during his acquisition of Jrue Holiday. There are many other solid contenders around the Association, but the Bucks' front office put their chips into the middle of the table recently, and it paid off.
Blake Hairston: It's tough to pick one, but there are a few that stick out for various reasons. As a draft guy, the Denver Nuggets have done a great job at selecting impact players over the years regardless of draft position. Also, It's hard to argue with what Jon Horst has built in Milwaukee with the exclamation point of a championship last season.
Alexander Cohen: This is a difficult question to answer. Many of the front offices considered to be the best — such as the Golden State Warriors, Boston Celtics, Miami Heat and Toronto Raptors — have gone through rough patches recently. Even the Spurs are finally missing the playoffs — no team is perfect. I'll stay with the Raptors though, despite their failure to do much of anything last year or get value back for Kyle Lowry. I still have faith in their development system, and that Masai Ujiri and Bobby Webster will turn them into contenders again soon enough.
Mark Gunnels: The best front office in the NBA has to be the Milwaukee Bucks right now. They were able to lock up Giannis Antetokounmpo long-term while putting great complementary pieces around him with Khris Middleton and last year's additions Jrue Holiday, PJ Tucker and Bobby Portis.