After evaluating all of the 2021 NBA Draft prospects before their transition to the pros, Senior NBA Draft Analyst Matt Babcock will continue to keep track of the first-year players as they start their NBA careers.
Just under a month into the 2021-22 NBA season, here is Babcock's first edition of NBA Rookie Rankings: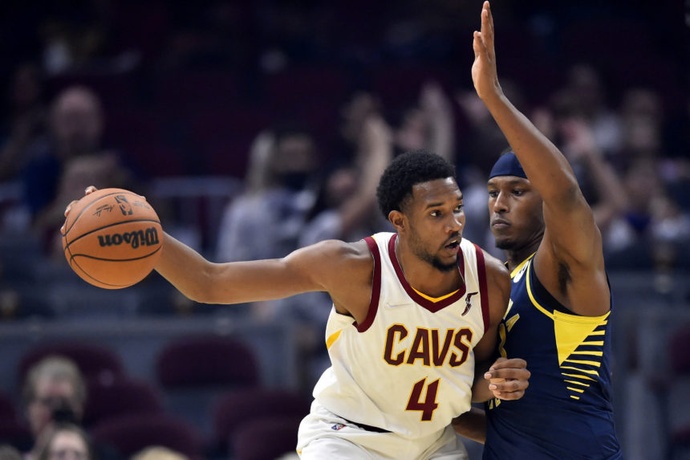 Evan Mobley, Cleveland Cavaliers (9-6)

14.6 PPG, 8.0 RPG, 2.5 APG, 1.6 BPG, 1.0 SPG, 49.4 FG%, 30.8 3PT%, 77.1 FT%, 33.6 MPG
After being selected No. 3 overall in the 2021 NBA Draft, Evan Mobley is looking like a steal for the Cleveland Cavaliers thus far. At 7-feet tall, Mobley has shown that he's capable of being a defensive anchor for the Cavaliers by utilizing his length and mobility, and he has significant potential to become an offensive cornerstone for them as well. Perhaps the best part of Mobley's early success is that his individual production has not only led to him gaining recognition, but the Cavs are winning too. They are currently 9-6 after posting a subpar 27-45 record throughout the 2020-21 season. The Cavs announced recently that Mobley will be out for two-to-four weeks with an elbow injury; however, he remains the early front-runner for the NBA's Rookie of the Year award, nonetheless.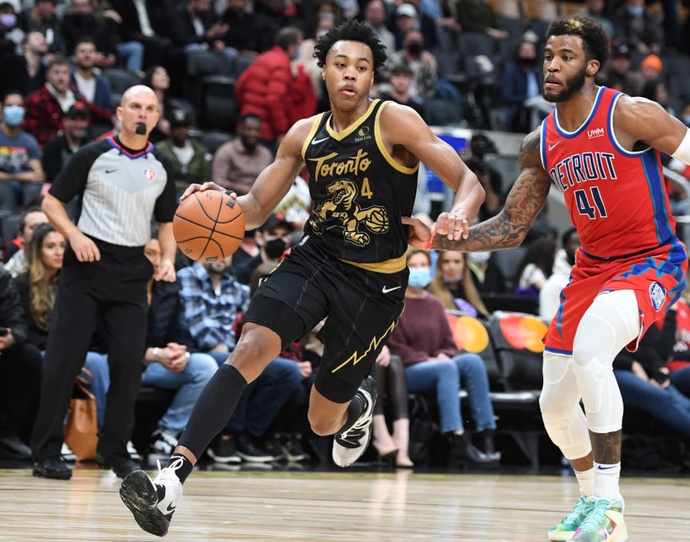 Scottie Barnes, Toronto Raptors (7-8)

16.3 PPG, 8.3 RPG, 2.8 APG, 1.0 SPG, 0.6 BPG, 51.2 FG%, 18.2 3PT%, 79.1 FT%, 35.5 MPG
Although Evan Mobley has a slight edge in regards to being the early favorite for Rookie of the Year, Toronto Raptors forward Scottie Barnes is certainly not far behind. In Barnes' lone freshman season at Florida State, he regularly showed flashes of potential greatness, but he did not have a dominant year by any means; he only averaged 10 points per game over the season, and those numbers aren't what you'd typically expect to see from a high lottery pick. However, early in Barnes' rookie campaign, he has already proven to be an extremely effective do-it-all forward, as he is averaging over 16 points and 8 rebounds per game while helping lead the Raptors to a near .500 record. Expect Barnes to be a mainstay and fan favorite in Toronto for years to come.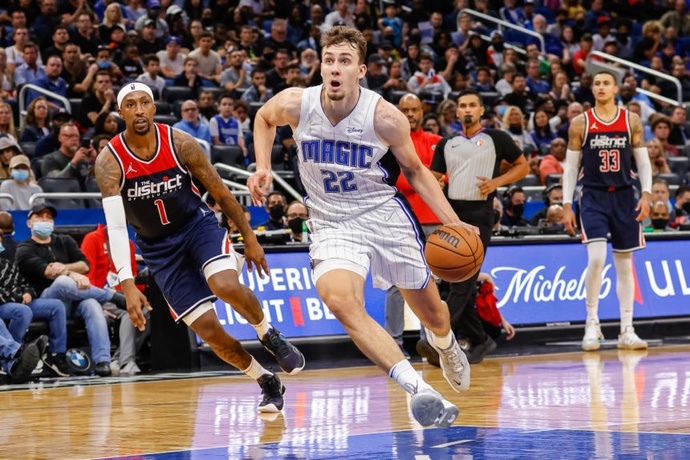 Franz Wagner, Orlando Magic (3-10)
13.4 PPG, 3.9 RPG, 1.9 APG, 1.4 SPG, 0.6 BPG, 44.5 FG%, 37.1 3PT%, 76.0 FT%, 32.2 MPG
After a terrific sophomore season at Michigan, Franz Wagner has made a seamless transition into the NBA. At 6-foot-10, Wagner is big and versatile. He's not overly flashy, but he does a little bit of everything. This young Magic team is not winning games at a high rate just yet, but Orlando is drawing quite a bit of positive attention for the first time in a while, and Wagner has been a big part of that. I've questioned Wagner's fluidity and consistency as an outside shooter in the past, but he's currently shooting an acceptable 37.1% from three-point range (23-of-62). If he's able to continue to develop in that area, his ceiling on the offensive end would be even higher than I originally thought. Regardless, I'm expecting Wagner to become a good starter in the NBA and a player who will help a franchise win games, at the very least.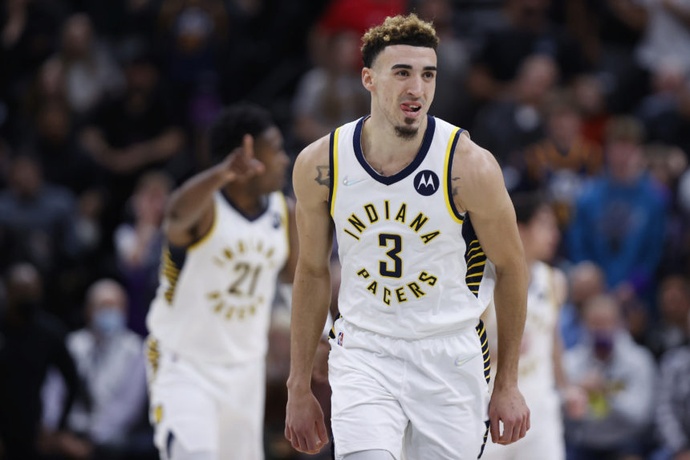 Chris Duarte, Indiana Pacers (6-9)

14.3 PPG, 4.4 RPG, 2.1 APG, 0.9 SPG, 0.1 BPG, 43.1 FG%, 40.3 3PT%, 76.5 FT%, 32.1 MPG
While at Oregon last season, Chris Duarte was a prospect who I put my stamp of approval on early, so naturally I'm happy to see him doing so well early in his career with the Indiana Pacers. At 6-foot-5, Duarte displays a lot of the qualities that one would want from the shooting guard position — most importantly, his ability to shoot and score the ball. Through 14 games, Duarte is averaging 14.3 points while shooting 40.3% from three-point range. After being selected No. 13 overall in the 2021 NBA Draft, Duarte is looking like one of the better picks from this class so far.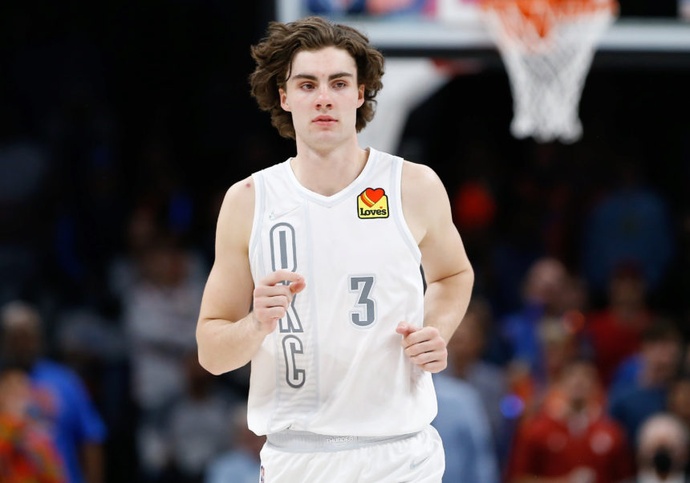 Josh Giddey, Oklahoma City Thunder (5-8)
9.0 PPG, 6.6 RPG, 6.2 APG, 1.2 SPG, 0.6 BPG, 37.1 FG%, 25.6 3PT%, 61.5 FT%, 28.8 MPG
Although he just turned 19 years old, Josh Giddey is already doing some really good things in his rookie season for the rebuilding Oklahoma City Thunder. Despite room for growth with his shooting efficiency — he's only shooting 37.1% from the field and 25.6% from three-point range — Giddey is just simply fun to watch as he makes crafty moves and slings dart-like passes all over the floor with both hands. It is going to be interesting to see him mature and grow as a player. After snagging Giddey with the No. 6 pick in the 2021 NBA Draft, it looks as if Sam Presti has struck gold once again.
Jalen Green, Houston Rockets (1-13)

13.9 PPG, 3.4 RPG, 2.6 APG, 0.7 SPG, 0.3 BPG, 36.0 FG%, 27.4 3PT%, 78.6 FT%, 31.9 MPG
Jalen Green may be sixth on this list, but I don't think anyone is questioning him long-term... I'm certainly not. The Rockets are in rebuild mode; they have a 1-13 record and, well, they're just not very good. They're going through some growing pains, and so is Green. Although he has been inconsistent, he has shown flashes as to why many believe he'll become a prolific scorer in the NBA — myself included. He possesses high-level explosiveness and has an uncanny ability to score the ball. Similar to Anthony Edwards last season, I think it's just a matter of time before he finds his footing and takes off.
Cade Cunningham, Detroit Pistons (3-10)

13.4 PPG, 5.5 RPG, 3.6 APG, 1.0 SPG, 0.4 BPG, 34.8 FG%, 27.6 3PT%, 92.9 FT%, 30.0 MPG
After missing the first handful of games to start the season due to a minor injury, Cade Cunningham, the top pick of the 2021 NBA Draft, has had a very slow start to his career with the Detroit Pistons. However, I don't think some of the harsh criticism he's received is all that fair. Recently, Cunningham has started playing much better, including an outstanding performance on Monday night, when he scored 25 points, grabbed 8 rebounds and dished out 8 assists in a loss to the Sacramento Kings. Despite the underwhelming start, I still think Cunningham will end up being one of the best players from the 2021 class. Similar to Jalen Green, I don't expect him to be ranked this far down this list for very long.
Davion Mitchell, Sacramento Kings (6-8)
9.6 PPG, 3.9 APG, 2.4 RPG, 0.7 SPG, 0.3 BPG, 40.1 FG%, 29.8 3PT%, 63.6 FT%, 26.3 MPG
I was a bit surprised when the Kings selected Davion Mitchell with the No. 9 overall pick in the 2021 NBA Draft. However, it was not because of his lack of talent, but more so that the Kings seemed to have a bit of a logjam at guard with De'Aaron Fox and Tyrese Haliburton. Despite the crowded backcourt, Mitchell has stepped in and contributed right away, playing 26.3 minutes per game. Perhaps my favorite part of Mitchell's game is that he's willing and able to pick up defensively full-court. Once he starts knocking down outside shots at a higher clip, as he did at Baylor, I believe his productivity and effectiveness will increase even to even higher levels.
Alperen Sengun, Houston Rockets (1-13)

9.4 PPG, 4.8 RPG, 2.2 APG, 1.4 SPG, 0.6 BPG, 48.2 FG%, 37.5 3PT%, 66.7 FT%, 19.3 MPG
Though he falls into the category of being a throwback, traditional big, Alperen Sengun is doing a lot of the same things that he did in Turkey last season — he just produces. I think playing for a rebuilding Houston Rockets team is a great situation for him in regards to his development, as they have the luxury of playing him solid minutes in his rookie season. After being selected No. 16 overall, Sengun is looking like a terrific pick for Houston.
Herbert Jones, New Orleans Pelicans (2-13)

7.0 PPG, 3.0 RPG, 1.5 APG, 1.1 SPG, 0.6 BPG, 50.0 FG%, 38.5 3PT%, 78.6 FT%, 24.8 MPG
Selected with the No. 35 overall pick in the second round of the 2021 NBA Draft, Herbert Jones has carved out a solid role for himself with the New Orleans Pelicans, providing versatility on both ends of the floor. This past weekend, Jones had a career-night, scoring 17 points and grabbing 6 rebounds in a win over the Memphis Grizzlies. It sure is looking like Jones is in the NBA to stay.
Others worth mentioning:
Jalen Suggs, Orlando Magic
Bones Hyland, Denver Nuggets
Jeremiah Robinson-Earl, Oklahoma City Thunder
Austin Reaves, Los Angeles Lakers
Dalano Banton, Toronto Raptors