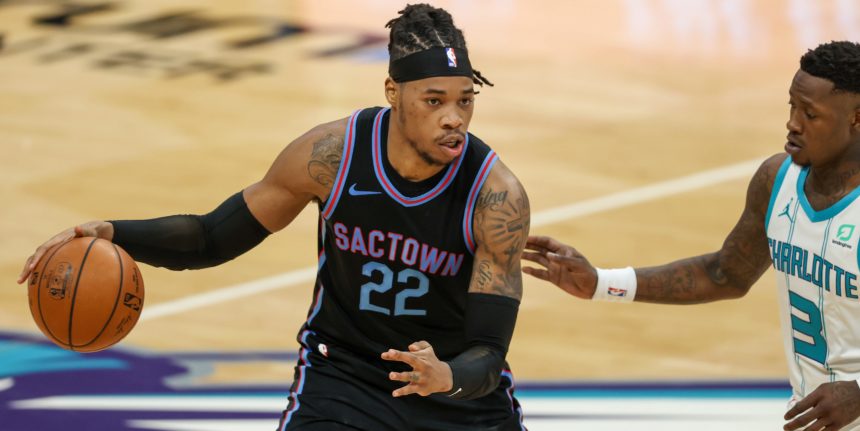 Richaun Holmes Q&A: 'I definitely feel I'm deserving of the All-Defensive Team'
This season, Sacramento Kings center Richaun Holmes is averaging career-highs in points (14.1), rebounds (8.9), blocks (1.6), assists (1.7), free throw percentage (79.7%), VORP (1.0), Win Shares (5.2) and Offensive Rating (132).
He's making his presence felt on both ends of the floor for the Sacramento Kings, who are 22-32 (which is four games out of the play-in tournament). The Kings haven't been in the playoffs since 2005-06, and helping end that postseason drought is one of the goals that Holmes has set for himself. Another goal of his is making an All-Defensive Team this season.
BasketballNews.com caught up with Holmes to discuss these goals, his career-year, his upcoming free agency, why he feels he's one of the NBA's best two-way centers and more.
I know that making an All-Defensive Team was a goal that you set for yourself. Do you feel like you've played well enough to earn an All-Defensive spot this season?
Richaun Holmes: "Most definitely. Being a member of the All-Defensive Team is definitely something that I'm striving for. It's definitely something where I set that as a goal of mine and [I hope to] accomplish it. I definitely feel like that's where I make a lot of my impact -- on the defensive side of the floor. Like I've said before, I'm one of the best two-way centers in the NBA. I definitely feel like I'm deserving of the All-Defensive Team."
Do you think your name should get mentioned more when people are discussing the best two-way centers in the NBA? Do you feel like you're underrated?
Holmes: "I feel like my name has always been one that kind of flies under the radar. It's always kind of an afterthought and things of that sort. I just want to continue to prove and continue to show [my value] on the floor, and let my talking get done on the floor. I just want to show the type of player that I am, just show that I'm one of the best two-way players, just show that I'm deserving of the All-Defensive Team and just continue to show [what I can do]. I want to continue to get better on the floor and just let my numbers and things of that sort prove my case."
How much of defensive success is just consistently putting in the effort and hustling?
Holmes: "Most definitely, defense is a lot of effort and having the wherewithal to make multiple plays. It's the NBA, so it's tough to guard guys. But you need to have the effort to make multiple plays -- [even if you] get beat, you're chasing down the ball and trying to block the shot and never giving up on plays. Also, just knowing the position to be in. I think that comes from watching film and studying what the opponent likes to do and getting inside their mind a bit. Just knowing what position to be gives yourself a better start."
Some players affect the game in a lot of ways that don't show up in the box score. Do you feel like your defensive impact is tough to quantify with traditional stats?
Holmes: "I think it can be kind of hard for people to see someone's impact on the defensive side of the ball. I think the offensive of the ball is so glorified, and that's what a lot of people come to see. A lot of people don't really focus on the defensive side of the ball outside of the stats. But just being in the right position and stopping things before they happen -- and being in position to stop drives before they even happen, before people can get to the rim and before it even becomes a blocked shot -- those are the sort of things that people don't really pay attention to, but that are very important on the defensive end [and they don't show up in the box score]."
When teams are refusing to come in the paint and your defense is causing them to adjust their game-plan, that has to be flattering.
Holmes: "Most definitely, it is [flattering], but it's also a huge responsibility. I have to make sure I continue to prepare the right way and continue to take care of my body and continue to put in the maximum effort on that side of the ball and continue to be a leader. I just want to make sure [I keep this up]. It keeps me humble and keeps me hungry, and I just want to continue to prove that I'm one of the best defenders. It makes me want more. It's extremely flattering, but it also makes me hungry and makes me want to continue to get better and continue to improve that side of the ball."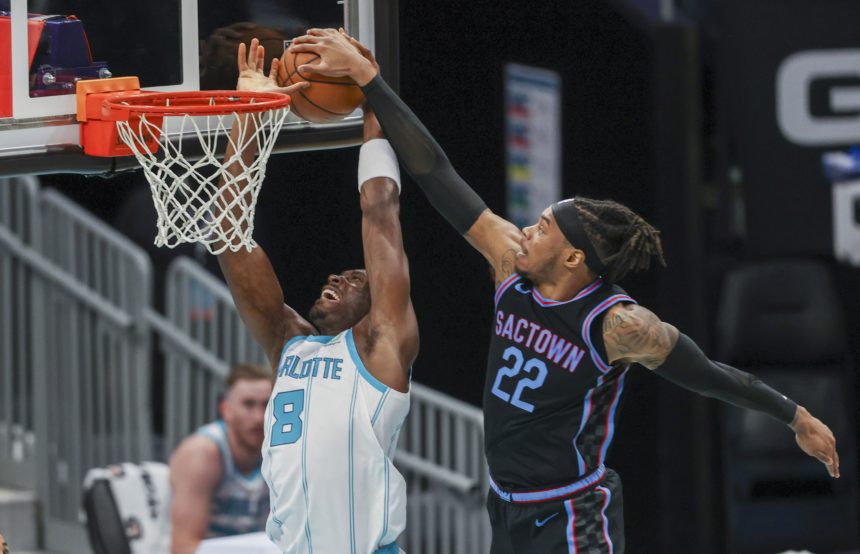 How much have you improved as a player from your first day in the NBA to now?
Holmes: "Ah man, it's been a huge improvement. I don't think that can even be quantified. I think, for the most part, the main thing is just confidence and having an opportunity to play and kind of get my feet on the ground -- especially in Phoenix, just coming off of the bench and having a solid role in the NBA and understanding what I needed to bring every night. And as I got to Sacramento, just understanding where I could be better and how I could be more efficient. I worked hard on my floater so that if I didn't have a dunk, I still had a go-to move. Also, it was just knowing where to be position-wise. I think, especially my first few years in Philly, I was out of position a lot. I think just watching film and understanding the rotations and the different aspects of playing defense in the NBA over time, [I learned] to use my athleticism better and how to be in better position before I even had to go for a spectacular block or things of that sort. I made sure that my position was much better and I really took watching film more seriously. I think those are a few key areas where I showed a lot of improvement."
You were on the Philadelphia 76ers during the "Trust-the-Process" years and there was this narrative that the players on that team would suffer because they were brought up in a losing culture. However, those teams produced diamonds in the rough like you, Jerami Grant, Robert Covington, T.J. McConnell, etc. You all make winning plays and could help pretty much any contender. What would you say to people who think that environment was bad for players?
Holmes: "I mean, you understand that those people have never been in that environment. It was an environment where players were all scrapping, all fighting for a spot in the NBA and trying to prove that we belonged in the NBA. You have to show maximum effort, and you have to understand where to be on the floor to give yourself the best chance. I think the guys that you named, we were all guys who worked hard, who were always in the gym and we always understood that when we got our chances, we really couldn't mess up. We had to be perfect, we had to execute well and we had to do what we had to do. I think in that culture, you just get used to fighting and battling and understanding that every possession is a battle. We weren't taking possessions off [because we were trying to prove we belonged in the NBA]. And every team needs guys like that who are gonna go out there and go hard. I think those 'Trust-the-Process' days really breeded a lot of guys like that."
In several interviews, you've talked about how much you love Sacramento. What has stood out about this situation to you? Why do you love it?
Holmes: "Ah man, it's been great since the moment I got here, really. Everybody, from the front office to the fans on the street, has shown so much love and shown their appreciation for the way I play and just gave me an opportunity to really grow here. Sacramento is a place where I've really grown as a basketball player, but as a man as well. I just have some great memories from these last two years and I really can't say anything negative about the whole situation in Sacramento. Everything has been so positive and I've grown so much and everybody has shown so much love and the atmosphere was crazy when the fans were in the arena, so there have just been so many positive things about playing in Sacramento."
It's been 14 years since the Kings were last in the playoffs. What would it mean to be part of the team that ends the postseason drought?
Holmes: "It would be amazing, and I think that's on the mind of every player who comes through here -- wanting to be the team that breaks that streak and gets these fans back in the playoffs and gets them cheering in a playoff [environment] like back in the day. That's something that we all look forward to and something that we're working toward."
You're an unrestricted free agent this offseason. Are there certain things you learned from your last free-agent experience that you can use this time around?
Holmes: "I think during my last free agency, I just learned how to gauge the situations that are best for me and my family. Just understanding the situations that I'm going to put myself in as far as living conditions and things of that sort, just understanding everything about choosing where you're going to play next, understanding the impact that it's going to have and how big of a decision it is and how much thought you really want to put into it -- not just for yourself but for your family as well. I just think the seriousness of it and how you want to think [about things] and make sure you make the right decision… I feel like those are all things I learned the last time I went through it."
The family part is big. Some fans don't realize how much the family and off-court factors affect a player's decision.
Holmes: "Well, I think a lot of people don't realize that we have personal lives and are humans too. The location and where you are, it's very hard to leave certain places when you have roots there and your kids are in school and things of that sort. It's hard to pick up and leave. That's a component that goes into it, and it's something that a lot of players think about. You have to think about how your family is going to take the decision and [consider], 'What's best for my family? What does the family want to do? What do they think?' It's very important and it weighs heavily on players [and it impacts] a lot of decisions that are made by players. How the wife or your brothers or your parents may feel about it -- that's always something to think about."
Every player has different priorities entering free agency. What are some factors that you'll be considering when you enter free agency?
Holmes: "I think the main thing for me, and I've said it before, is just to be in a position to take care of my family. I've worked hard the last six years and I've put myself through a lot and I just want to be in a position to take care of my family. I want to be compensated for that and just get to that point where I'm not worried about anything financially. And I think that's something that I have an opportunity to do here."
I've been so impressed with De'Aaron Fox this season. What do you think of his play and how he continues to develop as a player?
Holmes: "It's honestly been amazing to watch. Just from the hours that he puts in and watching him this summer, [we knew] that something different was about to happen -- we saw how locked in he was. He's so vocal on and off the floor, and just his mindset is to attack. He understands that we go as he goes, and when he comes out attacking and getting into the paint and causing havoc, it's really, really tough for other teams to guard us. Just understanding the way he can impact the game and seeing him go out there and do it on a nightly basis, and seeing him bring that superstar-level competition to our team, it's been special to watch."
Tyrese Haliburton has been incredible, too. He's exceeding all expectations. What's it been like watching his emergence and what are your thoughts on his game?
Holmes: "It's been fun watching him. He's a guy who plays far beyond his years. This is his first year in the NBA, but he's settled in and he looks at home. The game's not fast to him. He understands how to control the pace. These are a lot of things that you don't see from rookies. He understands the game and he has a high basketball IQ, and he knows how to put others in position to score and be successful. There's just a lot of different things that he brings to the game and he has a great feel for the game, which is important for our team."
Given everything that you've seen throughout your career, what are some lessons that you're trying to pass onto the young guys?
Holmes: "To me, it's just: don't take the days for granted. Good days add up, for the most part. Every day, you have to find that motivation to come in and get better. Some days, it's tough because you're tired and things of that sort, but good days always add up. You just gotta continue working, continue to build foundations and things just get better as you go."