Kyrie Irving is missing, for lack of a better word. Players keep disappearing at random times because of COVID-19 -- the latest being Memphis Grizzlies center Jonas Valanciunas, who had to leave the team's game vs. the Brooklyn Nets during the second quarter due to the league's protocols.
The Philadelphia 76ers will only have eight guys available this afternoon vs. the Denver Nuggets, and other teams such as the Dallas Mavericks and Boston Celtics are missing multiple players for COVID-related reasons as well.
There are 16 teams who are at (or within one game of) .500. The Los Angeles Lakers are clearly the best team out there, but what on Earth has happened to last season's top teams (like the Denver Nuggets, Los Angeles Clippers, Miami Heat and Milwaukee Bucks)?
This is a strange NBA season. It's been more than a month since training camps opened, and each day there's a new head-scratching story.
Irving's whereabouts and motives remain unclear two days after he no-showed for Brooklyn's game against Philadelphia. The Nets are not saying much, and Irving's publicist, Ashley Blackwood, is not returning phone calls. After looking like world-beaters to open the season, the Nets now sit at .500 following last night's loss in Memphis.
Normally, beat writers would meet with players and coaches after the game to get an explanation. Then, the next day, they'd show up at practice and get even more information. Not this season. COVID-19 protocols are keeping everyone away from one another and leading to more questions than answers. Almost every arena is empty, every journalist is communicating with players and coaches via Zoom, and basketball fans are squirreled away in their homes hoping that some sense of normalcy returns soon.
The Sixers looked excellent until they ran into the Irving-and-Durant-less Nets at Barclays Center on Thursday and laid an egg, causing Charles Barkley to ridicule them for their lack of defense. The Clippers have looked with notable exceptions: Last night vs. the Golden State Warriors and their Dec. 27 game against the Mavericks when they trailed by 50 points at halftime (setting a new NBA record).
The Lakers have been the Lakers: a 117-115 victory over the Chicago Bulls last night put them atop the Western Conference at 7-3, and if there is a legitimate threat in the West to keep them out of the NBA Finals, that team has yet to emerge. This despite Anthony Davis and Kentavious Caldwell-Pope being injured.
The guy running away with the scoring title, Bradley Beal (35.0 PPG), plays for a 2-7 team that is tied with the Detroit Pistons for the worst record in the East. This isn't how the Wizards envisioned their season going when they added Russell Westbrook, but the team is incredibly inconsistent and it's a mystery what you're going to get from them on any given night.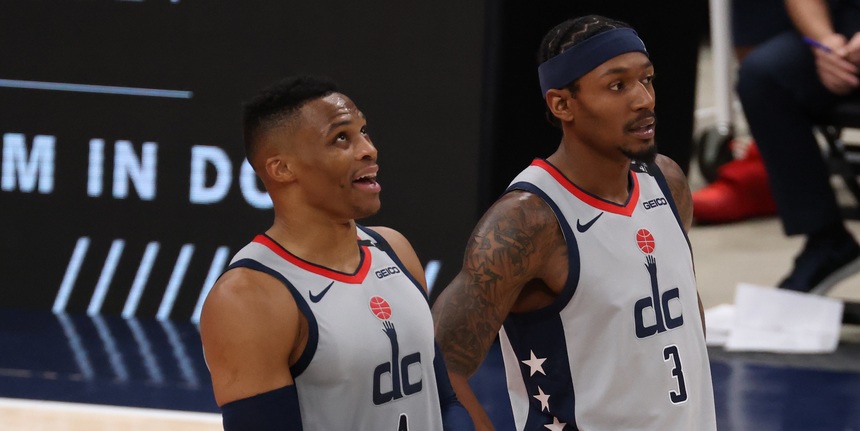 James Harden remains in Houston, where he is tied for the league lead in assists with 11.3 per game (taking the spot from Nikola Jokic). In the assists race, Harden is tied with Westbrook, whose assist-to-turnover ratio was 8-to-7 last night against the Celtics.
Stephen Curry is making 4.6 three-pointers per night, but C.J. McCollum is outdoing him with 4.8 per night for a Portland Trail Blazers team that is third-worst in the West defensively, allowing 118 points per night. They should be better than 4-4, but Jusuf Nurkic has been ordinary after his All-Bubble performance last summer.
Jokic's Nuggets are 3-5, trolling the depths of the West along with the Memphis Grizzlies (who had the misfortune of losing Ja Morant) and the Minnesota Timberwolves (who are without Karl-Anthony Towns).
The Bucks are 5-4, which makes them every bit as good as the New York Knicks and Cleveland Cavaliers. The defending champions in the East, the Miami Heat, are 3-4, but at least that puts them light years ahead of the Toronto (Tampa) Raptors, who are 2-6 after dropping 144 points on the Sacramento Kings last night despite being without Kyle Lowry (personal reasons, which is the euphemism of the year).
The longest winning streak in the league belongs to the Boston Celtics, who have won four in a row and will try to make it five tonight against Miami, which will be on the second night-of a back-to-back in D.C. in which they may or may not have to face Westbrook (who has sat out back-to-backs). Westbrook has played in seven of nine games for the Wizards, who are dead last in the NBA in defense (allowing 122.9 points per game). "We can't guard a parked car," Beal said, summing up Washington's rough start.
The flavor of the week from a week ago, the Atlanta Hawks, are enduring a feud between Trae Young and John Collins that contributed to three-straight losses after a 4-1 start. They are a mess, as are the Clippers, who blew a 22-point second half lead last night to remind us all of what happened in last year's playoffs. Golden State scored 52 of the game's final 70 points, and Kawhi Leonard and Paul George combined for just four fourth-quarter points. Yes, you read that previous sentence correctly.
At least we have the Indiana Pacers as a feel-good story, with Myles Turner blocking shots at a crazy pace, Malcolm Brogdon emerging as the most astute social-justice voice (and playing the best basketball of his career) and Domantas Sabonis dropping a double-double every single night. Remember this name: Nate Bjorkgren. If he keeps this up, he could emerge as the favorite for the Coach of the Year award.
The season is 10 games old in many cases, so we are just getting started. Remember: The new normal is not normal. It is abnormal.
And what we are seeing in the NBA thus far this season is a reflection of that fact.