Paul Watson Jr. has been here before. He's played in front of empty crowds, while the walls of isolation felt like they were steadily closing in around him. He's stepped off the team bus at hotels filled to the brim with fellow players, some he knows, some he doesn't - the air thick with excitement and anticipation. He's seen firsthand the way a change in environment can alter a team's chances of winning, where an upset becomes the norm. He has sat patiently, waiting for his number to be called and wondering if any of this was even worth it.
Though years removed from the circuit, Watson's arrival in the NBA bubble was immediately met with the sense of nostalgia that smelling your grandmother's cooking would bring.
"It gave me a lot of AAU vibes," Watson told BasketballNews.com. "It's like going to camps when I was a kid. Being around everybody everyday and going to practice in the hotel, it definitely felt like AAU all over again. It felt like a giant tournament."
Teams that were usd to only seeing their opponents before the initial whistle blew were now sharing elevators, meals and living quarters. There was no escape from a team that may have shaken you the night before, or from a team keen to prove that they too belong in the bubble.
"It was actually pretty chill and laid back," Watson said. "Everybody was like, 'We're here, so let's just do our thing.'"
Watson may be quiet in nature, but underneath his shy exterior is a man with an ability to find the positive in every situation, which is rivaled only by Wenyen Gabriel ecstatically announcing that LeBron James gave him his very first nosebleed.
"I stuck to myself a little bit and hung out with Oshae [Brissett] a lot," Watson said. "There were a few guys I knew (from) before that were already in the league and I would catch up with them. But for the most part, I kept to myself and hung around the (Toronto) guys."
Perhaps his time overseas better prepared him for a secluded playing atmosphere than that of his straight-to-the-NBA counterparts? He described his four-month stint in Germany as "a big culture shock." He recognizes that, although the circumstances were different, the insulating feelings were the same.
"There were similarities in having to adapt to a new situation, something that's never been done before, and just trying to perform under weird or different circumstances," Watson said. "The city that I was in, they were really big on their basketball. It was almost like a college-town environment. They really value basketball in the city that I was in."
Eating, sleeping and breathing in constant, close proximity to your teammates is the norm in the G League, with players often residing in the same condo and sharing rooms on the road. Some NBA players take their five-star hotels and personal space for granted, but not Paul, who finally landed in the NBA after his three seasons in the G League.
The unusual circumstances forced those unfamiliar with them to adapt. For a newcomer like Watson, it was an opportunity to bond with his teammates and get to know them.
"I got to talk with guys a lot more," he said. "Before this happened, I was only up with the team so many times before the whole pandemic happened. I definitely learned some new things about guys and they definitely learned a lot about me. They kind of figured out that I'm not the most talkative person, I'm pretty kept to myself. They got me to open up a little bit more and got to learn more about me as well."
Not only had the G League prepared Watson for the close proximity in which he would live with his teammates, but for the empty arenas at the Walt Disney World Resort. The Raptors 905 are one of the best-selling franchises in the developmental league, but their attendance is a drop in the bucket compared to that of Scotiabank Arena, where their parent-club Raptors sell out every single home game.
"At first, it was a little weird, but then once the ball is rolled out there and you're just playing, you don't really pay attention to it," Watson said of the lack of fans. "Everything you're focused on is what's going on on the floor and what needs to be done and what needs to be executed."
The inability to feed off of the energy exerted from the crowd seemed to affect some players and teams more than others.
"Home-court advantage plays a big part in a lot of things," Watson said. "Just being at home in general and having that fan base, I think that plays a huge part in how things can go. I think everybody is looking forward to going back to somewhere, a better life, when we have those fans in our home arena. It goes beyond basketball and is what everybody wants and is looking forward to."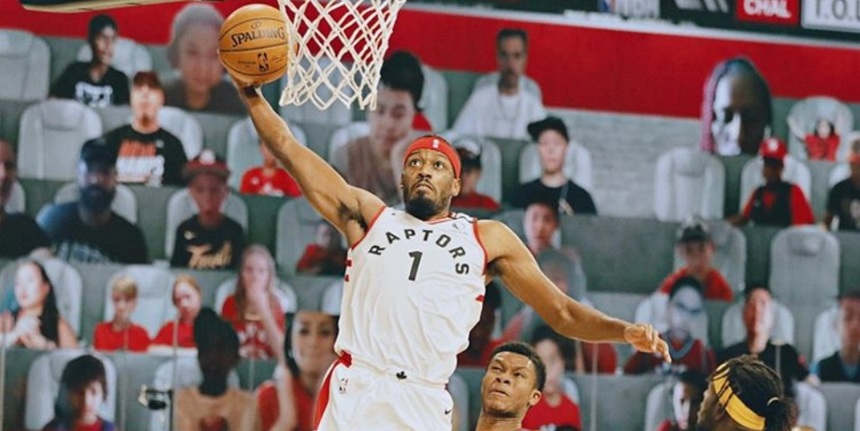 Watson was as surprised as anyone at the NBA Finals matchup between the Los Angeles Lakers and Miami Heat. Or rather, he was shocked at the teams that failed to live up to expectations.
"Obviously I expected us (Toronto) to be there. I expected probably us and Milwaukee, and probably the Lakers and the Clippers, honestly," he said. "That's what I figured. But like I said, it's a new environment, new situation, changes, anything can happen, and that showed (in) this whole playoffs."
The time between Watson's last game -- a 19-point, four-rebound performance in a victory over the College Park Skyhawks on Mar. 11-- the go-ahead from NBA Commissioner Adam Silver and the NBPA to resume the season was months of stagnant development. He had the itch to play the game he loves, but he couldn't scratch it.
"I feel like we had a little bit more knowledge about what could potentially happen before anyone else, but it was a lot of unknowns and [things were] up in the air for us as well," Watson said.
When the plan for an NBA restart was finally set in stone, Watson, like he had been in every way leading up to his Toronto Raptors debut, was ready.
"I was down to finally get to go play basketball, get an experience with the team, learn as much as possible," he said.
The rumblings of understandable discontent from players who were hesitant to restart the season were at the forefront of every article, but in the bubble -- and the days leading up to it -- the general consensus was to play.
"For the most part, everybody was pretty much on board with it and ready to go play ball. After a while of just being in the same area and same situation and just seeing the same things, it can wear on you mentally," Watson said. "But for the most part everyone was pretty sane."
Still, Paul doesn't blame any player who was hesitant to make the journey to Orlando.
"I can say that everybody is different," he said. "Everybody is going to react to things a certain way. Some guys need their space. Everybody has their own life off the court and how to unwind, whether that's just kind of getting away to clear their head or doing something. Everybody is different.
"I can't necessarily say that being around each other is healthy. There are definitely some benefits to it, but everybody is different and everybody is going to react to it differently."
The Raptors were the first team to arrive in Orlando; though as prepared as they could be, they began to feel the loneliness that anyone removed from their loved ones would feel.
"After a while, it got to that point," Paul admits. "A big thing for me, and I think a big thing for everybody that helped, was that after a while, family [and close ones] were allowed into the bubble. So I was allowed to bring my girlfriend out and spend time with her -- that was big for me. She helped me stay focused, and it was kind of refreshing to see new faces and new life."
The comfort that the arrival of family into the bubble brought was quickly draped in a fog of helplessness as the NBA -- a league that had promised to use its platform to highlight the fight against racial injustice and the treatment of Black men and women by law enforcement officials -- learned of yet another instance of police brutality. The shooting of Jacob Blake by Rusten Sheskey, a police officer in Wisconsin, had many players questioning their decision to play.
"It was kind of weird," Watson said. "We didn't necessarily know what was going to happen or what was going to go on. Everything kind of hit at once, and the world was just kind of in shock. It was a little strange. It was kind of like, 'We're just kind of hanging out right now and we'll see where things go.' That's the only way I can describe it -- weird."
The decision to stop all games league-wide was not an easy one. Players were tired, both mentally and physically. Some wanted to carry on, while some didn't feel it was worth it. Ultimately deciding to resume play, the NBA, and Paul, persisted, though not without innominate emotions.
"There was some tension, and there was some unity at the same time. It was a little of both," Watson said. "There were guys who felt certain ways about everything. Everyone was there for different reasons, but I feel like, at the end of the day, collectively, everybody was able to come together and be like, 'Look, this is what we need to do. This is what we need to get done, let's just go and handle our business.'"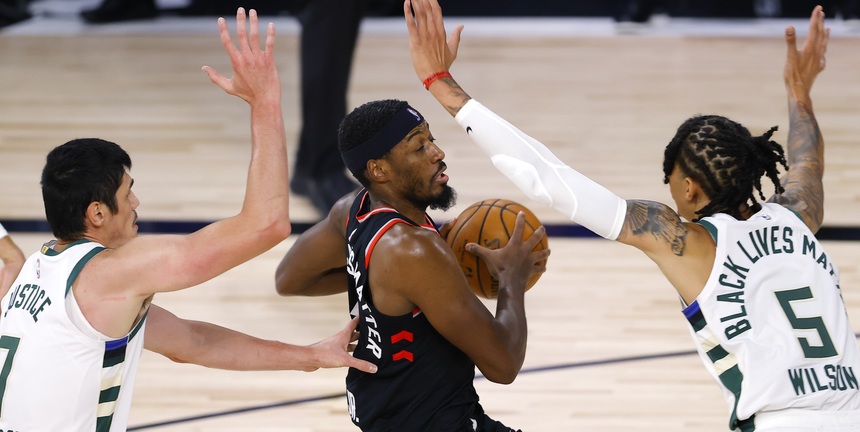 For Watson, an NBA rookie, handling business involved a lot of waiting, and even more watching. There was no frustration on the Phoenix native's part, as his career has taught him the importance of the journey before the destination.
Watching from the socially-distanced bench may wear on the players who, for the first time, are finding their minutes and roles reduced; but for Paul, the learning on the bench is on par with the learning on the court.
"You kind of try to learn what to do and what not to do, what mistakes not to make and just where you can help," he said. "And when your time comes, just take full advantage of it. That's what I try to do."
Paul was not alone in living on standby, as former Raptors 905 teammate Justin Anderson was in a similar position. There was no love lost when the two met in the first round of the playoffs. Instead, there was a bond that could only be understood between previous teammates.
"That was pretty cool. We would text back and forth and talk about what was going to happen in the series and how we both were on this stage and the hard work we've each put in to get to this point, so it was pretty cool to have that experience with him and see him there too," Watson explained.
While Anderson had a few NBA stints before, this was Watson's first opportunity, and it almost didn't happen at all.
"I kind of hit that low point after my second season," Watson said. "Things weren't really going the way I wanted them to. I really wasn't that happy with my situation in New York [on the Westchester Knicks]; I wasn't really getting the opportunity to show what I was fully capable of and I just really wasn't happy with how my season went.
"There's that stigma -- you [play] so many years in the G League and it gets harder and harder [to make it to the NBA], but I knew I just needed that chance to really show what I was capable of. That summer, I put in a lot of work. It was a little draining on me, wondering if I was going to get an opportunity and where it was going to come from. All of that unknown, it does kind of wear on you. But I stayed the course and tried to work, and it got me where I am."

That opportunity, in Watson's case, didn't emerge because of NBA preseason games or G League scouting reports. Instead, it was thanks to his strong play in a country halfway across the world.
"I was in Uruguay with (905 head coach) Jama (Mahlalela) and (assistant coach Charles) Kissi and when I was down there, I did my thing," he said. "I just hooped and that was really about it. Jama and Kissi took a liking to my game. I liked the system they ran; we ran the same thing in Uruguay that we did with the 905 and I really enjoyed the way they played and offense and stuff like that. After that trip, I got with my agent and he got (in touch) with 905 and we just kind of went from there."
He may have doubted his situation, but never himself.
"At the end of the day, I trust my work," Watson said. "I continue to just work on my game. I know it will get me where I want to be, and that's just continuing to grind and get a full-time roster spot. That's the way I look at it; there's never really any pressure. I just need to keep doing what I do at a high level and the rest will take care of itself."
Watson's path to the NBA, and his first season in it, may have been unusual, but his approach to it is a testament to a maturity that is beyond his 25 years. His ability to cut to the basket with ease has seen him realize his dream, but his patience, persistence and willingness to learn are what will keep him there.
In a league, and a world, where not much is certain anymore, Paul Watson Jr. is here to stay.