I've begun to appreciate the unpredictability of the past few days, but not in the sense one would think. Right now, the NBA product isn't very appetizing.
Games haven't been consistently competitive. Blowouts that end the game by the seconnd quarter have been the norm thus far. Pumped in fan noise has been unsteady and therefore hilarious. But, nonetheless, it hasn't stopped us from watching and I'm not really sure anything will.
Why? Because there are too many things worth tracking during what seems to be a transitional year on the cusp of some real shakeups in the league today. You have your borderline contenders, and you have the disgruntled stars eyeballing them. There have been shaky starts in contrast to the shockingly dominant entrance into the season by clubs like the Orlando Magic and Sacramento Kings.
None of it makes much sense, and I think we better get used to that this season.
WHEN WILL THE RAPTORS GET THEIR GROOVE BACK?
Few things are guaranteed in life; death, taxes and the Toronto Raptors figuring out a way to look as polished and cohesive as possible -- no matter how their talent stacks up against the competition. As it stands, the team is 0-3 with three consecutive lost leads, an uncharacteristic habit considering last year's elite crunch-time duo of Kyle Lowry and Pascal Siakam still being present on the team.
Aron Baynes has been disconnected from the offense, seeming confused by passes from his teammates, and uncommunicative on defense. Siakam has been doing his damage within the first half of games, fading out of the offense as soon as Lowry sits and Fred VanVleet runs the point. Norman Powell looks erratic and unconfident on the court.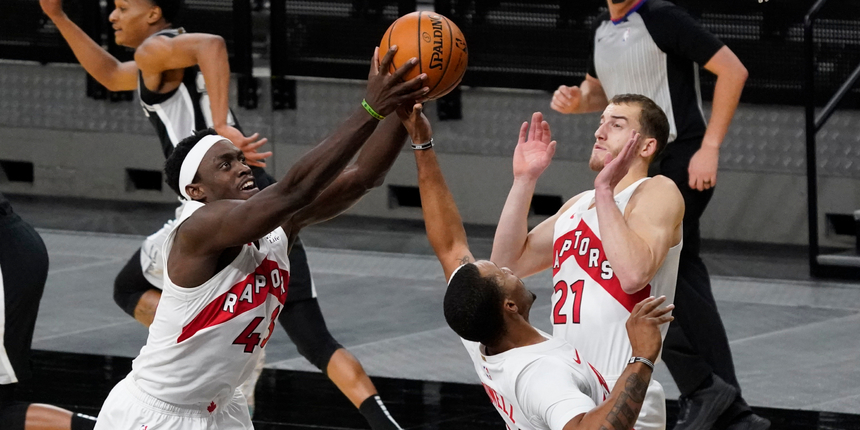 It has been perplexing and difficult to watch this tendency to immediately lose leads because of the lack of creation off the bench (they are currently plus-14 when Lowry plays, minus-40 when he sits), and this is just accentuated by head coach Nick Nurse's early season refusal to give rookie first-round pick Malachi Flynn (whose impact I've previously covered). It's three games in, and this team has enough continuity, talent and coaching savvy to figure it out, especially since these fixes are as clear as day. Nurse likely wants to give VanVleet the opportunity at point guard to say he's tried the look, and it's definitely worth tracking to see how the team cobbles together more competent stretches of play when their leader takes to the bench.
THE WIZARDS HAVE A LOT OF WORK TO DO
I've gotta say, I was not anticipating the John Wall and Russell Westbrook swap.
It's not as linear as some have made it seem. Wall has looked good in preseason, but the Westbrook discourse doesn't appreciate him as the floor raiser he's been over the years. Evidently, this hasn't been enough to help Washington, with a clip of Westbrook looking absolutely defeated on the bench during Tuesday's loss to the Chicago Bulls making the rounds.
Unsurprisingly, this all points back to Bradley Beal. His allegiance to the organization has been admirable, and it's clear that the acquisition of a prominent name such as Westbrook was done in an attempt to signal their efforts to build a winner around him. If it's not enough, it can get ugly, and Beal will rest well knowing that he's been patient and understanding with the team. Eventually, players want to be maximized and placed in a position to win. With Beal now in the midst of his prime, it would be understandable if he finally assessed his options and decided to move on to a different franchise positioned for more immediate contention.
We'll have to wait and see if Washington will have to adjust to losing Beal down the line, but with the way star players have continuously forced themselves out of unideal situations, it'll be interesting to see how this all pans out.
WILL THE BUCKS BUCKLE IN THE POSTSEASON, AGAIN?
Milwaukee is no longer under the same pressure it was just weeks ago. Their franchise cornerstone and transplant Wisconsinite has signed on for five years, and I would imagine it serves as a weight lifted off the organization's shoulders for the time being.
But it certainly doesn't end with the signing of Giannis Antetokounmpo. After back-to-back meltdowns of epic proportions in the postseason to the Toronto Raptors and Miami Heat, the Bucks have a lot to prove -- not to us, but to themselves. The resilience and integrity of their system has been questioned, the coaching has been meme'd to no end and many have gone as far as to question The Greek Freak's ability to lead a team as a paint-bound big man.
Next offseason, Jrue Holiday will enter the market as a free agent, and it is safe to assume that the outcome of the playoffs may have a slight bearing on whether the two-way swingman remains on the Bucks or tests the waters elsewhere. It may seem far away, but when you take into account that the Bucks traded three first-round picks, along with Eric Bledsoe and other complementary players, it becomes one of the several plotlines in the East worth monitoring.
THE NETS LOOK FABULOUS
As with everyone else, I was awaiting Kevin Durant's return to the court with bated breath. Was he going to look like Durant? Was he going to start the season slow? Would he step into game one as if nothing had happened? To our delight, it's been the latter. KD seems spry and uninhibited by the Achilles tear that robbed him of the 2019-20 season. To add to the good news, Kyrie Irving and Durant's friendship has so far translated beautifully onto the court.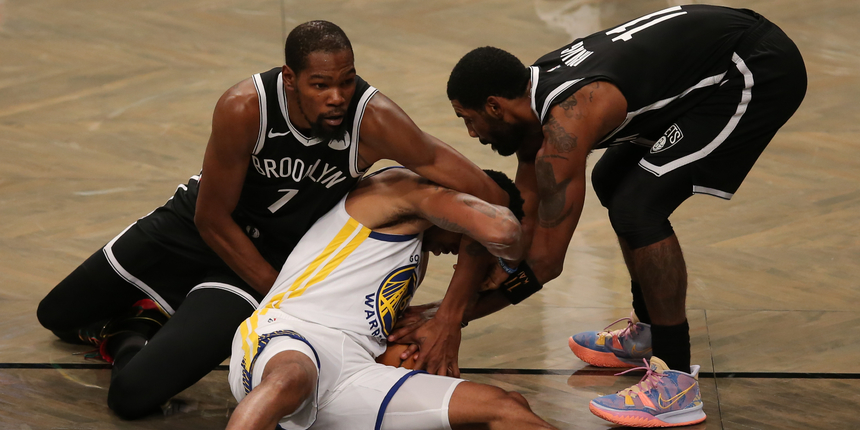 The Nets are littered with off-the-dribble creators, ample shooters and multiple lob threats. They can play in transition and slice it up in the half-court if need be.
It's worth noting that we have yet to see their defensive capabilities put to the test, though the Atlanta Hawks seemed to give us a glimpse on Wednesday night. In a league packed with sizable scoring forwards, it's a lot to ask of Durant to put his underrated defensive chops up against the likes of Giannis, Lebron/AD, Luka, Kawhi, etc. I'll be anticipating to see how head coach Steve Nash (as weird to type as it is to read) adjusts to these teams and player archetypes. Not the purest plotline, but the Nets are my pick to represent the East in the Finals and therefore, they are absolutely worth following. The fact that they are genuinely very fun to watch is the cherry on top.