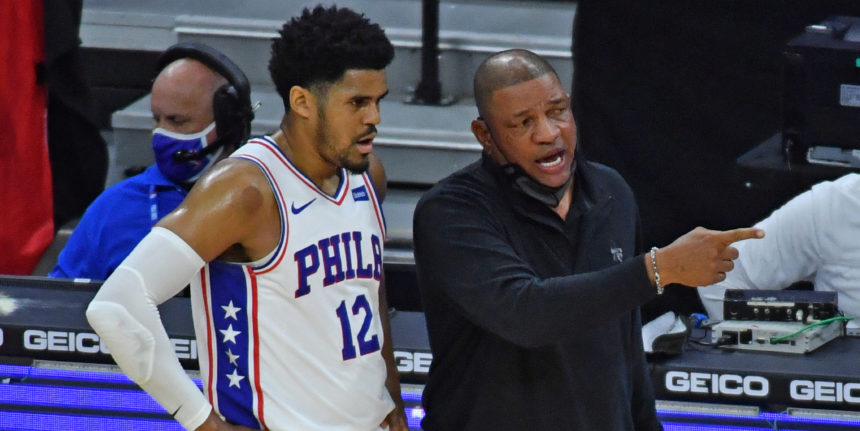 Tobias Harris credits Doc Rivers for success: 'He's a coach that pushes me'
Fresh off a sweep of the Boston Celtics for the first time since 2001, the Philadelphia 76ers continue to be one of the most dangerous teams in the NBA this season. With a fresh look and new leadership, it's been a loud bounce-back year for the Sixers, who have responded to their previous campaign's first-round playoff exit at the hands of those same division rivals.
The disappointing end led to a number of changes from top to bottom. Philadelphia relieved Brett Brown and brought in Doc Rivers to take over the head coaching duties. Daryl Morey was hired as president of basketball operations to assist general manager Elton Brand in retooling the roster to tailor it to Ben Simmons and Joel Embiid's strengths. The Sixers' front office sent out Al Horford and Josh Richardson, and added the likes of Seth Curry, Danny Green, Dwight Howard and rookie Tyrese Maxey in the offseason.
The results of the facelift have proven to be fruitful team-wide, as Philadelphia is currently tied with the Brooklyn Nets for the best record in the Eastern Conference at 35-16. Though Simmons and Embiid have been the stars of the show, Tobias Harris has been the Sixers' true X-factor, producing to the tune of 20.5 points, 7.3 rebounds and 3.6 assists per game on 52.2% shooting and over 40% from deep.
According to InStat, Harris has also made 56.9% of his post-up shots, trailing only Kawhi Leonard and Robin Lopez among those players who have attempted a minimum of 100 tries.
After a recent win over the Minnesota Timberwolves, Rivers praised Harris' play in the clutch, and his dependability.
"I think he's been finishing all season, especially down the stretch," Rivers said. "He's been one of our go-to guys, and he keeps coming up. We keep putting him in the right position. He's aggressive, he's attacking. Tobias and efficiency pretty much go together."
In his second full year with Philadelphia, Harris reflects on why it's worked so well for this version of the Sixers.
"It's clicking in a lot smoother way," Harris told BasketballNews.com in an exclusive interview via Zoom. "You have guys who are older now, who understand the heartbreak of last season. We have different playmakers on the court this year, a little bit more spacing out there. Doc Rivers has come in and just implemented his style and his way of coaching [on] this whole team. There's a lot of things that have directly impacted our team.
"Myself personally, and my play, has been impacted from all those factors and reasons. This has been a really good year. The biggest thing in a season, in my opinion, is staying healthy and being ready for the playoffs, and that's where we're trying to get to right now, in the best way possible. It's been a lot of fun, that's one thing I will say. Like a condensed season like this, the early start, call it what it is, but overall this has been a great season of a lot of joy for our team thus far."
There's just something about Rivers that brings out the best in Harris. When the two were with the Los Angeles Clippers, the 28-year-old had arguably his best years as a pro. Back together again in Philly, their success with one another has continued.
"I would say that just the way that he's pushed me [has unleashed the best in me]," Harris said. "I think a lot of people look at it and think like, it magically happens, but he's a coach that pushes me a whole lot -- on the floor, off the floor -- and he puts me in those positions to make things happen. He shows a lot of trust in my game and knows where is best for me on the court, but also, lets me know where he kinda doesn't want me in different situations.
"I think that has been a great deal to the success, and then on top of that, things are better when you win. So when you're out there and we're playing winning basketball, that only enhances everyone else's game, and that has helped myself as well."
Under Rivers, Harris averages 20.4 points and 7.2 rebounds on nearly 50% from the field, including a 41.9% three-point conversion rate. The numbers are almost identical to what he's done in the current 2020-21 campaign.
The Sixers really needed Harris when Joel Embiid went down with a knee injury on March 13, especially as the Nets were rapidly ascending the standings in the East. The veteran forward responded, leading the team to a 7-3 record in the All-Star big man's absence.
In the month of March, Harris joined Nikola Jokic and Zion Williamson as the only NBA players to average at least 22 points, seven rebounds and one steal on 50% or better from the field and 37% from long distance.
Harris acknowledges his teammates' efforts with Embiid on the sidelines, and looks forward to working "The Process" back into the mix (Embiid's monster performance in Boston indicates that it will be seamless), as Philadelphia now has plenty of experience with and without him.
"We've had a lot of guys step up with his absence, and at the same time, it's now for us to figure out as a collective group with five guys, how we can all help each other," Harris said. "Some nights, we're gonna need different guys with different efforts, and that's big in today's league. It's also being out there, figuring out, 'Hey, let's make the next guy's life a little bit easier.'
"I think once we really find that balance and mix, we'll be where we want to be going into playoffs, and we'll have our confidence and we'll be able to just flow and roll out there. That's how I look at that."
Now back at full strength, the Sixers will roll on with Simmons, Embiid and company. There have been questions before about the duo's fit together, however, those concerns have quelled due to the pair's success this season and the victories that have come with it.
"I think for them, it's been the balance and simplification," Harris said. "For Joel, it's like, hey, you're the most dominant big in the NBA [and] one of the best post players analytically, if not the best in the NBA, when it comes to points per possession on the blocks and whatnot. It's like, hey, if that's your best offense, go down there and be a beast, right? And then for Ben, it's hey, in transition, you're one of the fastest guys in the NBA, right? So use it and abuse it, at the end of the day. And you're one of the best passers in the NBA, and best decision-makers, so let's figure out how we can put all those things together.
"Doc has done a great job of that, and they've done a great job of just listening to that and understanding it, too. I think it was really simplification of their games, and that honestly has gone down the line for all the guys on the team. And I think that's been really helpful and impactful for us."
Whatever happened last year is in the past for these Sixers. This is a different team.
Harris feels it.