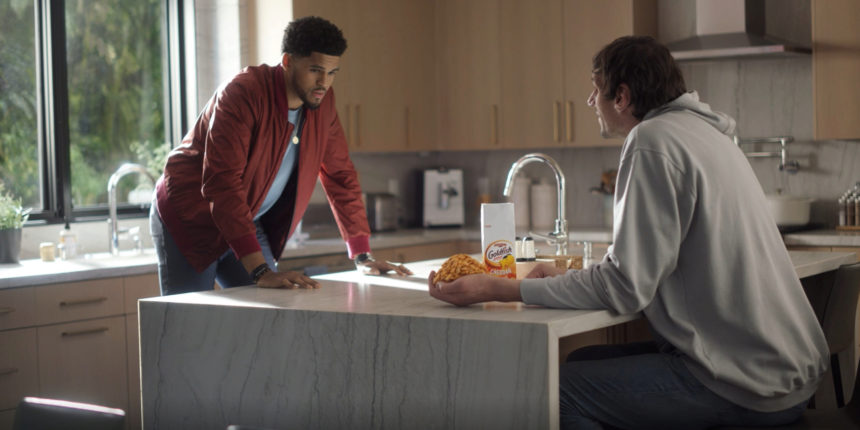 Reunited and it feels so good: Boban Marjanovic, Tobias Harris open up on friendship
Chances are if you're a diehard NBA fan, you're well aware of the bromance between Boban Marjanovic and Tobias Harris. From the viral videos and the mini-series vlog, to their chemistry on the court with three different teams, we've seen them go from two guys on the same squad to a dynamic duo whose friendship captivates basketball fans across the world.
Split since the 2019 offseason, they haven't been teammates for two seasons, but the infamous pairing has joined forces once again in a campaign for Goldfish crackers. Though the snack company has already rolled out different commercials featuring Boban and Tobias and their usual shenanigans, that's not all!
Beginning Tuesday, Goldfish is holding a competition called the #GoForTheHandful challenge, where fans will utilize TikTok to record themselves attempting to grasp as many crackers as they can in one hand to try to beat Boban, whose massive mitt scooped up 301 in one try.
"And they can fit more! I don't know how you guys do it, but it's up to you," Boban told BasketballNews.com in an exclusive interview via Zoom. "We had a lot of fun there counting these fish."
"So obviously, when you shake Boban's hand, it's like your hand is getting swallowed," Tobias told BasketballNews.com in a separate interview. "I've always known that Boban has the biggest hands ever, but when I went from my handful and got my 73, I was like really hyped and ecstatic, 'There's no way Bobi's gonna get more than me.' And then when he did his and they got his official count, I was just like, 'That's impossible.' I don't know if anyone can beat that, but I do want to see [it]...I would say shoot for trying to beat my 73."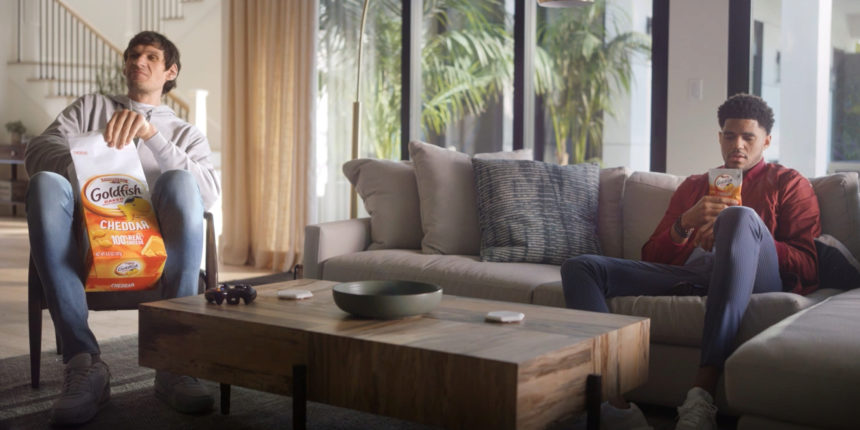 According to Goldfish, the 25 most creative and entertaining videos will be awarded a special edition autographed "Boban Size" giant bag, and one lucky TikToker will become the Goldfish "Spokeshand." The contest closes on Sunday, April 25.
While shooting the commercial over the All-Star break was a fun experience for both, it was obvious who had been in front of the camera more than the other. Boban quips that he's the better actor "easy," and Tobias agrees. The process went swimmingly for all involved, even with the first take getting off to a messy start.
"I really broke [the bag] like that! I didn't expect it," Boban laughed. "I was like, 'Oh, sorry! There's a lot of Goldfish on the floor!' I tried to clean it. This is #GoForTheHandful. It's so cool. I know Tobias was laughing the first time. We both started laughing at how I broke that bag."
Tobias couldn't control his real-life reaction.
"The director was like, 'Hey Tobias, we don't need you laughing on this one,'" he said. "So I was like, 'Alright!' But I just started laughing 'cause I was just like, 'Come on, Bobi. What are you doing here?' It was all fun and games, and [then] I also had to realize, 'Oh, we are shooting a commercial, too.'
"Bobi's actually been a real actor, so for him, this was something he was used to. I think it was like the first time in my life that Bobi was schooling me on things to do, or how to act as if I'm an actor. I had to put him in his place, and I was like, 'Bobi, all you did was get your ass kicked by John Wick. You had to keep it moving.' (Laughs) But nah, he knew this person's this person and this person does this and this person...cut, speed, all that stuff -- he was all about it. But for me, it was an incredible experience. We were on set, I had my own trailer van, Bobi had his own, and I was just like, 'Dang, they're really treating us like we're real actors here!' So it was dope."
Boban and Tobias' relationship began in 2016 when the former signed with the Detroit Pistons. On day one of individual workouts, Harris was the first to approach the other and told him that he was a really good player. Little did he know that Boban was unhappy with him because he wouldn't pass him the ball, and also said that he thought that Tobias was a cocky player. However, Boban thanked him after the exchange and the two would get on the same page quickly thereafter.
"I'm a big music guy, so we'd play a lot of music. I always used to see Boban in the weight room dancing to the music, and I would have to show him some moves, so that just like increased our bond," Tobias said. "One day, he was over at my house and we were just hanging out, and I was showing him like a couple of dances. The song Chicken Noodle Soup came on, and I was showing him how to do the Chicken Noodle Soup dance. From there, that hit the internet and it just went crazy, and people loved it.
"(Laughs) And I thought it was so funny because you see this guy, Boban, everyone knows him. He's such an amazing person and people love his character and who he is, and then you get to see him in the element of being a kid -- and I think that's what people take in the most. It was awesome. So I kinda like made Bobi famous by showing him the Chicken Noodle Soup...more famous."
Boban chuckles at the way it all began.
"We were in the locker room and he sat in front of me on the other side of the room, and I said, 'Tobias, I don't like you.' He was like, 'Wow, what?'" Boban reminisced. "Now, I can't say that anymore. It's not allowed! We were joking around [back then], and he said, 'I have a song for you.' It was the song, Chicken Noodle Soup. This is how everything started. I hope our next commercial will be a soup commercial."
Boban and Tobias rapidly became internet sensations. No matter where they went, a loyal fan base followed. When the two were traded to the Los Angeles Clippers in the Blake Griffin deal, it didn't take long for their popularity to capture a wider audience. They started up "Bobi + Tobi," a three-episode mini series in the 2018 preseason based on the pair's combined nickname.
"We wanted to match," Boban said. "But now, we have that thing -- who wants to be first? Bobi and Tobi, or Tobi and Bobi? I was for Tobi and Bobi, and Tobias was for Bobi and Tobi. We stuck with Bobi and Tobi because he's the brain of the operation (laughs)."
Despite hesitation to shorten his name, Tobias hatched the idea and created the popular tag.
"As a kid, people would try to call me Tobi, but I hated the name Tobi...I suck it up now," Tobias said. "In the beginning, people in LA used to be like, 'Tobi! Tobi!' And I used to be like, 'That's not my name.' And I then I had to realize, this is your actor name, so you're gonna have to get used to it. So then, I'm now used to it. It doesn't bother me. I am [leaning into it]."
Bobi and Tobi would roam the streets of Hollywood, with plenty of social media virality surrounding them. Most of their stories have hit the worldwide web; Tobias cracks a smile and declines to tell the ones that haven't. When asked to share their favorite moment, both pointed to a hilarious encounter in LA.
"We had just finished going out to eat somewhere. After, he's just in his car playing Bodak Yellow," Tobias recalled. "Cardi B's part [comes on] and he pulls out his red slippers, 'cause she was like, 'I got bloody shoes,' so he pulled out his red slippers. I was like, 'Where did this process for you to do that?' You had to listen to that song over 50 times to actually think that on the fly."
"(Laughs) Going out, he was like, 'Show 'em your flip-flops, show 'em your flip-flops!' And I showed him the flip-flops," Boban snickered. "'This is red bottoms!'"
Tobias admits one of his favorite things about hanging out with Boban is walking behind him to see everybody's reactions, often being his personal photographer when the fans approach.
The second time the duo got moved was in a trade to the Philadelphia 76ers. On an airplane with Mike Scott and then-former assistant Sixers general manager Marc Eversley, Tobias vividly remembers a not-so-fun trip for his buddy Boban.
"We were on a private jet -- but Boban's head is literally hitting the ceiling, and he hates planes and turbulence," Tobias described. "So this whole flight, I'm just like, 'Oh my gosh.' I can't even close my eyes 'cause he's gonna be like, 'Tobias, turbulence, turbulence!' And that's just what he does [on planes]. So I think seeing him on this private jet and his head literally at the top of the ceiling, I was like, 'Man, I feel bad for Bobi right now. This is a bad flight for him to be on.' That was one of the moments I was like, 'Man, it must suck to be a giant' (laughs)."
When the 2018-19 season came to an end, so did Boban and Tobias' time as teammates. The towering big man's contract expired that summer, and he ended up inking a two-year deal with the Dallas Mavericks with his partner continuing his career in Philly. It was the first time they were separated since they met in Motown.
"Yeah, it was tough. At first, I was like, 'Man...' When he was signing with Dallas, I was like, 'Dang.' But I was also happy because I wanted him to be in a good situation, and as a friend, I wanted him to be somewhere where I knew he was gonna be comfortable," Tobias said. "He was a little nervous going there, but I said, 'People will love you wherever you go. You just have that impact on teams and a locker room and everything, so I wouldn't be nervous or nothing.' I was sad, though, that we weren't playing together just because that's been my dawg for like four years, since we were together in Detroit. Hopefully, the stars align and we'll get back together somehow, some way."
"It's being professionals and it's business. Everybody has their own way and what way they are going," Boban said. "We're still friends, we're still good and I'll still be there for him [with] whatever he needs. This is what friends do. If he changes a team, we didn't change our phone numbers. I still support him. I still text him when he has a great game. He's playing great and I wish him to continue that. I'm proud of him."
Boban hopes to see Tobias as an All-Star next year, even offering to be his friend's personal prop in the case that the former participates in the Slam Dunk contest; Tobias burst out in laughter at that second notion.
"Hey, if they put me in the dunk contest, then we will NOT have a good dunk contest (laughs)," Tobias said. "Hate to break it to ya! But that would be the best plan of action."
Whoever has followed these two from the moment their bromance became public understands that it is hilarious, yet extremely genuine.
"We're different, but we're the same, you know? If you ask me why [we get along so well], this is the same [in regards to] the relationship with my wife," Boban said. "We don't watch the same movies, we don't listen to the same music, but we have something in common where, together, we make one great person. This is the same with Tobias. I don't know why I listened to different music and he listened to different music, but at the end of the story, we started listening to the same music, he'd send me some TV shows, I would send him some TV shows. It was cool. I miss it!"
"Why do we get along? I would just say it's like two people with caring hearts for other people. It's also like a culture dynamic, too, where he's somebody that's from a totally different country or upbringing and all the way down the line than myself," Tobias said. "And like, when I see Bobi and I think why everyone gets along with Bobi is he's just a free-spirit person that loves to be around positive people, good people that embrace life, people that have a lot of personalities that are in line. Boban's such a caring person -- cares about his family, cares about really anybody that he meets; he wants to make sure that they left better than they were when they met him. I think, for me, I'm kinda the same way. When I first started hanging out [with him], I was like, 'Man this dude never has a bad day.' He's somebody that brings joy to your own day because you realize his positive energy is just a real thing. When we were hanging out, it made me appreciate my life and the things that I get to do just by seeing his type of energy."
When Tobias saw the public's response to the pair's commercial, he texted Boban: Bobi, the people love this commercial.
Boban replied: The people right now need to love in the world.
Tobias sent another message back: That's true, and they're getting it.
"He said back to me, 'I love when people text me and tweet me saying that commercial has brought them joy.' He really means that," Tobias said. "I wrote him back and I was like, 'Man, you're an impactful dude' because when you think like that, it puts everything in perspective, and he means it. Even when we were doing the commercial, he was like, 'It needs to be fun and it needs to be loving.' He'd keep saying that on set: 'There needs to be more love. More love. People need to see it and smile.' And I'd say, '[You're] exactly right.' That's kinda how like...we just vibe with a lot of our ideas and creations that we get into, and this one was an amazing production by Goldfish to showcase that."
Boban was excited to bring smiles to people's faces with this commercial, but nobody more than his 4-year-old and 9-year-old sons, Petar and Vuk.
"This isn't for me to judge, but I think we did a great job. We really did a great job. It was a lot of stuff...I'm so happy because I make my kids proud, and to be like a role model," Boban said. 'This is what Goldfish and Tobias helped me to be what everybody wants to be in kids' eyes, something special. And I think I've done it.
"I feel amazing [about the reaction]. When people write, 'I love what you do. I love your skills. I love your friendship with Tobias,' how can you feel? You can't say anything else," Boban said. "Take [last Wednesday]. We played against the Boston Celtics. I didn't go in the game, but I had a big, huge sign: 'I Love Boban.' A lot of people were chanting my name, 'Boban! Boban!' They weren't like all Dallas fans, they were Celtics fans, but they [were] Boban fans. I like how they say my name, want me to show my heart. It's an amazing thing. I feel proud of myself and I feel proud of my parents because they raised me to be a nice guy and just make other people happy, too."