Chances are if you're a diehard NBA fan, you're well aware of the bromance between Boban Marjanovic and Tobias Harris. From the viral videos and the mini-series vlog, to their chemistry on the court with three different teams, we've seen them go from two guys on the same squad to a dynamic duo whose friendship captivates basketball fans across the world.
Split since the 2019 offseason, they haven't been teammates for two seasons, but the infamous pairing has joined forces once again in a campaign for Goldfish crackers. Though the snack company has already rolled out different commercials featuring Boban and Tobias and their usual shenanigans, that's not all!
Beginning Tuesday, Goldfish is holding a competition called the #GoForTheHandful challenge, where fans will utilize TikTok to record themselves attempting to grasp as many crackers as they can in one hand to try to beat Boban, whose massive mitt scooped up 301 in one try.
"And they can fit more! I don't know how you guys do it, but it's up to you," Boban told BasketballNews.com in an exclusive interview via Zoom. "We had a lot of fun there counting these fish."
"So obviously, when you shake Boban's hand, it's like your hand is getting swallowed," Tobias told BasketballNews.com in a separate interview. "I've always known that Boban has the biggest hands ever, but when I went from my handful and got my 73, I was like really hyped and ecstatic, 'There's no way Bobi's gonna get more than me.' And then when he did his and they got his official count, I was just like, 'That's impossible.' I don't know if anyone can beat that, but I do want to see [it]...I would say shoot for trying to beat my 73."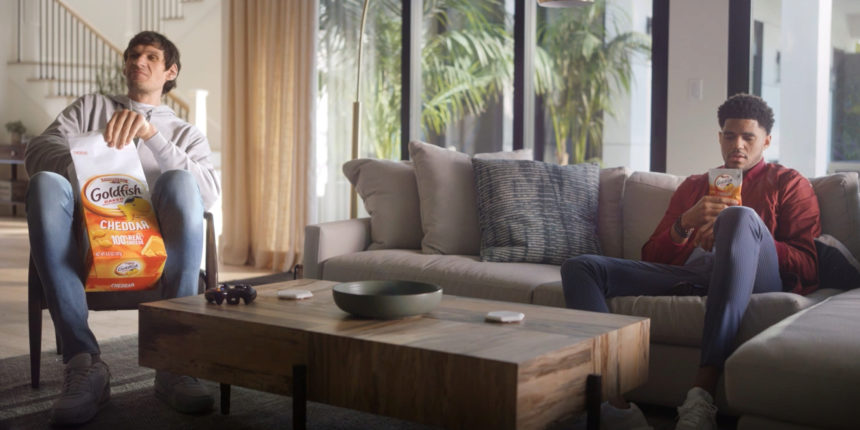 According to Goldfish, the 25 most creative and entertaining videos will be awarded a special edition autographed "Boban Size" giant bag, and one lucky TikToker will become the Goldfish "Spokeshand." The contest closes on Sunday, April 25.
While shooting the commercial over the All-Star break was a fun experience for both, it was obvious who had been in front of the camera more than the other. Boban quips that he's the better actor "easy," and Tobias agrees. The process went swimmingly for all involved, even with the first take getting off to a messy start.
"I really broke [the bag] like that! I didn't expect it," Boban laughed. "I was like, 'Oh, sorry! There's a lot of Goldfish on the floor!' I tried to clean it. This is #GoForTheHandful. It's so cool. I know Tobias was laughing the first time. We both started laughing at how I broke that bag."
Tobias couldn't control his real-life reaction.
"The director was like, 'Hey Tobias, we don't need you laughing on this one,'" he said. "So I was like, 'Alright!' But I just started laughing 'cause I was just like, 'Come on, Bobi. What are you doing here?' It was all fun and games, and [then] I also had to realize, 'Oh, we are shooting a commercial, too.'
"Bobi's actually been a real actor, so for him, this was something he was used to. I think it was like the first time in my life that Bobi was schooling me on things to do, or how to act as if I'm an actor. I had to put him in his place, and I was like, 'Bobi, all you did was get your ass kicked by John Wick. You had to keep it moving.' (Laughs) But nah, he knew this person's this person and this person does this and this person...cut, speed, all that stuff -- he was all about it. But for me, it was an incredible experience. We were on set, I had my own trailer van, Bobi had his own, and I was just like, 'Dang, they're really treating us like we're real actors here!' So it was dope."