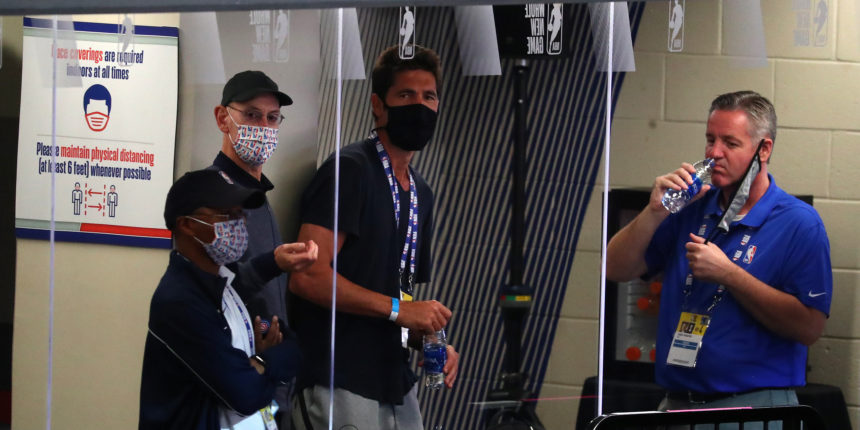 NBA, NBPA finalizing an agreement on health/safety protocols for the season
The NBA informed its teams Tuesday night that it is finalizing an agreement with the National Basketball Players Association on a set of health and safety protocols for the upcoming regular season, according to information in a memo obtained by ESPN.
The protocols will require unvaccinated players to be under many of the same restrictions that the entire league played under for the vast majority of last season, before the COVID-19 vaccine was available.
Source: Tim Bontemps of ESPN
ANALYSIS: Bontemps went on to say:
"Unvaccinated players must undergo daily testing prior to entering a team facility, participating in team-organized activities, or interacting with other players and Tier 1 personnel. They will also have to undergo lab-based game day testing, as they did last season."
"Unvaccinated players will have to also live under a strict set of rules similar to the ones that governed their movements last season. Those include being: prohibited from dining indoors in the same room at the same time as any other player or Tier 1 personnel; required to maintain at least six feet of distance from any other person (and required to wear a facemask at all times); required to maintain at least six feet of distance during treatment sessions from any other player also receiving treatment at the same time (and required to wear a facemask at all times); required to be given a locker that is as distant from other players as possible and not next to another non-fully-vaccinated player."
Baxter Holmes of ESPN reported earlier that there's tension in the NBA among some mandated to be vaccinated against those who aren't (players). "It's very concerning to everybody involved," said one GM. "I'm out of energy trying to convince somebody to save themselves and their loved ones."
And Adrian Wojnarowski added that league spokesman Mike Bass told ESPN that, "A vaccine mandate for NBA players would need an agreement with the Players Association. The NBA has made these proposals but the players' union has rejected."
The NBA will hope that the incentives to be vaccinated will encourage the rest of its players to get the vaccine at some point.