Recently, 10-year NBA veteran Marreese Speights made headlines after sharing a meme on Twitter that showed Michael Jordan and Kobe Bryant celebrating titles and the text said: "Back then, we used to celebrate three-peats. Now, kids are out there celebrating four titles in ten tries and call it greatness." In the tweet, Speights wrote, "Just the messenger..."
Speights won an NBA title (with the Golden State Warriors in 2015) and an NCAA title (with the Florida Gators in 2007). The 33-year-old, who is currently playing in China, wrote this article about the GOAT debate, what he meant by his tweet, the backlash he received and more:
First of all, I didn't make the graphic with MJ and Kobe. I just shared it. I want to make that clear.
Now, I'm a little bit older. I'm an '80s baby, so I kinda grew up watching Michael Jordan play. The reason I tweeted that is because it feels like the younger generation is disrespecting and forgetting the older players who paved the way, especially MJ. For me, being an NBA player and watching him as I was growing up, you can't do that, bro. That's disrespecting the game.
I'm not taking nothing away from LeBron. When LeBron is done playing, he will be one of the top-three or top-two greatest players of all-time. But you cannot disrespect these older guys like MJ and Kobe Bryant. Those guys really worked on their game, and their NBA Finals record shows that. Bron went to the Finals in nine of 10 seasons. Cool. But MJ went to the Finals and won the shit six outta six times! Kobe won five of seven times! You know what I mean? So let's keep that respect on MJ and Kobe's name. Don't try to bring them down to boost up LeBron. You can't do that. These younger guys need to stop disrespecting the older players.
If you look at the NFL, it's the same thing. Tom Brady and Peyton Manning are the best quarterbacks to ever play the game. But, now, the younger crowd is like, "Patrick Mahomes is the best quarterback of all-time!" You can't disrespect the guys who came first.
LeBron puts in a lot of work and has had an excellent career, but MJ and Kobe are ahead of him, in my opinion. As of right now, my order is Michael Jordan at No. 1, Kobe Bryant at No. 2 and LeBron James at No. 3. That's as of right now.
I was able to play against Kobe and LeBron, so I know what it's like to face those guys. LeBron is a people person; he loves everybody. Kobe was somewhat personable, but Kobe was a killer on the court. When you're on the court with Kobe, the energy is different. Kobe is out there to kill. He wants to win at all costs. It's like a serial killer being in the room; you know he's in the room and you feel it. LeBron is a beast; he's the best athlete who ever played the game of basketball. But if we're talking about mindset, Kobe Bryant was a killer, man. That's a killer, just like MJ was a killer. They would intimidate their opponent and get in their head.
I think the LeBron vs. MJ stuff is annoying as hell. You can't really compare these guys right now, man. That's disrespecting the career that Jordan had. At this point, I don't think you can compare the two. I don't think you could put them in the same category right now. When Bron's career is over, then we can go back and talk about that. When a guy is still playing, you can't say, "He's the best player to ever play the game." You can't do that. Everybody has their own opinion, but some people have never played the game of basketball or touched the court and you can tell. You cannot put that man in the same category as MJ right now. When his career is over, that's a whole different story. But right now, while he's still playing, you can't do that.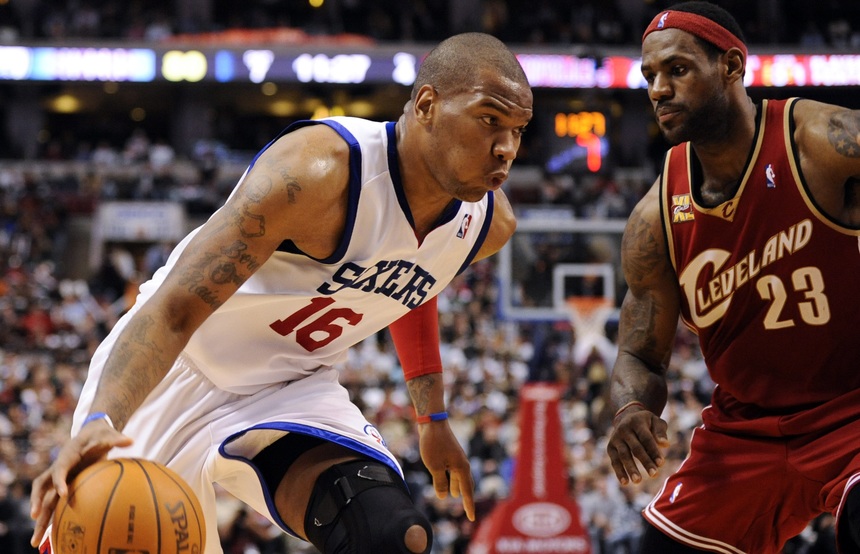 To me, Jordan is the best player to ever play the game because the man just dominates. Early in his career, he didn't win like he was supposed to. But that's the case with just about everybody early in their career; look at Bron early in his career. Jordan won three championships and said, 'Forget it, I'mma go play baseball,' came back and won three more! Are you kidding me?! I feel like that's something a lot of young people don't know -- or they didn't know that until they watched "The Last Dance" recently. Do you know how hard that is?! He left the sport and then had another three-peat once he came back! Again, you just have to put respect on MJ's name and Kobe's name.
By the way, when LeBron said, "I want my damn respect too," what was he talking about? Everybody respects Bron. Everybody.
As far as what LeBron has to do in order to become the GOAT, here's what I'll say: In my generation, we were judged based on what we'd won. How we were labeled depended on whether you were winning. LeBron has won four championships, but he went to the Finals 10 times! By the end of his career, I think he has to win at least two more to be the GOAT. Maybe he'll do it and he'll go down as the best player ever; my issue is just with people labeling him the GOAT now while he's still playing.
Guys like me who are in their 30s or who are even older, we judge these players differently. I'm never hating on nobody, but nowadays, some guys are getting max contracts and huge sneaker deals when they haven't even made the playoffs yet! They haven't won a thing. But to me (and the people who have been around the game for a long time), winning is the most important thing. Now, it doesn't really feel like that.
My guys Steph Curry, Draymond Green and Klay Thompson were getting hated on for how they won. People would say, "Oh, well, that was a super-team," and things like that. Those guys didn't have to switch teams to win a championship. Those guys put in a ton of work and they kept getting better until they reached that point. The Warriors drafted all three of those guys, developed them and won titles. That's what you're supposed to do in this league, right? But they still got a ton of hate. Steph won back-to-back MVPs (including one unanimous MVP award) and three championships, yet people still had something negative to say about him!
And it's almost always the fans or the media -- the guys who never played no sports -- who sit around criticizing athletes all day. It's not the players. The players all have a ton of respect for MJ, Kobe and the others who came before them. LeBron has a lot of respect for those guys, just like everyone else who played in the NBA and is part of this fraternity. I'm just talking about the fans and pundits.
Over the last 48 hours (since I sent that tweet), I've had a ton of fans in my mentions saying some wild stuff. At first, I turned my account to private, but then it made it public again and I started talking trash back to them. It's just so entertaining! Every time, these guys are just happy that I responded to them. I'm in China, so I'm on at, like, 3 p.m. and I'm still getting crazy messages even though it's like 3 a.m. for them! Y'all are losing sleep over this? What kind of life do y'all have that you're staying up all night to defend a player that you've never met?
I'm so surprised that this blew up and became a big story. I retweeted an image -- something I didn't make -- and people went nuts and got really hurt over it. I was like, "Damn…" Then everybody wants to pick it up and write about it and all that stuff. At the end of the day, I'm a real one. If someone wants to check me over this in real life, cool; that's what it's gon' have to be. But at the end of the day, it's just Twitter, it's just social media.
You can say whatever you want about me -- "Mo did this," and "Mo did that" -- but you can't take away what I did during my career. If you look at my numbers; I averaged 8 points in 15 minutes per game. Real basketball guys understand points per minute, and you can't take away what I did. I won an NBA championship and an NCAA championship. You can say whatever you want, but you ain't a champ!
Now, my No. 1 priority is trying to help young kids, younger players, get to college and make money overseas. That's what I'm focused on now. I run an AAU program called Team Speights Elite out of Florida and we just finished our third year. I've helped my players get $15 million to $20 million in scholarship money, and a lot of my guys are going to school for free. I'm helping young players make it to the NBA. And I've been building up my connections overseas, so I can help some of my guys get signed by international teams too. That's what I'm spending most of my time on - just helping kids make it.
They can talk about me all they want on Twitter, but they ain't never gonna take away my NBA career or that I'm helping these kids get to college and the pros.