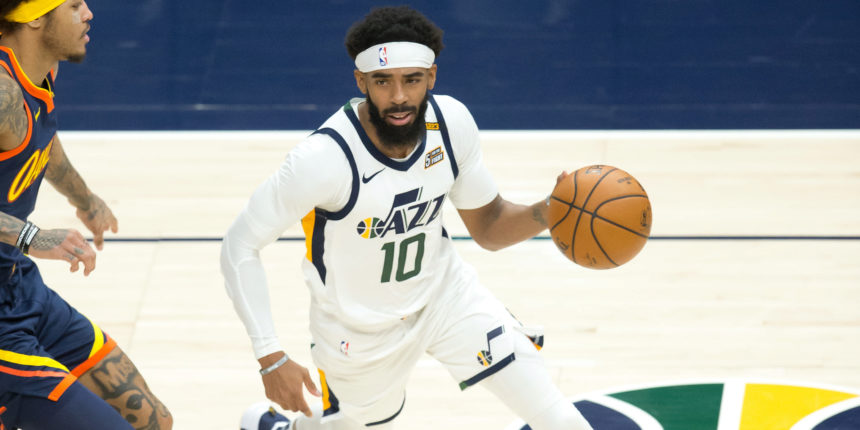 All-Star or not, Mike Conley is reason for Jazz's dominance
The Utah Jazz have been special to watch this season. They currently sit at 26 wins and only 6 losses, which is good for the best record in the league. When watching the Jazz, it's easy to see why: they exhibit a synergy between various roles that a team can only achieve through years of growth and culture-building that we don't often see in the age of perpetual tanking and player movement.
So what, specifically, is the reason for this team's newfound dominance? Two words: Mike Conley.
It's inaccurate to say the former Memphis Grizzlies guard is "finally" playing well. Conley is about as sound as a point guard can get. He's stable on the court, a threat both inside and outside on top of providing versatile and energetic defense. A single underwhelming season in Utah after being placed in a weighty role on a contender (following years alongside Marc Gasol in Memphis) seems to have required an adjustment period for the periodically All-Star-caliber guard. And judging by the Jazz's recent play, Conley has figured it out (as one should've expected).
Utah's dominance this season is supported by both the eye test and the subsequent stats one looks up to determine whether they're seeing things. To start with the eye test, the Jazz play with a comfort and confidence that stems from either knowing exactly what to expect of your teammates and their respective roles, or the knowledge that day in and day out, your team has the best player on the court. Although the latter may not be true on many nights, the Jazz have been winning regardless. This leads me to believe the connectivity the team has exhibited this season is linked to Conley's familiarity and knowledge of the current roster that he helps lead.
We don't often speak on the ridiculous responsibility that's frequently placed on point guards in contention. The expectation that these players help in coordinating entire offenses has even resulted in the accepted notion that the average point guard doesn't truly reach their fullest potential until their late 20s. Considering basic team infrastructure, all signs point to Conley smoothing the Jazz's kinks despite the fact that the other stars on the team, Donovan Mitchell and Rudy Gobert, haven't seen drastic changes in their stat lines from last year to this season.
The same can't really be said for Conley. The lead guard has notched increases in points, assists, rebounds, two-point field goal percentage, three-point percentage and field goal percentage (duh) -- all topped with a slight increase in field goal attempts and a stabilized turnover rate even with the upped assist rate. Beyond these superficial stats, the lead guard is also holding a 116.6 offensive rating and a 100.1 defensive rating, which is good for a 16.5 net rating -- worlds better than the 2.1 net rating he held last season and also good for the highest of his NBA career. Not only is Conley acting as the rare, missing ingredient that the Jazz were hoping for when they initially acquired him from Memphis, he also happens to be playing his best team basketball in the third-lowest minutes per game of his career.
One of the main critiques of Conley that was widely held last season was his virtually non-existent on-court chemistry with Gobert. After years of orchestrating an iconic two-man game with offensive brainiac Marc Gasol, Conley seemed to have a lot of problems adjusting to the alternative play style of Gobert. When you take into account how offensively juxtaposed the two big men are, it's no wonder why Conley required a prolonged adjustment period. With a 14.4 net rating, it almost seems as though Gobert has been the recipient of the cascading positive effects of the improved play. Considering the purported importance of heightened chemistry between small guards and the big men that act as extensions of them, Gobert has naturally eclipsed his offensive and defensive ratings of last season (and Gobert's offensive rating is also the best of his career).
The context in which we discuss Conley tends to be in the form of All-Star snub outrage. But instead of sitting in a stew of contrarianism and the perceived injustice of a packed Western Conference All-Star guard rotation, it's probably best to give him his flowers regardless.
Few things are more fun than seeing players figure it out in real time, especially when it significantly improves the roster that surrounds them. Soon enough, we'll see how he utilizes this newfound rhythm in the postseason, and how this resurgence allows him to stack up against the countless dominant guards in the West.