Michael Carter-Williams reflects on career resurgence in Orlando
March 15 marks a meaningful date in the life of Michael Carter-Williams.
Next Monday will be the two-year anniversary of his 10-day contract signing with the Orlando Magic, a moment that kickstarted an injury-riddled, tumbling career that almost ended abruptly before it began.
"There was a lot going on, on and off the court in my life at that time," Carter-Williams told BasketballNews.com in an exclusive phone interview, recalling when he was out of the NBA for two months in 2019. "That was definitely the most adversity that I've faced in my career."
When the Houston Rockets traded Carter-Williams to the Chicago Bulls that season, he was immediately waived in order to avoid guaranteeing his contract. For the first time in his career, he did not have an NBA home.
"I didn't know where my future was gonna go. I kept thinking, 'Am I gonna go the G League route? Am I gonna go overseas? Do I even want to play at all anymore?' There was a lot of things that went through my head at the time," Carter-Williams said. "But after all those thoughts went in my head, I just told myself that I believed I was gonna get another chance, and I just started working my ass off. It was like, if I do get another chance, I just want to be fully ready. I don't want to regret thinking that I won't get another chance and not be prepared for it. That would be worse to me than getting released itself."
Luckily for him, an old friend was in dire need of a point guard not too long afterward. One phone call from Steve Clifford later, and Carter-Williams was a member of the Magic. The reunion made a lot of sense for both former Charlotte Hornets, especially with the head coach knowing firsthand what the 6-foot-5 guard could bring to the table.
It didn't take long for Carter-Williams to make his presence felt, and despite Orlando coming up short in the 2019 playoffs, he played a pivotal role in the team's series against the Toronto Raptors -- a stretch he considered "huge" for his career. Ever since the Magic presented him with a chance that he'd been hoping for, Carter-Williams' relationship with the organization has just clicked.
"I have full confidence that the coaches and the staff members trust me on this team," Carter-Williams said. "I've kinda crawled my way up and just earned their trust by making the right plays, being a good person on and off the court -- even when I'm not playing, having a good attitude -- just doing all the little things. Trying to get the guys going in practice or whatever the case may be. Every time I step on the floor, I try to give my all and I just try to compete."
It always helps when you have tight-knit bonds with the guys in your locker room, too. Carter-Williams has individual-level friendships there, many from his past. He and Dwayne Bacon go back to their Hornets' days, while James Ennis and Gary Clark played with Carter-Williams in Houston. He's known Khem Birch since he was in ninth grade. And even the connections he's forged with Terrence Ross, Aaron Gordon, Nikola Vucevic and Al-Farouq Aminu have been natural because of whom they've all played with in the past. This all goes without mentioning Carter-Williams' infatuation with combat sports, an interest that is shared by quite a few of his teammates (he brought up the golfers and fishers they have too).
In his eighth season as a pro at 29 years old, Carter-Williams has blossomed into a leader. He feels that during his time in Orlando, he's built a good rapport with everybody from top to bottom, younger and older.
"I've got an interesting role on this team," Carter-Williams said. "It's kind of fluctuated from coming off the bench to starting, and I was the new guy at one point. Once I settled down, I kinda was the voice of the team and the voice of reason. I'm always communicating. It comes natural to me. I've always communicated with my teammates, whether I didn't have a huge part on the team or even if I wasn't a leader."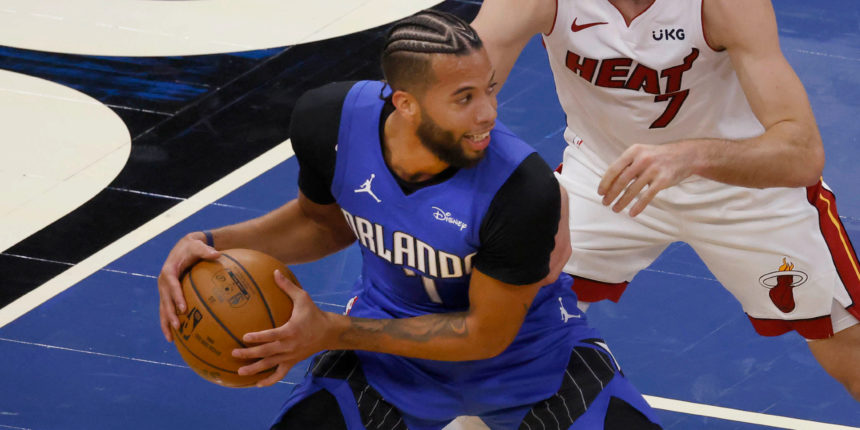 Carter-Williams remembers when he was with Chris Paul and James Harden on the Rockets, never shying away from even telling All-Stars what he saw on the floor. Looking back, he finds it a little funny that he didn't have too many vets that guided him along. When he began his career with the Philadelphia 76ers, the team had Spencer Hawes, Thaddeus Young and Evan Turner as their "veterans," yet they were only in their mid-to-late 20s. Carter-Williams does credit Jason Richardson for the talks they had about the then-rookie's future and that season.
Speaking of the Sixers, it's been easy for Carter-Williams to make friends with Markelle Fultz (who is now his teammate in Orlando). They've had similar experiences to share, both being drafted by Philadelphia and having poor injury luck. Before the former No. 1 overall pick went down with a devastating ACL injury early this season, Carter-Williams loved what he was seeing from Fultz on the floor -- his aggressiveness and confidence, getting into the lane and performing on the defensive end.
"It's been tough [without Fultz]," Carter-Williams said. "Injuries are hard, man. He does a great job of staying positive. He's diligent with his rehab. He knows he has a long career [ahead of him] in this league, so hopefully all his injuries are behind him and he can just keep healthy for the rest of his career."
If anybody knows what that kind of agony feels like, it's Carter-Williams. He had right shoulder surgery after his rookie campaign with the Sixers. In 2016 with the Milwaukee Bucks, he tore the labrum in his left hip, which required surgery and forced him out for the rest of that season. When he was traded to the Bulls (for the first time), he dealt with knee issues and a sprained wrist. In March 2018, after 52 games with the Hornets, he suffered a posterior labral tear in his left shoulder.
"There was times where I thought that I couldn't deal with the pain that I was going through," Carter-Williams said. "I felt like my mind was telling my body to do certain things that it just couldn't do."
But timing is everything, and help was on its way. Around that time, Carter-Williams met Tito Ramirez, a physical therapist who worked at ProActive Sports Performance, a highly-regarded professional facility in Westlake Village, California that turned things around for the banged up guard.
"He helped me out a lot with my hips and my shoulders and my knees. Being at ProActive itself, working out with a trainer there named Evan and just everyone who runs that whole weight room, they really helped me get back into shape and they limited a lot of my pain," Carter-Williams said. "Ryan [Capretta], he's the head of it and he runs an unbelievable gym with so many talented people in there that really changed the course of my career."
On top of that, there was the social-media element where people would poke fun at his expense. If you've posted a negative tweet about Carter-Williams, past or present, he's seen it. There is a difference in how he handles naysayers these days, though.
"I used to play to prove people wrong and try to live up to expectations of others, and now, I see it and I kinda laugh at it or I use it when I'm by myself in the gym or those days that I don't feel like getting up," Carter-Williams said. "But I always play for myself now. I've done so much in this league and I've accomplished so much and I know I have such a bright future ahead of me. I just believe in myself. It's almost like I'm playing with house money right now just because I've come such a long way."
Being from the small town of Hamilton, Massachusetts, Carter-Williams admitted that he couldn't dream of earning a Division I scholarship or winning NBA Rookie of the Year -- yet he was able to do both at Syracuse and with the Sixers. When asked to reflect on the ups and downs of his time in the league, he's extremely grateful for all of his experiences; it's all been "beneficial" to him as his career marches on.
"Not too many people in the league can say that they've been through every possible situation in the league," Carter-Williams said. "I've been Rookie of the Year, I've been a guy that's come off the bench as a sixth man, I've been a guy who's had DNPs in the season, I've been a defensive guy, I've been a backup point guard, now I'm back to being a starter.
"So I've been in so many different positions that I'm able to share that with other people, I'm able to relate to other people, I'm able to put things in perspective easily. I really take it as a blessing. I went through so many injuries, I went through so many difficult situations that there's really nothing that I believe that I can't handle to succeed."
Carter-Williams falls back on his wild ride when it comes to giving tips and pointers. He specifically looks at the length of the season and how it affects the players who aren't the stars of the show.
"So many guys are in so many different positions that somebody's leash may not be as long as somebody else's," Carter-Williams said. "There's very few guys that are the main guys on their teams, so there's a pool of a bunch of guys that the game can be pretty stressful for. I think the big part of this game is just turning the page. If you have a bad game one game, the great thing about the NBA is that you could have a game a day later or two days later and get back to the drawing board and refocus and stay confident."
For him personally, it's about playing loose and having fun, a simple but important factor that Carter-Williams feels that many professional players forget about. It's translated into the best production he's had since the 2015-16 season in Milwaukee. Returning from a left foot sprain sustained in early January, he's since averaged 11.7 points, 5.8 assists and 4.6 rebounds in 29 minutes per contest.
"I think I've been finding some openings," Carter-Williams said. "I've been getting more comfortable being back at the 1. I'm just being aggressive, staying with my work -- after practice, before practice, listening to coaches, not trying to force too much."
In addition to those averages, over that 10-game span, Carter-Williams has knocked down 36.8% of his triples. Although he's usually not taking too many perimeter shots, he understands they're important. With the evolving pace-and-space direction of the NBA, he concedes that he did have to rethink his approach at a point in time.
"I contemplated that in my head," Carter-Williams said. "Like, 'Okay, a lot of guys are shooting threes. Do I just work on all shooting threes?' And I think I found the right balance of shooting the ball and still playing my game -- still getting to the rim, maybe mixing up a post-up here and there, using pull-ups, but also when open, to shoot the outside three. So for a while I contemplated that, but I definitely think I've found a good balance to play my game and to play the new-age game."
Over the All-Star break, Carter-Williams watched Vucevic do his thing in Atlanta. He's a teammate Carter-Williams commends for not only individually producing, but also for drawing a bunch of attention and opening up driving lanes in the process for the guard.
Meanwhile, back in Orlando, Carter-Williams got plenty of gym work in with the time off. He also spent time with his family in their brand-new house, tidying up as any homeowner would. The second half of the Magic's season resumes on Thursday in South Beach, as the team tries to snap a five-game skid against the Miami Heat. Carter-Williams remains upbeat about what's to come for this Orlando bunch.
"We've been in games. We've been right there," Carter-Williams said. "We've lost a couple tough ones that we should've won. We've just gotta get back to our principles defensively, mostly -- our offense has been pretty good -- so if we get back to those, I think we'll be able to run off some wins."
There's that, and then there's the slew of missing bodies they'll gradually get back in Gordon, Anthony, Ennis and Fournier. Carter-Williams is not on that list this time. He feels good and healthy. The only goal he has right now is to keep playing and continue taking advantage of the opportunity he's had.
Ask him what his rookie self would say to his present self, and Carter-Williams quips, "'I wish you did a better job of taking care of your body.'"
But what isn't a joke is how he feels about where he's at mentally and physically now as a player.
"I honestly think I'm a lot better than I was my rookie year right now," Carter-Williams said. "If I went up against myself my rookie year, I think I'm stronger, I think I'm faster, I think I'm more skilled and I think I'm just as confident."