The Miami Heat are one win away from their first NBA Finals berth since 2014.
To say this is unexpected would be an understatement. Preseason betting odds from Caesar's Palace had the Heat on par with the San Antonio Spurs and Indiana Pacers as title contenders. Rival Eastern Conference squads such as the Milwaukee Bucks, Philadelphia 76ers, Brooklyn Nets and these Boston Celtics were held in higher regard.
Even if you zoom in to this postseason, it's hard to fathom how the Heat have been winning. Miami's offense -- a surprising strength after offseason renovation -- has somehow gotten better against stiffer competition. Their 113 offensive rating this postseason is a slight bump from their regular-season mark (111.9).
It's been late jumpers from Jimmy Butler, fresh off one of the worst shooting campaigns of his career. It's been Jae Crowder, after back-to-back subpar shooting performances, still converting nearly 37 percent of his threes on 8.5 attempts per game this postseason. It's been Bam Adebayo mixing in fearless rim attacks with baby-soft mid-range jumpers.
On Wednesday night, it was Tyler Herro putting himself into Magic-Johnson territory with a 37-point performance. The swagadocious rookie showcased his entire bag -- pull-up jumpers, Eurostep finishes and enough live-dribble feeds to draw the audible praise of ESPN announcer Jeff Van Gundy on multiple occasions.
The Heat deserve their flowers, first and foremost. They've played hard and well throughout this entire playoff run, and the coaching of Erik Spoelstra has been the stuff of legends.
On the flip side, it's also fair to wonder what the heck the Celtics are doing.
Rightfully heralded as a versatile and well-coached group defensively, the Celtics failed miserably on that end in Game 4. Their 116.7 defensive rating was the second-highest mark they've allowed all postseason long. Their 134.8 rating in the second half of Game 4 was their worst showing of these playoffs.
Those numbers were primarily a result of Boston failing to corral the Heat's two-or-more-man actions. Pick-and-rolls and dribble handoffs, the heart of Miami's halfcourt attacks, continuously gave the Celtics fits.
According to a source with access to Second Spectrum tracking data, the Heat generated 1.15 points per possession on trips featuring a pick-and-roll, and nearly 1.2 points per possession on trips featuring a dribble handoff. Those numbers rose to 1.23 and 1.24, respectively, in the second half.
Herro ate the Celtics alive in pick-and-roll. His pace, handle, and remarkable footwork allowed him to manipulate his defender into screens, then capitalize on the space afforded to him.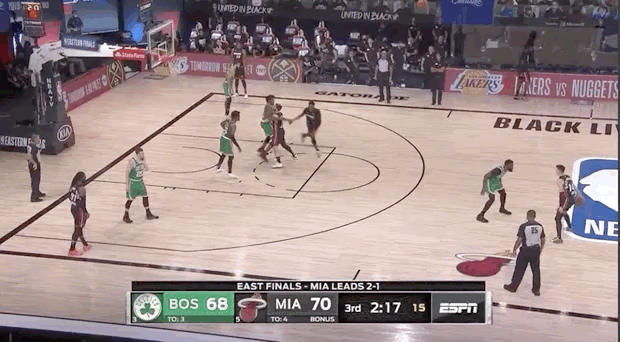 The Heat kick off this possession with some screen-the-screener action. Goran Dragic sets a screen on Adebayo's man (Robert Williams) before Adebayo goes up top to set a screen for Herro.
Jaylen Brown actually does a nice job of fighting over the screen and contesting, but Williams is the primary culprit in this possession. Herro and Adebayo start their two-man dance at the NBA logo, and Williams only comes one (1) step above the foul line. Dragic made solid contact on the screen, but not enough to prevent Williams for ever showing higher up. Even with the contest from Brown, Herro basically gets a freebie above the break.
The Heat went to that well often late in the third quarter, to the point where Brad Stevens finally opted to give Grant Williams a brief run. Boston had much more success switching ball screens, flattening out the advantages the Heat wanted to create and forcing them to hunt out looks elsewhere.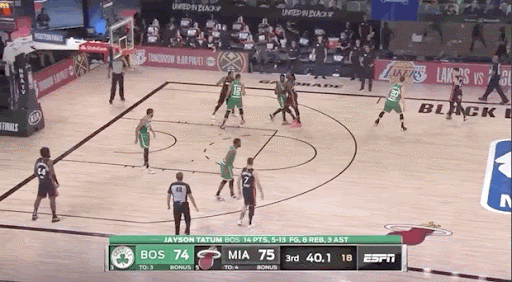 It should come as no surprise, then, that trips featuring a Herro-led pick-and-roll were more fruitful against drop defense than they were against switches, per the Second Spectrum source.
The same principle applied on dribble handoffs. The Heat hunted Boston's centers -- Daniel Theis or Williams -- with their shooters flying over handoffs, knowing that neither big wanted to play super high. Here's the opening possession from the fourth quarter.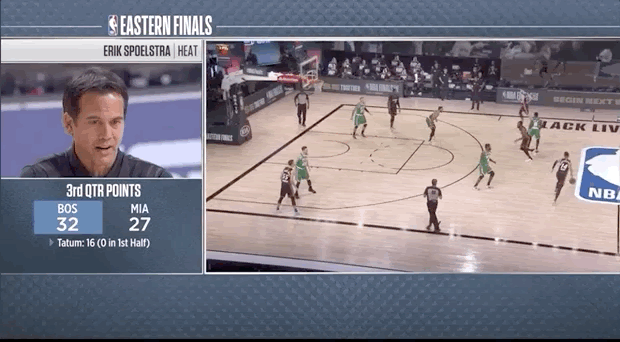 It's easy to get dizzy watching the Heat flow into three different handoffs, with two extra screens from Adebayo and Duncan Robinson sprinkled in to boot. But there are two things I'd like to point out, and they're connected to each other.
First and foremost, Theis never comes higher than the semicircle above the free throw line. Just won't do it, outright refuses. And that, in turn, puts an incredible amount of strain on Brad Wanamaker.
Wanamaker goes under the first handoff, which coincidentally would be the space you'd want Theis to be filling. He then goes over the second handoff to funnel Herro downhill. The ball is pitched out to Robinson, who finds Adebayo before setting a screen for Herro to flow into the final handoff. Wanamaker just can't keep up, and there's no switch from Gordon Hayward for whatever reason.
The Celtics continuously allowed the Heat's shooters to see daylight. That's inexcusable on its own, but becomes even more baffling once you contrast their coverage of Herro with that of Butler.
Butler was able to dictate terms in a way that should honestly embarrass the Celtics. When playing a traditional drop coverage, the Celtics opted to have Butler's defender play into his chest and fight over the screen. This makes sense for a deep pull-up threat (like Herro), not someone like Butler who wants to get downhill and get to his floater, initiate contact at the rim, or force rotations and kick the ball out.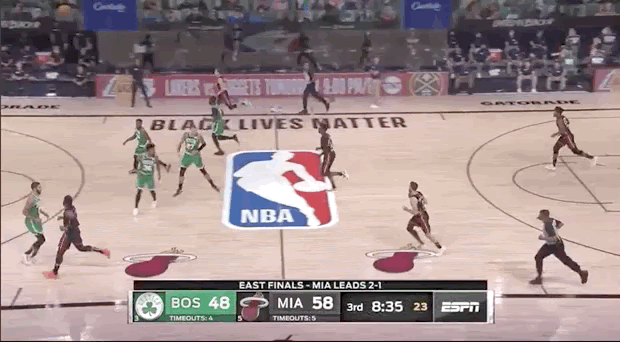 (Why is Kemba Walker matched up with Butler on this possession? This came after a make! Boston is good at rejiggering matchups on the fly!)
When Boston opted to switch, they were pretty soft ones. There seemed to be no "switch this, but only under X, Y, or Z circumstances" plan, and that allowed Butler to shape possessions the way he wanted.
And then there were the traps.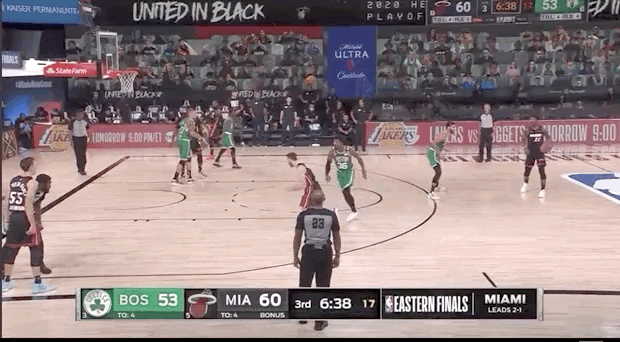 Instead of having Tatum dip under the pick, or even switch it, Boston sends two to the ball, putting Brown in a bind. He leaves Robinson to tag Adebayo on the slip. Luckily Butler isn't able to convert that pass, and Brown is able to recover. But as Brown recovers, Butler fits a dart in to Adebayo for a one-dribble pull-up.
You can argue the result is fine. An Adebayo mid-range jumper is a better concession than a three from Robinson. But the process was so flawed, and so unnecessary.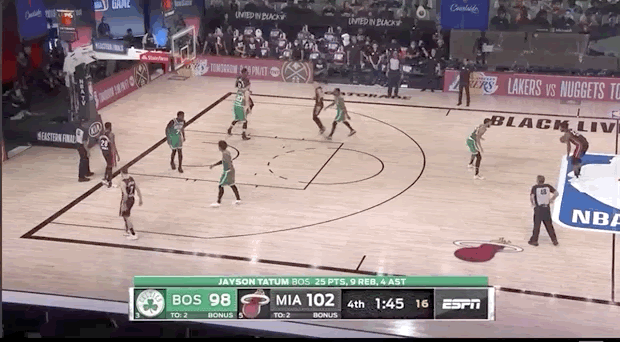 Again, there's no need to trap here. It's a four-point game, and there's 1:40 and a little over half a shot clock remaining on the possession. Butler gets a pass to Adebayo, creating an advantage situation. Brown picks up Adebayo, which forces Marcus Smart to choose between taking away a sure-fire layup from Andre Iguodala or sticking with Goran Dragic in the corner.
Smart rightfully chooses to take away the layup, and Dragic gets the equivalent of a practice shot to put the Heat up seven.
For a team as talented, as versatile and as generally well-coached as the Celtics are, their performance late in Game 4 was inexcusable. There seemed to be a real lack of detail to their defensive gameplan. That may be the generous explanation. At worst, the Celtics looked like a team throwing things at the wall, hoping for a solution to stick.
If that's where they are, with that desperation showing in a game the Heat won while shooting 10-of-37 (27 percent) from three, this series might not make it past the weekend.