With 4:44 left in the first quarter against the Brooklyn Nets, Bam Adebayo catches an entry pass on the left high-post from Goran Dragic. Adebayo faces up, stares down Jeff Green, then hits him with a pump fake. Green bites. Adebayo brings the ball back down for a jab to generate a little more space. Green reacts to that, retreating ever so slightly. Adebayo takes the opening and fires a jumper. Splash.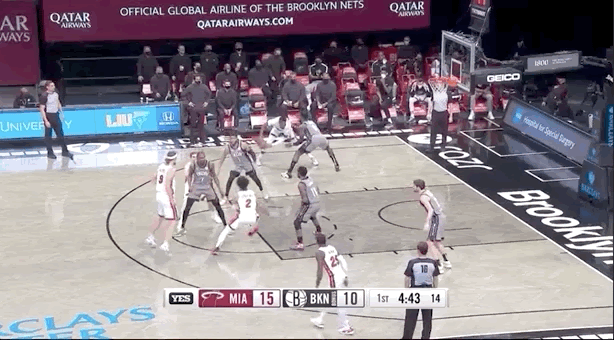 It's a relatively nondescript play on the surface. This is why it matters: it was Adebayo's seventh shot attempt of the quarter. He would go on to take two more shots before subbing out with under a minute to go. This nine-shot first quarter was the most voluminous of his career. It also marked the third-straight game in which Adebayo took six or more shots in the opening frame.
All of that seems pretty random, but it speaks to a larger theme with Adebayo. He's starting to force the issue, early and often. The aggression is there. He's keeping his word.
Adebayo finished with 26 points on Monday night, two days after pouring in a career-high 41 points against this same Nets team. Both games resulted in losses -- the Nets' three-headed monster is tough to deal with, especially when your best running mate (Jimmy Butler) is unavailable -- but it's hard not to come away impressed. Not only did Adebayo further prove he's really freaking good, it seems like he's starting to believe he's really freaking good.
HIGH-POST HUB
Like last year, a high percentage of Adebayo's possessions kick off around the perimeter. The Heat trust him with touches, allowing him to toggle between handoffs and drives against slow-footed giants.
Duncan Robinson and Adebayo remain the NBA's most dangerous handoff combo. Per a source with access to Second Spectrum tracking data, 66 combos have hooked up for at least 100 dribble handoffs since the beginning of last season. None of them eclipse the 1.27 points per possession mark that the Robinson-Adebayo duo generates.
Robinson is able to fire if given any sliver of space. The threat of that shot enables Adebayo to flourish in space. He's able to abuse defenses in short-roll situations, or fake the handoff and take matters into his own hands.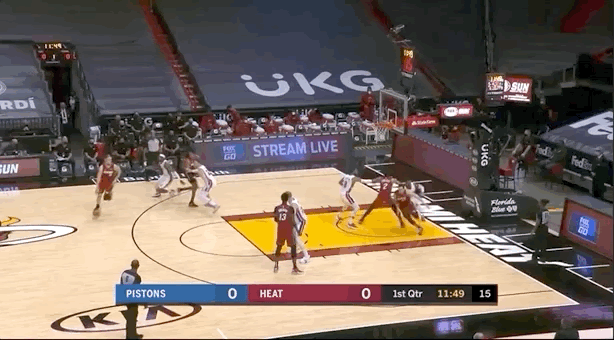 It's subtle, but watch how Mason Plumlee opens up and slides to his left to prepare himself to "show" on the Robinson handoff. Adebayo uses that shift against him, immediately driving left before stopping on a dime for the pull-up jumper. Speaking of which...
INTERMEDIATE SCORING
If you haven't noticed, Adebayo is a lot more comfortable operating in the mid-range area now. Nearly a quarter of his shots are coming from the 10-16-feet range, per Basketball-Reference, roughly 10 percentage points higher than his mark last season. He's also hitting those at an insane 58.5 percent clip. That number is going to come down, but it's encouraging to see the willingness and diversity of his middies.
The stationary shot is there. What really stands out is Adebayo's ability to square himself from different angles.
He's able to flow into pull-ups with ease: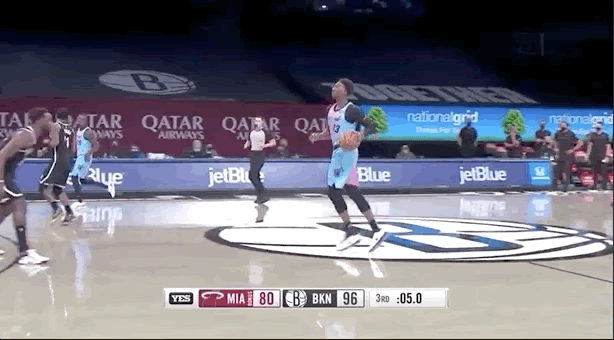 He can cut left-side drives short and pull: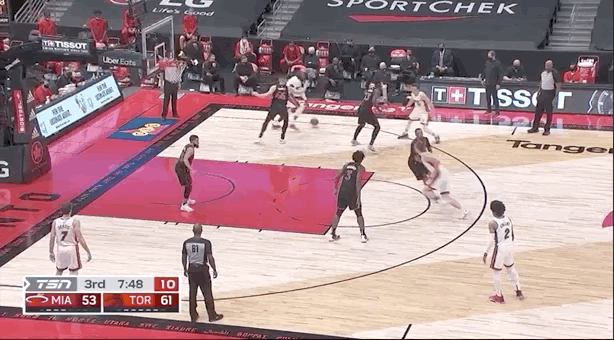 He can do the same going to his right, a less natural motion: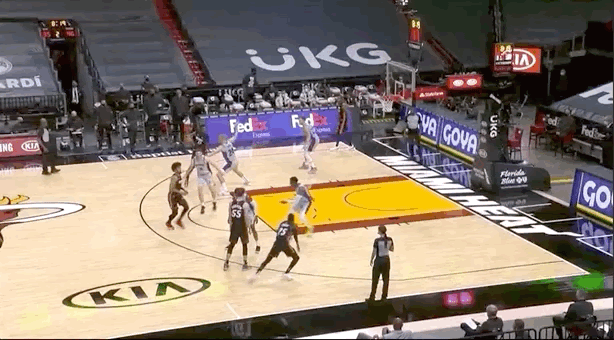 He's even flashed fluidity on a number of stepbacks this season.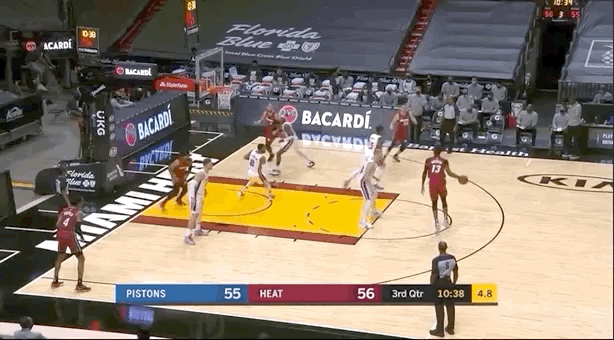 His ability to fill it up off the bounce has taken his game to a new level. Per Synergy, Adebayo ranks in the 93rd percentile on shots off the dribble. He's a 96th-percentile isolation scorer, mostly off the strength of his off-the-bounce jumper (10-of-11 in isolation situations, per Synergy).
KEEP IT ROLLING
Adebayo's jumper becoming a legitimate weapon is huge for his offensive value. It's still important to frame his jumper as a counter more than a go-to at this stage. He's still at his best when he's able to gain a head of steam. This is most apparent when he's operating in pick-and-rolls.
Adebayo toggles between bone-crushing picks and early slips, depending on the defensive coverage. His roll speed shifts with the ball-handler he's working with. He's developed a nice mind-meld with Goran Dragic over the past couple of seasons.
He's much more willing to slip and roll hard with Dragic, which complements the north-south nature of his game. The early stages of their ball screens are fun to track; it's like Adebayo knows what dribble moves Dragic wants to flow into, and he's able to adjust on the fly because of it.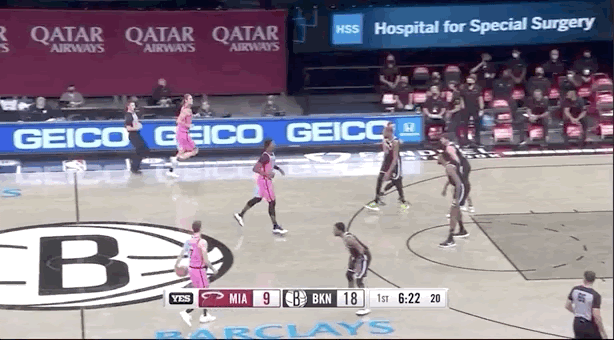 With Tyler Herro, Adebayo slows up his trek in the event that his young partner needs the release valve. Even when Adebayo doesn't personally benefit, he's able to draw the eyes of help defenders.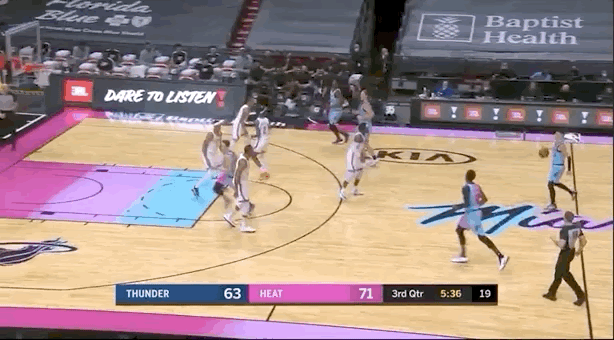 That sort of attention speaks to Adebayo's effectiveness when he is directly involved. The Heat are scoring an absurd 1.56 points per possession when Adebayo receives the ball and shoots, or passes it to someone who shoots, per the Second Spectrum source.
To put it another way: Adebayo is scoring at an absurd clip on rolls, and is making teams pay with the pass in short-roll situations.
He's a dynamic athlete who's able to high-point lobs and finish through contact. More impressively -- and I'd argue, more importantly -- he's a sound decision maker in space. If the defense doesn't rotate on a string, Adebayo has the ability to pick out open shooters with kick-outs.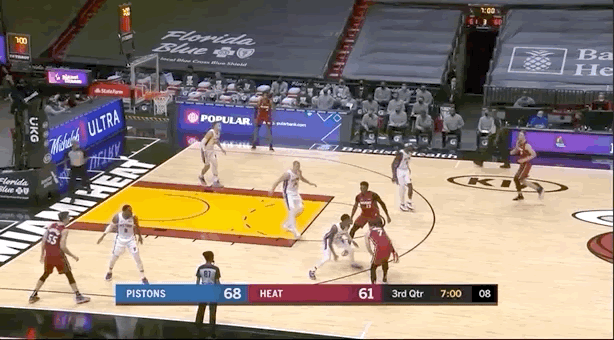 That pass is difficult enough -- he's off-balance, in traffic, and fires a dart above the break. The processing is what matters there. He draws attention in the paint, stares at KZ Okpala in the corner, forcing Jerami Grant to rotate over, then fires the pass to Kelly Olynyk for the triple.
Truly high-level stuff.
WHAT COMES NEXT
You'll notice that the title of the piece uses "happening" instead of "happened." There's still room for improvement before Adebayo firmly cements himself among the league's capital-E elite.
He's finishing at a high-level in the half court -- 71.1 percent on 76 attempts, per Synergy -- but he's still trying to find his way against bigger opponents. Size can still bother him, which is why he typically leans for finesse moves in close quarters. He pump fakes a lot; that isn't inherently a bad thing, but his reliance on it to get bigger opponents off-balance can sometimes stall his drives.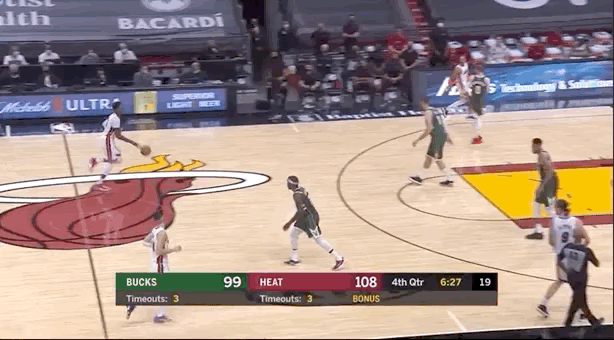 Avery Bradley saves the day with the juke-and-cut, but look at how things stall out. Brook Lopez camps out in the paint, waiting for Adebayo to make his move. Adebayo doesn't attack Lopez full-on, opting for a pull-up instead. Lopez stays down, and some off-ball improvisation is needed.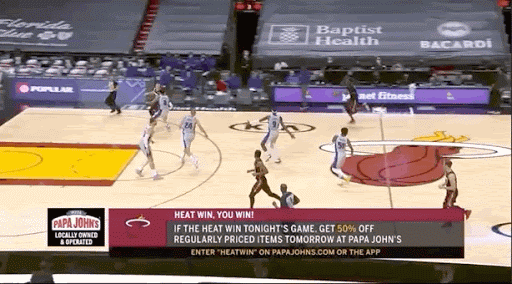 This is just a standard vertical contest from Plumlee, but you can see Adebayo's inability to power through.
Here's an exercise for you: think of Adebayo's best half-court finishes this season...
Great.
Now remove the lobs you thought of. What's his best finish? It's the iso vs. Giannis, isn't it? Let's revisit it.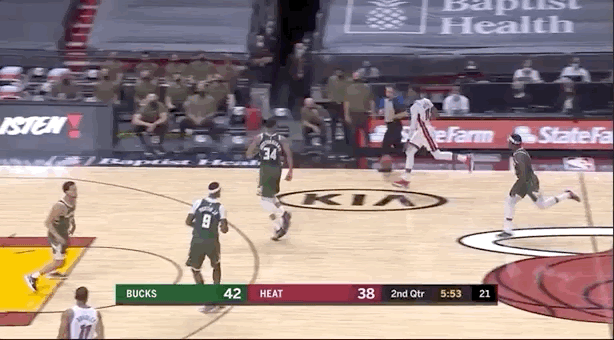 What stands out first is the skill. Cross, tween, behind-the-back, tween, cross, hesi, filaaAaaaAaaaaay.
You know what else stands out? Adebayo not seeking a modicum of contact on that drive and opting for an inside-hand layup that could've been sent to Hialeah. Having this kind of skill and touch is obviously impressive; needing this kind of high-difficulty look to win against size is something to monitor at best, and something to be concerned about at worst.
That may seem a bit unfair, but these are the kinds of hairs you split when talking about someone possibly entering top-10 discussions.
There's also a discussion worth having about his ability as a distributor. Adebayo is unquestionably a great passing big man. I hesitate to call him a great playmaker from that spot. Playmaking factors in decision making, and Adebayo falls a bit short there.
Players miss on passes all the time, especially the thread-the-needle type of dimes Adebayo will attempt from the high post. There's just a level of risk management that Adebayo is struggling with at this stage. Take this possession for example: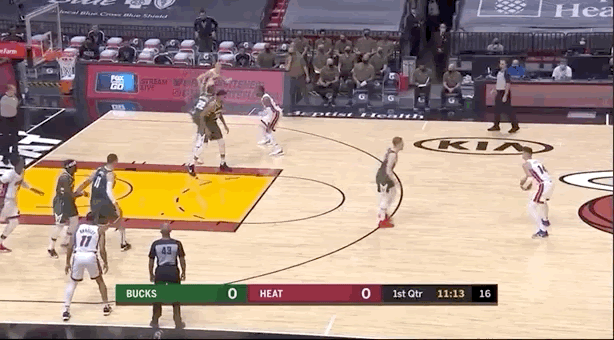 Adebayo reads Robinson cutting into Khris Middleton's blind spot. With Middleton behind the play and Lopez playing with a gap, Adebayo tosses a bounce pass into a relatively wide window.
Seems mundane, seems like an easy decision, but it was the wrong one. Assume Robinson doesn't bobble the pass -- what is the upside of this decision? Adebayo led Robinson into the paint surrounded by Milwaukee's three largest defenders with no real shot or kick-out opportunity. It's effectively a dead-end.
Asking for Adebayo to cut out tight-window throws would be a disservice to him and the offense. Cutting out tight-window throws with no discernable upside if they connect would lower his turnovers and, in turn, help the offense a bit. Again, splitting hairs, but these are the margins upon which Adebayo has to improve.
The encouraging thing is that we're even having this conversation about Adebayo. He's scoring at a career-high rate, and doing so in a multitude of ways. He finds open teammates from different areas. He remains one of the most versatile defenders in the sport. He's a clear All-NBA candidate, and he's technically still on his rookie deal (since his extension kicks in next season).
The acceleration of Adebayo's development as a creator is the lone upside of the Heat being as injury/COVID-ravished as they have been this season. He's proving that his game is scalable. That should terrify the East as the Heat begin to get some of their best players back. That should especially terrify the league moving forward as Adebayo continues to grow.