As the NBA continues to move through this unique 2020-21 season, the league's message has grown stronger and stricter: Mask up.
The league's latest round of COVID-19 tests resulted in just four positives over the week of Dec. 30. However, Shams Charania of The Athletic reported this afternoon that Adam Silver heard from health experts via a recent phone call, and they told the Commissioner that January could be the country's worst month in terms of spiking cases.
At the beginning of the week, the NBA rolled out fresher, sterner policies in regards to mask wearing. According to a memo obtained by the Associated Press, players who dress for games and are eligible to play must wear face coverings until they enter the game. All players and coaches must wear masks outside of the team environment if they are around other players and coaches. Also, players have to report the names of personal trainers, therapists, chiropractors or other specialists that they work with outside of the team facility.
These updated rules and regulations are proactive, as the NBA is taking an abundance of caution to ensure the safety and wellness of its personnel.
From what we've seen so far, most players and coaches have been wearing cloth face coverings that seem to be issued by their respective teams. Some are wearing their own masks; for example, New Orleans Pelicans head coach Stan Van Gundy has opted to wear a black KN95 mask (as seen in the picture below). These seem to offer more protection with more layers included in its design.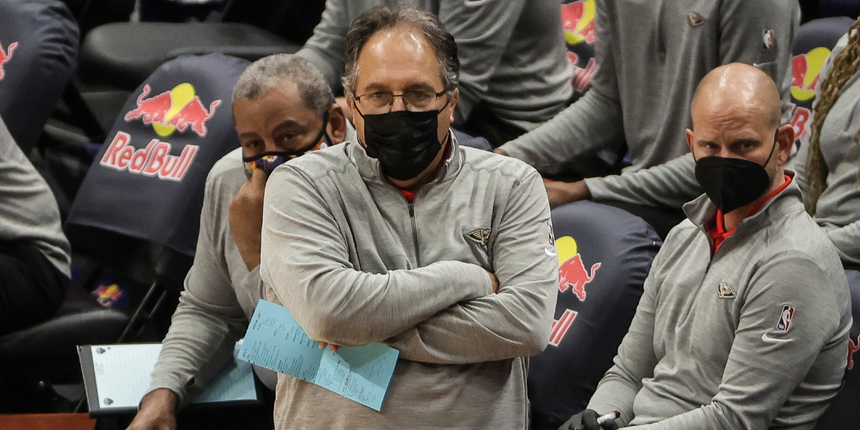 Just about everybody is having to adjust to the masks from a communication perspective.
During the preseason, Cleveland Cavaliers head coach J. B. Bickerstaff was asked whether wearing a mask has made it more difficult to call out sets and make in-game adjustments.
"It's tough, to be honest with you. And at the end of the day, we've just got to figure it out," Bickerstaff said. "When you're at the other end of the floor, guys can't really hear you when you're muffled by the mask. So we are going to have to get creative and probably do more things with hand signals."
He added that despite there being no fans in the arena, there's still the fake background noise that makes it difficult to hear.
Cavaliers forward Larry Nance Jr. said that it's not easy on the players, either.
"There were a few times where I'm standing in the corner and looking [at J.B.] and I'm like, 'I can't hear you. I straight can't hear you. I don't know what we called, I don't know what defense we are in.' It's definitely going to take some getting used to," Nance said. "But it's got to be one of those things where the closest man to him, whether that's Darius [Garland] or myself or Andre [Drummond] — whoever is closest to him — actually hears what he's saying and has to vocalize that and tell the rest of the team. We're going to be playing a little bit of telephone out there for a little bit."
That's the thing, though -- everybody has to find a way to make this work. Coaches are constantly either pulling down their masks or pulling them back to project their voices as best as possible. It's something that will have to work until this pandemic (hopefully) begins to slow down.
Until then, this is the way it has to be, and the NBA is trying to get ahead of the curve to sustain its season.