Typically, the NBA Finals are the "finale" following a yearlong crescendo of trends we've witnessed all season. The most successful teams we see at the very end possess a balance of innovative play and star power, but the last matchup between the Los Angeles Lakers and the Miami Heat was anything but typical. The ongoings of the Finals often spill over to influence the style of play we subsequently see in the following season -- with teams mimicking some of the methods practiced by the squads duking it out on the league's biggest stage.
For some perspective, take the Golden State Warriors. Their wildly successful devotion to motion offense, small lineups and trailing threes went on to define the play-style of an era. On a smaller scale, the champion-year Toronto Raptors' usage of Marc Gasol as an additional wrinkle to their offense still has teams scrambling to turn their big men into playmaking powerhouses in order to serve as a release valve for their point guards and forwards.
Here are a couple of major offensive trends that I feel we can anticipate for next season:
A Reduction in Team Threes
There are a few truths that have emerged in the last several years within the Warriors' reign, the most prevalent of which has been the importance of floor spacing, as well as the emphasis on frequent, high-efficiency three-point shooting -- two staples of any top ranked team's offensive system today. For the past couple of years, we've seen teams like the Houston Rockets and last season's Dallas Mavericks adopt these systemic pillars as a means to thrust themselves into modernity and challenge the league's cream of the crop.
The question is: Why was this season different? Both the Lakers and Heat were not particularly praised for their team-wide, lights-out shooting. The Heat left both fans of the sport and writers alike skeptical of their ability to make it far into the postseason considering their two best players -- Bam Adebayo and Jimmy Butler -- are not recognized as floor spacers, the latter of which is an incredibly reluctant long-range shooter, but a masterful foul-drawer and mid-range specialist.
Miami ended the regular season ninth in three-pointers attempted (35.4) and 10th in the postseason (35.5), with the Lakers at 23rd and 11th, respectfully. Interestingly (and to a lesser extent), L.A.'s two best players are also not necessarily sure things from beyond the arc. As we know, LeBron James is not someone whom defenses cheat off of; he has the ability to shoot over 40 percent from three in any given playoff series with significant attempts. But LeBron has historically been surrounded by knockdown threats along the perimeter, which allows him to do what he does best: draw help defenders and whip passes about accordingly. So instead, his superstar partner Anthony Davis was the second-most reliable long-range threat.

The similarities between these teams don't end there. Both rosters placed an emphasis on finishing at the rim -- a product of utilizing the most effective skill their most talented players possess, or one of mere desperation, who knows? But what we do know is that we may see such a formula of few, high-efficient threes, coupled with relentless finishing, spill over into the regiments of next year's NBA offenses. If not, we'll at the very least see teams play to their strengths more unapologetically, rather than relying on mimicking the strengths of a past dynasty.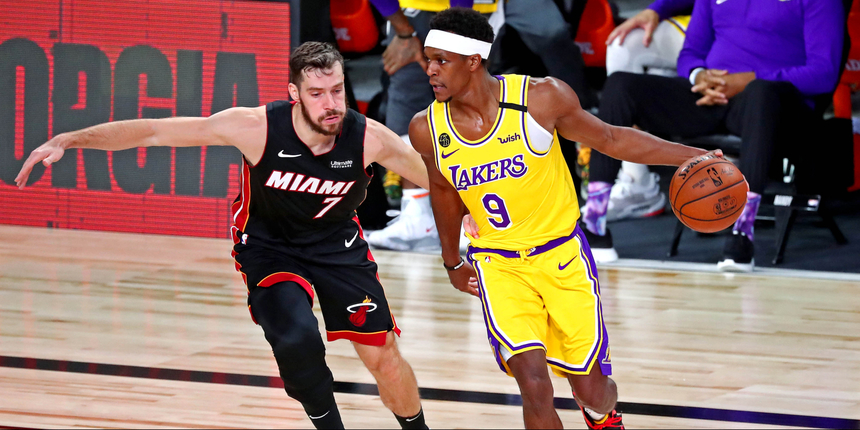 No Starting Point Guard? No Problem.
It wasn't until pitching this piece that I began to realize how deceptively symmetrical the Finals matchup actually was. The fact that the Heat weren't the unanimous No. 1 choice to emerge out of the Eastern Conference may have clouded our critical thinking goggles when Game 1 had finally arrived.
Neither team actually had an undisputed, starting-caliber point guard to run the offense. Sure, some may argue that the Lakers had LeBron secured at point, but I'd entertain that argument had it not been for the cyclical rumors of the franchise tirelessly fiending to trade for one. The closest Miami had was Goran Dragic, a starting-caliber guard on many teams, but he was sadly sidelined due to injury. What we saw, in turn, was both teams adopting a "point-guard-by-committee" system, handing the leash to a number of players to periodically initiate the offense. It's no secret that all championship-caliber teams boast a plethora of high-IQ decision-makers willing to make the correct pass or initiate the correct play in order to keep the ball humming-- and this matchup contained ample amounts of both.
What I anticipate is more teams reducing the burden of responsibility and ball-handling duties placed on the point guard. Miami and L.A. distributed these responsibilities to a number of players; LeBron, Davis, Rajon Rondo, etc. for the Lakers and Butler, Adebayo, Andre Iguodala, Jae Crowder, etc. for the Heat. Once again, something born out of sheer necessity ended up injecting vibrancy and variation into these offenses, making both teams increasingly more difficult to guard, seeing as how there wasn't a single head to the snake.
When an NBA season officially ends, the impact of the last playoff round sends undeniable ripples into the next season. Like most industries, trends live out a life cycle over the course of a season or two. The bubble may have muddied the actual life span of said trends, but in today's league of parity and uncertainty, it's safe to assume teams will be looking at tried and true formulas to embrace.