Memo to the next coach of the Los Angeles Clippers: Make Kawhi Leonard and Paul George play 82 games together (or as many as possible) and excise "load management" from the NBA vocabulary.
Head coach Doc Rivers is looking for a new job tonight in large part because he failed to meet expectations, failed to make the proper adjustments in three straight games when his team was one win away from the Western Conference Finals, and because the blame game is part of the NBA life. Nobody is immune from getting fired except Gregg Popovich, and probably Erik Spoelstra.
But what crippled the Clippers more than anything was a lack of chemistry, which was evident to anyone with two working eyeballs and an appreciation for the one intangible that separates great teams from good teams: chemistry.
George and Leonard played in only 38 of 72 regular-season games games together and were 27-11 in those games (and they averaged 118.3 PPG and held opponents to 109.8 PPG, compared to 105.5 PPG and 111 PPG allowed when neither star played). This was explained as "load management," which became NBA parlance for resting players who are paid extraordinary amounts of money to play basketball. Former NBA Commissioner David Stern never would have stood for it. Adam Silver allows it, because happy players are compliant players, and Silver does business differently than his predecessor and mentor.
But "load management" is bad for Clippers fans, who paid good money to see Leonard and George play together after the team acquired PG from Oklahoma City in the offseason. Rivers kept using load management in bubble games, too, even though four and a half months off should have been enough rest for just about anybody after the NBA shut down because of the coronavirus pandemic.
Get this: Rivers used 33 different starting lineups during the regular season. Thirty-three.
And when the starting five was Leonard, George, Patrick Beverley (whose absences from the lineup were because of injury, not rest), Ivica Zubac and Maurice Harkless, the Clippers were 13-4.
When the lineup was Leonard, George, Marcus Morris, Beverley and Zubac after the Clippers got Morris from the New York Knicks at the trade deadline, the record was 13-4.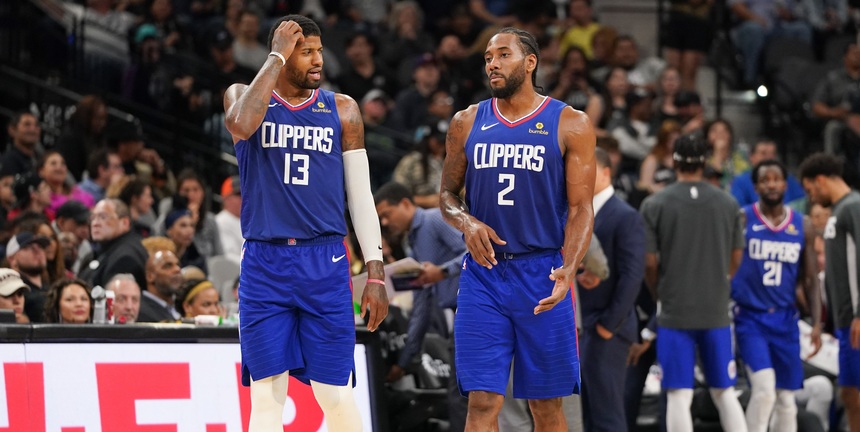 Many people believe load management helped the Toronto Raptors win a title with Leonard in 2019, which may be true. But Leonard and George, under Rivers, took it to an extreme. And when you consider that Wilt Chamberlain once averaged 48.6 minutes per game, it gives you a different historical perspective on how expectations of players have changed over the decades. Wilt never took a minute off.
The Clippers were the only team in the NBA to have four players average at least 18.0 points per game (Leonard 27.1; George 21.5; Montrezl Harrell 18.6; Lou Williams 18.2), which made them the first team since 1967-68 San Francisco Warriors to have that many guys averaging at least 18.
So the talent was there for Rivers, but the chemistry never developed. And whenever the Clippers got down in the fourth quarter of a playoff game, especially against the Nuggets, their body language was horrible. They blew leads of 16, 19 and 12 points in Games 5, 6 and 7 against Denver.
It was a series of epic meltdowns, and Rivers took the blame. This is not the first time he has been fired, and it will probably not be the last. And judging from the "it's all copacetic" language of the press release that the Clippers put out, Rivers likely got bought out of his final two years. But let's call this what it is: a firing. Steve Ballmer clearly axed him.
"We didn't meet them," Rivers said of the expectations. "That's the bottom line. I'm the coach, and I'll take any blame for it. But we didn't meet our expectations, clearly, because if we had, in my opinion, we'd still be playing."
The Clippers' job now becomes, along with the Houston job, the most coveted open position in the NBA. Somebody will get it, but that somebody should be ready to tell owner Steve Ballmer that the players have to play, not rest.
If not, that new guy will be a dead man walking too.