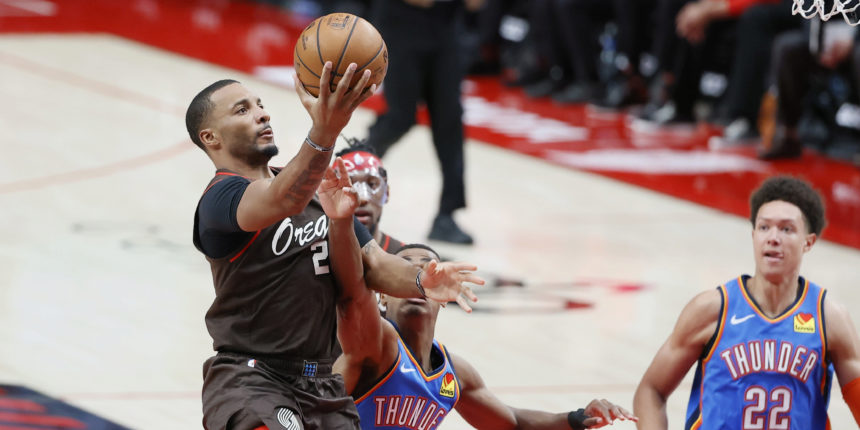 How recently-traded players on good teams are faring
A bunch of really good players got traded to really good teams at the NBA trade deadline, and some of them are doing better than others.
Why is that?
...Dare we quote Allen Iverson?
Chatter around the NBA includes complaints that teams do not have enough time to conduct practices regularly, in part because they spend so much time adhering to COVID protocols and being tested. The condensed schedule doesn't help either.
NBA spokesman Tim Frank said teams have practiced anywhere from 15-to-40 times, declining to be more specific. It varies from team to team.
The Dallas Mavericks have practiced 25 times, spokesman Scott Tomlin said.
When asked how often the team has practice, Mavericks owner Mark Cuban said, "Rarely."
"Mostly because of the schedule -- 29 some games in 30 or so days is hard," Cuban added. "So any days off are needed rest days... But sometimes you have to force-fit a practice. It's not that we can't. It's just that the physical toll of the schedule and the need for recovery by players make it difficult."
For teams that made midseason moves, it's tougher than ever to get new players acclimated.

The Mavs acquired JJ Redick from New Orleans, but he has not yet played for Dallas, who had won five games in a row before dropping a 102-93 decision against the Houston Rockets on Wednesday night.
The best player in that game was Kelly Olynyk of Houston, who was acquired from Miami and is arguably Stephen Silas' best or second-best player these days. Olynyk has averaged 17.4 points on 59.7% shooting since the trade.
But this column is about teams that are either in the playoff picture or in the hunt, so let's start with the best teams (listed by winning percentage), the player(s) they acquired and how things have been going since the March 25 deadline.
UTAH JAZZ (39-13): Acquired Matt Thomas from Toronto for a future second-round pick, but he has only seen spot minutes in four games and has done nothing of note.
PHOENIX SUNS (36-15): Acquired Torrey Craig from Milwaukee for cash, and he has been getting regular rotation minutes off the bench and scored in double figures in three of 11 games. He shot well, but was a minus-10 in 12 minutes in the Suns' overtime victory over Utah on Wednesday.
PHILADELPHIA 76ers (35-16): Acquired George Hill from the Thunder and Ignas Brazdeikis from the Knicks. Hill has yet to play because of a thumb injury, but conceivably will help in the playoffs; Brazdeikis was waived Thursday. He played just eight minutes in one total game and missed all three of his shots.
LOS ANGELES CLIPPERS (35-18): Acquired Rajon Rondo from Atlanta for Lou Williams and two second-round picks. Prior to going for 15 points and nine assists (and a plus-24) in 19 minutes against Phoenix last night, he had taken seven shots in two games and made two of them. But he plays that way from time to time every regular season, and then the playoffs come -- and we all know what happens. That's why he is known as "Playoff Rondo." Nobody ever had that nickname, not even Robert Horry, so stay tuned.
DENVER NUGGETS (33-18): Acquired Aaron Gordon and Gary Clark from the Magic for Gary Harris, R.J. Hampton and a future first-round pick; landed JaVale McGee from the Cavs for Isaiah Hartenstein and a future second-rounder. The Nuggets have not lost since Gordon arrived, and he has moved into the starting lineup in place of Paul Millsap. He has not been quite as proficient as teammate Michael Porter Jr., but he is shooting nearly 61% from the field while averaging 12.5 points. He was averaging 14.6 points in Orlando on 43.7% shooting. McGee has appeared only briefly in two games. Clark was waived on Thursday following the team's two-way contract signing of Shaq Harrison.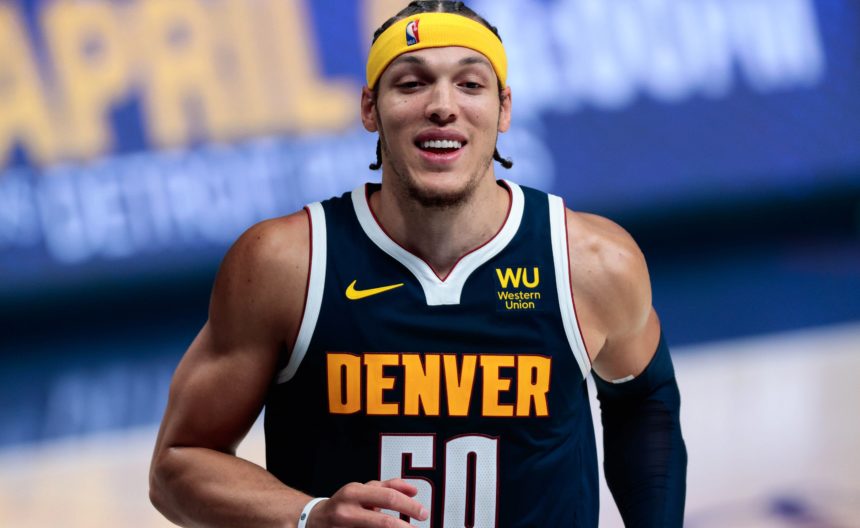 MILWAUKEE BUCKS (32-18): Acquired P.J. Tucker and Rodions Kurucs from Houston for D.J. Augustin and D.J. Wilson, with some first-round picks and swaps changing hands, too. Tucker played in only three games, making one of four shots, before suffering a strained left calf that has sidelined him since March 24. Kurucs has not played.
PORTLAND TRAIL BLAZERS (30-21): Acquired Norman Powell from the Portland Trail Blazers for Gary Trent Jr. and Rodney Hood. Powell was playing like the best player on the Raptors for all intents and purposes, and with Portland, he is logging heavy minutes as a starter and had a 32-point game in a loss to the Clippers on Tuesday night. Terry Stotts has a heck of a starting lineup, but in the end, it will all come down to the Blazers' defense, as it always does. The Jazz outscored them 40-19 in the third quarter last night.
CHARLOTTE HORNETS (26-24): The best team that nobody ever talks about (especially given the fact that LaMelo Ball went down) acquired Brad Wanamaker from Golden State for a second-round pick, and the Danny Ainge castoff has been solid (8.2 points, 3.2 assists), if not spectacular as the backup point guard in his 20-plus minutes per game.
ATLANTA HAWKS (27-25): They are 4-1 with former Sixth Man Award winner Lou Williams coming off the bench, and he has shot 60% from three-point range in 24 minutes per game. The Hawks gave up 131 points to the Memphis Grizzlies, which is not the sign of a good defensive team, but Lou was not acquired for his "D." And the Grizzlies have been playing well lately.
MIAMI HEAT (27-25): Acquired Victor Oladipo from Houston for Olynyk, Avery Bradley and a pick swap; landed Nemanja Bjelica from Sacramento for Moe Harkless and Chris Silva; picked up Trevor Ariza from Oklahoma City for Meyers Leonard and a second-round pick. The East's most confounding team not named "Celtics" is 5-3 since the deadline passed, having just beaten the Lakers. Oladipo has shot only 23.5% from three-point range and has contributed relatively little. Now, Oladipo will miss the Heat's four-game road trip due to a right-knee injury. Ariza has moved into the starting lineup and has been hot and cold like a leaky faucet; and Bjelica has played six games, with his best performance coming in a win over the Cavs when he had 10 points, 7 rebounds and 5 assists.
BOSTON CELTICS (26-26): The team that got nothing in return for Kyrie Irving, Gordon Hayward and Al Horford picked up Evan Fournier from Orlando for Jeff Teague and two second-round picks; they also landed Moe Wagner and Luke Kornet from the Bulls for Daniel Theis and Javonte Green. The Celtics sit at seventh in the East. Fournier had an inglorious debut in green, going 0-for-10, but had a couple of very nice games since then, going a combined 11-for-16 from three in his two most recent games. He averaged 3 points in his first two games and 20 points in his next two. Kornet has proven serviceable, and Wagner has started in a game.
SAN ANTONIO SPURS (24-25): Acquired an injured Marquese Chriss from Golden State, presumably so that somebody down the line could replace LaMarcus Aldridge (who eventually was bought out and signed with the Nets). This sinking ship has lost four in a row, including a 24-point defeat at the hands of the JuggerCavs; Chriss was released to make room for Gorgui Dieng, who they signed off the buyout market.
CHICAGO BULLS (22-28): Acquired Nikola Vucevic and Al-Farouq Aminu for Wendell Carter Jr., Otto Porter Jr. and a pair of first-round picks; landed Daniel Theis, Javonte Green and Troy Brown Jr. from Boston and Washington in a three-team trade. These moves made Billy Donovan the winner of the "Figure It Out On The Fly" award. Vucevic, an All-Star, has adapted quickly, going for 32 points and 17 rebounds against the Pacers on Tuesday; Aminu and Green have not been rotation players. Theis was okay before going for 14 points and 10 rebounds on Thursday, and Brown has come off the bench and provided depth as a defense-first, playmaking forward. Arturas Karnisovas perhaps earned the "Executive of the Year" award for getting Vucevic, who will be the best player on the court in every play-in game he participates in.
Donovan will eventually have to acclimate the new Bulls with the old Bulls through practice, and it'll be up to him how to make that happen.
Yes, Mr. Iverson, we are talkin' about practice. NBA teams are averaging about 1.8 practices per week this year. Last year (pre-bubble), it was 1.9, and the year before it was 2.0.
Practice makes perfect, and nobody in the NBA is unbeaten. But somebody is going to emerge as a champion by the end of the season, and how to get there is every team's ongoing challenge.