If you ask Cody Demps about his accomplishments (of which there are many), he will be quick to brush you off -- quick to tell you that they weren't that difficult or to chalk them up to hard work and being in the right place at the right time.
But if you ask Demps about his teammates -- some are NBA veterans and some are high draft prospects -- that is when you will witness his true character. When asked who among the newly-minted G League Ignite team has impressed him the most in the two-and-a-half months that the team has been together, he's quick to answer.
"Kai Sotto," Demps said in an interview via Zoom. "I've heard about most of the guys, but I didn't really hear about Kai before, and getting to see how skilled he is at 7-foot-2? I watched him and he's ambidextrous, so I've been trying to shoot left-handed like him. It's crazy how skilled he is. His ceiling is very high."
That's who Cody is.
He believes in the G League, and he believes in his teammates.
Demps didn't declare for the NBA draft, nor did he follow the path of so many undrafted players in beginning their professional career overseas. Three years at Sacramento State University saw him tie multiple school records (games played, starts and assists). Pursuing a degree in mechanical engineering, which is no small feat in and of itself, the 6-foot-4 point guard came just two credits short of graduating. Rather than give up on his degree and athletics, Demps returned to Sacramento State -- this time as a wide receiver for the Hornets' football team.
"I kind of knew the coaches because I played football in high school so they recruited me a little bit," Demps said, downplaying his talent and crediting his connections. "I always had a relationship with the coaches on campus, and they would joke around like, 'Hey when are you going to come out to the football team?' And then I finally took them up on the offer."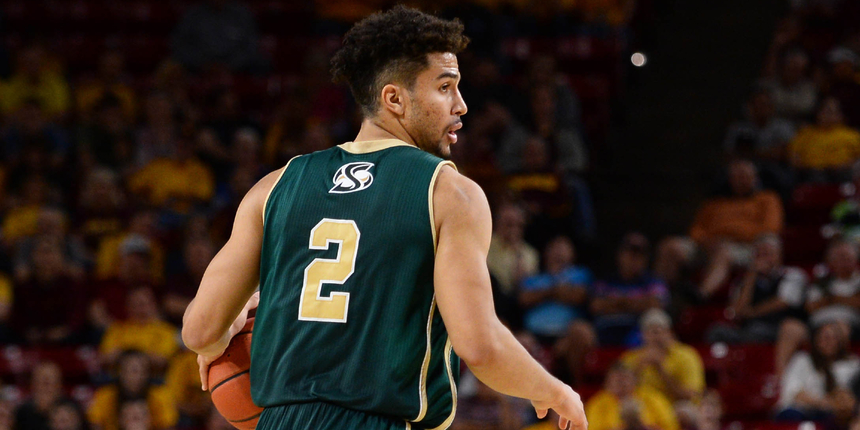 In his lone season as a wide receiver with Sacramento State, he caught 15 passes for 158 yards while completing his degree. Demps didn't just walk on to the team as a courtesy or as a way to finish school on a scholarship. The coaches may have known him from high school, but he made the team because of his skill-set and versatility. At Pleasant Grove High School, he was simultaneously the school's starting quarterback and forward. (As a senior, he threw for 1,794 yards, 22 touchdowns and just three interceptions, which earned him the Delta River League's Co-Offensive Player of the Year award).
Since he spent the season suiting up in pads and cleats, Demps wasn't receiving much attention from a professional basketball standpoint. However, he was given an opportunity to try out for the NBA G League's Reno Bighorns (who are now the Stockton Kings).
"When I came out for my professional career, there wasn't a lot of buzz around my name because I played football that year, so a lot of the scouts didn't really know who I was after I didn't play the last season of basketball. So there wasn't a lot of buzz, and this was my only real opportunity at that moment," Demps explained. "I was working out with a lot of the [Sacramento] Kings guys during the summer, and they wanted to thank me for just being there as a body, and they gave me a chance to try out for the Bighorns and I made the team."
The signing wasn't a favor, and it certainly wasn't a fluke. Demps spent three seasons with the Kings' affiliate, consistently producing and improving his numbers each year -- culminating in him averaging 14.2 points, 5.3 rebounds, 2.9 assists, 1.4 threes and 1.2 steals in 2019-20. His abilities on both ends of the floor, coupled with his level head and team-first attitude, led to multiple 10-day contracts, summer-league looks and G-League-Elite invitations. Now, his hard work has earned him a spot with the G League Ignite team, one that Demps himself believes in with his whole heart.
Every G League player is hoping to catch the eyes of NBA scouts and decision-makers, and many prospects become frustrated with the lack of pay and exposure. Demps, who's now entering his fourth season, stands firm in his decision to stay in a league that so often flies under the radar.
"I've seen improvement every year, and I really feel like the G League is the best chance at making it in the NBA," Demps said.

The fact that the G League previously paid players so little and is now paying high-school players $500,000 for a single season may have soured others, but Demps, ever positive, doesn't believe that the professional pathway program will hinder the G League; rather, he feels it could benefit all of the players who are battling to get noticed.
"If you can hoop, they're gonna find you," Demps confidently said. "I think it actually brings more eyes onto the G League. I think it's going to bring more respect to the G League, and I think more people are really focused on the G League now, so I think it's just going to be more eyes for the guys to be seen."
As someone who spent five years in the NCAA (across two sports), he recognizes the small window of player autonomy that the NBA is exposing.
"I thought it was a very smart move by the NBA because they kind of slide into this little area where people are starting to skip college a lot more, so they're kind of starting to see the vulnerability that the college program has," Demps said. "I saw what the NBA was trying to do. They're trying to slide into this little niche, and I'm part of it now, so I really hope it works out.
"And from what I've seen, this is the best opportunity for people who are trying to make basketball their career right out of high school. Because this is literally Basketball University. It's basketball 24/7. You're learning from some of the best guys, and also they're giving you life skills as well, so I really think it's the best opportunity for these guys."
Demps isn't as experienced as his veteran teammates Amir Johnson and Bobby Brown, but he is determined to instill any and all knowledge that he can on his young teammates before they take the biggest stage in the basketball world.
"I'm not that much of a vet," said the 27-year-old Demps. "I'm still kind of young, considering, but I still have a good amount of knowledge that I feel like I can pass on to these guys, so I've just been trying to do that."
The role of a veteran leader is one that's relatively uncharted territory for Demps, but it is one he is embracing, and one that is helping him discover more about his personal strengths and leadership style.
"It kind of made me realize the leadership qualities that I do have," Demps said. "I've always seen myself as a lead-by-example guy, but this is definitely forcing me to be a little more vocal, which is kind of a role that I'm getting used to. But I'm liking it a lot."
Though he doesn't see coaching in his future, Demps' impact on the G League Ignite, its rookies and the program as a whole, is indisputable. The way he carries himself -- humble, yet confident -- is an admirable trait, and one that the newest generation of pro talent should take with them as they enter the 2021 NBA Draft. Long after he has departed the team, the G League Ignite, in all of its successes, will be enveloped in Demps' attributes.
But he'll never tell you that himself.