We have a fantastic matchup on our hands, health permitting.
In one corner, the Milwaukee Bucks have finally broken through the glass ceiling. Back-to-back postseason meltdowns led to an epiphany: hey, maybe we should do some things differently.
And so, they did.
A different offensive formation. A departure from their strict drop scheme, opting to sprinkle in more switching as preparation for later rounds. You've seen the fruits of that labor. Their drop suffocated the Miami Heat's offense in round one. Their alterations in drop and willingness to switch were evident against the Brooklyn Nets in round two, and especially against the Atlanta Hawks in the Conference Finals.
The health of Giannis Antetokounmpo looms large, but this is a talented, mentally tough, and diverse (at last!) group ready to bring this thing home.
And then there are the Phoenix Suns, who almost nobody expected to be here.
They barely missed the playoffs last season, partially due to an unfortunate suspension. They went 8-0 in last season's bubble, leading to optimism and ultimately setting the stage for a Chris Paul trade.
Paul raised the floor tremendously with his playmaking, shooting, shot creation, and leadership. Internal improvement from the young studs -- Devin Booker, Deandre Ayton, Mikal Bridges -- raised the ceiling. The vets filled the gaps, with Cameron Payne's resurgence leading the charge.
They took down the defending champs in round one, with injuries on both sides permeating the series. They destroyed the Denver Nuggets in round two, one pick-and-roll at a time. The Los Angeles Clippers threatened late, but ultimately couldn't push the Suns to a seventh game in the Conference Finals.
The Suns have the goods, y'all.
I'm not a coach -- I'm just a pun-loving basketball fan with a hankering for film breakdowns. But instead of a traditional series preview, I decided to go into the basketball trenches and devise gameplans for both teams. The tone of this piece will be a little more informal, but it will still be informative (at least I hope).
Let's look at how the Suns will try to stop the Bucks.
Defensive Matchups
Chris Paul --> Jrue Holiday
Mikal Bridges --> Khris Middleton
Devin Booker --> PJ Tucker
Jae Crowder --> Bobby Portis
Deandre Ayton --> Brook Lopez
Aside from swapping the Bridges/Booker assignments for obvious reasons, this should be pretty straightforward. If/when Giannis is back, that duty will fall to Crowder as it did during the regular season meetings -- as well as last postseason when Crowder was a member of the Miami Heat.
There's room for more cross-matching if necessary. Ayton on Portis or Giannis could be an option to keep him near the paint, particularly if the Bucks use Lopez primarily as a spacer.
Bucks' Team Stats (and Milwaukee's stats vs. Phoenix)
Offensive Rating: 116.5, 5th (119.0)
Half-Court Offensive Rating: 102.0, 6th (101.6)
True Shooting Percentage: 59.3, 5th (60.2)
Assist Percentage: 56.9, 25th (45.7)
Turnover Rate: 13.4, 13th (10.4)
Pace: 102.85, 2nd (100.04)
Free-Throw Attempts: 21.4, 16th (24.5)
Free-Throw Percentage: 76.0, 23rd (81.6)
Three-Point Attempts: 37.1, 8th (35.5)
Three-Point Percentage: 38.9, 5th (38.0)
Offensive Rebounds: 10.3, 12th (9.5)
Bucks' Play Type Breakdown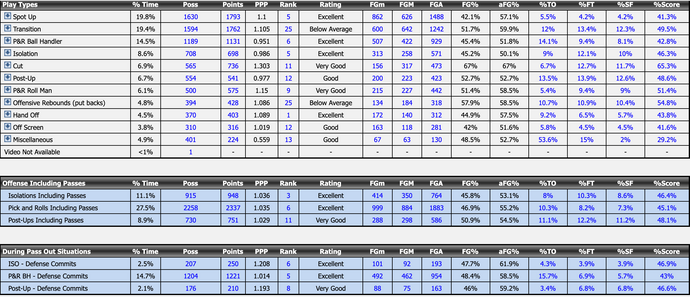 Actions to Watch For
This is a favorite of the Bucks to get Giannis a post-up or wing clear-out. They alternate between setting a cross screen on the baseline, and doing so from an angle around the free throw line to get Giannis attacking with some momentum.
The Bucks dabble with inverted pick-and-rolls -- guards screening for Middleton or Giannis as the pick-and-roll ball handlers. Something to watch for, particularly with Bryn Forbes in the game, is a ghost screen. It'll give off the look of an inverted pick-and-roll, but instead of setting an actual screen, Forbes will pop out.
Pretty common set throughout the NBA, and one the Bucks will sprinkle in during early offense situations. The setup is simple: one ball-handler, two screeners. One of the screeners will roll to the basket, the other will pop above the break.
No bucket on this one -- the defense does a great job of recovering -- but you can see what the action looks like.
Base Coverage: Drop
No need to overthink this one. Stick to your guns, and force them to beat you with pull-up jumpers. Ayton is mobile enough to play closer to the level of the screen, so some of the easier mid-range jumpers can be hampered a bit.
The Changeup: Zone Defense
The Bucks were an average bunch (14th, via Synergy) against zone during the regular season. They haven't seen it much in the postseason, but the 0.69 PPP clip is worth raising a brow over, at least. For a team that runs pretty hot and cold from deep, it may be worth mixing it in to further throw off their rhythm in the half-court.
Defending Giannis Antetokounmpo
Giannis' status may be up in the air right now, but he'll certainly make an appearance in this series. He's arguably the NBA's most feared rim threat, able to finish over, around, and through defenders from a variety of angles.
He's been working on counters all season long. Some of that is quicker decision-making -- the passes on drives are coming a beat earlier than last season, for example. Some of that is adding to the shot repertoire. Post hooks, step-in middies, and turnarounds are all shots he has shown more comfort getting to.
He's been dominant this postseason (28-13-5), and got pretty busy during the regular season series (40-10-4 in two games). Whenever he's back, keeping him away from the rim will be priority number one.
Major Key: Crowd the Paint
The same principles that apply in transition -- taking away the middle, being active with your hands on the drive -- also apply in half-court situations.
Giannis attempting to add half-court counters to his game is fine. Ultimately, his primary method of attack can be devastating enough to render those counters useless.
It's hard to overstate just how strong this dude is. He has no issue doing his work early, putting a guy on his hip and setting up shop on either block. His backdowns create genuine space. Once he gets to the restricted area, you're pretty much dead. He'll nudge you off-balance with fakes or, if they don't work, simply extend his never-ending arms to get a good look.
The key to hindering Giannis in the half-court is doing your homework early. Building the "wall" is an easy example, particularly when he's isolating above the break. When he isn't at the center of the court, pinching in early will be necessary to making him work.
Wing isolations or post-ups should look like this.
Ayton has the Giannis assignment here. Langston Galloway is helping off of Bryn Forbes to provide some elbow help. Jae Crowder is coming baseline to help, while Chris Paul is tasked with splitting between Bobby Portis and DJ Augustin (no longer with the team). Giannis eventually settles for a failed up-and-under.
As far as actual doubles, timeliness will be key. He's no Nikola Jokic, but he's also a step above Joel Embiid as a passer in terms of ability and willingness.
The Bucks generated nearly 1.3 points per possession when Giannis passed out of a post double this season, per Second Spectrum. Show the hand too early, and he'll make the right play.
If you're able to blindside him a bit, wait for him to begin his move or get into his gather, you may be able to fluster him. Take this rep for example.
Peep the timing of when Paul flies over. He waits until Giannis commits to the gather, then flies in for relief. Cam Johnson does a fantastic job of flashing his hands, causing the turnover.
Other Keys
Whenever Giannis is starting a post-up or an isolation with a lefty drive, make sure there's someone ready to pinch in to the middle of the floor. The left-to-right spin is his go-to move in close quarters (while the eurostep is more of a transition weapon).
Show-and-recovers should be fine whenever Giannis calls for an inverted ball screen in the middle of the floor. He's gotten better, but still isn't a particularly quick worker when getting the mismatch temporarily. Combine that with some weird spacing from Milwaukee, and that changeup may not be as effective as it looks on paper.
Keep up the free throw line chants. Giannis followed up a woeful Nets performance (48.3% on 8.6 attempts in the series) with a 53.6% clip (on 7.0 attempts) against the hawks
Defending the Shooters (Perimeter)
Jrue Holiday: soft close-out
Holiday is coming off the best three-point shooting season of his career (39.2% on 4.8 attempts), though he's cooled off considerably in the postseason (29.9% on 6.3 attempts). He's solid with his feet set so you don't want to completely ignore him off-ball, but alarm bells shouldn't be ringing if someone kicks it out to him. Duck under his picks to wall off the drive; dare him to beat you with pull-ups.
Bryn Forbes: hard close-out
Forbes is Milwaukee's best shooter, able to drill set shots, fly off screens, pull off of dribble handoffs, or relocate when chaos is happening elsewhere. He's also not a strong playmaker at all, and only took 25 shots at the rim in half-court situations during the regular season, per Synergy. Run him off the line, deal with the rest later.
Pat Connaughton: soft close-out
Connaughton is a solid shooter (37.1% on 3.9 attempts this season, 36.1% on 3.6 attempts during the postseason). He's good at finding creases off the ball, particularly sneaking down to the corner on drives. Keep an eye out for him, but he isn't worth selling out against. He's not that level of shooter.
Khris Middleton: hard, but controlled close-out
If Forbes takes the top shooter billing, Middleton is a close second -- especially once you factor in how much he self-creates. You don't want him getting clean looks on the perimeter, though with his release point, contests only mean so much. He ranked in the 68th percentile on "guarded" catch-and-shoot looks, per Synergy. Still, try to get him off the three-point line and stay attached to him. Live with the contested pull-up twos.
Defending the Shooters (Frontcourt)
PJ Tucker: Let him fire above the break, soft close-out in the corners
Tucker has shot 36.6% from deep on moderate volume over the last four seasons. The kicker: a whopping 72.2% of those threes have come from the corner. He's made those at a respectable 38.6% clip. But considering how open those shots have been, it's a bit underwhelming. Tucker doesn't have a particularly quick release, and he's prone to streakiness. Make him think when he's in the corner, but ignoring him elsewhere should be fine.
Thanasis Antetokounmpo: Let him fire
The Other Antetokounmpo likely won't have a sizeable role in this series, but his jumper is nothing to be afraid of. Well, except for that one game against the Knicks.
Brook Lopez: Soft close-out
Lopez has a high, but slow release on the jumper. As long as you don't cheat too far off of him, a balance can be struck between crowding the paint and getting out to the big fella. He doesn't mind driving -- really, slow-grinding -- a sloppy close-out. Discipline will be key here, especially from the corners.
Bobby Portis: hard, but controlled close-out
Running Portis off the line isn't an admission of elite shooting, though he is good (39.1% over the past four seasons). It's more of a tendency play; he's not a threatening passer on the move (though he made some nice ones against Atlanta), and he may still take a tough shot anyway.
X-Factor: Jrue Holiday
With Giannis out or at least compromised at the beginning of the series, the creation burden with slide to Middleton and Holiday.
Holiday looms as the more important piece here. Not only will he likely have a size mismatch (Paul is 6'0 on a good day), he becomes the natural heir to the Bucks' rim pressure kingdom.
Holiday can absolutely get busy on the block. In isolation siutations, he has a solid enough handle to get to where he wants to go, and combines that with brute strength and nifty footwork to generate solid looks at the rim.
Keeping him out of the paint will neutralize his impact. It'll take away the easy kickouts, and it'll goad him into taking pull-ups and turnarounds. He got in a bit of trouble against the Hawks last round with some of the And-1 Mixtape possessions he pulled out. Those can add up.