Two weeks into the 2020-21 NBA season, a number of players are outperforming their preseason expectations. Some players have made the most of a change of scenery, while others have taken the next step in their development or stepped up in the absence of an injured teammate. Without further ado, here are 11 players who are turning heads with their recent play.
Christian Wood, Houston Rockets
Preseason Fantasy Ranking: No. 45
Current Fantasy Ranking: No. 7
Wood was getting picked near the fifth round in fantasy drafts since he seemed poised to take on an increased role in Houston and serve as a perfect complementary piece alongside James Harden. However, the 25-year-old has exceeded all expectations to start the season. Wood has been dominant, averaging 23.8 points (15th-best in the NBA), 10.8 rebounds (11th-best), 2.3 blocks (fourth-best), 2.0 assists, 1.0 steals and 1.3 turnovers on 55.7/35.3/64.7 shooting splits. He is currently averaging the seventh-most fantasy points per game (48.36).
It's a small sample size, but Wood was similarly productive last season with the Detroit Pistons after Andre Drummond was traded. In 12 starts last year, he put up 21.9 points, 9.4 rebounds, 2.3 assists, 1.7 threes, 0.8 blocks and 0.8 steals on 56.0/40.8/73.4 shooting splits. If Wood can keep this up, he'll likely be in the mix for the Most Improved Player award. Not bad for a guy who was playing in the G League as recently as 2019.
Julius Randle, New York Knicks
Preseason Fantasy Ranking: No. 80
Current Fantasy Ranking: No. 21
The Knicks have gotten off to a surprising 3-3 start, and Randle's terrific play is a big reason why. He's averaging 21.2 points, 10.5 rebounds, 7.2 assists, 1.8 threes and 0.7 steals on 49.5/50.0/76.5 shooting splits. His three-point shooting will certainly come back down to Earth, but he's stepping up as a facilitator and rebounder. In fact, Randle is nearly doubling his previous career-high in assists per game (3.6).
To put Randle's production in context, consider this: He is just the fifth player in NBA history to average at least 10.0 rebounds and 7.0 assists through the first six games of a season, joining Larry Bird, Scottie Pippen, Kevin Garnett and Giannis Antetokounmpo (per Tommy Beer of Forbes). The 26-year-old should continue to have the ball in his hands quite a bit as the season progresses, so he'll have every opportunity to keep filling the stat sheet. Randle has totaled the ninth-most fantasy points (258.10) among all players, and he's averaging 43.10 fantasy points per game (21st-best in the NBA).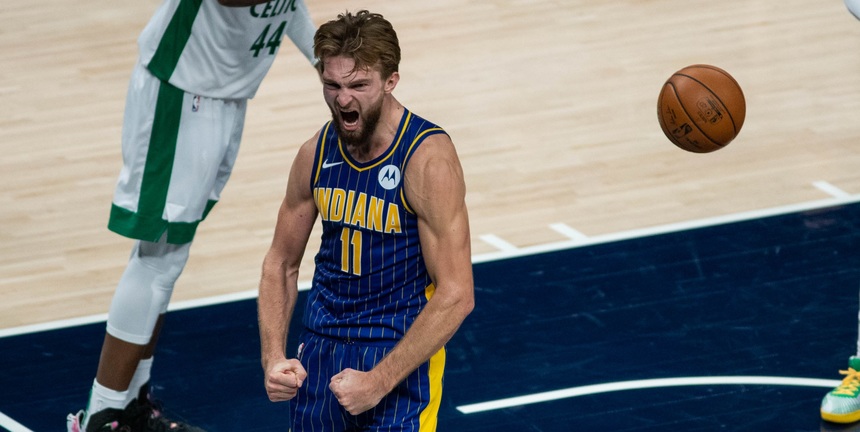 Domantas Sabonis, Indiana Pacers
Preseason Fantasy Ranking: No. 44
Current Fantasy Ranking: No. 14
Of all the players on this list, Sabonis entered this season with the highest expectations and he was going in the mid-third round in many fantasy drafts. While we knew he'd be a difference-maker, his 20.8 points, 11.3 rebounds, 6.7 assists, 1.3 threes and 1.0 steals (on 56.8/57.1/67.6 shooting splits) have been a nice surprise. With T.J. Warren out indefinitely due to a stress fracture in his left foot, Sabonis' numbers shouldn't dip anytime soon considering his importance to Indiana's offense. Sabonis currently has the fifth-most fantasy points of any player in the league, and his 45.01 fantasy points per game ranks 14th-best among all players. It's time for Domas to start getting more love from pundits and casual fans.
DeMar DeRozan, San Antonio Spurs
Preseason Fantasy Ranking: No. 53
Current Fantasy Ranking: No. 17
DeRozan is posting career-highs in assists (8.0), rebounds (6.2), threes (1.4), three-point percentage (.538), free-throw percentage (.865), PER (25.2) and True Shooting Percentage (.624), while limiting his turnovers to 1.4 per game. After shooting just 25.7 percent from three-point range last season, DeRozan has more than doubled that percentage so far this year (as he's shooting 53.8 percent from deep). When Spurs head coach Gregg Popovich was asked about DeRozan's three-point shooting, he made it sound like it is here to stay. "DeMar, that's part of his game this season, to shoot more threes," Popovich said. "He's more confident with it and it shows." DeRozan is currently averaging the 17th-most fantasy points per game (44.64), and he's been a top-five shooting guard in fantasy thus far.
Larry Nance Jr., Cleveland Cavaliers
Preseason Fantasy Ranking: No. 121
Current Fantasy Ranking: No. 50
With Kevin Love out for at least a month due to a right calf strain and Isaac Okoro sidelined with a sprained foot, this has opened the door for Nance to move into the starting lineup and play big minutes. Over the last two weeks, he's been doing a little bit of everything for Cleveland. In five games as a starter, Nance has averaged 10.8 points, 7.8 rebounds, 5.8 assists, 2.8 steals, 1.4 threes, and 1.0 blocks on 46.7/36.8/83.3 shooting splits. This season, Nance has totaled the 30th-most fantasy points (207.70), and his 34.74 FPPG ranks 50th among all players. The 28-year-old remains one of the most underrated players around the NBA and plenty of good things just seem to happen when he's on the floor.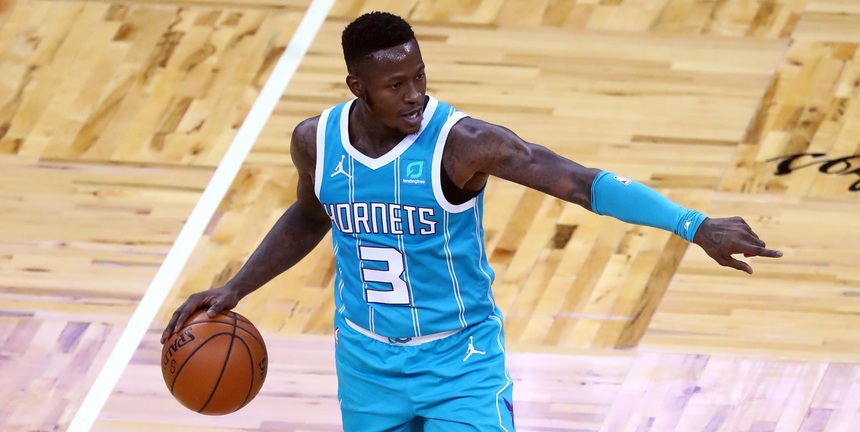 Terry Rozier, Charlotte Hornets
Preseason Fantasy Ranking: No. 144
Current Fantasy Ranking: No. 55
Entering this season, it was unclear how the additions of LaMelo Ball and Gordon Hayward would impact Rozier's scoring. Well, so far, the 26-year-old is averaging a career-high 23.2 points to go along with 3.2 rebounds, 2.8 assists, 3.8 threes, 1.0 steals and 0.5 blocks on 49.0/45.1/80.0 shooting splits. He has become a terrific three-point shooter since arriving in Charlotte; last year, he shot 42.3 percent over 63 games.
This season, he's had a 42-point performance against the Cleveland Cavaliers (with 10 threes) and a 35-point outing against the Philadelphia 76ers (with seven threes). Rozier is currently averaging 33.44 FPPG (which is 55th-best in the NBA), and he has totaled the 37th-most fantasy points (200.30) among all players.
Alec Burks, New York Knicks
Preseason Fantasy Ranking: No. 164
Current Fantasy Ranking: No. 54
Burks is currently averaging 20.7 points, 3.7 rebounds, 3.7 assists, 3.3 threes, 1.0 steals and 0.7 blocks on 53.1/66.7/90.0 shooting splits. He's been remarkably efficient, and while his three-point percentage will certainly dip, he should continue to get enough field-goal attempts to stay fantasy relevant long-term. While he's been a pleasant surprise for the Knicks, it's worth noting that he put up similar numbers in the first half of last season as a member of the depleted Golden State Warriors -- averaging 16.1 points, 4.7 rebounds, 3.1 assists, 1.8 threes and 1.0 steals on 40.6/37.5/89.7 shooting splits (before ultimately being traded to the Philadelphia 76ers). Burks is averaging 33.49 FPPG, which ranks 54th among all players.
Kyle Anderson, Memphis Grizzlies
Preseason Fantasy Ranking: No. 232
Current Fantasy Ranking: No. 51
With Jaren Jackson Jr., Ja Morant, Justise Winslow and De'Anthony Melton out, Anderson has been asked to step up and take on a larger role for Memphis. His 23.2 usage rate is easily a career-high (his previous high was 14.2). Anderson has popped up in trade rumors here and there, and there have been some rumblings that Memphis is showcasing him. But as long as he's in this role, he should continue to fill the stat sheet.
He's averaging 16.4 points, 9.2 rebounds, 4.0 assists, 1.8 threes, 0.8 blocks and 0.4 steals on 45.5/33.3/81.3 shooting splits. He dropped a career-high 28 points in a win over the Brooklyn Nets just two nights after recording a career-high 14 rebounds against the Atlanta Hawks. His 34.24 FPPG ranks 51st in the NBA.
Keldon Johnson, San Antonio Spurs
Preseason Fantasy Ranking: No. 189
Current Fantasy Ranking: No. 63
Johnson has been beloved on #NBATwitter for some time, and after watching what he's done through five games as a starter, it's easy to see why he has so many fans. The 21-year-old is averaging 15.0 points, 7.6 rebounds, 2.4 assists, 1.8 threes, 1.4 steals and 0.8 blocks on 45.5/42.9/84.2 shooting splits. He's coming off of his best game as a pro, recording a career-high 26 points along with 10 rebounds, 5 threes, 2 steals and 1 block against the Los Angeles Lakers (while shooting 63.6 percent from the field, 55.6 percent from three and 87.5 percent from the free-throw line). His 31.92 FPPG ranks 63rd among all players, and he should only continue to improve as he takes the next step in his development.
Dillon Brooks, Memphis Grizzlies
Preseason Fantasy Ranking: No. 182
Current Fantasy Ranking: No. 57
Like Kyle Anderson, Brooks has more on his plate because of the Grizzlies' injuries and he's become their No. 1 option on offense with Ja Morant out. Through five games, Brooks is averaging 19.2 points, 4.2 rebounds, 3.2 assists, 2.6 threes and 2.2 steals on 41.8/35.1/100.0 shooting splits. Once Memphis is back at full strength, his role will change a bit. With that said, the 24-year-old should be able to sustain somewhat similar production, as his current averages are similar to what we saw from him across 73 games last season (when he posted 16.2 PPG, 3.3 RPG, 2.1 APG, 2.0 3PG and 1.0 SPG on 40.7/35.8/80.8 shooting splits). He's averaging 32.84 FPPG, which is 57th-best in the NBA.
Josh Jackson, Detroit Pistons
Preseason Fantasy Ranking: No. 202
Current Fantasy Ranking: No. 86
Outside of Josh Jackson's relatives, nobody was selecting the 23-year-old forward during their fantasy drafts this year. Last season, Jackson split time between the Memphis Grizzlies and their G League affiliate (the Memphis Hustle). During his 22 games with the Grizzlies, he averaged just 9.0 points and 3.0 rebounds in 17.3 minutes per game. Initially, it seemed like he'd be buried on the Pistons' depth chart, but a strong preseason helped him win the starting shooting guard job over Svi Mykhailiuk and Delon Wright.
Jackson has always been a terrific athlete, but he's struggled with his shot and decision-making (on and off the court). Now, it appears he's finally maturing and putting everything together on a low-risk, high-reward contract with Detroit. He's averaging 28.44 FPPG, which is 86th-best in the NBA.
All fantasy rankings and points are courtesy of Yahoo Sports.