Following a four-month hiatus due to COVID-19, the NBA managed to resume the 2019-20 season at ESPN's Wide World of Sports in Orlando on July 30. In order to finish the regular season and determine the final standings, all 22 teams in attendance played eight seeding games.
While each team treated these seeding games a bit differently, there were some interesting takeaways from these contests in the NBA's bubble. Our Nekias Duncan shared some of his observations from the early bubble games.
Damian Lillard Has Reached Rarified Air
37.6 points and 9.6 assists per game. A 43.6 percent clip from three-point range on nearly 13 (!) attempts per contest. Those were Damian Lillard's numbers entering the playoffs, which is why he was unanimously selected as the MVP of the bubble's seeding games. He averaged 43.5 points and 9.0 assists over the final last three seeding games, then dropped 31 points and 10 assists in Portland's play-in game against the Memphis Grizzlies.
I cannot overstate how ridiculous it feels typing those numbers out. And, somehow, that pales in comparison to how defenders have felt trying to defend Lillard since the season resumed.
I made a thread on this recently, but Lillard has turned himself into the most dangerous pick-and-roll guard in the league. More versatile than James Harden, who has mostly punted on screens in exchange for soul-snatching isolations anyway. More aggressive than Chris Paul, the NBA's resident mid-range maestro who can snake-and-score with the best of them.
Lillard can carve up any defense he sees. He can kill "drop" defenses with pull-up jumpers extending to the logo. Literally.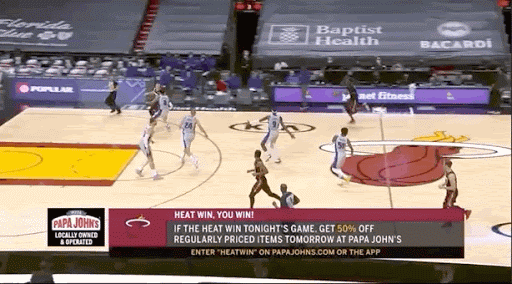 If the big man creeps up to take away those pull-ups, Lillard has the passing chops to make the defense pay anyway.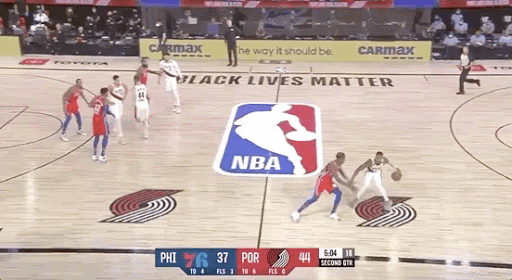 At a certain point, teams had no choice but to trap Lillard at half court - sometimes beyond that - just to force the ball out of his hands. It was almost comical watching the end of the Blazers-Nets game when CJ McCollum and Carmelo Anthony were getting the equivalent of practice shots thanks to the attention Lillard was drawing.
Nobody has weaponized the pick-and-roll like Lillard has over the past two seasons. Lillard's 1.11 points per possession in direct pick-and-rolls - pick-and-rolls that lead to a Lillard shot, assist opportunity, foul drawn or turnover - lead the NBA among 103 players that have run at least 1,000 pick-and-rolls in that span, according to data provided by Second Spectrum.
The best defense against Lillard at this point is prayer.
The Phoenix Suns Are Here To Stay
When the NBA initially announced their plan to resume the season, it was a bit laughable that the Phoenix Suns were among the 22 teams invited to participate in the bubble. They had a seemingly insurmountable path to forcing a play-in. Not only did they have to practically run the table, they'd need a good bit of help from the teams in front of them to have a shot at having a shot.
So, of course, the Suns blew those expectations out of the water and ran the table.
It started with the virtuosic play of Devin Booker. He's quietly become one of the NBA's most complete offensive threats - a three-level scorer with the passing chops to abuse any defensive coverage he may face. Booker averaged 30.5 points in the bubble, good for fourth in the league while also dishing out 6.0 assists.
Beyond him, the Suns got promising contributions from the rest of their young core. Deandre Ayton continued to show off a little bit of everything: pick-and-roll proficiency, post-scoring, improved passing reads and competency as a rim protector in Phoenix's drop defense.
Cam Johnson (13.6 points, 5.9 rebounds) provided value as a spacer, off-ball mover and sneaky-solid multi-positional defender. Mikal Bridges (12.8 points, 4.1 rebounds) did the same, but further solidified his status as one of the best wing defenders in the NBA. Even Jevon Carter tossed flames from deep (55.6 percent on 3.6 attempts) while providing his usual in-your-skin defense.
In short: The future is bright as this group gains more experience… and avoids suspension.
Donovan Mitchell Figuring It Out?
The Utah Jazz were mostly quiet during the seeding games, going 3-5, and they'll be even more shorthanded entering the postseason. Not only is prized free-agent acquisition Bojan Bogdanovic out for the season following wrist surgery, Mike Conley is also slated to miss at least the first few games of the playoffs following the birth of his son.
As if the Western Conference isn't enough of a gauntlet, the Jazz will be trying to replace roughly 35 points per game entering their first-round match-up with the Denver Nuggets.
If you're looking for a silver lining, it has to start with Donovan Mitchell. He was a bit of a mixed bag in the seeding games overall, averaging a shade under 24 points per contest in five full games, but doing so on 38/34/90 shooting splits. The encouraging part is what Mitchell was able to do during clutch time.
Mitchell appeared in three close games and he stepped up when Utah needed him most. In those contests, he averaged a robust 9.7 points in 6.8 minutes while improving his shooting splits to 45/43/89. More importantly, the Jazz went 2-1 in those games.
Beyond the numbers, Mitchell seemed to have a cooler head in those late-game situations. He was most patient in pick-and-roll, doing a better job of running his defender off of screens to create more favorable matchups against bigs.
Here's a quick example. Watch how Mitchell crosses back to his left to force Brandon Ingram to fight through the angled screen from Rudy Gobert. Mitchell then "snakes" the pick to force the switch, giving him a one-on-one against Derrick Favors at the rim.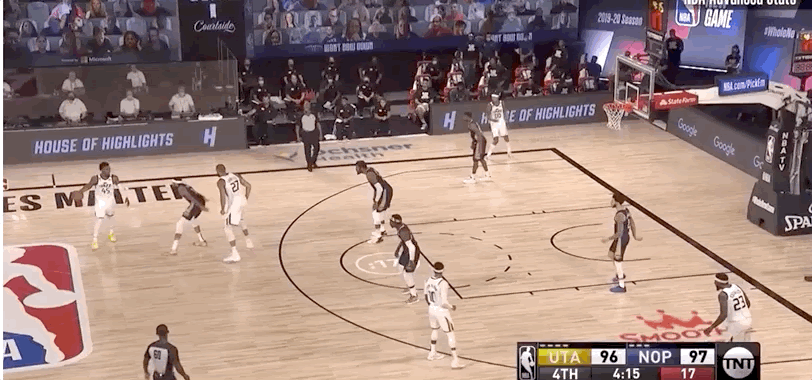 Mitchell was also a lot more decisive, using his quick first step to penetrate and finish, or to get defenders off-balance to set up his pull-up jumper. Here, watch how quickly he attacks Nuggets forward Torrey Craig before stopping on a dime for the clean look.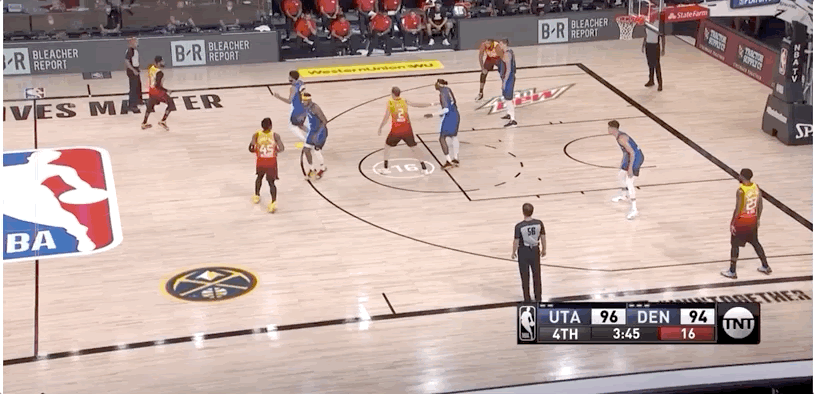 It's been an improving-on-the-margins year for Mitchell, as he's posting career highs in points (24.0), rebounds (4.4), assists (4.3) and True Shooting percentage (55.8). His assist rate went up, while his turnover rate did the opposite. It wasn't The Leap some may have hoped for, but Mitchell's made a hop. Suffice to say, if Mitchell can solidify himself as a dangerous late-game option for the Jazz, that would be huge moving forward.
Bam Adebayo Coming Up Small?
You can't say enough good things about the year Bam Adebayo has had for the Miami Heat so far. He's made enormous strides, transitioning from a solid frontcourt option to a legitimate All-Star talent. Averaging 16-10-5 is nothing to sneeze at, especially when you add 1-through-5 defensive versatility like he does.
Versatility is Adebayo's biggest strength. He can do traditional-big-man things: set crushing screens, clean the glass, throw down lobs and swat shots at the rim. There's also a level of skill present that's rare for a man of his measurements. Adebayo is a tremendous passer, period. He can operate as a hub in the high post, make reads in short-roll situations or lead fast breaks.
In a vacuum, Adebayo doesn't possess a major weakness. His jump shot is a bit underwhelming, but it's mostly fine as a changeup in the mid range area. Where he does struggle, however, is with his back to the basket. Post brutes are mostly going out of style in today's NBA, but the ability to mash smaller players on mismatches is still a must.
Adebayo can't quite do that.
The Raptors were able to stash OG Anunoby on Adebayo in their 107-103 victory a couple of weeks ago. While Anunoby is a tremendous defender, it was a bit concerning that Adebayo didn't really attempt to assert his dominance considering the size difference. The Raptors were successfully able to shut down the dribble-handoff dance between Adebayo and Duncan Robinson because of the cross-match. There was no fear of Adebayo making them pay otherwise.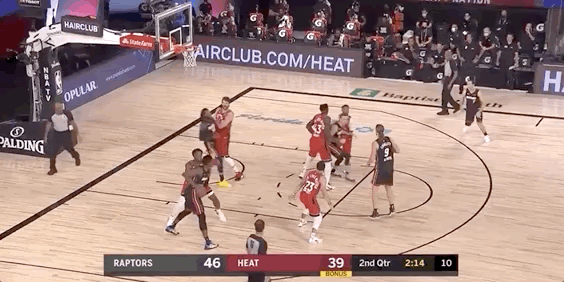 Just to further drill down the point, here's Adebayo being defended by Suns guard Jevon Carter, listed at 6-foot-1 and 200 pounds.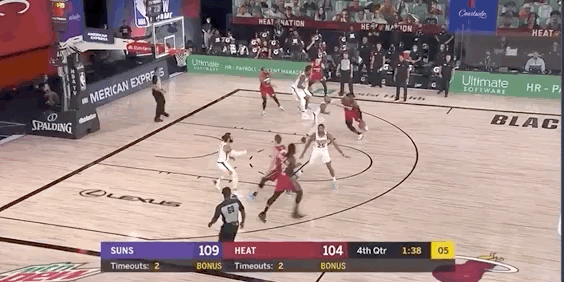 Yuck.
According to data provided by Second Spectrum, Adebayo has generated a lowly 0.91 points per possession on post-ups against guards. For a player with Adebayo's physical gifts, touch and improving footwork, it's almost unforgivable to be that ineffective.
Adebayo has already countered opposing bigs playing off of him by taking more jumpers, or flowing into dribble-handoffs with his shooters. Teams will continue to stash smaller players on Adebayo to shut down those handoffs. It'll be up to him to bully those players on the block - or at least make them pay on the offensive glass - in order for that strategy to be rendered useless. If not, don't be surprised if the Heat struggle to score in the half-court against the East's elite.