Most 2020 NBA draft prospects have spent their extended offseason grinding away behind closed gym doors and doing virtual workouts for NBA teams.
But Tyrese Maxey's pre-draft process added a unique wrinkle when he participated in a televised pro-day workout with fellow top prospect Anthony Edwards. The two performed drills in front of NBA stars, and the showing was broadcast on ESPN 2. For Maxey, the day was a major success.
"To have guys like Anthony Davis, LeBron [James], Gary Trent, Trae Young and different guys just there cheering you on and appreciating the work you put in, it feels great," Maxey told reporters.
The Kentucky guard emphasized that he's worked to improve his jump shot during the year, even acknowledging his disappointing 29 percent from deep in college. Maxey said he's been focusing on his shot arc, elbow placement and consistency with trainer Chris Johnson.
Part of that grind includes waking up at 4:50 a.m. to get in the gym at 6:00, making at least 800 shots in the early morning before going off to lift, and repeating the process during the day. Maxey knows that to succeed in the NBA, a jumper is a necessity.
"You have to be able to shoot the ball at the next level," Maxey said. "As a guard my height, and guards in the NBA, period, it's hard to be on the floor and play in an NBA game without being able to knock down wide-open threes.
"I feel like I'm a way better shooter than what the numbers say."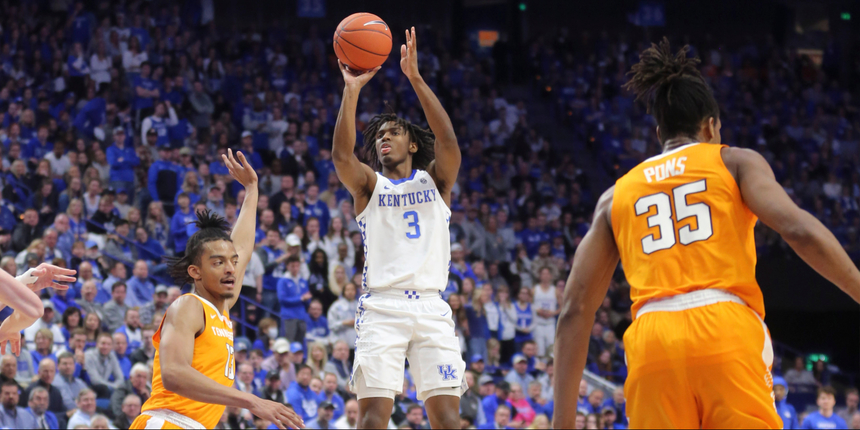 The potential lottery pick gave plenty of credit to Kentucky head coach John Calipari and former assistant Kenny Payne (now with the New York Knicks) for pushing him to succeed. But it was Tyrone Maxey, Tyrese's father and a former college player for Washington State, who intitially set the standard. Maxey said his father would give him basketball film to watch when he was just 8 years old.
"He just set that bar and that pedigree at a young age," Maxey said, "And it just carried over to the player [I am] and the I.Q. that I have today."
Maxey has only done one in-person workout (with the New Orleans Pelicans), but he has met virtually with a host of others including the Utah Jazz, Sacramento Kings, Dallas Mavericks and San Antonio Spurs.
With the Kings, Maxey sees himself as a great backcourt fit alongside fellow UK product De'Aaron Fox, and that he would be excited to play with Sacramento's core.
"It'd be cool playing with a guy like De'Aaron," Maxey said. "They have other guys like Cory Joseph, [Bogdan] Bogdanovic, [Marvin] Bagley, Harry Giles, and [it's] a very good, young team. They're headed in the right direction."
Among other teams, Maxey appreciates how fellow Kentucky alum Keldon Johnson "plays to win" with the Spurs. Maxey is also from Garland, TX, and added that playing for his home team in Dallas would be a tremendous opportunity.
Draft analysts have cast a wide net for the young guard, ranging from potentially the top 10 to the early 20s of the first round. But Maxey carries unbridled faith in his ability to make an impact.
"I put in so much work when people aren't working and people aren't in the stands," Maxey said. "My confidence is so high; I believe in myself."