For this 2020 mock draft, rather than projecting what each team will do, I will put myself in the shoes of each team's decision-maker and make my owns. In a draft without any clear-cut franchise player and a lot of parity toward the top, I will avoid simply selecting "the best player available." Talent is not the only ingredient in the recipe for success. Oftentimes, selecting the most talented player is the right move, but sometimes finding a player who can fit seamlessly and complement the existing talent is more valuable to a franchise. With that said, I will prioritize players who, I think, will help each team take a step in the right direction toward long-term success.
The Minnesota Timberwolves were the big winners at the 2020 NBA draft lottery, obtaining the No. 1 overall pick. The Golden State Warriors, Charlotte Hornets and Chicago Bulls round out the top-four. There will undoubtedly be plenty of rumors circulating in the coming weeks as to what these teams are looking to do, and many of these will be smokescreens leaked by the teams. Here's what I would do if I were calling the shots for each front office that secured a top pick in the 2020 NBA Draft:
1. Minnesota Timberwolves
Decision-maker: Gersson Rosas
After making a few moves during my first year as president of basketball operations, we have a promising young core that's centered around big man Karl-Anthony Towns, lead guard D'Angelo Russell and young wings Malik Beasley and Jarrett Culver. We just won the lottery and now have the No. 1 pick in the 2020 NBA Draft. What do we do now?
Most people will suggest that we select shooting guard Anthony Edwards from the University of Georgia, as he has the most upside in this year's draft. Despite Edwards possessing an incredible amount of potential, I have some concerns with the maturity of his game. In addition to those concerns, we recently acquired Beasley prior to the trade deadline. In 14 games with us, he averaged 20.7 points and 5.1 rebounds in 33.1 minutes, while shooting 42 percent from three-point range. I have high hopes for the 24-year-old and I do not want to let him go. If we draft Edwards, I fear that Beasley will be as good as gone. We are able to give Malik a qualifying offer this offseason, making him a restricted free agent. I think we should pass on Edwards, lock Beasley up on a long-term deal and pencil him in as our starting shooting guard for the next handful of years or longer.
Edwards is out because of Beasley, James Wiseman doesn't make sense because we have Towns, and I don't think LaMelo Ball would co-exist well with Russell.
How about Obi Toppin from Dayton or Deni Avdija from Maccabi Tel Aviv?
Yes.
Toppin, this year's National College Player of the Year, is an exciting, high-flying power forward who can also stretch the floor. Paired with Towns, Toppin would give Russell two great options of guys that can roll, pop, trail or finish at the rim (and way above it). He doesn't answer our defensive woes, but offensively we would be such a dynamic team. He would be able to step in and contribute right away and my confidence level that he's at least going to be a good, if not great, player is extremely high.
Avdija, the Israeli point forward, would also be a great fit for us. He could play the three or four and give us a lot of lineup flexibility. He has contributed at a high level at such a young age, so I think he could help us right away while also possessing some long-term upside. I don't like him quite as much as Toppin, but he should be in consideration for sure.
Is the No. 1 pick too high to take either of these two players?
Maybe.
Let's do this: Let's put the pick on the trade market and simultaneously tell the world that if we keep the pick, we will use it on the most talented player: Anthony Edwards. Hopefully, that tactic will drive up our pick's trade value for a team looking to trade up to get Edwards, and perhaps we can move back to select Toppin or Avdija, while also receiving additional assets. However, if we fail to secure a decent offer, let's not fall into the hype; let's take the guy who fits and allows us to continue what we're already building.
Let's take Obi Toppin.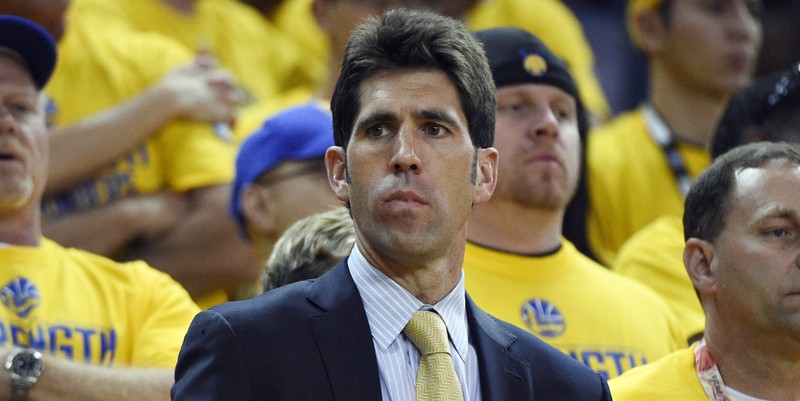 2. Golden State Warriors
Decision-maker: Bob Myers
We have made five NBA-Finals appearances in six years and have won it all three times. This season was an off year due to injuries, but Stephen Curry, Klay Thompson and Draymond Green should be good to go for the 2020-21 season. Although we'll likely be among the top teams in the league next year, we were able to secure the No. 2 pick in the draft and now we have an interesting decision to make.
With Toppin off the board, that leaves the top-rated guards Anthony Edwards and LaMelo Ball, as well as top big man James Wiseman, still available. We need to add someone who can be a building block for the long-term, but also someone who can mesh well with the players we have right now so that they can help us compete for another championship. Many are suggesting that we select either Ball or Edwards, but I'm not so sure that's the right move. Let me explain...
Our trio of Steph, Klay and Draymond have been among the most successful in NBA history. Each of them are comfortable and settled into their roles and because of that, I'm very hesitant to do anything that could potentially throw a wrench into our well-oiled machine. If we were to bring in a ball-dominant guard like Ball or Edwards, it could really affect our current guys' roles. It would certainly decrease Draymond's value within our offense because it would take the ball out of his hands, limiting his playmaking ability. It would also force us to play Klay at the three a lot, which I would like to avoid.
On top of the concerns on the offensive end, it could also be a recipe for disaster on the defensive end. Edwards has all the physical tools to be a good defender, but he has not shown a commitment on that side of the ball yet. LaMelo has not shown much interest on the defensive end either; even if he did, his physical limitations will be an issue on the defensive end. I'd be very concerned about pairing Curry with either of those players. The thought of those backcourts trying to defend Damian Lillard and C.J. McCollum of the Portland Trail Blazers, or James Harden and Russell Westbrook of the Houston Rockets makes me feel uneasy. I don't think adding Edwards or Ball would be the right moves for us.
Wiseman from Memphis is a 7-foot-1 center who is incredibly agile for a player his size and has an underrated skill level. He could step in and serve as our defensive anchor right off the bat, using his size and athleticism to provide us with some much-needed rim protection. He could fulfill a relatively simple but valuable role on the offensive end, as we could utilize him as a rim runner, pick-and-roll target and lob finisher. He's also capable of hitting an open shot, which could help with spacing. Long-term, I even think he could be a guy who could stretch the floor out to NBA three-point range. We could gradually increase Wiseman's offensive role over time as he develops and our stars age.
He'll never be the toughest guy on the floor, but he's big, talented and smart. In fact, he graduated high school with a 4.3 GPA and speaks Mandarin Chinese. Of course, Wiseman's talent is what is most appealing, but I also like that his low-key personality would allow him to fit in on our team without ruffling feathers. Also, with his high-level intelligence, he should be able to pick up some of the more complicated schemes in the NBA without a problem.
James Wiseman is our guy.
3. Charlotte Hornets
Decision-maker: Mitch Kupchak
I'm aware that there are many LaMelo Ball supporters who have him as the highest-rated player in this year's draft and assume that he is a sure-fire star. I am certainly intrigued by Ball's talent and I do think he has star potential, but Anthony Edwards takes the prize of being the highest-upside player in this year's draft, in my opinion. He had an inconsistent freshman year, but I saw him put on a show at the Maui Invitational in November, having scored 33 points in a half against Michigan State -- a display that showed his unparalleled talent.
At 6-foot-5, Edwards possesses a strong and athletic frame with the ability to create and knock down shots from all over the floor. He needs to learn to play and become more disciplined, which is what is holding him back from being labeled as the clear-cut top player in this draft class, but if we're able to get him at No. 3, it's a no brainer.
With the emergence of Devonte' Graham last season, we were forced to pair him with Terry Rozier, giving us a very small backcourt since both are listed at 6-foot-1. Adding Edwards would allow us to put Rozier in a more appropriate role of a high-energy, assertive, scoring combo guard who we could bring off of the bench. Our young core would begin to take real shape with Edwards and Graham starting in the backcourt alongside our young forwards, P.J. Washington and Miles Bridges, who have shown promise. We will need to continue to develop and add some additional pieces, but I'd be happy with the direction we're heading in if we select Edwards with the third pick.
Anthony Edwards is my pick.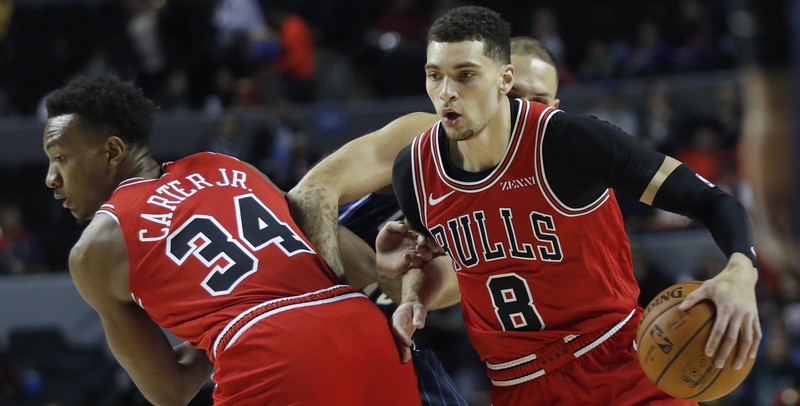 4. Chicago Bulls
Decision-maker: Arturas Karnisovas
I was just hired recently after working as Tim Connelly's right-hand man for years with the Denver Nuggets. There, we were able to build a good team primarily through the draft. I will try to replicate some of the things that we did in Denver that led us to success, but luckily for me, I have inherited a team in Chicago that already has good young talent in place. Zach LaVine has developed into a legitimate scoring wing, as he averaged 25.5 points per game this season and he's only 25 years old. We have quality young bigs in Wendell Carter Jr. and Lauri Markkanen, who are only 21 and 23 years old, respectively. We also have 20-year-old Coby White, who had a terrific rookie year (as he averaged 13.1 points per game). In addition to the talent we already have, we were fortunate enough to get the No. 4 pick in this draft. Which prospect would help our group get to the next level?
I'm intrigued by Israeli point forward Deni Avdija and he'd fit with our team, but I think the best pick here for us is LaMelo Ball. A natural playmaker at 6-foot-7, we could put the ball in LaMelo's hands and let him work his magic. With his uncanny playmaking ability, our young talent should flourish around him. LaVine could continue to have the green-light as a scorer and we could have White in as a scoring guard rather than trying to convert him into a traditional point guard. Ball could have a real nice two-man game with Markkanen, who at 7-feet is an effective pick-and-pop option. Markkanen's ability to shoot the ball from outside would also assist in giving Ball the necessary freedom to make plays for himself and his teammates. I think this would be a perfect fit.
Our pick is LaMelo Ball.