Similar to when we discussed anthro testing, the NBA Draft Combine provides opportunities for both fans and scouts alike to overreact. Some around the league put lots of stock into agility and strength testing, while others do not. The eye of the beholder takes each test into account in his or her own way.
Our Sr. NBA Draft Analyst, Matt Babcock, weighs in: "I can't say I put a ton of stock into the physical testing, but I certainly look at them. I'm usually not too surprised at the results, as I think a decently experienced scout can generally judge a player's athleticism relatively well by watching them play in person. However, seeing results like Kennedy Chandler jumping an impressive 41.5 inches on his max vertical and Patrick Baldwin Jr. jumping a Combine-worst 26.5 inches does sway my opinion of them some."
Here are a few of my takeaways from agility testing:
Kendall Brown, Baylor
Kendall Brown leaped to a 41-inch max vertical in Chicago. This explosiveness, paired with being 6-foot, 7.5 inches and 201 pounds, gives insight into the physical athlete he really is. While there are concerns about some of Brown's perimeter skills, his athleticism and ability to impact the game on both ends will translate. He'll be a coveted player in next month's draft.
Kennedy Chandler, Tennessee
Although only measuring in at 5-foot, 11.5 inches without shoes, Kennedy Chandler posted the highest vertical leap of the day at 41.5 inches. Scouts and media alike were impressed with the athleticism, as he makes a strong case for himself as a first-round pick.
Jalen Williams, Santa Clara
After registering tremendous numbers in the anthro testing, Jalen Williams then posted a 39-inch max vertical, giving real promise to how he'll fit on an NBA floor. His defense leaves a lot to be desired, but his shooting, offensive skill set and obvious athleticism may lead to a rise in his draft value.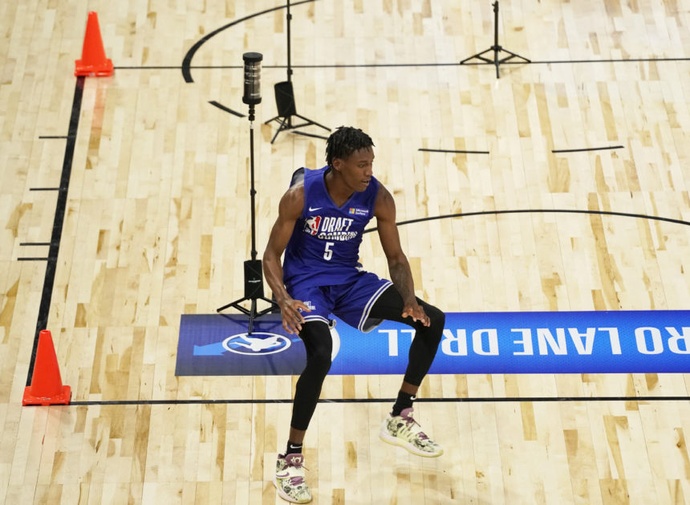 Terquavion Smith, NC State
It's been a solid week of measurements for Terquavion Smith as he continues to consider whether he'll stay in the 2022 NBA Draft. After measuring in at 6-foot, 2.25 inches without shoes, he then posted a 10.63 lane agility time and a 38.5-inch max vertical. He's twitchy and explosive, and has a chance to be a reliable guard in the NBA regardless of when he declares.
David Roddy, Colorado State
Roddy is 6-foot-6 in his shoes, 260 pounds, has a 6-foot, 11.5-inch wingspan and registers a 35.5-inch max vertical. Not only would these be strong at an NFL Combine, they were in a solid tier in Chicago as well. Roddy has a real chance to be a first-round pick next month and has helped himself this week.
Patrick Baldwin Jr., UW-Milwaukee
Baldwin Jr. recorded a 23.5-inch standing vert and 26.5-inch max vert. The 26.5-inch mark is the fourth-lowest number at the Combine since 2011, ahead of only Dakari Johnson, Dedric Lawson and Nikola Vucevic. While he shows incredible potential as a shooter at the NBA level, these numbers will likely be taken into heavy consideration around the league.