Prior to joining the media to work as an NBA Draft analyst, I worked on the agency side of professional basketball for more than 10 years. Early in my career as a young aspiring agent, I worked for Jeff Schwartz and Andy Miller, super-agents from Excel Sports Management and ASM Sports, respectively.
I eventually became a certified agent myself and worked for a number of different agencies. I worked with many different players, ranging from NBA stars to players trying to build a market for themselves internationally. I started a basketball division for an established agency at one point, and created two different basketball agencies from scratch after that. I have seen that side of the business from many angles.
Despite my varied experience as a sports agent, one thing always remained the same: representing incoming rookies was the most challenging work. Due to COVID-19, the pre-draft process for the 2020 NBA Draft has been nightmarish. I am grateful for my time as a sports agent, but I'm happy to be working on the media side now. This is especially true this year, as I simply do not envy agents at the moment. They are bleeding dry financially, all while experiencing limitations on their ability to effectively influence their client's market value.
Let me explain.
Earlier this year, in March, I had my bags packed and was set to fly to New York City for the Big East Tournament, followed by a trip to Indianapolis for the Big Ten Tournament to evaluate a number of NBA prospects. I think we all remember how that played out -- all of the conference tournaments were cancelled along with the rest of the college season. For most people, that simply meant they were going to miss out on March Madness, which is perhaps the most exciting time of the year for sports fans. Although I was disappointed to miss the extra opportunities to evaluate players, I take pride in getting ahead on my scouting early in the season, so I was fine from a professional standpoint.
But during that time, I couldn't help but think about how this dramatic turn of events would affect agents. It certainly wasn't going to be good...
In usual years, agents spend the course of a college-basketball season tapping into their networks, targeting prospective clients and essentially taking a shotgun approach to get involved with as many good players as possible. Some coaches, players, parents or "handlers" agree to meetings during the season, but usually the nitty-gritty type of meetings do not take place until the player's season has finished. The formal recruiting process generally begins in early March with players who are on teams that do not qualify for any type of postseason. Then, there is a steady progression to the process, as different teams have their season end at different times. Most players have decided on which agents they'll sign with by May 1 (just two weeks before the NBA Draft Combine). The formal recruiting period is roughly a two-month process.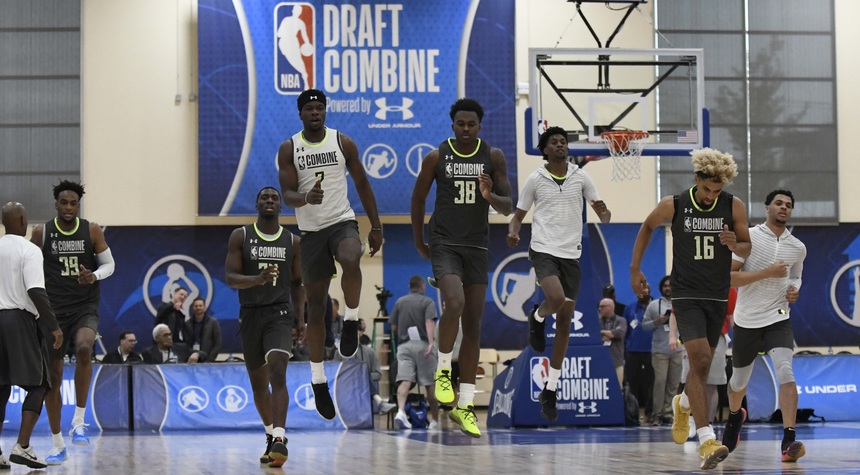 As an agent, I was trained to be aggressive. I'd champ at the bit all year long trying to generate new business. However, for most of the year, everyone would tell me in one way or another, "Hold your horses." At times, it felt like it was always "the calm before the storm." That was, until the storm actually hit, and then it would hit hard...
When a player's season ends, agents are asked to drop everything at a moment's notice to fly to wherever the player, parents and/or "handlers" are and present themselves formally to even have a chance of being considered to represent the player. The travel oftentimes requires venturing from coast to coast, and the trips are usually booked last minute. The expenses rack up quickly. During those times, agents are drilled and dissected. On top of all of that, many of the trips end up not even being fruitful, as it's extremely competitive to sign good players. Needless to say, the formal recruiting period is stressful and draining.
This year has been uniquely horrid for agents. First of all, the college season ended abruptly. This ending meant that every single player considering going to the NBA turned the page all at the same time — and, subsequently, all hell broke loose! Agents scrambled around the country right at the peak of the pandemic in an effort to sign new clients, as players were hungry to get started preparing for the 2020 NBA Draft. Little did anyone know at the time that was perhaps the perfect example of "hurry up and wait."
Although the recruiting expenses stack up quickly, the real expenses for agents begin once they've actually signed players, as they are expected to pick up the tabs for training and housing for their clients prior to the draft — and that's just the bare minimum. Top-level skill coaches and trainers charge thousands and thousands of dollars, and they are usually in major markets where short-term rentals for housing are expensive as well. Again, the bills pile up very quickly! Every dollar spent on an incoming rookie is a dollar in the hole without a guarantee that the agent will ever get a return on their investment.
The players' union, the NBPA, only allows agents to sign players to a Standard Player Agent Contract (a.k.a. "SPAC"), which allows the players to terminate the agreement at any time, and for no specific reason. The agents are only entitled to commission fees if they have negotiated a contract that has been fully executed. Top players in the draft have high expectations, also; don't think agents can be frugal during this time, as they'd likely get fired at the drop of a hat. Naturally, this puts agents in an extremely vulnerable position during the pre-draft process.
The NBA recently announced that the 2020 NBA Draft, which was originally supposed to take place on June 25, will now take place on Nov. 18. This year, when it's all said and done, agents will have been responsible for covering their clients' expenses for nearly seven months, rather than the typical two-month window. To pour salt on the wound, not only have agents been bleeding money, they've been extremely limited as to how influential they can be in terms of increasing their client's market value prior to the draft.
Agents are usually responsible for scheduling players' trips to visit and work out with teams, a process that I find to be very effective to increase a player's market value (if done properly). This year, NBA teams have been prohibited from seeing prospects in person for workouts or interviews, and have been limited to video conferences — which are not significantly conducive for teams, players or agents to accomplish their short-term goals during the pre-draft process.
The NBA recently announced they will be holding isolated draft combines in various NBA markets. Prospects will have their measurements taken and go through strength-and-agility testing and, most importantly for teams, there will be medical testing and exams. The prospects will also be able to do individual shooting drills, provide a "pro day video," and do additional interviews conducted by members of the NBA league office. Still, the NBA teams will not be in attendance and will be limited to watching everything remotely. Also, it's worth pointing out that there will be zero live, competitive play. Overall, this is relatively good news for everyone involved; however, it's certainly not perfect either.
Despite the larger issues our world faces at the moment, it's worth acknowledging the challenges the men and women working as sports agents have faced during this unprecedented NBA pre-draft process. The sports-agency business is volatile and risky even in the best of years, much less a year like this one.
This year will go down as an extremely negative one, for many people and for many reasons. Of course, there are a lot of people dealing with far worse issues than those created for us individuals working in professional sports. Let's hope brighter days are ahead.