R.J. Hampton will never forget the first time he stepped foot on an NBA floor only 13 months ago.
Two games into his professional basketball career with the National Basketball League's New Zealand Breakers, his team made the trip over to the United States in early October for a pair of exhibition matchups -- first against the Memphis Grizzlies, then versus the Oklahoma City Thunder.
"That was a great experience for me," Hampton told reporters this week. "I was very blessed even to be on an NBA court at 18 years old, playing against Ja Morant, playing against Chris Paul. I learned so much from those guys. I took a lot away from those games that now, over 365 days later, I can go back and prove myself."
Hampton is one of the more intriguing young prospects in the upcoming 2020 NBA Draft. A standout in Dallas as a high schooler, he won two gold medals as a part of USA Basketball -- once in the 2017 FIBA U-16 Americas Championship, and again in the 2018 FIBA U-17 Basketball World Cup.
In three years at Little Elm High School, Hampton scored 2,854 points. In his final season, he averaged 32 points, 9.7 rebounds, 6.4 rebounds and 3.9 steals per game. Following a strong showing on the AAU circuit via the 2019 Nike EYBL -- where he scored 28.8 points per contest, second-highest in the league -- the top-five prospect made the decision to reclassify in the 2019 high-school recruiting class. According to the NBA's draft guide, had Hampton returned to high school, he would've been on pace to finish as one of the top-50 high-school scorers of all-time.
However, in lieu of going to college, Hampton elected to go the professional route overseas, similar to what recent NBA players such as Terrance Ferguson, Emmanuel Mudiay and Brandon Jennings did. Luckily for him, his family was overseas with him, so they experienced that together.
Off the floor, Hampton would watch a lot of TV and play video games during his free time. On the floor, he was playing against grown men, including former NBA talent, allowing him to get a taste of the physicality presented at the next level -- something that college prospects have to learn the hard way.
"Playing in the NBL, I kinda already went through that learning curve, so I feel confident," Hampton said of the advantage of pro experience. "I expect to get on the floor as fast as possible and make an immediate impact in the next coming years. I want to be a guy that is looked upon and one of the players that everybody counts on to get us wins."
Hampton broke out at the very beginning during the NBL Blitz showcase in front of NBA scouts. In his second game with the Breakers, Hampton notched 20 points on 7-for-13 shooting from the field, nabbing five rebounds and recording three steals with a pair of assists. It was a glimpse of his true capabilities that we wouldn't really see the rest of the season.
"Coming out of high school [as] a top-five player in my class, I feel like I went to a situation where I didn't get to score a lot of points and do the 'oohs and aahs' that some other players got," Hampton said. "But I think I learned a lot from my time over there, and I definitely think that's gonna further me immediately in the NBA."
Hampton went on to start 12 games, but his 17-game tenure in New Zealand was cut short last winter. Sidelined by a hip injury that forced him out of action, both parties made a mutual decision to have the highly-touted guard return home to the states in February to prepare for the NBA Draft.
Hampton's been putting in work with his trainer, Tyler Relph, over the last two years in order to ready himself for the next level.
"Going over to New Zealand, I wouldn't say it was the most ideal situation [for R.J.]," Relph told BasketballNews.com over the phone. "For a young kid, he just did a great job dealing with it, and I think it matured him a ton. So I think he's immediately ready mentally for what the NBA brings. He's pretty much just a totally different person."
According to Relph, Hampton gained between 22-25 pounds of muscle since his return from overseas.
"Immediately, your game transforms when you can take contact," Relph said. "Defensively, you can get in front of guys and bump 'em off spots, get through ball screens and stuff like that."
In addition, part of the pre-draft process has been reconnecting with the two people that recruited Hampton when he reclassified -- Penny Hardaway and Mike Miller of the Memphis Tigers. Though he never suited up in the blue-and-gray threads, all three have continued to have a great rapport. Hardaway is in his ear about being a pure point guard and making the right reads, while Miller has assisted him with his jumper -- an aspect of the game that Hampton is heavily focused on.
"He changed my base," Hampton said of Miller. "A lot of times, I was skinny, down low with my shot; it caused me to be unbalanced, so he gave me a wider base. One thing Mike Miller did, he shot in the NBA Finals with his shoe off. He has tremendous confidence, so being a confident shooter is something we've worked on for the past six, seven months in different drills."
Relph said the shot adjustments are extremely noticeable.
"That's another thing that people are knocking him [about], and now that's the thing that translates right away to next year," Relph said. "He's changed a lot. Mike did a ton with his base, which looks phenomenal. And then, we just changed where he brings the ball up from, his shooting path, and he's been great. His shot has improved leaps and bounds, and now I would say he's a good shooter that can consistently make NBA threes."
Relph raves over Hampton's ability to leap off any foot at any time. Some guys are one-foot leapers, some guys need two steps, but the 19-year-old can fly in any scenario. Furthermore, Relph said that Hampton's god-given speed will vault him into the top-five fastest players in the NBA right away.
"You have Lamborghinis that can go from 0-to-60 in a split second, then you have cars that take a while to get there -- he's a Lamborghini," Relph said. "His slow-to-quick twitch is second to none.
"I think that he has a chance to be just an elite scorer in the league -- with the combination of his speed, creating separation, getting into his shots. He's got a great feel of when to score; he knows when he has space. He can make any shot, he can make contested shots. His ability to rise in the mid-range is elite."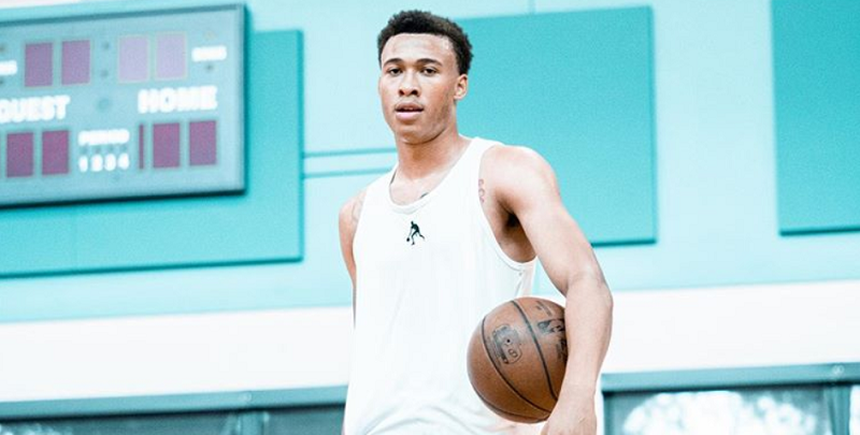 So far, Hampton has worked out for seven teams in person -- the Detroit Pistons, Brooklyn Nets, Orlando Magic, Cleveland Cavaliers, Washington Wizards, Boston Celtics and Denver Nuggets.
"His confidence right now is just at an all-time high," Relph said. "He's had great workouts for teams. Every team has said how much different he looks and how much better he looks and how much he's improved."
When asked about a potential fit on the Nets, Hampton loved the idea of playing off Kyrie Irving and Kevin Durant and gaining wisdom from the veteran duo, as well as the blossoming Caris LeVert and new head coach Steve Nash. It definitely helps that he's spoken with Nets GM Sean Marks (who's from New Zealand) over the phone and face-to-face.
Hampton also mentioned that his workout with the Celtics went well, as Danny Ainge, Austin Ainge and Brad Stevens all attended and spoke with the soon-to-be rookie.
When asked what aspects of his game will translate easiest to the NBA, Hampton points out his speed, athleticism and ability to make plays for himself and his teammates. Early on, his biggest challenge may be getting back into a groove because he hasn't played in a game since Jan. 12. As far as his position and role are concerned, his main focus is having the versatility to guard 1-through-3.
"What all rookies are gonna have to work on is speed of the game, the physicality of the NBA and defensive rotations and reads," Relph said. "And then, the grind of an 82-game season... I think people are gonna be surprised at how good he'll be at making other guys better."
It's odd to conduct interviews virtually in comparison to the norm, but Hampton has taken it in stride. He feels great. In fact, Hampton went as far to say that he and LaMelo Ball are the readiest prospects in this 2020 draft class.
During this pre-draft process, Hampton's schedule has been rigorous. He wakes up to run a couple miles every morning, then he'll go lift weights and do some strength training before working out with either Relph or Miller (depending on what city he's in). Relph said his committment has been outstanding.
Hampton understands how unique of a year this is going to be. The draft process is moving quickly. Before he knows it, Nov. 18 will be here. Then, free agency; then, training camp; and then, opening night on Dec. 22.
"I think the biggest thing I expect [is] just to go in there and work every day, go in there and prove myself again, working my ranks up through the NBA. [I want to] have a great team, great system that I can thrive in," Hampton said. "I want to be as ready as possible."