Last season, NBA Commissioner Adam Silver came up with a brilliant plan to create a bubble where the league could resume the regular season and complete their playoffs. The bubble was located at ESPN Wide World of Sports in Florida, which (coincidentally) was the epicenter for coronavirus cases in the country.
Initially, there were many doubters (including myself), but Silver proved everyone wrong and the NBA's experiment was a success. The on-court product was great, the games were competitive and there were relatively few COVID-19 issues. In fact, it was probably the safest place in the United States over that three-month span. It's the employer's job to create a safe work environment for their employees, and the NBA did just that.
But then came the start of the 2020-21 season.
The league ditched the bubble concept and teams are once again hosting games in their respective arenas (except the Toronto Raptors, who are playing in Tampa). Unfortunately, just a few weeks into the campaign, there have been a ton of players testing positive for COVID-19.
"The NBA has announced more than 100 positive tests since last summer, but the actual number since March is believed to be significantly higher," wrote ESPN's Brian Windhorst and Zach Lowe. "Several teams have more than 10 players who have tested positive at some point since last season… Multiple players who previously tested positive for the coronavirus have recently tested positive a second time."
As of Friday morning, the NBA has been forced to postpone 10 games in the first three-and-a-half weeks of the season. The league is postponing games if a team doesn't have at least eight players available.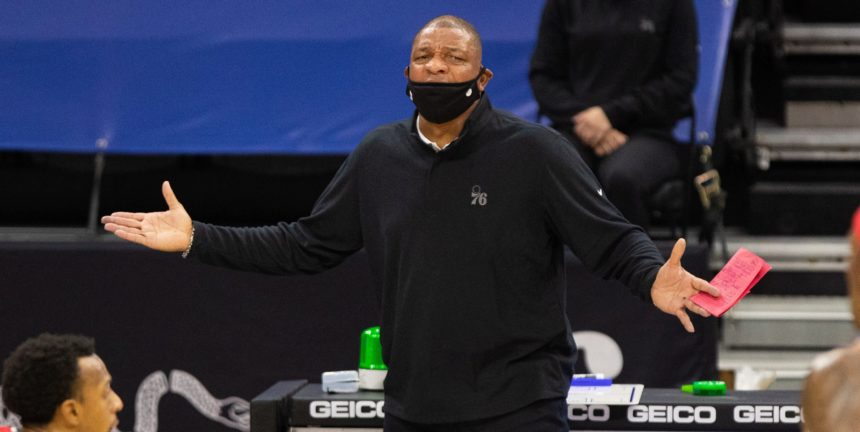 Last Saturday, the Philadelphia 76ers were forced to take the court against the Denver Nuggets with just eight active players (and only seven were healthy enough to actually play). Some players were missing due to injury or a positive COVID-19 test, while others were out due to contact tracing. It's unclear why the NBA didn't postpone this game (like they've done with others), but Sixers head coach Doc Rivers admitted that he was concerned about his players' safety prior to the contest.
"I don't think we should [play], but it's not for me to express that," Rivers said. "I do worry about our player health on the floor."
After the game, Rivers discussed some of the unique challenges that players and coaches are dealing with this season.
"Well, this is a little different [than the bubble] because now we're at home and we're with our family and friends," Rivers explained. "We can order and eat wherever we want to — whichever restaurants that are still serving or open — so there's a little more freedom. Having said that, that's my concern… The freedom is a concern.
"I'm very concerned if we can pull this off… If we miss three or four players, we're in trouble, especially with the amount of games. We're playing three and four games a week, so if one of our guys or two of our key guys get the virus and they miss 10-to-14 days, that can be eight games. In a 72-game season, that can knock you out of the playoffs. That's a concern. Our guys' health is a concern. And that's tough. As a coach, you want to go in with your team concerns being more [about] basketball, and I think every coach's concerns right now are probably non-basketball."
While no NBA players have died, as many people like to point out, they could be risking their career and their long-term health. A Texas trauma surgeon says it's rare that X-rays from any of her COVID-19 patients come back without dense scarring.
"Everyone's just so worried about the mortality thing and that's terrible and it's awful," Dr. Brittany Bankhead-Kendall told CBS Dallas-Fort Worth. "But for all the survivors and the people who have tested positive, it's going to be a problem. … Post-COVID lungs look worse than any type of terrible smoker's lung we've ever seen. And they collapse. And they clot off. And the shortness of breath lingers on... and on... and on."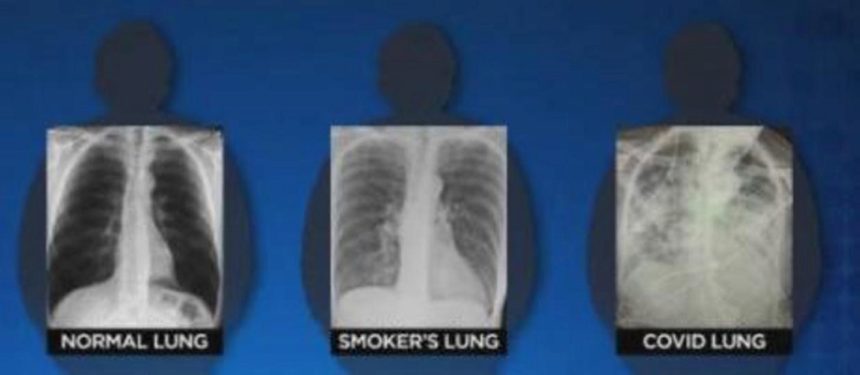 Positive COVID-19 tests and the league's health-and-safety protocols have already had a significant impact on the 2020-21 NBA season, and it's only going to get worse. Now, it's worth noting that the NBA did implement some new health-and-safety protocols such as:
Players and team staff are required to remain at their residence at all times except to attend team-related activities, exercise outside or perform essential activities.

On the road, players and team staff are prohibited from leaving their hotel (other than for team activities or emergencies) or interacting with non-team guests at the hotel.

Any pre-game meeting in the locker room is limited to no more than 10 minutes in duration and all attendees must wear a facemask.

For team flights, teams must create a seating plan on planes so that players whose assigned seats are closest to each other on the bench for games are also closest to each other on the team plane.

During the pre- and post-game periods, players must limit interactions to elbow or fist bumps, avoid extended socializing and maintain six feet of distance.

All players must wear facemasks on the bench at all times.

Any individual who regularly visits the interior of the home of a player or team staff member for a professional purpose must undergo COVID-19 testing twice per week.
But, respectfully, much more will be needed in order to keep players safe during this pandemic.
Creating another bubble wouldn't be a popular decision amongst players. Many have opened up about their negative experience in the bubble, including Lakers star LeBron James.
"You continue to give me PTSD every time you ask me about the bubble," James recently told reporters. "I started shaking, thinking about 96-straight nights in that place."
A lot of players have echoed LeBron's sentiments, mostly because nobody wants to be away from their family, friends for that extended period of a time. That's perfectly understandable.
But, again, the job of an employer is to create an environment that keeps their employees safe -- no matter what their preferences are. If the only way to do that is some combination of regional bubbles or short stays in a standalone bubble, maybe that's the best option for the NBA if the alternative is canceling the season (since the U.S. hasn't been able to contain this and we are currently breaking our own records for deaths and positive cases).
According to CNN, "December was the nation's deadliest month since the COVID-19 pandemic's start -- with more than 63,000 Americans lost to the virus in the past 26 days. In comparison, the entire month of November saw about 36,964 deaths.
And, now, projections for the rest of January are "nightmarish," according to experts.
We cannot have a "nightmarish" situation in the NBA. Bringing back the bubble, despite anyone's objections, may be the only solution if things continue to get worse around the league.